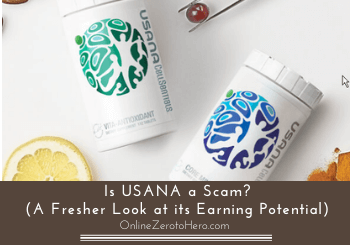 Taking alleged high quality and science-based nutritional products and earning money at the same time is something that is hard to resist, right?.
It's like hitting two birds with one stone. You get one single answer for your dual needs concerning your health and your wealth.
That's what Usana Health Sciences, Inc., simply known as USANA, claims to offer you.
But is USANA a scam or a legit and trusted source of income? More importantly, is it the right income-generating opportunity for YOU?
Let me answer the first part of the question right away: USANA is a legit company. It is even a publicly-traded company listed on the New York Stocks Exchange (NYSE).
But that fact does not answer the second and more significant part of the question whether it is the right company for you to earn money from.
This USANA review will give you the info you need to find out before you decide to invest time and money or not.
Training

Tools

Value for Money

Income Potential
Summary
USANA is a company that develops, manufactures and distributes health supplements, nutritional foods, and personal care products.
The company has been praised for its range of products that reportedly deliver the intended benefits. But it also receives criticisms for putting hefty price tags on them. Many consumers claim there are alternative products in the market priced much lower than what the company is selling.
It uses a direct selling model to grow its business – and this is what you can use to grow a business as well.
If you are very good at recruiting salespeople and selling products that are a bit overpriced, USANA can potentially become a good business.
But it will NOT be easy and you have to consider all the pros and cons before deciding to invest your time and money into this as the chances of success are not big.
If you are not a master of direct selling, there are other options out there for you with bigger chances of success.
What is USANA and what does it offer?
USANA may be one of a few health-and-wellness companies that need no thorough introduction.
It has been around in the industry for some time, and if you are on the lookout for an income opportunity, you might have heard of it.
As a company listed on the NYSE, USANA allows you to participate in the buying and selling of its shares, similar to the services offered in the IQ Option platform.
It was founded in 1992, and it is known as a developer, manufacturer, and seller of health supplements, nutritional foods, and personal care products.
It is the brainchild of Dr. Myron Wentz who is reportedly an internationally recognized microbiologist and immunologist. In his line of work, he was able to research and develop products intended for the health and wellness segment.
USANA's product lines are grouped into three main categories, namely:
Nutritionals
Food and Energy
Skin Care
The company especially takes pride in its flagship product called USANA CellSentials, "essential supplements formulated to nourish, protect, and renew optimal cellular health."
Another purportedly in-demand product of the company is Vitamin D. This reportedly is a bestseller in countries where there's a deficiency of this vitamin among their residents.
But I'm not here to discuss the details of each product. For one, there are too many to talk about. And, two, this is not a product review.
Rather my purpose of writing this review, as I said in the beginning, is to help you find out if this is the right money-making company for you.
USANA positions itself as a direct selling company as opposed to a multi-level marketing (MLM) outfit.
This is what you can glean from its website. In fact, it keeps a quick link to the official website of Direct Selling Association.
But many people in business and finance just lump direct selling, network marketing, and multi-level marketing as the same dog with different collars.
I point this out here because based on the company's claim on its website, its associates do not earn from the enrolment of their recruits.
Rather, they earn from the sales their recruits generate. It is a bit more complicated than this and I will have more comments on this in a bit.
On the other hand, MLM companies like Valentus and FutureNet pay out commissions to their members from both sales revenue and recruitment of members.
Now that you know the basics of what USANA is and what it offers you, let's find out how you can become a member before getting to your earning opportunity and some important points to consider before joining.
Recommended: See How I Make $6+ Online Every Month
How to join Usana?
There are two ways in which you can be a part of the company: You can either be a preferred customer or an associate.
What's the difference between the two?
Preferred customers cannot sell USANA products. What they can do is just purchase products for their personal use or for their family's use.
Associates are the ones that can sell the products, profit from the transaction and build a business. I will discuss this in more detail in the next section that will explain all about your earning options.
The question now is how to become an associate of the company if you decided this is for you after reading this review?
Becoming a USANA associate is actually rather easy. All you have to do is buy a welcome kit worth $29.95. That's all.
Unlike many of the MLM companies, USANA does not require purchases of product packages. Buy the kit and you are good to go.
The kit contains supposedly helpful business info about USANA.
Here's a screenshot of what you can do as a USANA associate:
So, as an associate of USANA, you are entitled to make a profit from the discount of your personal purchases.
You can profit as well from the difference between the preferred price and the retail price if you sell the products, and a few more ways to earn, which we will tackle below.
After having discussed how you can become a member and the requirements of the company, let's move on to the more interesting part of this USANA review – the earning opportunity.
How do you earn?
You have probably reached this point in this article because you are eager to know how you can earn by joining. So, here it is.
In USANA, there are six ways in which you can earn income. These are through:
Retail sales
Weekly commission
Incentives
Lifetime matching bonus
Elite bonus
Leadership bonus
As a direct selling company, USANA's earning opportunities are all tied to the sales of the products.
Therefore, as stated earlier, associates do not earn from the recruitment of members itself.
This is what it declares on its website. You can judge for yourself if it is true or not as we go along our discussion below.
You may ask, what's the point of building a sales team?
Well, you earn income from the sales volume your sales team generates, not from the enrolment of the associates you recruit as what most MLM companies do.
You will find out that the profit from retail sales is not that much. Even though the company allows you to set your own price, it prescribes a mark-up of 10% for its products.
This 10% mark-up is also the difference between the preferred price and the retail price.
If you enroll in the auto-shipment set-up, the company gives you another 10% discount, which brings your earnings from retail sales to 20%.
But the bigger earning opportunity comes from the sales volume of the team of associates you build.
You will see its impact on the weekly commissions and lifetime matching bonus schemes.
The other three ways of earning are also the results of your efforts in recruiting more associates, especially those active in building their own businesses.
I will not explain to you each of the six ways of earning income from USANA as it is not the reason I'm writing this piece.
Again, my attention here is focused on the viability and practicality of the earning potential for you.
But, if you're interested in knowing all the details (which I suggest you do if you are interested in joining), I have also inserted a video that explains the company's compensation plan below:

By this time, you may already have a sense of whether the USANA business is for you or not. But let's not stop at the review of the membership requirement and earning opportunities.
Below I will give you more info and points for consideration just so you will get a firm answer to the question we posed at the beginning of this article.
4 things you need to consider before joining USANA
Besides the earning potential, it is also quite important to know other details about the company so you can better weigh your chances of success.
In my research about USANA, I came across some important things you should know to help you decide whether to sign up or not.
Consideration 1 – Hefty price tag of its products
USANA's products are priced unreasonably high in relation to their declared benefits, in my opinion.
There are countless other alternatives in the market that can be had at much lower prices for the same perceived benefits.
Not only that, you need to maintain required regular purchases to keep your account active and qualify yourself for the commissions and bonuses. This means you will stock up on products if you are not able to use or sell them fast.
Definitely this is one area you need to look into if you decide to make it your own business.
You will be up against competing products with the same uses but at lower prices, which will make selling a real challenge, more so if you are a beginner.
Consideration 2 – Driven by recruitment
The company claims that its associates do not earn from recruitment but from the sales of the products.
In reality, however, the potential for earning more money lies in the sales of the recruits.
Therefore, the earning opportunity is driven by recruitment no matter what the company claims on its website, in my opinion.
You can only purchase so much. You can only sell so much as well. But if you recruit more members, the earning potential would be exponential.
There's nothing wrong with recruitment per se. The problem is that recruitment is not an easy job. There may be some people who are cut out for it, but definitely it's not everyone's cup of tea.
And if you have just set out on your journey in this kind of business, it will be quite a challenge for you as well. So you need to be aware of this.
If you are not great at recruiting other people that can sell USANA or are not interested in it, it will be VERY difficult for you to make any real money with USANA.
Consideration 3 – The company does not guarantee any income.
USANA is quite transparent in this respect. It does not guarantee that you will earn income from its business.
And it is great USANA is so transparent about it but you really need to pay attention to this so you go into it with the right expectations if you decide to join.
Here's what it says on its website:
As you can see here, more than half of its associates in the US did not earn any compensation in 2017.
If you are looking to join the company to earn money, then this is something you need to take a hard look on.
More than half of its associates in the US earning nothing is not a good sign for you, in my opinion.
It does not mean you cannot earn because some people obviously do earn. But you need to be aware that it will not be easy and guaranteed money.
Consideration 4 – Not a big chance of success according to FTC
The Federal Trade Commission (FTC) posted on its website a thorough study made by Dr. Jon M. Taylor of the Consumer Awareness Institute. In it, he revealed a damning statistic of those who fail in this type of business.
Here's a screenshot of what he discovered in his research:
Think about it: 90% of the participants will drop out of the business in five years and 95% in 10 years. By all means, it's a discouraging scenario, to say the least.
This is not for USANA specifically but for MLM businesses in general.
(You can gain more insights and realizations into the real world of direct selling, MLM and network marketing if you read Dr. Taylor's study here. And In case you are not familiar with FTC, it is the government agency in the US tasked to protect consumers from unscrupulous companies and their practices.)
My question for you is this: Are you bold and determined enough to be part of the 5% that would survive the business for the long haul?
If you are, then you can join. If not, you may need to look elsewhere for ways for you to earn income without betting on the 5% of the census that would succeed.
I am not saying the alternative I am recommending is easy.
In fact, it needs your time, effort and dedication, but, in my experience, there's a greater chance of success if you are willing to put in these things – and lot smaller investment.
I'm sure you are reading this review because you are looking for a money-making activity that is not only fit for your circumstances but something sustainable.
Looking at the figures above, it shows that if you have not been involved in an MLM company from the beginning, you will have a hard time succeeding.
This is something you need to really think about to find out if it will really be the right business opportunity or not.
Final Verdict
USANA can be an option for you to earn income.
It has a range of products that seems to deliver the intended benefits and it has developed a market of its own.
This, however, is not the only parameter you should look at to see if a business is the right fit for you or not. There are other perspectives worth looking into before you make that important decision.
So, let's finish this review by summing up the pros and cons so you can get a better overview before making your final decision.
Pros:

There's a potential to earn income here
It has a list of good products
Company has existed for a while
Cons:

Products are expensive
You need to recruit more members to earn more money
Earning income is not a guarantee
Small chance of success according to a study from the FTC
I have now shown you the things I think can guide you in your decision to sign up with the company or not.
I hope this has helped you find out exactly what to expect so you know what you are getting into and what it takes to succeed before deciding to join or not.
If you are very good at recruiting salespeople and selling products that are a bit overpriced, USANA can become a good business.
But if that is not the case, there are other options out there for you if you want a business that would hold for the long haul.
Now it is up to you to decide which way you want to go.
How I make a living online
If you are looking for a different way of building an income for yourself, there are luckily many options online today.
Personally, I have been able to create a full-time online income that now allows me to work completely on my own terms.
It takes some effort but it is totally worth it.
If you want to follow my footsteps and create your own online income, then check out my FREE guide where I explain how this is possible step-by-step.
You can even get started with these steps as a complete beginner.
If you have any questions, comments, or have any experience with USANA yourself, I would love to hear from you in a comment below.