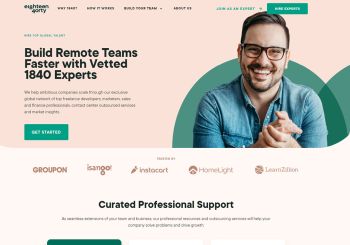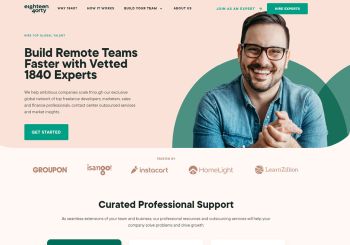 If you're looking for freelance work, then you'll undoubtedly want to join an online marketplace (or as many relevant ones as you can). Marketplaces are a great way for freelancers to reach new clients and offer your freelance services. There is a plethora of marketplaces out there you can utilize, regardless of which line of work you do.
Why are marketplaces so popular? Well, there's a number of reasons.
Firstly, there's a huge demand for freelance talent. In 2020, more than one-third of the American workforce were freelancers and contributed $1.2 trillion to the U.S. economy. That number is only expected to grow.
Marketplaces also make it easier for freelancers to build up a career since some sites, like Fiverr, allow entry-level freelancers to apply for jobs without any previous experience.
On the other hand, marketplaces like Toptal help elite and experienced freelancers earn over 6 figures a year. With a number of different marketplaces, it's possible for freelancers to find full-time or part-time work, depending on your needs.
Each marketplace does work differently, and some freelancers will find one better than another. It really depends on your needs, skill level, and how you like to work.
In this review, we'll review 1840 & Company – a new, global marketplace that helps skilled freelancers find remote jobs in virtually any line of work that can be done remotely.
1840 & Company at a glance
Variety of job types

Usability

Income potential
Summary
1840 & Company is a legitimate new marketplace with a thorough vetting process for freelancers. If you have good skills and experience, you'll be able to find good jobs as the platform works with many national and international employers. Since it's global, there's also a wide variety of different job types available for freelancers in nearly any line of remote work and language.
The platform also takes a unique approach with pricing and works to find you jobs based on your desired rate. The marketplace follows a curated, managed model so you also do not need to spend much time searching for jobs – as dedicated account managers will match you with relevant employers. It's also new, so there's not as much competition as older, existing marketplaces.
What is 1840 & Company and what does it offer?
1840 & Company is a global marketplace founded by Bryan DiGiorgio with the mission to help high-growth companies scale by hiring freelance talent.
Although the marketplace is new, it's owned by an investment company that has been around since 2014. The marketplace was created to fill the gap between industry-specific marketplaces and become a one-stop place for companies to build a fully remote team.
Rather than focus on traditional "gig" work like many other marketplaces, they've focused on becoming a scalable extension of a company's HR department, allowing employers to quickly build remote teams for open positions they need filled.
For freelancers, this means finding more long-term work, rather than one-time gigs. The platform does have a few gigs, but mainly focuses on matching freelancers with steady, long-term work that's flexible in the number of hours you can put in. For example, whether you're looking to earn some extra money working 5 hours a week or work a full-time job at 40 hours a week, you can.
What types of work can be done on the platform?
The marketplace offers a wide range of freelance work – essentially, any type of work that can be performed remotely. 1840 & Company breaks this down into 5 main departments:
Back-office operations – this includes positions like Data Entry, Virtual Assistant, Translation Services, Transcription Services, Content Moderation, Data Enrichment, Online Research, and Data Cleansing.
Finance operations – this includes positions like Bookkeeping, Controller, CPA, CFO, Accounts Payable, Accounts Receivable, Tax Preparer, Financial Planning, Financial Analysis, Business Analysis, Financial Forecasting, Financial Modeling, Budgeting, Financial Expert, Quickbook Expert, Xero Expert, Freshbooks Expert, and NetSuite Expert.
Marketing operations – this includes positions like Growth Marketer, PPC Expert, Paid Social Media, SEO Marketer, Social Media Marketing, Email Marketing, Content Marketing, Brand Marketing, Fractional CMO, and HubSpot Expert.
Technology operations – this includes positions like JavaScript Developer, CSS Developers, HTML Developer, Webflow Developer, PHP Developer, WordPress Developer, HTML5 Developer, Lynix Developer, and Python Developer.
Customer operations – this includes positions like Product Experience, Digital Experience, Customer Support, Technical support, Inside Sales, and Appointment Setting.
How much can I earn as a freelancer at 1840?
This is an important question for any freelancer to ask before joining a marketplace (although unfortunately, this is also a difficult question to answer).
Typically, the amount you can earn largely depends on you – the type of work you do and your experience.
For example, an experienced Python Developer may earn $100/hour while an entry-level Virtual Assistant may earn $15/hour. It also depends on your location.
The marketplace does utilize a global pricing model, meaning that freelancers will get paid a rate depending on their geographic location as well.
Lastly, there's one more factor to consider – the client. Clients need to have an appropriate budget that's fair for hiring freelancers. Fortunately, 1840 does a good job vetting clients and works hard to get freelancers fair, industry average rates for their work.
Getting Started – How to Join 1840 as a Freelancer
To get started, you'll need to first apply for your freelancer account with 1840 & Company. Simply visit 1840 & Company's registration page and fill out your application form.
You should take some time to fill it out and make sure you provide a strong introduction about yourself. Let them know why you believe you would be a good fit for their platform.
Remember, marketplaces tend to get hundreds of spam (or just poorly written) applications daily, so make sure you submit a good one to stand out.
Once submitted, the team at 1840 will review your application and if they like what they see, contact you for an interview. The marketplace thoroughly vets their freelancers with video interviews, behavioral tests, and specific skill tests – so you should not expect to gain instant access to the platform. However, once accepted, you can expect to begin getting matched with relevant work offers fairly quickly.
Final Verdict – Is It Worth It?
The 1840 & Company marketplace is a legitimate new platform to find good clients and seek freelance work.
It has some large clients on the platform, like Groupon, Isango, Instacart, Homelight, and LearnZillion. However, the platform is new and has not been around as long as many of the others.
I have summarized the pros and cons of the platform below to help you get a better overview of what 1840 & Company really has to offer you as a freelancer before deciding if it is for you or not.

Pros:
The 1840 marketplace has an exclusive network of clients that are vetted
Hiring is hassle-free – freelancers are given a dedicated account manager to match them with the most relevant jobs.
Flexibility – you can find part-time or full-time work that meets your needs and scale as it changes over time
You can start finding work and getting hired as soon as you're accepted
The marketplace is global and seeking freelance talent from around the globe fluent in English, French, Spanish, Chinese, Arabic, and many other languages
There's less competition as the platform does not have as many freelancers competing for jobs as many others


Cons:
The platform is new and has not been around as long as many of the others
There's no messaging platform or dashboard to communicate directly with your freelancer or client – you must use your own email.
Not ideal for finding short, one-time gigs
Overall, 1840 & Company is a new marketplace that shows promise as a marketplace to find quality, freelance work with employers. Since there is no application fee and it is free to join, the marketplace poses little risk to try.
So if you are looking for freelance work, this can definitely be a platform worth checking out.
If you have any questions or have any experiences with 1840 & Company, I would love to hear from you in a comment below.