Learn to Build & Grow a Business Online
OnlineZerotoHero.com
– Tips, Tools, Trainings, Product Reviews and more.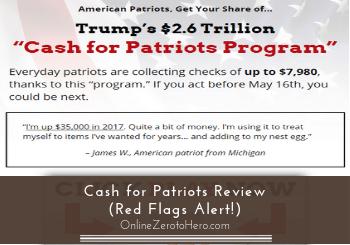 I recently came across a program called Cash for Patriots that claims it can help you collect checks for up to $6,567 from the US Government. The narrator of this program is Zach Scheidt who also claims you can simply put your name on a list, and you will start...
read more
The Ultimate Guide to Start Making Money Online!
– Without Wasting Time and Cash by Failing and Being Scammed!