A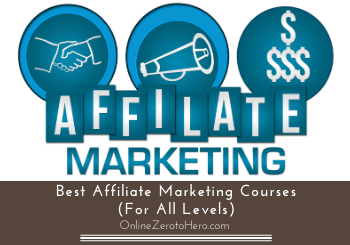 ffiliate marketing can be a great way to make a living online and it is becoming more and more popular.
But that also means there are more and more affiliate marketing training programs – and honestly many of them will just waste your time and money.
I am making a full-time income online with affiliate marketing and have taken many courses over the past few years and I still keep learning.
Based on this experience, I will in this article show you the 3 best affiliate marketing courses online in 2020 whether you are a complete beginner or more advanced.
I have followed all these courses myself and will give you details to help you find the best option for YOU as the best option can vary from person to person.
Disclosure: Some of the links on this page are affiliate links. This means at no cost to you, I may receive an affiliate commission if you purchase something through one of these links.

How to spot good vs bad affiliate marketing courses
It is definitely possible to make really good money with affiliate marketing. But that, unfortunately, also means there are people online taking advantage of this.
For that reason, probably around 90% of the programs that claim to teach you to make money online through affiliate marketing and other methods are just BS and will only waste your time and money – and in some cases, you will lose A LOT of money.
So if you are new to learning affiliate marketing, there are a few important things you just need to know before choosing the right training program for you.
There are many programs that claim you can start earning a full-time income right away by just clicking a few buttons.
Do NOT believe these claims. Any program that claims you can become rich without any effort and overnight just by clicking a few buttons is simply lying to you.
This is NOT how affiliate marketing works. It is possible for you to learn and become successful no matter your background but you need to do it with the right expectations.
So NEVER trust an affiliate marketing course that claims you can earn without effort and start making a living right away.
You are building a business and it will take time and effort – but the freedom that can come with this definitely makes it worth it, in my opinion.
So with that little warning out of the way, let's now focus on how you can then find the legit and worthwhile affiliate courses.
Free vs paid affiliate training programs
There are both free and paid affiliate courses online. But I will also be honest with you and say the free options are usually not very good or they are just an introduction for you to see if it even is the right business model for you.
It is like every other education – getting a good education will require at least a small investment.
One great thing is that some of the best affiliate training programs offer a free version so you can see what it is about and see their approach before deciding if it is for you or not.
Several of the courses I will show you below also have this option. And if you have any doubt which course to choose, it is a great idea to choose the free version first to see how they teach, see their approach, etc. to find out if you would like to learn more from them.
But realistically, if you want to learn in-depth skills that can help you create a full-time income online through affiliate marketing, you need to upgrade to a paid course at some point.
When I first started, I thought I could figure it all out myself and ended up failing and wasting 6 months because there were many important steps I missed.
So, in the long run, it can save you a lot of time and money and make it possible for you to get to a full-time online income a lot faster if you get premium training.
Luckily, learning affiliate marketing is extremely cheap compared to most other educations so it is definitely possible to afford even if you have a small budget.
I will give examples of prices and also info about the free options on the list below. But let's first go over a few important things to consider to find the right option for YOU.
How to find the right option for you
There are several great ways to learn affiliate marketing – the exact best program depends a lot on YOU.
There is no best program that just fits for all. Therefore, I will list 3 affiliate courses below that all have slightly different approaches so you can find the one that fits you the best.
One thing to consider is your interests – for example, one of the courses I will show you focuses on videos for affiliate marketing.
If you love video, this will be the best option for you while if you do not want to learn about video marketing the other options will clearly be better.
Another thing to consider before choosing the right training program for you is your budget.
In general, you get really good value for money no matter which program you choose below but there still are some differences.
Sometimes paying a bit more can help you in the long run but if you do not have the money for the initial investment there still are great solutions so you can get started even if you have a very small budget.
I will explain all the details about these aspects for the courses below so you can easily find the best solution for you or your needs.
3 best affiliate marketing courses
The courses below are, in my experience, the best online affiliate marketing courses you can join to learn affiliate marketing in 2020.
I am a member of all these courses myself and have followed the training there.
There is, however, no need to join several of them right away – one will be enough to teach you how to become a great affiliate marketer. I just love to keep learning and different courses gives different perspective that can help to boost your business so that is why I have joined all of them.
But if you are new, I would encourage you to just go through the list and find the course that fits your the best and just stick with one course and focus as much time and effort on this as possible.
Then you will see results the fastest.
#1 – Wealthy Affiliate

Best for: Beginners to intermediate
Price range: Free – $359 per year
More info: Read full Wealthy Affiliate review
Summary of course:
Wealthy Affiliate is the affiliate marketing course I started with myself and I am very grateful I found this platform as it has taught my to create a full-time online income.
What is great about it is that it has hundreds of hours of step-by-step training so you will be guided all the way even if you have no previous skills and are not technical at all.
It has a huge community and it is very easy to get help and support as a member there. Also, it is the most cost-effective affiliate marketing course I have tried out of all the programs I have joined. The reason for this is that you do not only get the training but you also get hosting, keyword tool, content platform, one-on-one support, and a lot more included in your membership.
So you basically get everything you need to be able to start and run an affiliate marketing business included in your membership and the price for this is unheard low compared to what you have to pay most other places.
You can join and get your first 10 lessons completely for free without even giving credit card info. This is a great way to get started. You can stay a free member as long as you want or if you want full access, you can get your first month for only $19.
After this, you can continue paying monthly ($49) or if you have the budget you can pay $359 for a full year which is definitely what I recommend as you then get everything you need to learn affiliate marketing and run a business for less than $1 per day. And it also gives you enough time to really commit to building your business.
Because it is such a big community and there are so much training and interaction going on inside Wealthy Affiliate, it can be overwhelming at first. So you just need to start by focusing on the core training and then you will quickly start seeing results.
It is particularly a good affiliate training program if you are a complete beginner or have a bit of experience but not a lot of online success yet. However, because of the great tools and hosting, it can also be worth considering if you are more advanced.
#2 – Video Marketing Insider

Best for: Beginners to advanced
Price range: $45 per month or $497 per year
More info: Read full Video Marketing Insider review
Summary of course:
Video Marketing Insider is, as the name suggests, focused on video marketing. So if you want to learn how to make money with affiliate marketing by using video, this is one of the best courses you can find.
Adam (the owner) has years of experience and constantly updates the platform with new training and tools. You will also learn how you can use video for affiliate marketing even if you do not want to be on camera yourself.
The platform has 100+ hours of training and in addition to this, you get access to software that can help you grow your business more effectively. Also, Adam provides very good and fast support through the exclusive Facebook group and email.
The course teaches an ethical and honest approach to affiliate marketing and it also teaches you how to use video for marketing in general so many members also use their skills to grow other businesses or sell their skills.
I have been a member of Video Marketing Insider for around a year and have learned a lot about how to use video for affiliate marketing and it has helped me grow my traffic to certain niche sites and grow my audience.
Video is the future and it is definitely a great skill to have if you want to succeed with affiliate marketing.
There will be a bit of extra costs in terms of setting up a website you also need to make the most of the course. But this can be done very cheaply and the course explains exactly how to do this. Other than that, you do not really need any further investment than the membership price to build an affiliate marketing business by following what this platform teaches.
Overall you get very good value for money with Video Marketing Insider and can choose between paying monthly or yearly (sometimes monthly is, however, not available).
There is training inside both for complete beginners but also for more advanced marketers. So if you want to learn video marketing, this is a great platform no matter your skills.
#3 – The Authority Site System (Authority Hacker)

Best for: Beginners
Price range: $997 one-time fee (discount available through link below)
More info: Read full Authority Hacker review
Summary of course:
Authority Hacker is a company by two guys that have build a lot of successful affiliates websites themselves and they then started this training program. They have a very honest and ethical approach like the other programs on this list.
The program for beginners is called The Authority Site System (TASS) and is a very thorough step-by-step program that teaches you how to build an authority website from scratch and make money with it through affiliate marketing.
Authority Hacker also has what they call Authority Hacker Pro which is a program if you at some point want even more training but TASS is more than enough to help you build a successful affiliate marketing business.
Compared to the other programs on this list, it is not so overwhelming because it only has this one training program so it is easier to follow in one sense. Compared to some of the other affiliate courses on this list, it does, however, not have as many hours of total training and as many different topics.
But their approach is proven to work and I decided to join Authority Hacker Pro and also got access to TASS and went through it even though I already have a full-time online business and I still learned a lot of small tips that have helped my business.
TASS is aimed towards beginners and you can also get help from both the owners and other members in their exclusive Facebook group.
The price for The Authority Site System is a one-time fee and it includes all future updates. In addition to the fee, you need to invest in hosting for a website and keyword tool as a minimum.
But they also offer a free online training session and this is a great way to start to see if you like the way they teach and their approach. If you join that training session through the link below, you will also be able to get a discount and get life-time access for only $599 which is very good value for such a thorough program and all the support you get.
Final thoughts
So that was a list of 3 top affiliate marketing courses I have used and learned a lot from myself.
I hope this overview has helped you find the program that fits your needs, preferences, and budget the best so you can build your own affiliate marketing business.
It takes work and effort but the freedom you get by being able to work where and when you want to and completely on your own terms is priceless, in my opinion.
If you have any questions or have any experiences with any of the courses on the list or any course you think belongs on the list, I would love to hear from you in a comment below.