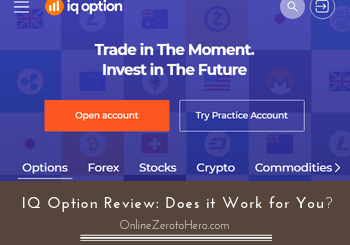 If you have been looking for ways to make money online, I bet you have considered getting into online trading – that is, if you are not yet into it already.
For that reason, you might be familiar with IQ Option.
Anyone interested in online trading must have fairly good idea about the company as it is reportedly one of the most, if not the most, popular and fastest-growing online trading platforms in the world today.
Some industry insiders say IQ Option has grown by leaps and bounds having been patronized by millions of traders in so short a time. The numbers are, indeed, impressive.
But the question is, is IQ Option legit? And, more important, does the service it offers fit your needs?
Let me reveal right away that the company is a legitimate entity; it is registered in Cyprus under the corporate name "IQ Option Europe LTD".
This does, however, not mean it is the right way for you to earn money online.
This IQ Option review will give you all the advantages, disadvantages as well as factors for you to consider before you make a decision whether to join the company or not so you can see and judge for yourself.
IQ Option at a Glance
Training

Tools

Value for Money

Income Potential
Summary
IQ Option is a company that offers an online trading platform. It is touted as one of the best in the world.
The company, however, is facing some serious issues – the most significant of which is its primary product, binary options, is banned in many countries in the world.  In fact, some governments have warned their citizens against engaging in it.
On top of that, trading is a high-risk activity that may result in the loss of your hard-earned money if you are not careful. So if you join, do not invest more than you can afford to lose as there are no guarantees.
What is IQ Option and what does it offer?
IQ Option is a trade brokerage company that utilizes an online platform to act as an agent and/or advisor between the seller and the buyer of various investment instruments, which we are going to talk about in a bit.
Many see it as one of the top trade brokerage companies in the world today, thanks to its proprietary trading platform that supposedly offers ease of use to you as a member, no matter your level of experience.
Whether you are an expert trader or a novice in the business, it's not a problem. Either way, the IQ Option system supposedly makes it easy for you to navigate and start trading.
Rather than run on the standard platform used by many trade brokerage entities, IQ Option has come up with its custom-built computer system.
Its platform is also available on mobile devices using either Android or Apple's iOS, which you can download via Google Play or Apple Store so if you prefer using it on mobile, this is possible.
Many users claim that their experience using the desktop version does not differ with that of the mobile type.
It boasts of more than 250 investment assets to choose from and claims to give you the ultimate experience and opportunity in trading.
But one thing is how the website describes itself. To find out if it is truly the right opportunity for you or not, we need to look deeper into how you can potentially earn on the platform.
What investment options do you have?
If you decide to use IQ Option's services, you have several options.
I will not go into all the details about what each of the different investment options is as you can read about that in details on their website if you decide it is for you.
There are more important things you need to know to find out if this is really a good platform for you, but let's still quickly go over the options so you can get a quick overview.
Option 1 – Binary options:
In binary options, you predict the movement of the price of an asset – for example, the stock price of Amazon, or the price of silver or the price of Bitcoin – whether it is going up or down, or high or low on a given timeframe, which can be as short as 60 seconds.
You place your trade on either result – up or down, high or low. There are two outcomes of this kind of trading, that's why it's called binary.
If your prediction is correct, you will earn a certain percentage of the amount you trade, which you can see on the screen. It can range between 70% and 95%. Thus you can get a credit of anywhere from $17 to $19.50 for an investment of $10.
If your prediction is wrong, you lose your money.
There are other variations of this instrument aside from the up/down or high/low scheme, which you can search on trading websites.
Option 2 – Digital Options:
Digital options are quite similar to binary options. The main difference lies in the addition of a strike price, which you choose yourself.
In binary options, you can only trade on the current price of the asset, while in the digital options you can trade on the strike price that you set.
Current price and strike price are not the same figures, they can be fairly away from each other.
Option 3 – Foreign Exchange:
Here you will earn money if the currency (money used in a country) increases in value from the one you bought versus the one you sold, or you will lose money if the value decreases.
For example, you bought 1,000 euro at an exchange rate of 1.10 to a dollar.  After a month, you sold your euro at an exchange rate of 1.20 to a dollar. You earn a profit of $200. On the other hand, if the exchange rate of the euro goes down to, say, 1.00 to a dollar, you lose $200.
Option 4 – Cryptocurrencies:
The trading of cryptocurrencies is similar to foreign exchange. The medium of exchange here is the digital currency such as Bitcoin, Ethereum, Monero, etc.
Other investment instruments include commodities and exchange-traded funds (ETFs).
I will not go into more in-depth details about these products here but it was just to give you a quick overview.
Let's instead find out whether IQ Option is really a good way to earn online or if there are some risks you need to consider before joining. After all, that's what my website is here for:-)
If, however, you are interested to know more about them, you can always visit IQ Option's website.
Recommended: Check Out My Top Recommended Way to Make Money Online
How do you earn from IQ Option?
If you are not familiar with trading, you might wonder how you can even make money on a trading platform.
The exact way of earning will depend on the trading method you decide to use. But in general, you will earn money from the profit of the sale of your assets – if you are lucky or have the right skills.
In this respect, IQ Option is no different from any other trade agents out there. It just differs probably on the brand of service as well as of the kind of computer program that it offers to its clients.
But it is possible to make money online by trading and if you buy low and sell high, then you can earn from IQ Option.
On the other hand, if you buy your stocks at a higher price and you decide to sell them at a lower cost, then you lose.
So this is an important aspect to be aware of before joining – it might sound very easy and simple but it is NOT easy and sure money.
3 things to consider before trading with IQ Options
From the looks of it, IQ Option can seem like an attractive and user-friendly way to make money online by trading.
However, before joining you need to know all the details about how it works so you are sure it is the right fit for you.
And honestly, there are some important things you need to know and consider before joining IQ Option, in my opinion.
So let's go over these below so you will know what you are getting into before you decide to join or not.
Consideration 1 – Risk of Losing your Capital
Just like tossing a coin, there are only two outcomes of trading financial instruments – profit and loss. The reality here is that traders, even the most seasoned out there, cannot always end up gaining.
For beginner it is even riskier.
In fact, IQ Option itself has posted a warning on its website about the risk of losing your investment, especially if you trade with CFDs.
This does not mean you cannot make money but it is something you need to be aware of. And, in my opinion, you should not go into it if you cannot afford to lose money as there are no guarantees.
Some of the trading options on IQ Option require some skills but others are mostly based on luck.
And also make sure to choose your investment methods carefully and take the time to learn the details about each method before investing.
Recommended: See How I Make $6+ Online Every Month
Consideration 2 – Trading binary options is prohibited in some countries.
IQ Option was first designed as a web-based platform for trading binary options. It turns out binary options is banned in several countries.
This may be one of the reasons the company cannot operate in some countries like the United States, Canada, Russia, Japan, Australia, Turkey, Belgium, Germany, Italy, Netherlands, Romania, Spain, and Israel.
This is something to seriously consider before choosing an investment method if you decide to join IQ Option.
Because there is a reason many countries have issued warnings against binary options – it is because it is very risky and many people have supposedly lost a lot of money like this.
The Financial Conduct Authority in the UK has, for example, warned against this and so has the Central Bank of Ireland just to mention a couple of examples.
So this shows you have to be careful before investing anything and carefully look into each investment option before getting carried away.
Consideration 3 – Complaints about the withdrawal of funds
When looking at possible online platforms to join, it can always be a good idea to look at complaints.
They rarely tell the whole story and I never fully rely on them as they can be manipulated. But they can be a great way to get an idea about certain patterns to be aware of.
And when it comes to IQ Option a casual glance at Trustpilot.com reveals not-so-appealing comments from quite a lot of reviewers.
Yes, there are those who do fake reviews and those who just squeeze their own agenda on the thread, but you can sense those who express genuine sentiments.
Several complaints revolve around the difficulty of getting back their money.
Below are two samples of them:
This is another thing you seriously need to look into when deciding whether IQ Option is the right money-making activity for you.
You may be able to earn some money from using its platform, but it does seem several people have difficulties withdrawing their funds.
So if you decide to join IQ Option, I would advise you to start small and test how well the withdrawal function works for you before investing too much.
How to be a trader at IQ Option?
If you decide you want to join IQ Option after reading this review, I will just quickly go over how this works so you fully understand what it takes.
Becoming a trader at IQ Option is actually quite easy. Here are the three hassle-free steps:
Step 1: Register
When you click the registration button, a form will appear on the upper right-hand corner of your screen. You just need to key in your first name, last name, email address, and password.
After filling out the form, you are instructed to click another button just below the form asking you to open your free account. When you click this button, you are directed to download the application.
Logging into your account just requires your email and password. Then you are ready to trade.
Step 2: Practice
Once you are logged in, you are made to choose between opening a practice account or a real one.
Yes, IQ Option provides a free demo account for practice purposes.
This is quite helpful for new enrollees, both veteran traders from other brokers and the greenhorn in the business. A demo fund of $10,000 is provided to you to make yourself familiar with how trading works in its system.
Once you feel confident about making your first real trade, you can opt to open your real account.
Step 3: Deposit and Trade
Before making a trade, you need to deposit an amount, the minimum of which $10.
As mentioned earlier, I would, however, advise you to start small and test as there are quite a lot of complaints online.
Final Verdict
IQ Option can potentially be a way to earn by trading. But this does not mean it is necessarily a good option.
So let's finish this IQ Option review by summing up the pros and cons so you can get a better overview before deciding if it is for you or not.
Pros:

IQ Option is a registered company regulated by Cysec.
Hundreds of assets to choose from
Round the clock support in various languages
The app is available on mobile devices
Has a free demo account with a virtual fund of $10,000.00 for practice purposes
Cons:

Risk of losing money
Some trading options not allowed in a number of countries
No presence in some major countries of the world
Complaints about bad service especially when withdrawing funds
Now that we've done dissecting the company, presenting the advantages and disadvantages as well as the points for consideration, you should have a fairly good idea of what decision to make.
Again, for the risk-takers, it can be a vehicle to grow your money. But for those who take financial safety as a priority, there are other ways to earn.
Let me remind you to take note of the warnings you may have heard about trading. More important, please reread the warning of losing money posted by IQ Option itself on its website.
So, choose the best way to make money online for you and do not invest more than you can afford to lose as there are no guarantees.
How I make a living online
If you are looking for a different way of building an income for yourself, there are luckily many options online today.
Personally, I have been able to create a full-time online income that now allows me to work completely on my own terms.
It takes some effort but it is totally worth it.
If you want to follow my footsteps and create your own online income, then check out my FREE guide where I explain how this is possible step-by-step.
You can even get started with these steps as a complete beginner.
If you have any questions, comments, or have any experience with IQ Option yourself, I would love to hear from you in a comment below.