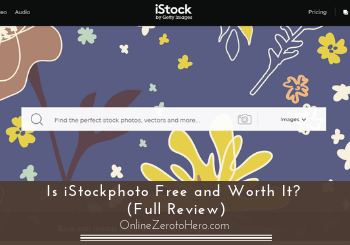 Illustrations, images, and videos are very important if you work online, and it can be hard to find good options.
That is why stock content platforms can be very useful – one such platform is iStockphoto (or just iStock).
But before deciding to use this platform you might wonder: is iStockphoto free, is it safe and legit, what does it really offer, and is it even worth it?
These are all very important questions to know the answers for before joining any stock content platform.
In this iStockphoto review, I will give you all the details – both the pros and cons (yes, it has both), so you can see what really to expect and make a decision based on this.
iStockphoto in a Glimpse
Selection

Usability

Value for money
Summary
iStockphoto is a legit and safe platform to get your stock content. It has a very big selection of high-quality content.
However, the main thing you need to consider before joining is how big your budget is as it is a bit more expensive than some similar sites and the free membership gives you limited options.
Secondly, you need to know that there have been some complaints about their customer support. This does not mean it cannot be worth it as it has some really good options, but you just need to take these things into consideration before joining to make sure it is the right option for you.
What is iStockphoto and what does it offer?
According to iStockphoto (or just iStock) itself, it is one of the world's leading stock content marketplaces.
It is owned by Getty Images which you have maybe heard of if you have ever looked into getting stock content before.
iStock was founded in 2000 so it has been around for a while which in one sense is a good sign. But it is, of course, not enough to decide if it is really the right platform for you to join or not.
So let's start by going over the options iStock offers.
Option 1 – Royalty stock photos
If you work online or in general ever need any images, you have likely looked for stock photo platforms as it can be difficult to get enough good quality images otherwise.
One of the main things iStockphoto is offering is royalty free images.
According to the site itself, it has millions of stock images to choose from – exactly how many it does not say. But there are a lot and you can find images in more or less any category.
You can either use the search bar to find relevant images or browse through the many categories to get inspiration.
I most say that the collection is very big and it is quite easy to find relevant images.
This can, however, also be a bit overwhelming as you can quickly end up spending a lot of time browsing through the collection to find the right images for you.
In a way, this is a positive problem because it is better to have too many options than some platforms where you struggle to find any images of high quality.
So the stock photo section of iStockphoto is definitely good and gives very good opportunities, in my opinion.
Option 2 – Illustrations and vector graphics
It can be very handy to get access to illustrations and vectors in addition to actual photos.
Personally, I most often use illustrations for my websites so it is an important option on a stock content platform, in my opinion.
Also here iStock has quite a lot of options. You can, for example, see some of the categories you can browse through here.
iStock itself says they have millions of illustrations and vectors and there definitely is a lot.
I, for example, just tried to check out a random category – coffee stock illustrations.
Here you can see I found 138,930 stock illustrations and vector graphics just within the topic of coffee.
So if you, for example, work with coffee as an affiliate niche, you will have plenty of images here.
That goes for more or less any category – there are A LOT of illustrations to choose from and they are high-quality as well.
Option 3 – Stock videos
Depending on your needs, having access to stock videos can be a real time-saver.
iStock has a big stock video section as well. Again you can use the search bar or you can browse through the categories to get inspiration.
There are many categories to choose from. The ones displayed on the image above are just a very small selection.
The videos are really high-quality. Most of them are between 10-40 seconds long.
So as a part of your video projects, some of these videos can definitely make them look good. But it, of course, depends on how you, in general, find the conditions on iStock, which we will go more into a bit later in this review.
Option 4 – Adobe® Creative Cloud® plugin
If you are using Photoshop, Illustrator, or InDesign, iStockphoto has a plugin that might be interesting for you.
They call it the Adobe® Creative Cloud® plugin. It allows you to connect any of these programs to iStock so you do not have to leave them to go browse iStock to find the images you need.
It is available for Adobe Photoshop, Illustrator, and InDesign CC 2018 and above.
Below you can see iStock's own video where they explain a bit more about this plugin and what it can be used for.

Option 5 – Link to dropbox
It can be very handy to have access to your files and images from all devices. That is why cloud based services are becoming so popular.
If you are using Dropbox, you can link your account to iStockphoto.
This will the give you access to all your files from any device you log in to Dropbox on.
Option 6 – Earn by selling stock content
Any stock platform, of course, needs contributors that produce the content.
If you take photos, create illustrations, or record videos, you can join iStock as a contributor and earn by selling your work here.
If you get accepted as a contributor, you can upload your work and when people purchase it, you will earn a percentage of this.
I am not a contributor myself, so I honestly do not know how good the conditions are as a contributor on iStock compared to on other platforms but still just wanted to mention it here so you know it is an option.
You have to apply to become a contributor. You do this through the Getty Images App.
The next step is then to upload samples of your work. They will then review your work and let you know if you are accepted as a contributor.
You have to be at least 18 years old to apply.
Is iStockphoto safe and legit?
As you can see, iStock has quite a lot of options. But it is, of course, also very important to know if it is a safe platform to use.
First of all, it is Getty Images that is behind the platform which is one of the big players in this field. That in itself is a good sign and it is a legit company.
Secondly, as long as you stay within the license terms, it is a safe platform. In fact, every file you download with a license comes with a legal guarantee according to their terms.
To be on the safe side, I would advise you to make sure to go through the license terms to make sure you stay within them.
But a couple of important points I just want to point out here is what you can NOT use iStock content for:
You cannot use it in any logo or trademark
It is not allowed in any pornographic, obscene or libelous works
Stockpiling subscription downloads is not allowed
In case you do not know what stockpiling subscription is, it means that you cannot just join with a subscription and then download a bunch of images, then cancel your subscription, and then use the images through several months or years.
Any file you download must be used in an end project within 30 days of the end of the subscription term or the license for the file terminates.
This is very important to know and it is a bit different from some other platforms where there is no limitation like this.
It is not necessarily a problem but you just need to be aware.
But beware of iStock's terms are subject to change any time, so make sure to check it out yourself before joining.
iStock pricing (free vs paid version)
The price of a stock platform is, of course, also important to consider before joining. And you might have seen iStock advertised as a free option somewhere.
However, you need to understand exactly how the pricing structure works and what parts of iStock is actually free to see if it is really for you.
So let's start with the free option. You can join iStockphoto completely for free. As a free member, you will, however, get very limited options.
But you can get some files for free. Every week, you can get one illustration, one image, and one video for free.
Just be aware that these are not files you can choose freely. It is set files and there are new ones every week. So it does not give a lot of flexibility but still nice that they do offer some files with the free membership.
And the files with the free membership are of high quality as well.
However, if you want access to the millions of files iStock has and freely browse and choose, you need a paid license. Here you have a few different options.
But if you are looking for completely free images, you should check out this list of free stock image platforms instead.
I must say that the license and subscription options on iStock can be a bit confusing at first. But I will try to explain it.
So, first of all, you need to know that you can choose either to get a subscription if you have a continuous need for files, or you can choose to just get credits if you only need files once in a while.
Every file belongs to one of two categories: Essential images or Signature images.
The Essential collection is files with standard photos, vectors, and illustrations and is kind of the budget solution.
The Signature collection is files from a premium collection and files you can only find on iStock.
If you get the credits, the price will naturally be higher but you will also have the freedom to only pay when you download.
The number of credits you have to pay per file depends on the collection you choose a file from. Below you can see examples of prices for the credits at the time of writing this review.
The more credits you buy at one time, the lower price you get per credit.
You can also buy more credits than the image shows above as it just shows examples. You can get it all the way down to $8/credit if you buy 300 credits.
The cheapest images you can get are 1 credit, so you can potentially get some images for $8. Images from the Signature collection, however, costs 3 credits so those will naturally be more expensive.
The credits will never expire as long as you use the platform at least once per year. This means you just have to log in once per year to keep the credits active according to the site itself.
If you have a continuous need for images, you can also get a monthly subscription.
Here the price will depend on whether you want access to all images or only the Essentials collection. And if you want to pay monthly or yearly and how many monthly images you want access to.
Be aware that videos at the moment are not included in any subscriptions.
The more images you get per month, the cheaper it gets per image. And if you pay yearly, you get a big discount compared to paying monthly.
The pricing structure can make it a bit difficult to figure out exactly how good value you get for your money. But what I like about it is that you can adjust it according to your needs.
I can, however, say that compared to another premium stock content platform Shutterstock, iStock is a little more expensive.
But which one is best depends mostly on your needs.
No matter what, iStock is not for you if you are on a very tight budget as you can see. Then I would instead suggest you to check out the budget stock platform StockUnlimited.
Get a discount with an iStock promo code

In case you decide to get iStock, it might be worth knowing that they offer a promo code that can give you a discount.
They have published the discount coupon code on their own website, so you know it is a legit code.
By using the code SAVE10, It will give you a 10% discount of your next credit pack. Be aware that the discount is only for credit packs.
This code might be subject to change, but as mentioned, it is published on iStockphoto's own website so if you want the discount and this code does not work, then check their website.
You can find the section by looking in the footer. Here there is an option called "iStock promo codes" where you can find the most current code.
iStockphoto complaints
I must say that I like what I have found on iStock. But I also looked into complaints, as this can give you a glimpse of some other aspects as well.
I do, however, never only rely on complaints as there will always be people that will complain. It can definitely be justified but when I look at complaints I look for patterns and if people actually provide evidence or are just angry internet trolls.
When it comes to iStock there are quite a lot of poor reviews. And some of them seem to have some good points. Especially one thing I noticed is that several people complain about poor customer service on Trustpilot.
The above person is an example of such a complaint. Another common complaint is the price.
I agree that it is quite expensive but I do not necessarily think it is a valid complain as they are quite clear about the price and luckily there are many competitors to use instead if it is not within your budget.
But the several complaints about poor service do worry me a bit. And it also worries me that iStock does not give an answer to any of the complaints on Trustpilot.
In addition to this, I took a look at their Facebook page and here they do also not seem to respond to people that ask questions.
This does not mean it cannot be worth joining as it has some good options. And personally, I rarely need support on stock platforms.
But it does seem like the customer support is not very responsive which is, of course, also something to take into consideration before joining.
Final verdict
iStockphoto is a legit platform and it is safe to use as long as you stay within the license terms.
But there are many stock content platforms out there, so this does not mean it is necessarily a good option.
So let's finish this review by summing up the pros and cons so you can get a better overview before deciding to join or not.

Pros:
High-quality content
A lot of content to choose from
Easy to use

Cons:
Several complaints about poor customer service
A bit expensive compared to other platforms
Overall, I would say that if you are looking for access to a lot of high-quality stock content, iStock is definitely a platform where you can find this.
Just be aware that you will not get a lot as a free member and it is only for you if you have a fairly high budget for images, illustrations, videos, and more.
If you have that kind of budget, I personally think ShutterStock gives better value for money. But that is just my opinion, and iStock definitely also has many good options even though it seems like their customer support is not the best.
So I hope this review has now helped you find out exactly what to expect from iStockphoto and if it is the right platform for you or not.
If you have any comments, questions, or have any experiences with iStock yourself, I would love to hear from you in a comment below.