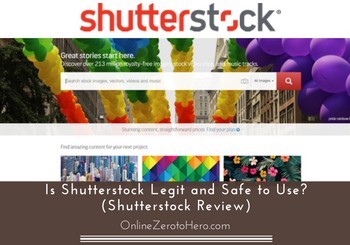 Shutterstock is one of the biggest platforms for royalty-free images, stock video clips, and music tracks.
But is Shutterstock legit and safe to use, or is it a platform to be careful about?
In this Shutterstock review you will learn all the details about what this platform has to offer, if there is anything to be careful about, and if it is even worth joining.
So if you are looking for stock assets for your websites or visual products, then find out if this is the platform for you or not.
Disclosure: This page may contain affiliate links. This means at no cost to you, I may receive an affiliate commission, if you purchase something through one of these links.
Shutterstock at a Glance
Selection

Usability

Value for money
Summary
Shutterstock is a big stock platform. It has a huge selection and can give you access to a lot of great assets and has several extra good tools. It is however not a platform for everyone – it very much depends on your needs and budget. But if you have the budget, it is definitely one of the best platform to get visuals.
What is Shutterstock and what does it offer?
Shutterstock was founded in 2003 by the photographer Jon Oringer, and the first it offered was thousands of Jon's own photographs.
So the platform has been around for a while, and by now it offers several options. It is available worldwide in more than 20 different languages, and it has more than 1.8 million users in 150 different countries.
So let's look into what Shutterstock is offering now:
Royalty Free images and visuals
Shutterstock is first of all known for its stock images and visuals. This was also the main offer the platform had in the beginning, and it is still a big part of what it offers.
It offers more than 200 million stock images so more or less no matter what kind of images you are looking for, you will be able to find it here. And usually more than 1 million new images are added every week. From all the stock image platforms I have tested and used, this is by far the biggest selection.
It is of course great to have such a big selection, but I also know from experience that it almost can become overwhelming:-) You can end up spending a lot of time to browse through the selection to find the perfect image. But on the other hand I prefer having a big selection to go through than to have to settle with a poor image because the selection is small:-)
Luckily Shutterstock has a good search function that makes it easy to find relevant images, and it also has many categories, you can browse through to get images within certain topics.
In addition to the big amount of images, Shutterstock also has a lot of vector graphics you can download. This is for example icons, banners, logos, infographics, cliparts, and web templates. Vectors are great for visual projects, and I personal often use vectors instead of images for my websites, as this is sometimes better to use as illustrations – but that of course depends on the topic. But Shutterstock definitely has a very good selection of vectors.
Stock video clips
Shutterstock has also become a big platform for video stock clips. It has a lot of clips, you can use for your own video projects.
Currently there are more than 10 million clips and more than 70,000 clips are added every week. As with the images on Shutterstock, there is a search function that makes it easy to find the clips you are looking for, and you can also browse through the categories to get inspiration.
There are many categories like for example football, sports, weddings, children, technology, business, nature, and many more.
The clips are usually from a few seconds up to 1 minute.
Music tracks
You can also find many music tracks on Shutterstock. These are great, if you need some music tracks for your own projects – for example if you need some music for videos you are editing.
You can find tracks within many categories. The main categories you can browse through are genre, mood, and tempo.
Within each of these categories there are many more subcategories. Some examples for subcategories for "genre" are dub step, games, hip-hop, dance, children, blues, corporate, jazz, and many more.
Before downloading the tracks, you can hear them, so you know for sure, if it is what you are looking for.
Editorial images
Editorial images are especially great for news websites, or if you in general need high-quality and news related images.
Shutterstock has a very big selection of these editorial images, as you can find more than 40 million editorial images here, and 10,000 new are added every day, so there are always new relevant images.
There are 4 main categories of editorial images on Shutterstock.
These categories are entertainment, sport, news, and royalty. So if you need good images within these areas, but do not have the option to take the pictures yourself or do not have the budget to hire a photographer, this can be a good option to get access to high-quality images.
App for mobile devices
Shutterstock has a mobile app, you can download on App Store and Google Play.
In the app you can browse the library on the go, download images, and edit images through the Shutterstock editor (see more about this below).
So if you like to be able to work with your images on the go, the app can be an easy way to get access to this.
Edit images and create visuals
Shutterstock has its own editor/design application, you can use to create social media posts, promotions, and other visual products. There are of course other great ways to create graphics for free, but if you are a member of Shutterstock, it can be an easy way to use the images directly from the platform to create graphics.
Below you can see a little presentation video about how the editor works:

Become a contributor
If you are looking to make some extra money, you can become a Shutterstock contributor.
This means that you can produce images and videos and then get paid for uploading them on Shutterstock. There are of course some requirements for the quality, so you just need to make sure to live up to these.
But it is definitely a legit way to make some extra money, if you like taking photos or producing videos, as Shutterstock has paid out more than $500 million to contributors since it started it 2003.
Other Shutterstock tools
Shutterstock has a few other options and tools. There are regularly new tools added, but a tool I think is very useful is the option to import Shutterstock images directly into PowerPoint.
Another really great tool is a Chrome extension you can install in your browser. When you then surf online, the extension makes it possible to pick any image you find online, and then it will be matched with one from the Shutterstock library – this makes it very easy to find photos and inspiration while you are surfing.
==>Click to Visit Shutterstock<==
Is Shutterstock safe and legit to use?
As you can see, Shutterstock has a lot of options, but when it comes to using images and music, it is very important the platform you use is safe and legit to use. If not, you can end up breaking the copyright law and get into a lot of trouble.
However, when it comes to Shutterstock you do not have to worry. It is one of the biggest and most popular platforms, and it is 100% legit and safe to use.
As long as you just make sure to read the conditions for your particular membership, as the different memberships can have different terms.
For example when using the editorial images, you mostly have to credit the Shutterstock photographer, where this is not necessary when using most regular images. So just make sure to read the terms, when you join.
But overall, you do not have to worry about breaking any laws, when using content from Shutterstock, if you are a member there.
Of course, you are not allowed to just take a screenshot of Shutterstock image without being a member. I sometimes see people using images that have the Shutterstock watermark on them, and then have just saved and uploaded this to their website, and think this is ok – that is not a legal way to use images. As on any other platform, you need to make sure to have access and the rights to download them, before you use them for your own projects.
Is Shutterstock free?
When finding images, visuals and music for your projects, the price of course plays a role.
There are many free stock photo platforms online, and many of them are also great. However, the free ones often do not have a very big selection, and you can also not be 100% sure your are not breaking any copyright rules, as the platforms often do not have the resources to make sure the contributors only submit work that they actually have the rights for.
Furthermore, there are so many websites and projects that use the free image platforms, so if you want your visual projects to stand out, it can be worth considering a paid platform – personally I have also found it saves me a lot of time to have a membership to a paid platform, as it is a lot easier to find relevant and good images.
So as you have properly figured out from what I just wrote, Shutterstock is in general not free. You can join for free, and there are actually also weekly free images you can download with the free membership.
So there are some free images on Shutterstock but not a lot. You should not join the platform, if you are only looking for free images, as the selection here will not be very big.
So let's look into what it cost to download assets on Shutterstock.
Shutterstock pricing
There are many prices on Shutterstock, as it depends a lot on your needs and what kind of assets you want access to.
There are several price options, if you just want access to images, as well as several price options, if you want access to videos or music tracks.
The images have the most different plans. You can buy monthly memberships with for example access to 10, 50, 350, or 750 images every month. You can also buy single images, or get a membership for teams and enterprises. The prices depends on, if you pay monthly or yearly. But to give you an example, it costs around $200 per month for 750 images per month, if you pay yearly. It will cost around $115 per month, if you only want 50 images per month.
The videos you can buy in packs of 5, 10, or 25 clips. The price depends on the quality of the video and the amount of clips you buy. But if you buy the pack of 5 video clips the price ranges from $219-$899 in total depending on the quality of the clips.
You buy the music tracks one at the time with either a standard (around $49) or enhanced license, depending on what you are going to use it for.
So there are many prices and membership plans. I am not going to mention them all here, as there are so many, and the prices are also subject to change. So I have just given you are few examples to give you an idea of the price level, and then it is better to check the full price plans on the Shutterstock website.
So is Shutterstock worth it?
In general Shutterstock has many options and great quality assets. But it is not a platform, if you are on a very tight budget. The prices can seem a bit high, but the amount of images you for example get access to are also extraordinary and makes it very easy to find the right images for your projects.
So I would say that Shutterstock definitely can be worth it. But it very much depends on your budget and needs.
If you have a smaller budget but still want a good paid platform to get great images and video clips, you can consider the platform StockUnlimited – it does not have as many assets as Shutterstock, and in general does not have as many opportunities, but can be a great alternative, if your budget is not for Shutterstock at the moment.
Get a discount with Shutterstock coupons
If you want to buy access to Shutterstock, there are many websites that offer Shutterstock coupon codes. Not all of these are real though.
But there is one way to make sure you get a valid and legit Shutterstock coupon code. Shutterstock actually offers a coupon on its own website to give you 10% discount on your next order.
As it is a code on the official website, it is the best way to make sure to get a discount and a valid code. The image above is the coupon code at the moment of writing this review. Shutterstock might change it in the future, so if it does not work, it will luckily be easy for you to find the newest code.
On the Shutterstock website scroll to the bottom of the website. In the footer with small writing, you will see it says "Shutterstock coupons" – click this, and you will see the newest and updated code, if you find the code above is not working.
Final thoughts
Shutterstock is one of the biggest platforms for stock images, video clips, and music tracks, and in my opinion it is also one of the best. But let's sum up the pros and cons to give you a better overview before deciding, if it is the right platform for you.

Pros:
Huge selection of images, editorial images, video clips, music tracks, and more
Many new assets uploaded every week
Easy to use
High-quality assets
Great extra tools like the editor, app, and chrome extension

Cons:
Is not for people on a very tight budget
Shutterstock can definitely make it easy to find the visuals you need for your projects, and they are of very high quality. It can save you a lot of time finding visuals and more, and because of the huge selection it can make your projects stand out. The only con is that it is not a platform for everyone, as it requires a decent budget for this kind of assets.
But if you have a budget for this, it is definitely a platform worth using.
==>Click to Get Access to Shutterstock<==
If you have any comments, questions, or have any experiences with Shutterstock yourself you would like to share, I would love to hear from you in a comment below.