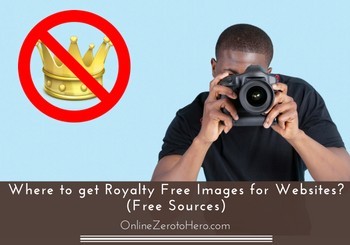 Using images are important to make a website engaging and good-looking.
However, it can be difficult to find good sources of images, if you do not have a big budget.
There are luckily several websites that offer royalty free images for websites completely for free.
In this article, I will show you some great sources for free pictures for your website, but I will also go over a few things that are very important to know before you start downloading images and uploading them to your own site.
If you are not aware of this, you can potentially end up breaking copyright rules and get into trouble.
Do you need to care about using royalty free images?
Let me just start by making it clear that I am not a lawyer, so you should not take the info below as legal advice.
This is me sharing my experiences about the importance of using images you are allowed to use, as a website owner. If you need more specific legal advice, you should instead contact a lawyer. And always make sure to check the terms and conditions of the platforms you get the images from.
With that said, let me explain the basics of royalty free images.
Royalty free images mean you have the right to use the images on your website. Royalty free does not necessarily mean the pictures as such are free. There are platforms where you pay a fee for the images, and you can then use them as much as you want, without paying a fee for each time you use it.
However, there are also free portals that offer royalty free images for free, and I will show you some of these options later.
What is most important when using images for your website is that you have the right to use them. If you are using images that are not royalty free or not are available with a CC0 license (creative commons), you can get into legal trouble.
I know that you might think the trouble you can get into is probably not too bad, so why even care.
You should definitely care, as there are companies specialized in finding images that are breaking copyright rules and suing them for it. And the fine can be really big and can break especially small companies.
This might of course never happen, and there are people that use images illegally for years without ever getting into trouble, but that does not mean it is not risky. I am not saying this to scare you, but just to make you aware of the potential risk, if you decide not to care about it.
What to be aware of before using free stock images for websites?
As mentioned, there are luckily plenty of platforms that offer free images.
I however at some point became aware there can be some risks involved in using the free portals. Most of them are completely legit, and I know people that have just used free images from these portals without any problems for years.
I just want to mention what I found out about these portals, as it changed my mind about how often I use them, and my priorities, when it comes to the use of images.
When people upload images to these free portals, there are releasing them and allowing people to use them. That is a part of the terms most of the free stock image platform have, when you upload images there.
However, what the free portals in most cases cannot guarantee is that the person uploading the picture actually had the rights to do so.
If I, for example, took a random image from a website and uploaded it to a free portal, I would allow people to use it. But what if I never had the right to do so?
The person who actually has the rights for the image could then come after everyone, who have downloaded it and used it. Below you can see an example of a person who writes about an experience like this in a forum.
The paid portals on the other hand in most cases guarantee this cannot happen, and you will know for sure the images you download cannot get you into trouble.
That is why I personally decided to buy a membership for the stock image portal StockUnlimited, as it has low prices, and I did not want to worry about any copyright issues. If you have a bigger budget and want access to even more images, Shutterstock is one of the best paid platforms.
With that said, MANY people are constantly using and downloading images from the free portals, I will show you below, and I am also still myself sometimes using images from some of them.
I have not heard about many cases like the example above, but I have heard of a few – also some, where the amount they had to pay was a lot higher.
So even though it will not happen to most people, I just wanted to make you are aware of the potential risks before starting to download any images. And also wanted to use it as an example to encourage you to take copyrights serious and always check the terms and conditions on platforms you download images from.
Where to get free pictures for a website
Now we got all the practical info out of the way, so let me now show you some great places, where you can find free photos for your website.
I have seen similar lists that are just trying to be as long as possible, and trying to mention as many sites as possible. I decided not to do a list like this, as I think that is too overwhelming and unnecessary.
Often they end up including platforms that are not really worth using just to make the list long, and you might just end up wasting your time testing the different sites. I have instead prioritized and only included some of the best platforms.
The list is not in a prioritized order, as the best site for you will depend on your needs and preferences.
---
Pixabay

Pixabay is one of the most well-known platforms with free images. It has more than 1.4 million royalty free images and videos, you can download.
It is a platform I used to use a lot myself before I upgraded to a paid platform. It has a lot of great images, icons, vectors, etc. Because it is so popular, you will however probably end up having images on your website many other websites also use. But that is, in general, the case with images from any free portal. And most people will not notice anyway.
You can download images without signing up, but if you sign up (for free), it will be faster to download, and you will be able to download in a higher resolution.
---
Unsplash

Unsplash has more than 300,000 high-resolution photos you can download and use. Contrary to Pixabay that also offers vectors, icons, drawings, and videos, Unsplash only offers photos taken by photographers.
There are many beautiful photos, and it is definitely a site worth checking out if you need photos for your websites. It is very easy and fast to download, as you do not need to sign up. You just click "download", and you will get the image in seconds.
---
Wealthy Affiliate

Wealthy Affiliate is a bit different from the other platforms on this list, as it is not actually a stock image platform. It is a training platform, where you can learn about building websites, online marketing, and about building an online income.
The reason it is still on the list is that it has a content creation platform, where you can get free access to more than 1 million images. It allows you to get access to images from several of the other platforms on the list in one place.
However, It is not a free platform, as access to the training, hosting, etc has a fee. But if you are a member, it is an easy way to get access to A LOT of free images in one place, and as it, in general, is one of my top recommended platforms for online marketing and growing an online business, I still wanted to include it here on this list.
Read more about Wealthy Affiliate
---
Rawpixel

Rawpixel is a pretty cool stock photo site. It has both a free and a paid version, but there are a good amount of great images for free. It has great photos, vectors, boards with collections of images within different categories, and art.
It is easy to find good images, as it has a great search function. Contrary to most of the other sites on this list, you have to create an account to be able to download the images. It does however only take 1 minute, and you only have to give your email and name. With the free account, you can download 100 images, which is more than enough for most people.
---
PikWizard

PikWizard is not very well-know yet but it has some good opportunities for free images. Especially if you are looking for pictures of people which is not always easy to find on the free image platforms. It has more than 100,000 images and it ads new images every day and is aiming for more than 1 million images eventually.
It has a good search function and you can download the images without having to be a member – just click the image and then it will start downloading. Just be aware that when you do an image search, many of the top results will be sponsored images from Shutterstock. So in most cases, you have to scroll past these to get to the free images.
---
Pexels

Pexels is a smaller site, as it only has around 40,000 stock photos. There are however many nice photos there, and it can be a very useful platform, and they upload around 3,000 new photos every week.
Like Unsplash, it only has photos and not icons, vectors, etc. It does, however, have a video portal as well, where you can find free video clips to download.
---
LifeOfPix

Again a smaller photo site, but it has some photos of really high quality. If you are looking for landscape photos, animal photos, and similar, you will find a lot of amazing images here.
It is easy to use and easy to download images. Even though the selection is not so big, it is still a platform worth checking out depending on your needs. It also has a platform that offers free videos, you can download.
---
StockSnap

StockSnap makes it easy to search for photos, as it has many tags and categories that can help you narrow you search. You can also search by looking at the trending images, sort images by the most downloads, and more.
It has a lot of great photos, but no vectors or icons.
---
Foodiesfeed

Foodiesfeed is a bit different from the other sites on the list. It only has around 1,000 images, but the images are very specialized. They are all about food.
So if you need images of food for your website, this is definitely a website you should check out. It is easy to download the photos, as long as you are just aware there are a lot of ads on the site, you need to close to be able to get to see the images. But considering the images are free this is fair, as they of course also need to make a living.
---
Where you should NOT get images
As you can see, there are plenty of royalty free images available to use on your website.
Here at the end I just want to mention how you should absolutely NOT get your images.
You cannot just find a nice image on a random website, save it, and then upload it on your own website. You do not have the right to do this without asking the owner of the website, and you can get into trouble, if you do this.
It might sound logical, but I have seen people do this, as they are simply not aware they have to think about copyrights. So just wanted to mention it here, to make sure you do not do this.
Final thoughts
Now you have a good idea about where to find free stock images, you can use on your website, and you are hopefully also aware that you should always read the terms and conditions to make sure what rights you have.
Remember that before you upload your images to your website, it is important to optimize them for the web. If you do not optimize them for the web, you miss out on a lot of benefits, and you can potentially hurt the performance of your website.
If you do not know how to do this, I have written a step-by-step guide about how to optimize your images for websites, and you are welcome to check that out.
If you have any comments, questions, or know a free image platform you think belongs on the list, then feel free to leave a comment below.