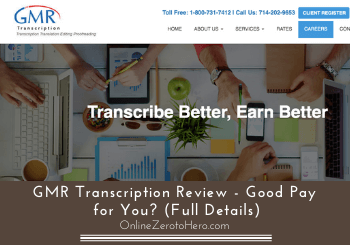 Did you know you can work at home earning an income by converting audio into documents?
You just need a good pair of a headset and have a fast typing speed and then you can start your career as a transcriptionist.
There are a lot of transcription companies online so you can get lost trying to find the right one for you. Some require a certain level of experience while others welcome newbies who want to start their online career in the transcription industry.
If you find yourself going through the different transcription companies today, then you will probably come across GMR Transcription.
But is GMR Transcription legit and really worth joining?
That's a valid question given that there are scams these days pretending to be online jobs. So it's important you do your research before jumping into any online opportunity.
So, this GMR Transcription review will give you all the details so you know exactly what to expect and will help you asses if this is the right opportunity for you to earn online or not.
GMR Transcription at a Glance
Tools

Usability

Income Potential
Summary
GMR Transcription offers both English and Spanish transcription and translation services. Its customers include some well-known companies such as McDonalds, Amazon, Chevron, Microsoft, and Dell.
The company pays per audio minute with a rate higher than your average transcription company. While you do not need any transcription experience, you have to pass their transcription test. Once you pass, you are required to do 120 minutes of unpaid transcription before you can start earning.
This is a legit online opportunity if you type fast and a U.S. citizen. If you know Spanish, you can increase your income potential in this company as they do Spanish to Spanish transcription. 
So if you're feeling confident with your skills, it might be the right option for you. Just remember to go in with the right expectations in terms of the income potential and workload. After all, this is still a freelance position which means work may not always be available. 
What is GMR Transcription and what does it offer?
GMR Transcription was founded by Ajay Prasad back in 2004 with the mission "to serve transcription & translation customers, using the latest technology combined with highly skilled human transcriptionists".
Prior to founding GMR Transcription, Prasad served as a marketing executive for different corporations.
The company has been serving clients for more than 15 years now with offices in California, Georgia, New York, and Florida.
They offer translation and transcription services in both English and Spanish. According to their website, they've had 10,435 happy customers since 2004. Some of these customers listed include Amazon, Chevron, Dell, McDonalds, MAC, ADP, Levi's, Microsoft, and University of Oxford.
There are all established companies so take this as a good sign of being a legit transcription and translation company. They not only offer these services to businesses but also to universities and government institutions.
So if you end up joining as a transcriptionist you can expect to work for some of these clients.
The transcription services they offer include academic, legal, business, video, and even podcast. Therefore, expect different kinds of audio files to be transcribed if you're going to apply to this company.
While the company offers careers for both translation and transcription, this review looks into your transcription opportunity.
Now, before we go into your income potential, let's look at how you can become a GMR transcriptionist.
How do you join?
GMR Transcription is a US-based company that only accepts U.S. citizens as transcriptionists. So while this work is home-based, you have to live in the U.S. in order to apply.
If you're living outside the U.S., there are other transcription companies where you can apply such as Crowdsurf.
To apply, you simply click "Careers" on their website. There, you can choose between becoming a translator and a transcriptionist.
There are two steps in your application at GMR.
First, you fill out their application form with your name, address, phone number, and email. Indicate if you're willing to take a short test and the type of work you desire.
As mentioned, they accept both English and Spanish transcription. You also have to include your highest educational level and if you have any experience in transcription including any certification.
You then attach your resume at the end of the application form and then click submit.
Once you've submitted your resume and basic information, you will receive a short test via email. This is the second part of your application.
This requires you to transcribe specific audio and return it to GMR to be assessed. Take note you have three days to submit the test so make sure you take your time since the company guarantees 99% accuracy to their clients. This means you have to deliver the same accuracy in your work.
It will take around two weeks for you to hear feedback about your application. So, you can also apply to different transcription companies after you've submitted your application to GMR. Since most transcription platforms are freelance, you have more chances of getting work if you apply to different platforms.
If you don't hear from them within two weeks, then you can focus on your other applications.
If you do get accepted, then let's look at how much you can actually earn.
How much can you earn?
Transcription platforms pay their transcriptionists either per audio hour or per word transcribed. For GMR, you will be paid per audio minute.
There is no published rate on their website but they claim their transcriptionists and translators can earn between $1000 to $3000 per month.
Upon research, reviews say that the average earnings are between $0.70 to $1.25 per audio minute. That means you will get a pay of $75 at most for an hour of audio to be transcribed.
That's quite a good rate in my opinion – but you need to be fast and very skilled to even get close to this rate.
So if you are very skilled, then it is possible you earn $1000 per month as long as you have consistent work daily.
So what's the catch?
As a new transcriptionist, you will be required to transcribe 120 minutes of audio for free. This is considered your trial period and you will be graded based on your speed and accuracy. Once you pass the trial period, you can move to a paid position.
This is quite a lot of free work you have to do, in my opinion, and it is definitely something you need to consider if you are willing to do before joining.
Once you actually start doing paid work, you have to complete at least 4 audio hours per month with high accuracy to remain working at GMR.
Regarding your payment, once you start working, you can either have it sent via PayPal or direct bank deposit so the payout methods are quite convenient.
Recommended: Click to Learn My #1 Recommended Way to Make Money Online
Is it worth it?
I'm actually impressed that GMR Translation has a 4.6-star rating at Glassdoor.
Most members find that the pay is good and that they have steady work. This means you can expect regular audio files to be transcribed so you don't have to worry about the required 4 audio hours transcribed per month.
That's good since the most common problem you will encounter as a freelance transcriptionist is the lack of steady work. For example, academic transcriptions are mostly seasonal since there are summer days for universities where there are no files to transcribe.
For GMR, they cover medical, legal, business, and academic transcriptions so you have a wide array of files to choose from if you're working for them.
But for this transcription work to be worth it, you have to be a fast typer so you can maximize the good rate. The faster you transcribe an audio file, the more hours you can get paid.
If you know Spanish, then you can earn more since it appears they are always on the lookout for Spanish transcribers.
In my opinion, this is an opportunity that is best for fast typers and Spanish transcriptionists. You can definitely add this as a source of income but remember that you are still a contractor so expect that there might be days where you won't be doing any work.
There are also other transcription companies that offer the same pay range. These include 3PLay Media and Daily Transcription. So you can also join some of these to get better chances of having consistent work.
You don't need to be an experienced transcriptionist in GMR Transcription. So as long as you pass the application test and finish the probationary period, you can join.
But if you are not experienced, you might have a hard time passing the test and you should also not expect to get to a high rate right away.
If you want to increase your rate in the transcription industry, then I personally recommend you take some training to become a professional transcriptionist before applying for jobs.
Final verdict
GMR Transcription would not have existed for more than 15 years in the transcription industry if it was not a legit company with a competitive rate for its transcriptionists and translators.
But this does not necessarily mean it will be the best option for you.
So I have summarized the pros and cons discussed throughout this GMR Transcription review to give you a better overview before deciding if you should apply to this company or not.
Pros:


Good pay compared to other platforms
Offers both English and Spanish transcription
No required experience to apply
Cons:


Unpaid probationary period before you can start earning
For U.S. citizens only
Two week response period for application
Overall, GMR Transcription can be a legit way of earning some extra dollars while you are at home. But you have to type fast, be quite skilled, and be a U.S. citizen to get anything out of this opportunity.
You can also take advantage of this opportunity if you speak Spanish since this is one of the few platforms that offer Spanish to Spanish text transcription.
So whether you're transcribing Spanish or English audio, know that their pay is better than most transcription jobs you can find today.
So if you're feeling confident with your skills, it might be the right option for you. Just remember to go in with the right expectations in terms of the income potential and workload mentioned in this review.
How I make money online
If you really want to earn a full-time income working online, this is definitely possible – I know this from personal experience.
I have been able to create a full-time online income myself that allows me to work anywhere in the world and completely on my own terms through affiliate marketing.
It takes effort, but it is totally worth it.
If you want to follow my footsteps and create your own online income, then check out my FREE guide where I explain how this is possible step-by-step.
If you have any questions, comments, or have any feedback with GMR Transcription yourself, I would love to hear from you in a comment below.