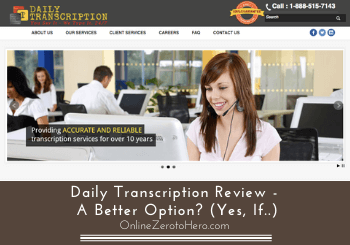 If you have a full-time job right now and are wondering what you can do to add some extra cash, then you might come across some recommended transcription jobs.
Transcription jobs are perfect even for beginners since the basic skill you need is to type fast. If you've been using a computer for years now, typing fast is probably second nature.
But while you will find a lot of transcription jobs available online, it's still important that you do your research to avoid any scams out there.
Daily Transcription is a transcription site that seems to be highly recommended. But is this the right platform for you?
Let me tell you upfront that Daily Transcription is definitely a legit company for transcribers. It is not a scam but that does not necessarily mean it is the right opportunity for you.
This Daily Transcription review will give you all the details about this platform so you can see exactly what it offers and if you should apply for transcription jobs on it or not.
Daily Transcription at a Glance
Tools

Usability

Income Potential
Summary
Daily Transcription is a company that has been in the industry for more than 15 years already. What started as a transcription company for the entertainment industry has expanded to offering captioning and translation services in more than 10 languages.
The transcriber rate of Daily Transcription is definitely higher than on many other popular transcription sites. You also get to transcribe for some famous companies. This is a decent income option if you're looking for something to add to your current source of income.
However, you get your pay weekly via a check in the mail so you have to wait. And since this is a contractor position, there is no guarantee that you will always have work. So you have to manage your expectations when applying as a transcriber here.
What is Daily Transcription and what does it offer?
Back in 2005, Jason Reeves founded Daily Transcription. Now, they have offices in Los Angeles and New York.
For more than 15 years, Daily Transcription has been transcribing audiotapes to documents for clients, mostly from the entertainment industry.
So if you decide to become a transcriptionist for them, you can find yourself doing transcription work for some reality TV shows, cooking shows, or even news.
Since the entertainment industry regularly needs transcription of their media files, the business was then named Daily Transcription.
There are different transcription services offered by the company. Clients can request transcriptions for their videos, sermons, business meetings, dictation, voice memos, interviews, podcasts, and even video conferences
According to their website, some of their clients include ABC, Bank of America, Harvard Business School, HBO, NBC Universal, and The New York Times.
So if you get accepted, you will get the chance to work with some big and famous companies as you can see.
Aside from transcription services, the company now also offers translation and closed captioning services.
There are different languages offered with their translation services including Arabic, Chinese, French, German, Greek, Hebrew, Hungarian, Italian, Japanese, Korean, Polish, Spanish, Romanian, Russian, Thai, and Vietnamese.
So if you know any of these languages, you can also apply as a translator.
So there are different positions available at Daily Transcription.
You can either be a client who wants some audio files transcribed or translated, or you can be a transcriber looking for some extra cash. You can also be a closed captioner or translator.
However, this Daily Transcription review will focus on being a transcriber for the company and if it's worth your time and effort.
But before we look at your potential income, let's discuss how you can become part of Daily Transcription.
How do you become a transcriber for Daily Transcription?
Applying for Daily Transcription is quite basic and similar to most transcription companies that exist today.
First, you have to be above 18 years old before you can apply. As of today, Daily Transcription only accepts applicants from residents of the U.S. or Canada.
If you're from other parts of the world, you can consider other transcription company such as Rev.com who accepts applicants from all over the world.
Daily Transcription does accept applicants from outside the U.S. and Canada if they are applying as a captioner or translator since it requires a 2nd language.
Now if you do qualify as a transcriber, you can fill up their online form and attach your resume. On the form, you need to input your full name, email address, location, and how you got to know the company.
After filling up the online application form, you take a simple transcription test to assess your skills.
If you pass the test, you will receive a confirmation email.
However, there is no information online on how long it takes before you receive feedback for your application. So if you apply here, it can be a good idea to be a bit patient and also apply at other transcription companies to maximizes your chances of finding work instead of just waiting for an answer.
You do not necessarily need any experience to apply so as long as you have typing skills of at least 50wpm and excellent listening skills, you can go ahead and apply.
But just be aware that if you have never done transcriptions before it will not be easy to pass the test. So it is a good idea to take the time to learn at least the basics of transcription terminology before applying.
For technical requirements, you need your personal computer, high-speed internet connection, a good quality headset, and a foot pedal to make pausing and playing easier.
I also suggest you install a grammar checker such as Grammarly to help you with your transcripts.
You also need word processing software such as WordPerfect or Microsoft Office where you will type your audio transcripts for clients.
So if you do pass and become part of Daily Transcription, the next question is how much will you earn working as a transcriber.
Let's look at that next.
Can you really earn with Daily Transcription?
One thing I liked about Daily Transcription is they're quite transparent about their rates.
As a transcriber, you are paid per audio minute with starting rates at $0.75 to $0.85. Now that puts you into earning $45 to $51 for one hour of transcribed audio.
That rate is higher than most of the transcription services I have reviewed including Scribie and Casting Words.
So if you're looking to be a transcriber with a more than the average pay, Daily Transcription can be a good option.
There is an assignment directory folder for you where you will be assigned specific work based on the amount of time you placed on your scheduler.
Before accepting the job, you can view the task's content, style, pay rate, and due date so you can easily decide upfront if you want to do that task or not.
They provide transcription training videos, style guides, and a procedure document to guide you in your owork which definitely makes it easier to do a good job.
At first, you just need to spend a bit of extra time going through this material.
While the rate sounds great for a transcriber, here's one thing you have to consider. Your pay is made weekly via check so you will have to wait for it to arrive in your mail.
I have heard others mention that they pay via PayPal but there is no mention of this on the company's website.
In my opinion, it would definitely be more convenient if they offered PayPal and made this clear on their website.
But even the reviews on Glassdoor reveals that you receive your pay via mail. So you have to consider the time it takes to receive your pay in the mail.
Daily It's not as real-time as having your payment sent via PayPal or direct deposit.
You can indeed earn a decent income through Daily Transcription but this will depend a lot on how much work you can do every week and how much work there is even available as there is no guarantee you can always get work.
Recommended: Click to Learn My #1 Recommended Way to Make Money Online
Is it worth it?
Given that their rate is better than most transcription sites, you can consider Daily Transcription as a source of some extra cash online if you are skilled and fast at transcribing.
They have training on their site to help you if you're just starting out in your transcription career.
But you will encounter some of the common problems as a transcriber.
For example, while you will be paid per audio minute, there will be files that will take you longer to transcribe due poor audio quality.
So an hour of audio may take you more than four hours to transcribe. If that's the case, then your $45/audio hour will give you a pay rate of only $10 per hour.
Therefore, it is difficult to plan on a certain rate and income.
You do get flexibility in your work since you can pick and choose which assignment you will do but that flexibility also comes with some limitations in terms of earning potential.
But if you want that flexibility and can accept the insecurity and can stick to the deadlines given by the clients, it can definitely be a way to make some money online.
Final verdict
Daily Transcription is a legit transcription company that has been serving clients for around 15 years.
They have some well-known companies and institutions as their clients. So you know you will be working on some interesting audio files once in a while.
But let's finish this review by summing up the pros and cons so you can get a better overview before deciding if working at Daily Transcription is for you or not.
Pros:

Higher rate than many other transcription sites
Payment made weekly
Cons:


Only available for Canada and US residents
No guarantee of constant workload
Payment sent via check in mail
Overall, Daily Transcription is definitely a good side gig but you have to manage your expectations when coming into this company. You get a higher rate compared to many other transcription companies but there is no guarantee you'll be having consistent work.
So you can definitely earn but this is not a full-time opportunity – especially since you're competing with all the other transcribers on the site.
But if you really type fast and have some time to spare, then Daily Transcription might be a good option for you.
If you do not have the typing speed or have a different set of skills, then you can check out other online opportunities.
There are online opportunities where you can start as a beginner and have the potential to earn a full-time income as you learn. And this can be available wherever you are.
How I make money online
I also wanted to make an income online so I did my research and checked out and tested many options.
Now, I have been able to create a full-time online income that allows me to work completely on my own terms.
It takes some effort but it is totally worth it.
If you want to follow my footsteps and create your own online income, then check out my FREE guide where I explain how this is possible step-by-step. Don't worry, you can start as a complete beginner!
If you have any comments, questions, or have any experiences with Daily Transcription as a transcriptionist yourself, I would love to hear from you in a comment below.