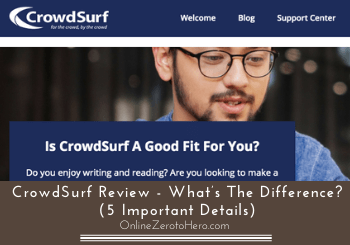 There are so many transcription companies these days that it's hard to distinguish one from another. Most are general transcription where you have an audio file and turn it into an electronic document for the company's client.
So when you find a transcription company that says you will be making a difference in the world, you might be a bit curious.
Who doesn't want to make a difference while earning and working at the comfort of your home?
Well, CrowdSurf is a transcription company that claims you can transcribe to make the world a better place.
But is CrowdSurf all talk? Is Crowdsurf legit?
This CrowdSurf review looks at this company to give you the details about how it all works to help you see if it's the company for you or not.
Tools

Usability

Income Potential
Summary
CrowdSurf is a transcription company that crowdsources transcribing work for 5 to 30 seconds videos. Each transcription is combined to create a full video with captions to help the deaf and hard to hear. Anybody from around the world can apply to be a transcriber in 3 simple steps that include an assessment test.
Crowdsurf is a legit way to earn some extra cash since you will be paid immediately after your transcript is submitted and graded. You just need to have the right expectations since the pay rate is a bit low at around $6/hr.
If the pay rate is ok for you as an extra income, then Crowdsurf may be a good option.
If you want to make a stable and high income online on your own terms, then you should, however, check out other opportunities instead.
Click To See My Top Recommended Way to Make an Income Online
What is Crowdsurf?
CrowdSurf is a transcription platform that gets freelance transcribers to join their team and help create captions for the deaf, hard of hearing, and those learning the English language. It was founded in 2012 in Scottsdale, Arizona.
According to their website, they are a community that is "for the crowd, by the crowd."
They provide transcription and captioning services focusing on making online media more accessible.
So you can both use CrowdSurf if you need transcription work done for you or if you are looking to make money by transcribing.
This review will, however, be focusing on how good it is if you are looking to earn as a transcriber.
They give you the feeling that you will be transcribing for a purpose. Their main clients come from the Education, Entertainment and Business industry.
But how does CrowdSurf really work and can you really benefit and help through it?
How can you join?
You can join CrowdSurf in three easy steps. As long as you're an English-speaking individual and detail-oriented, you can apply for CrowdSurf.
They require little to no previous transcription experience but if you have media and audio transcription experience then this can give you an edge. It is also important that you are detail-oriented and have fast typing skills.
Anyone from around the world as long as you're 18 years old and above can apply.
To apply, you have to sign-up at Work Market. This is the platform they use to source and hire freelancers.
You will provide your basic details such as name, email, and address then select "Writing and Translation" as your primary industry.
You also need to submit your tax information and preferred payment method (either direct deposit or PayPal).
You will get a response within 24 hours. This is pretty quickly compared to some other similar platforms so definitely nice you do not have to wait long to find out if you get to the next step.
Afterward, you can log in to the CrowdSurf platform. They used to be on the Amazon MTUrk platform but have now switched to their own CrowdSurf editing platform.
You need to pass a transcription assessment in order to create a CrowdSurf account. The assessment and feedback usually take 3-5 business days. Once your account is ready, you can start on your transcription tasks.
Therefore, the application process will take you around a week. It's good they're transparent on how long each application will be since not all transcription companies mention this.
There are actually those that take months before hearing feedback (or worse, never). So this is definitely a big advantage of CrowdSurf, in my opinion.
How does it work?
Transcription companies are almost the same and usually, you have an audio or video file to transcribe whether verbatim or edited. So is CrowdSurf really any different?
If you do become part of the CrowdSurf community or wondering what your work will be like if you apply, then here are five important details to give you a clearer picture.
This is to help you decide if you're a good match for this platform.
1. You will transcribe video files rather than audio files
Most transcription companies deal with audio files that need to be converted to digital documents.
You have interviews, phone calls, speeches, and other recorded materials. There are companies such as Rev that offers both transcription and captioning. However, general transcription usually deals with audio files.
However, on CrowdSurf you will be transcribing video files in verbatim. This means rather than just listening to files, you will be watching what you need to transcribe.
You still need the same equipment. This includes your own computer, a good set of headphones, a foot pedal, and a high-speed internet connection.
2. You transcribe short video files ranging from 5 to 30 seconds
Each transcription task on CrowdSurf is called a HIT (Human Intelligence Task). Each HIT is around 15-35 seconds of video to be transcribed verbatim.
Verbatim means you will type exactly as you hear each word. But according to their style guide, they need a clean verbatim transcript.
So you have to leave out the "uhm", filler words such as "you know, hmm, like", and stammers or stutters. You also don't include unnecessary repetitions.
Why the short videos?
CrowdSurf distributes the tasks to different transcribers and then once submitted your transcript is reviewed and compiled with other HITs.
These make a full-length video that can be posted online. It can be a news feature, a university lecture, or a YouTube video. It's technically crowdsourcing of transcribers.
It makes it easy to finish a task since they are very short and this can be motivating, in my opinion.
However, it, of course, also means you will not earn as much per task so whether you like these short tasks or not is a matter of personal preferences.
3. You need to maintain a 3.5 grade to stay employed
If you're a beginner on CrowdSurf, you can start working on your HITs and earn. Once you complete 25 successful HITs, your next tasks will be graded.
You need to maintain average quality control (QC) score of 3.5 and a 900 qualification standing.
The company maintains strict standards since the captions are meant for the deaf and hard of hearing viewers.
Each of your verbatim transcripts is graded and given a QC score. Your QC score will affect your Qualification Standing. Initially, you have a Qualification Standing of 950. If too many HITs are rated "poor", you will lose access to HITs.
Don't worry since there are a lot of training materials provided on the website to guide you on how you should do your transcripts.
It will take you some time to master if you're just starting out as a transcriber but it will not be too difficult if you just follow the guides.
4. You are paid per media minute transcribed
So how do you get paid for work on CrowdSurf?
Transcription companies either pay per audio/video minute or per word transcribed. For CrowdSurf, they have a published rate of $.03-$0.20 per media minute for 5 seconds to 30 seconds of a short media file. The pay will depend on the level of proficiency and the amount of work you complete.
There are advantages and disadvantages to being paid per media minute. Every media minute is not the same as the actual time it takes you to transcribe a 30-second file will take you more than a minute or so depending on your typing speed.
Given that rate, you can roughly earn $6 per hour. That's the lower pay rate of the transcription industry.
To maximize a per media minute pay rate, I would suggest you develop yourself as a professional transcriptionist. This will also help you get other transcription jobs with higher pay rates.
Because with $6 per hour you really have to do a lot of these short tasks to make any real money and this is definitely something you have to be aware of before starting do you do it with the right expectations.
5. You get bonus payments after 100 tasks completed per week
Every time you finish a task and it has been graded, your payment will immediately be sent to your chosen payment method.
This means you can withdraw your earnings at any time of the week as long as you have completed a task. This is very nice, in my opinion, and gives you a lot of flexibility in terms of payouts compared to many other similar platforms.
You do get bonuses based on the number of HITs you finish per week. For example, you can get an extra $1.00 if you finish 100 HITs or $50 for 2,000 tasks completed. You have to type fast and accurately if you want to hit these numbers.
But if you are fast, these bonuses can definitely boost your earnings.
Most complaints you will find are about the company's pay rate which is quite common for the majority of transcription companies.
Personally, I think that if you set the right expectation on the income and tasks at hand then there's nothing to complain about as long as the company is a legit one.
You should just not expect this type of job to become a great paid full-time online work.
These tasks can really eat up your time and it can take a while to build a good income. There are some countries where the pay rate is already enough for a living but that is definitely not the case in all countries.
Therefore, it will depend on your preferences, goals, and costs of living whether this is a good option to earn or not.
Final Verdict
Given all the details above, joining CrowdSurf comes down to personal preference.
If you want these quick transcription jobs and you want to help the deaf and English-learning community, then you will likely enjoy being part of the CrowdSurf community.
You do get the flexibility of working at home and as long as you maintain your QC grade you can keep working on the available tasks. But it is not for everyone.
I have, therefore, summarized the pros and cons below so you can get a better overview before deciding if you should join the CrowdSurf community or not.
Pros:

Open to anybody around the world
You transcribe short videos only
You get to help the deaf and those learning English
Payment transferred immediately after completion and grading
Cons:

You need to maintain a quality grade
You only get a bonus after 100 tasks
The potential pay per hour is quite low
Overall, CrowdSurf can be a legit way of earning if you want to earn some extra dollars. But you at least have to be fast and accurate at typing to get anything out of this opportunity.
The fact you are transcribing materials to help the deaf is, in my opinion, a plus compared to just doing tasks repetitively for dollars. You also just deal with short clips so you don't have to spend hours listening to one or two voices.
And CrowdSurf is a legit company so it definitely can be a way to earn if you do it with the right expectations.
So if you think the pros outweigh the cons, then go ahead and give CrowdSurf a go.
How I make a living online
If you really want to earn a full-time income working online, this is definitely possible – I know this from personal experience.
I have been able to create a full-time online income myself that allows me to work anywhere in the world and completely on my own terms through affiliate marketing.
It takes effort, but it is totally worth it.
If you want to follow my footsteps and create your own online income, then check out my FREE guide where I explain how this is possible step-by-step.
If you have any questions, comments, or have any feedback with CrowdSurf yourself, I would love to hear from you in a comment below.