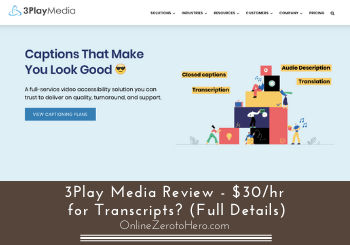 Working at home is becoming an alternative to many who want to skip the commute and want to have a more flexible lifestyle. Gone are the days that most jobs are 9 to 5 work at an office.
Today, there are many options for those who want to start earning while at the comfort of their home or while traveling. One of the common jobs you can do at home is transcription.
There are quite a lot of transcription companies you will find online so it's best you do your research to know which ones are legit and which ones are scams.
3Play Media is one of the transcription companies that offer work for aspiring transcriptionists. But is 3Play Media a scam or can you really earn?
This 3Play Media review looks into the details of this company to help you decide if it's a good opportunity for you to earn or not.
Tools

Usability

Income Potential
Summary
3Play Media is a transcription company that started as a start-up by MIT students. It got its name from the 3-step process each video file goes through to be transcribed. Unlike other verbatim transcription companies, 3Play Media are looking for Transcript Editors rather than the basic transcribers.
The published pay is around $10-$30 per hour but most transcript editors put their pay at $15. You have to expect that jobs will not always be available so you cannot make this your full-time job but rather a part-time work to earn some extra dollars. The pay is higher than some other transcription jobs – especially if you don't have any prior transcription experience.
You do need good English skills as you will be editing machine-transcribed files and you have to have the right expectations when going into this kind of work.
What is 3Play Media?
3Play Media started as a start-up by four MIT graduates namely Chris Antunes, CJ Johnson, Jeremy Barron, and Josh Miller.
They based their company on research from the MIT Spoken Language Systems group to develop a captioning and transcription process that combines automatic speech recognition and human editing cleanup. They officially founded 3Play Media in 2008.
This transcription and captioning company got its name from its 3-step process which is from automatic speech recognition to human editing clean-up then to human quality review.
From a small space in Massachusetts, you can now find their headquarters in Boston.
3Play Media's 2,500 customers include big companies, educational institutions, government agencies, and entertainment companies.
You may be familiar with some of their customers such as The Economist, T-Mobile, Procter & Gamble, MIT, Autodesk, IRS, and the University of Wisconsin-Madison.
That they have clients like this shows it is a legit company and if you are looking for work, you know that it will be one of the companies that actually pay which is always important to know when looking for online work.
You can either be a client looking for some transcription and captioning services or you can be a freelancer working for transcription.
This review focuses on being a freelancer at 3Play Media and how good your opportunities are to earn like this.
What do you do and how do you apply?
Becoming part of 3Play Media is not like other transcription companies where you simply fill out a form and do a simple transcription test.
The main reason for this is you won't be doing basic verbatim transcription for the company.
As mentioned, the company does a 3-step process for its media files.
The initial transcription is using automatic speech recognition. Next, there is the human editing to clean up the initial transcription. Then the last step is the human quality review for higher accuracy.
Therefore, you will not be watching a video or listening to an audio and then create a document for it.
You will be editing a software-generated transcription so you are technically applying as a Transcript Editor rather than a transcriptionist.
Why the need for Transcript Editors? Well, since the computer-generated transcripts are not 100% accurate, human editing is needed thus the need to hire Transcript Editors.
As a transcript editor, you will be going through the transcribed videos to correct any errors in the words, formatting, and punctuation marks.
So it's a more interesting work for you since you won't be spending hours just listening and typing word per word of a video file.
When applying, you can actually choose from being an English or Spanish Transcript Editor. Then you will be taking a series of tests before you get accepted.
Here are the basic qualifications you need if you want to apply:
You must have a US address and a US bank account (for payments).
You must have excellent English written communication skills.
You must have an excellent command of English in general.
You must have a computer word processing experience.
You must have a typing speed of at least 75 wpm.
You must be proficient in internet research.
You must have knowledge in Excel or any spreadsheet apps.
This means their Transcript Editor jobs are only available for US citizens.
If you do fit the qualification, you can start your application by filling out their online application form.
You have to include your typing speed, your computer specs, and any transcription experience in the past.
There are also sample videos you will need to transcribe on the application page.
You can check out their transcription guidelines to make sure you have a higher chance of passing the test.
Take note that you have to type the transcription on the box provided on the page as any copy and pasting is not allowed.
If you do qualify after submitting your application, you have to pass a couple more tests before you get accepted to work.
You must pass each test before you can access the next one. This means you can get rejected on any of the succeeding tests.
The whole application process will take around 3 weeks so you have to take this into consideration if you're considering this work as additional income for you.
Once you get accepted, you can go to the job board and find jobs to work on. You have to be quick since all jobs are on a first-come, first-serve basis.
How much can you earn?
Their application is quite thorough which shows they really want to hire quality transcript editors for their company.
But is going through all these tests worth it? Let's discuss how much you can earn once you start working.
According to their website, you can earn $10 to $30 per hour depending on your efficiency.
Some say that getting paid $30 is quite difficult so the average rate is between $15 to $20 per hour.
That's still a good rate since other transcription companies I've reviewed such as Crowdsurf pay less than $10.
Again, you just have to be aware that the rate will depend on your speed so you will only be able to reach a higher rate if you are fast and efficient.
Your pay is paid out monthly through bank deposits. There are other transcription jobs that pay weekly which is more convenient, in my opinion, if you consider this as your part-time income.
But being able to get paid once a month is also fine and it is convenient they pay directly into your bank account.
Recommended: Learn My Top Recommended Way to Earn Online
Is 3Play Media worth the time and effort?
I checked out the Glassdoor reviews about 3Play Media to check what their freelancers are saying. It currently has 81 reviews and a 3.4-star rating. Most are loving the flexible schedule the job offers.
The most common complaint is the low availability of work throughout the year. This is common for a growing company if the number of workers is higher than the number of customers or clients.
Transcription work is also really a seasonal job with some days you're working non-stop then other days you don't get any file to do.
So if you're considering this to be a full-time job, you might reconsider and look for other online opportunities that can provide you with a full-time income.
You also have to remember that getting jobs are on a first-come, first-serve basis so you have to log in at the right time to grab a job you can work on.
There is no mention of when the jobs are usually available. Some comments that jobs can get really scarce at certain times.
But if I were to compare to other transcription companies, I would recommend 3Play Media given the rate being higher than most jobs available today.
There are those that offer even higher pay but these companies such as Verbal Ink require you to be an experienced transcriptionist.
On 3Play Media, as long as you pass all application assessment tests you can get accepted even if you don't have years of experience.
If you really want to increase your rate in the transcription industry, I would suggest that you take some training to become a professional transcriptionist.
Final verdict
3Play Media is definitely a legit company that started as a start-up and now has grown into a company that offers decent-paying transcription jobs.
I have summarized the pros and cons discussed throughout this 3Play Media review to help you assess if you should be giving this company a go or not.
Pros:


You will be doing more than verbatim transcription
Better pay than many other transcription sites
Known companies as clients

Cons:
Seasonal jobs
Lots of assessment tests during the application
Overall, 3Play Media can be a legit way of earning if you want to add some extra dollars to your income.
You just need to have all the qualifications including being a US citizen and have fast typing speed. You also have to pass all their assessment tests.
It's actually interesting that you will not simply be listening to audio and then transcribing word per word, in my opinion.
You do need a good grasp of the English language to do this job well but the pay is definitely better than many other transcription jobs you can find today.
So if you're feeling confident about your skills, then becoming a Transcript Editor at 3Play Media might be the right option for you as long as you do it with the right expectations in terms of income potential as I have described in this review.
How I make a living online
If you really want to earn a full-time income working online, this is definitely possible – I know this from personal experience.
I have been able to create a full-time online income myself that allows me to work anywhere in the world and completely on my own terms through affiliate marketing.
It takes effort, but it is totally worth it.
If you want to follow my footsteps and create your own online income, then check out my FREE guide where I explain how this is possible step-by-step.
If you have any questions, comments, or have any feedback with 3Play Media yourself, I would love to hear from you in a comment below.