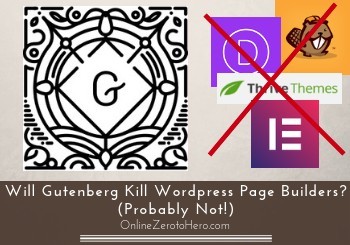 If you are using WordPress, it is very likely you have heard about the Gutenberg upgrade which will change the way you build websites in WP.
If you (like me) have a WP page builder, you might wonder if Gutenberg will kill other WordPress page builders.
I know I was wondering this myself, when I first heard about Gutenberg, as it is important to know how it will affect our websites.
So I decided to test it and look into what Gutenberg offers so far, and if it will completely replace page builders – in this article I will share my experiences and opinion with you.
What is Gutenberg for WordPress?
Gutenberg is a big update for WordPress and will completely change the way the WP editor works.
In the future the WP editor will be in blocks, and it will as default look more like the editor for many page builders.
I think this is a smart move by WordPress, as page builders are becoming more and more popular, as it is a great way to be able to make cool designs without having to know code.
Gutenberg is planned to be released with WordPress version 5.0. It will however not be released until all bugs have been fixed, as it is a big update that could potentially impact all WP websites.
At the time of writing this article, you can however only install it and test it on your website through the Gutenberg plugin. If you decide to test it before it is fully released, I would however suggest doing it on a test website first and not on a live website, as it still has some bugs.
But will the introduction of Gutenberg in general give problems for your website?
Should you be worried about Gutenberg?
Gutenberg has been tested a lot and a lot of WordPress users have been a part of testing it and fixing bugs.
The plan is to fix all bugs before releasing it. If that is really possible, I guess only time will tell.
In general, I do not think you should be worried about how Gutenberg will affect your website and the design of it in a negative way, if you just have a normal WordPress website.
There is a lot of work put in to testing it and making it work smoothly. The idea is to give people a better editor and give you the possibility to create more with less plugins and with less coding skills.
So overall it is a positive development that is meant to make your life as a WordPress website owner easier. As with all changes, it will of course take time to adjust.
I must say that from what I have tested so far, it will for sure take me a bit of time to adjust:-) I really like the simplicity of the old editor, but I also see that, especially if you are using free themes and do not have one of the more flexible WordPress themes, it can have a lot of limitations.
With the introduction of Gutenberg, you will get more options, but does this then mean that all the great page builders that already exist for WordPress will be obsolete? Let's look into that now.
Will Gutenberg destroy previous page builders' design?
I am myself using the Divi WordPress Theme, as this is very flexible and gives a lot of opportunities. It has an in-built page builder, so when I first heard about Gutenberg, I wondered how this will the effect the page builder, and if it would destroy what I have already created with it.
However, if you have one of the big page builders like for example Divi, Thrive, Beaver, Elementor, etc. I do not think it will interfere with your website, and create problems.
I am not an expert on all of these plugins, but I know the big players are doing what they can to get their themes and page builders to work together with Gutenberg – Gutenberg is coming whether we like it or not, so if the themes and plugins do not adjust, they will go out of business.
I for example know that Divi is putting in a lot of work to get a good integration with Gutenberg.
So I do not think there are too much to worry about in terms of compatibility, if you already have a page builder.
Will Gutenberg page builder replace other WP page builders?
Gutenberg will give a lot of the same opportunities as many page builders give, since you will now be able to design in blocks, and it gives you more freedom to create the design you wish.
A big question is then if you even need page builders in the future, if Gutenberg will start offering many of the same flexible options?
This is of course very difficult to say for sure, as it is difficult to say exactly how the development of the Gutenberg page builder will continue.
However, from my initial test and comparing it with what I can with the Divi page builder, I am currently using, I am not planning to replace my design with only Gutenberg.
In my opinion the Gutenberg layout and the way you create pages with it is till not as user-friendly as you could hope for. Compared to the paid page builders I know, it also still gives you a lot less opportunities.
From what I have seen so far, I think Gutenberg will be great for people that are mostly interested in using free themes or themes with limited flexibility, as it will then give them a lot more opportunities.
But if you are already using a page builder, it will likely still be possible to make a lot more with your premium page builder. And I am sure the big players will also continue to develop their page builders to keep offering more value than Gutenberg, so people still have a reason to buy them.
Personally, I really like the combination of using a page builder for designing certain aspects, but I blog a lot, and I really enjoy the simplicity of the old WP editor for this and think it is great in combination with a page builder.
But guess I just have to adjust and make it work with Gutenberg as well:-)
Final thoughts
Gutenberg will give more opportunities and more flexibility to WordPress and you as a developer.
It is a big update and there will continuously be updates for it, so it will be interesting to see what direction it will take.
If you are already using a page builder, I would however not cancel your subscription for it right now. At the moment the premium page builders still have a lot more opportunities and you can create things with these that is not possible with Gutenberg yet – Gutenberg is still quite simple. But that is also the beauty of WordPress, so I kind of hope the default will stay simple.
If Gutenberg will eventually completely replace other WordPress page builders, only time can tell. From what I have seen so far I do not think so, and I will for sure still keep the page builder I am using at the moment:-)
If you have any comments, questions, or have any experiences with the Gutenberg page builder in comparison to other WordPress page builders, I would love to hear from you in a comment below.