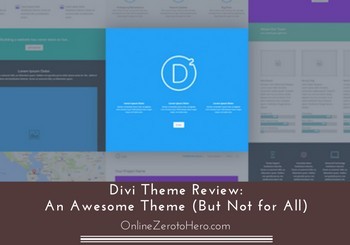 Finding a flexible WordPress theme can make it a lot easier to make the website you want.
If you have been looking for such a theme, it is likely you have heard about the Divi Theme from Elegant Themes.
In this 2020 Divi Theme review, I will tell you what this theme has to offer after the release of the 4.0 version, and why I think it is an awesome theme. BUT, I will also tell you what you have to consider before getting it, as it is not a theme for everyone.
So if you want to know whether it is the right theme for YOU to get or not, then this article is for you.
Disclosure: Some posts on this website contain affiliate links. This means at no cost to you, I may receive an affiliate commission if you purchase something through one of these links.
Table of content
Divi Theme at a Glance
User-friendliness

Flexibility

Value for money

Support
Summary
Divi is an extremely flexible Wordpress theme that makes it possible to create more or less any website you want to. With the introduction of Divi 4.0, it now gives even more options to customize your designs.
It gives great value for money, as you get a lot of extra features in addition to the Divi Theme itself for a low price compared to many other themes.
If you are completely new to Wordpress, it might, however, be too overwhelming to start with.
What is the Divi Theme and what can it do?
Divi is a WordPress theme made by Elegant Themes, which have also made many other popular themes like for example the Extra Theme that is especially for magazine style website.
In this review, I will, however, focus on the Divi theme, what it has to offer, and what my experiences are with it. It has had some big updates since it was first launched and its newest version as of writing this updated review is version 4.0 which has introduced some new cool features (more about this later).
It is a theme I am using for several of my own websites as well as for client's websites, so I know it very well and know the pros and cons of it.
Even though it is very clear from the title of this review that I think it is a great theme, I want to make it very clear from the beginning that it is not necessarily a theme for everyone. I will get more to the things you have to consider before getting the theme later. But let's first go into what the Divi Theme has to offer.
Feature 1 – Very flexible & constant updates
I want to start with a very important thing about the Divi Theme – it is constantly updated and new functions keep being added.
As it is such a comprehensive theme that develops very fast, it would be impossible for me to go through every single feature the theme has. You would get bored before you got half-way through the review then:-)
So I will be focusing on the main features the theme has, and then just be aware that new features are added all the time. In short – you can basically do anything with the Divi theme.
It is very flexible, and you do not need to know about coding to use it (which I love as I am not great with coding), and since I first started using it, it has become even more flexible and a number of new features have been added that has made it easier to give websites the functions you need them to have.
Having a flexible WordPress theme should, in my opinion, be a top priority when you get a new theme. It makes it possible to continuously develop your site – both the way it looks and the features it has.
If you have more than one website or work with clients, it is also very important to get very familiar with a flexible theme. Once you get to know a flexible theme very well, you can use it to create any kind of website.
If you instead have to choose a new theme for every website, you will end up spending a lot of time getting to know the new theme, as it will always take time to learn to use a new theme.
It can, therefore, in my experience, save a lot of time, in the long run, to get very familiar with a flexible theme, and Divi is one of the most flexible themes I have seen.
Feature 2 – Build in visual mode
Divi has the option for you to build a website in what is called visual mode. That means that you can drag and drop elements to the page while seeing how it will look like. It makes it easy to adjust the design of your site without having to jump between the back end WordPress editor and the front end to see your changes.
This feature is really cool, but can also be a bit confusing in the beginning, as it looks very different from how you usually use WordPress. I know it took me a little time to get used to this visual mode, but now I love using it for making adjustments on my site.
Below, you can see a screenshot of my website in visual mode – it makes it possible to see the changes I am making live, and it is for example also possible to correct text, adjust sizes of the page elements, add new elements, and much more while seeing what you do.
It is important to know that you can still build your site in the WordPress back end, or you can switch between the visual mode and the back end mode as you feel like.
Personally, there are some things I prefer to build in the back end and some things that are a lot easier to adjust or make in the visual mode.
So I think it is great you can do both. I have tried other page builders that only give you one of the options, and I by far prefer the flexibility Divi has that allows you to make the website the way that suits you the best for the particular situation.
Feature 3 – Functions for all occasions
I have already mentioned that Divi is very flexible and allows you to adjust basically anything to make it look like you want it to. In addition to making it look like you want it to, Divi also has a function for more or less any occasion.
You build websites in Divi using different elements, and below you can see some of the elements, you can find on Divi.
These are just some of the elements. Before I started using Divi, I was looking for many of these functions like being able to make beautiful buttons, an accordion, a pricing table, countdown timers, etc.
It is great to have this easily available in a theme, and it is even better that it is possible to adjust the layout of all the elements, so you can make them fit into any design.
Feature 4 – Premade Divi Theme layouts and templates
One thing that makes it very easy to get started with making some amazing looking websites with Divi is that there are many premade layouts/templates you can use. There are layouts for many occasions, and new ones are added all the time.
If you, for example, want to make a landing page or a front page of your website, you can find templates for this.
This will give you all the elements of a good-looking front page, and you can install it in a few seconds and have it on your site. You can then delete the elements that are not relevant for you or add new ones. But it is a great way to get started with a page.
If you want a layout template for a whole website including all subpages, this is also possible. This is pretty amazing, and it makes it very easy for you to get started even if you are not a designer, and it is quite unique to have access to all these more or less premade websites that you can then adjust to your own needs.
As you can see in the image above, it is possible for you to search for the kind of template you want.
There are pre-made templates for many kinds of businesses like for example a web agency, babysitting, weddings, café, photographer, and much more.
Every week 1-2 complete new layout packs are made freely available, so you can find A LOT of templates and pre-made website. But if you prefer, you can of course also create a website and the design completely from scratch.
Feature 5 – Save your own templates
If you have made something on a page that you would like to reuse on another page or on another website, you can save your own templates. You can save a template for an entire page, or you can do it for single elements (or modules as they are called in Divi).
This can make it very effective to build sites, as there sometimes are elements you need to reuse, and it can then be done very easily. For example, I often use a call-to-action button on my sites that can send people to buy a product or get more information.
I like these to have more or less the same look all over my site. So after I designed it once, I just saved it as a template. When I now need it, I just load the template of that button module and adjust it with a new text and a new link. Then I will have a new button in less than 1 minute.
You can also make universal/global element templates which means that if you correct it one place, it will be corrected all other places where it is used at the same time.
This can save a lot of time. If you, for example, have a website where you show the newest statistics every month at the end of each post, it would take a lot of time to go and change this on all posts if you have a website with a lot of content.
If you use the universal template, you just change it one place, and then it will be corrected on all the pages/posts you have used it. This can be a HUGE time-saver.
Feature 6 – Split testing tool
If you have any experience with online marketing or websites, you have probably heard about split testing. It is a way where you can test different design options (of for example a button) and see which one performs the best.
Usually, you have to buy special tools for this, but Divi has an integrated split testing and conversion optimization system.
This is really great and makes it accessible for anyone to do split testing without having to buy other tools or be an expert in the area. You can test anything you built no matter if it is a header, a button, an email opt-in, etc.
Below, you can see the official video from Divi explaining a bit more about how this option works:

Feature 7 – Many languages
The Divi Theme has been translated into many languages. At the moment of writing this review, it is available in 32 languages. So even if English is not your first language, you can easily navigate, as the whole interface is translated.
Also, if you live in a country where you read from right to left, this feature is also supported.
Feature 8 – Making your website GDPR compliant
You have probably heard about the EU law called GDPR, which ensures users more protection in terms of how their data is used. As a website owner, this means there are certain precautions you have to take if you have visitors from the EU on your site.
Divi has done several things to become a GDPR compliant theme and make it easier as a website owner to live up to these demands. You, for example, have the option to included checkboxes for consent on all email forms, contact forms, and pop-ups. These are fully integrated with more than 20 email providers.
Furthermore, Divi has limited the data they collect about users, and in general, these features are a great help to become GDPR compliant.
Feature 9 – Works with the Gutenberg WordPress update
If you have been using WordPress before, you have maybe heard that at the end of 2018, WordPress completely updated its editor and introduced its own page builder. This is called the Gutenberg update.
Some theme was not working properly after this huge WP update, but Divi was very well prepared. It works perfectly with the new WP update – in fact, Divi made a huge update itself in relation to the WP update to introduce a bunch of new features and make it work even better.
You might then wonder if it is necessary to get a page builder now WordPress has its own – I would say it depends on your needs.
Personally, I do not like the new WP editor too much, as I think the old was a lot more user-friendly. There is no doubt that you get a lot more flexibility and possibilities with a different page builder than the standard WP editor.
So on any site, I am using, I will right away install Divi instead of the new Gutenberg editor, as it gives a lot more flexibility, and actually even is more user.friendly in my opinion.
Feature 10 – Fully-featured website templating system
With the Divi 4.0 version, they introduced a new theme builder that now makes it possible you to use the Divi Builder to structure your website and edit any part of the Divi Theme including headers, footers, post templates, category templates and more.
With the theme builder templates you can, for example, build custom headers, footers, category pages, product templates, blog post templates, 404 pages and more.
This gives big opportunities to make your website more user-friendly and create your design the way you want it without having to know any coding or hire a developer.
Personally, I really like that Divi's developers have also created theme builder packs with premade designs of, for example, great looking 404 pages, category pages, and more. You can import these with a few clicks and customize them as you want to.
This makes it very easy to get started with the Divi Theme builder.
You can also easily export templates and use them on other Divi websites.
==>See live demo on Divi's website<==
Why the Divi Theme is Awesome!
As you can see above, I have already several times mentioned certain things I like about Divi. But I also just wanted to tell a little about why I chose the Divi Theme, and what my experiences are with it.
Before deciding to get the Divi Theme, I had been working with WordPress for several years. If you have experience with WordPress, you know that every theme is different, and whenever you need to get a new theme for a new purpose, it can take a long time to get familiar with it.
That is why I wanted a flexible theme that I could adapt as I wanted and that at the same time had a lot of opportunities without having to know to code. That way I would be able to get really familiar with that theme and be able to build websites for any occasion.
Divi lived up to all this in theory, so I decided to test it – and let me tell you that I have not been disappointed. It was a bit confusing in the beginning, and I am still learning new things about Divi every day. But it has helped me a lot.
I love how flexible it is, and it has all the features I want from a theme. I must admit that I am not at all using all the options Divi has. In general, I like simple and easy to navigate design.
You can make designs that are really fancy with Divi and that is necessary for some purposes. On OnlineZerotoHero that you are on now, I am using Divi, but I am using a fairly simple design as the focus here is on the content.
But it is still a great theme that has made it easy for me to get the look, feel, and functions I am looking for. So you can make it is as simple or as complicated and fancy as you want to.
In addition to the flexibility, I also think it is great to see how Divi is continuously developed and updated with new functions. One of the reasons I chose to get Divi was also that it is not only the Divi Theme that is included in the price. I got a lot of other functions as well, as I will explain in the "cost" section below.
Overall I would say that no matter what your website is about, you will be able to create the perfect design with Divi. BUT even though I am really happy with this theme, it is not a theme for everyone, and this is important to know. So let me explain when it might not be the right theme for you.
Why it might not be the right WordPress theme for you!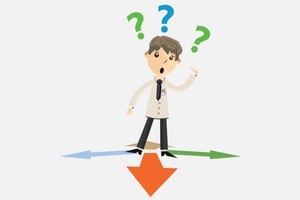 Yes, I think Divi is an amazing theme, but there are a couple of things you need to know and consider before getting it, to find out if it is the right theme for you:
Not easy to change to another theme:
One thing you need to know before building a website in Divi is how it works when you use the Divi visual builder.
It creates a lot of shortcodes. This is not something you can see, but something that is going on "behind the scenes" so to say.
So you can make it look exactly like you want it to. But if you at some point want to change your theme, this code that is made by the Divi builder will in most cases not work. So if you are not aware of this and just change your theme, suddenly all of your content will look very strange.
So if you start building a website using the Divi builder, you should not plan on changing your theme. If you do so, it can take a lot of adjustments. This is not necessarily a problem, but it is just something you have to be aware of before building your site.
In general, it is a hassle to change to another WordPress theme if you have a big website with a lot of content, so I am happy to stick with Divi. But again, it is just better to know these kinds of things before making a decision and before starting.
Your WordPress experience:
Another thing you need to consider before getting Divi is your experience with WordPress. If you have not really used WordPress before and are not familiar with building websites, this might not be the right theme for you.
In that case, you might want to consider some more beginner friendly WordPress themes. Divi is fairly easy to use, and the drag & drop function and visual mode are user-friendly.
But the reason it might not be a theme for WordPress beginners is that it can be overwhelming. You can do basically anything with the Divi theme, but as a beginner, you might not know where to start and will just end up giving up, because it is too confusing. It is definitely possible to learn to use it as a beginner, but you have to be willing to put in a bit of time learning to use it.
If you have a bit of experience with WordPress and are looking for one of the most flexible themes that you can use for any occasion, then Divi might very well be the perfect theme for you.
Also, after WordPress updated its own editor, the standard editor will take time to figure out to use as well. So even if you do not have much experience with WordPress, Divi can still be a good theme to start with compared to the standard editor in my opinion.
Divi theme cost (and what is included)
So what is the cost of the Divi theme, and what is included in the price?
Divi has two different options at the moment of writing this review – you can either pay for yearly access or for lifetime access.
I myself started with the yearly access to test the theme, but when I realized it was a theme I wanted to continue using, I upgraded to the lifetime membership, as this makes much more sense in the long run.
Notice that there is a 30-day money back guarantee, so if you buy Divi but end up not liking it, you can get your money back without any questions asked. And if you buy the yearly membership, you can upgrade at any time.
Compared to other premium themes, the price for Divi is very reasonable and gives really good value for money – especially when you consider what you get with your membership.
It is not only the Divi Theme you are getting, but you also get access to all the premium WordPress themes that Elegant Themes have. That means you will get access to a total of around 89 premium themes.
You are also allowed to use the theme on as many websites as you like. Even if you are a developer, you can use it on your client's websites. Many themes have separate licenses if you want to use it for more than one website, and it is great not having restrictions in this area.
Also, you get access to 3 premium plugins as a part of the membership. These plugins are the Divi builder (makes it possible to use the Divi builder/visual editor with any WordPress theme), Bloom email opt-in (makes it easy to collect email sign-ups on your website), and Monarch (a social media plugin that can help you get more shares and followers).
I use these plugins myself, and I am happy they came with my Divi license.
So overall I think buying access to Divi gives very good value for money, and I am happy that I now have the lifetime access. But again, just make sure it offers what YOU are looking for, as it might not be the right theme for you, just because it is for me.
Can you get support?
One of the great things about buying access to a WordPress theme instead of using the free themes is that it in most cases gives you access to support from the developers.
I have contacted Divi's support several times with requests/questions, and I have mostly received helpful answers. Compared to many other themes I have tried, Divi has excellent support.
So if you run into any trouble, you can expect the support to be very responsive.
Even though it not as such offers to help you with customization of your specific website, I have experienced several times that they do what they can to help you.
I have several times received specialized CSS codes for my website to adjust certain things I wanted to look in a specific way. So I am definitely very happy with the support I have received there in general.
I have even had them log in to my website themselves (through a secure system of course) to look at some problems I had and fix it for me, which is very good service.
Divi offers live chat support, and you will usually receive an answer within minutes during the weekdays. If you do not want to wait, you can include your email, and will then be told when they have responded. In addition to this, you have access to Divi's support forum where there are answers for more than 2 million questions.
Within your WordPress dashboard, you can also enable a safe mode that is automatically a part of Divi. This makes it a lot easier and faster to find possible errors and compatibility issues. This is something you with other themes usually have to install an extra plugin in for but it is a default part of Divi.
However, I most also say that how good support you get depends a bit on who you are lucky to get a hold of when you contact them. As described above, I have sometimes received excellent support and help.
But other times I have also felt it was a staff members that did not really care. Overall, the support is good but it is not as consistent as it could be, in my opnion.
But because Divi is such a popular theme, there are furthermore many websites that offer tutorials about Divi. So if you need help with your theme or have questions, there are also plenty of other sources where you can get tips and training.
So even though it takes a little time to get to know how to use the theme, you will be able to get plenty of help with this for free one way ot another.
Final thoughts – worth it or not?
Let's finish this review with a list of the pros and cons of Divi to give you a better overview before you decide if it is the right theme for you or not:

Pros:
Very flexible theme (you can create any look you want)
Overall good support
Many awesome extra features like split testing & different languages
Beautiful premade layouts available
Drag & drop function (see what you build)
Access to a total of 89 premium themes with the license
Access to 3 great premium plugins
Constantly updated with new features

Cons:
Can be overwhelming in the beginning
Will take quite a lot of work if you want to change theme later
Support is not always consistent
As you can see from this overview and review, I think Divi has a lot of pros, and I am very happy about using it for my websites.
Just make sure to read the part about why it might not be a theme for you. These are important aspects to consider, and something you need to know before buying access.
If you, like me, decide that this is something you can accept, then it is a great theme, and I really enjoy working with it, building websites with it, and the flexibility it gives me, and it is one of the themes that give the best value for your money in my opinion.
And remember that Divi has a 30-day money back guarantee, so there is no risk in trying it, as you can always get your money back if you end up not liking the theme.
If you need any help, have any comments, any questions, or have any experiences with the Divi Theme yourself, just leave a comment below.
I would love to hear your thoughts and will be more than happy to answer any questions.