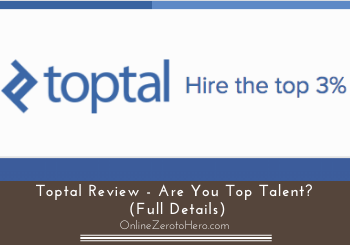 The freelance industry today is quite large with freelancers from all over the world offering their services. It can be hard for you to distinguish yourself to stand out to get hired by clients.
As a freelancer, you can join different freelance platforms to find your clients and provide your services. It can get a bit saturated for most freelance job boards such as Upwork.
But if you've been working for years now, your next question would be where to next?
For experienced freelancers, Toptal appears to be an exciting platform where you can be part of the top talents in the software and design industry.
But is Toptal legit or is it a scam with a good marketing tagline?
This Toptal review will give you the full details on what the company is looking for in their freelance talent.
It's definitely a legit and good-paying company but is it for you? Check out the details below.
Tools

Usability

Income Potential
Summary
Toptal is a legit freelance platform that has a rigorous application process to get the top 3% of talent for their clients. It will take you around a month just to get through all four steps in the application process but once you get hired you are connected to exciting clients including start-ups.
If you have years of experience, then Toptal can be a good option for you. It can give you a full-time income matching your talent and skills.
But if you're just starting out, if you feel you don't have what it takes to become part of the 3%, or if you just simply do not think their terms are good enough, then you can check out other online opportunities as there are many other great alternatives.
Click To See My Top Recommended Way to Make an Income Online
What is Toptal?
Toptal stands for top talent which is what this freelance platform promises to its clients.
According to their website, they only hire the "Top 3% of freelance talent". They do this through a rigorous screening process which I will discuss more in detail later.
Why the need to create an exclusive network of top freelancers?
Most freelance websites nowadays are competing in services based on price more than value.
But there are companies, especially the bigger ones, who are willing to pay a premium to get the standard of work they are looking for without sifting through thousands of applicants with different levels of expertise.
So back in 2010 founders Taso Du Val and Breanden Beneschott created Toptal as an exclusive network of top talents in business, design, and technology. Through this, they can offer services to clients who are looking for trusted and quality freelancers for their projects.
Toptal is indeed a legit platform. In fact, it won Deloitte's Technology Fast 500 award in 2015 as the fastest growing talent marketplace in North America.
In the same year, Taso Du Val was selected by Forbes as one of its 30 under 30 in Enterprise Technology.
For a platform that highlights exclusivity, it's important that the people running it are also part of the top talents right?
It's obvious that Toptal is not for any freelancer looking for a new project or client. If you're a newbie in the industry, then it's better if you check out other freelancer platforms such as People Per Hour or Flexjobs.
But if you're one of the more experienced freelancers out there then check out if you can be part of the "top 3%" as they call it.
Can you be a Toptal freelancer?
Before you decide if you can indeed earn on Toptal, I have listed below three qualifications to check if you can qualify for their exclusive network.
1. You are an expert in your field
Unlike other freelance platforms that lists a lot of job categories, Toptal focuses on software, design, and business.
If you are a network developer, a designer (UI, mobile app, graphic, product), a finance expert, a project manager, or a product manager then you can go through Toptal's website to see if you are what they're looking for.
Now unlike other websites, Toptal does not show their available jobs to non-members.
You can only see the positions they are looking for but not exactly the work they offer. But at least by browsing the positions you know if you have the experience and knowledge to apply.
Toptal has an excellent and five-star rating at Trustpilot by its clients. Out of the 1,000+ reviews, 90% commends the company's service and experience.
This shows the caliber of freelancers they provide to their clients and the level of skills you need to have if you want to become part of the platform as a freelancer.
Their clients are also not just anybody. Among their roster are Airbnb, Zendesk, Shopify, NetApp, Axel Springer, Gucci, Zoom Media, and Bridgestone.
They cater to some of the start-ups and companies in Silicon Valley, New York City, London, Germany, Japan, and other countries.
So they're looking for the top freelancers across the globe. If you feel you are an expert in any of the fields mentioned earlier, then you can apply through their website.
Recommended: See My Top Recommended Way to Make an Income Online
2. You pass all four parts of their screening process
Toptal came up with the idea of the top 3% of freelance talent because through their application process only 3% of the thousands of applicants get hired.
The company emphasizes that it only accept freelancers with years of experience.
Even when you click "Apply as a Freelancer" you will see that they mention it again before you input your details and choose your field.
It's actually good that they clarify what level of freelancers they hire so you can assess yourself before you spend time applying on their site.
Now if you hit that application button, be prepared to go through five levels of their application process.
First, you have to take a comprehensive language, personality, and communication interview.
They do not only require a working knowledge of English but rather a professional level of reading, writing, and speaking. It is also at the first level they probe into your personality traits.
One problem that clients usually encounter with freelancers is that they look good on paper but they fail to deliver once they become part of the project.
Sometimes it's about the attitude or their work ethics. So just like any HR interview in a big company, your personality is assessed. This helps in the company's promise of a low failure rate for its clients. At this level, only 26.4% of applicants pass.
If you do pass the language and personality test, then your skills are checked and reviewed. You take various assessments to determine your technical knowledge, problem-solving ability, and intellect.
These are the skills that are required in most jobs in finance and software. You must submit a portfolio and get exceptional results to move on to the next level of your application. With that standard, only 7.4% of applicants pass.
Once you've demonstrated your skills, you are then screened by experts on your chosen field.
Here's the deal: you have to take a live test with their team of experts. Each expert gives you live exercises based on your field of expertise. At this point, only 3.6% of applicants pass.
Now if you're part of that 3.6% that passed all three levels of the application then you have your final assignment before officially becoming part of Toptal.
Each applicant will be assigned a test project to prove you can indeed do what you say you do.
This is like an unpaid internship where your competence, professionalism, and skills are demonstrated.
This part of the process takes usually around 1-3 weeks depending on the project assigned. And this is where only 3% of all applicants pass.
As you can see, it's really a rigorous process to get into Toptal. It's also a long process that will take you at least a week or two if you do get from one level to another.
This won't be a problem for experienced freelancers since you probably have an ongoing project or a pool of existing clients as you apply at Toptal.
Applying at Toptal is simply bringing your services to the next level of clients. But it will not be easy to get in as you can see.
3. You are willing to work for a trial period
Once you get accepted at Toptal, they can start connecting you to clients in need of your service.
Toptal has a guarantee and trial period for all projects just to make sure that both clients and freelancers match.
Each client is given a maximum of 2 weeks to test a freelancer without any cost. If the client is satisfied with the freelancer, then they can start their regular contract.
However, if the client is not satisfied and wants a different freelancer, they are allowed to repeat the trial process with up to 5 different freelancers.
What's the advantage of a trial period for a freelancer? Well, most of the time it will really take doing a project for you to say if it's worth the hours or if you're a good match with a client.
Toptal's trial period is not working without any pay because if the client is not satisfied with you they can cancel the project but you will still be paid 50% of your expected income as long as it's a personality and not a quality issue.
If the dissatisfaction is due to your work, then you won't get paid. That's reasonable since you should deliver quality output if you're planning to have a contract with the client.
But if the client is happy with you after the trial period then you get a working contract and continue with what you started.
So your two week's worth of work will be compensated however the client responds.
Is it worth it?
If it will take you around 2 weeks to a month to apply and be at a trial period for projects, can you say that's it's worth it?
It, of course, comes down to how much you will earn as a part of Toptal.
According to reviews, Toptal's average pay is around $30 per hour. That's a good income for an experienced freelancer.
The average pay for those who are just starting out in their field would roughly be $5-$10. Of course, it will still vary on the position and the project you are doing but since you know you're part of the best then rates are definitely higher than the average.
Your contract can either be a full-time contract of 40hr/wk, a part-time contract of 20hr/wk or a flexible hourly contract based on how many hours you agreed on.
You also get to set an hourly rate of your choice. So you can definitely get what the rate you want on this platform.
You get paid through a separate service called "Toptal Payments". All payments are in USD and deposited to your PayPal account.
You can then choose to convert it to your own currency or deposit to your local bank. Just be aware that invoices for your projects are done every 2 weeks then payments are sent after another 2 weeks. So expect that it takes around a month to get your first paycheck.
If you do get into Toptal, then it can definitely be worth it since you will be working with clients that do not mind paying a premium to their freelancers since they know they are getting quality work.
So as long as you have the expertise, you are going to be paid well. But it will take a lot of effort to get there and you also risk not getting much out of the time you put in for the first month or so.
This is definitely something you need to consider before applying and, in my opinion, it is best if you also have another income during the application process as there really is no guarantee and only 3% will end up earning on the platform.
Final Verdict
There seems to be no question that freelancers and clients are happy with how Toptal operates. Now if it's a platform for you all depends on your personal skills, experience, and personality.
I have summarized the pros and cons of the platform below to help you get a better overview of what Toptal really has to offer you as a freelancer before deciding if it is for you or not.

Pros:
You get to work with top clients
You get premium pay for your work
You are part of an exclusive network of elite freelancers

Cons:
Only for experienced and skilled freelancers
Long application process (at least two weeks)
You might end up not getting paid for the trial period
Overall, Toptal definitely takes its time to find skilled freelancers for their clients. In return, you can get good pay that can match a full-time job as long as you are working on projects and have great skills.
It's a legit platform if you are specialized and have great skills in the industry Toptal is in.
However, if you feel you don't have the expertise to get into Toptal or you feel the terms or not for you, you can explore other online opportunities that can give you a full-time income online.
How I make money online
If you're looking for online opportunities where you can really grow your income, the good news is there are many options these days.
Personally, I am able to earn more than the average online income and it also allows me to work completely on my own terms.
It takes some effort but it is totally worth it.
If you want to follow my footsteps and create your own online income, then check out my FREE guide where I explain how this is possible step-by-step.
You can even get started with these steps as a complete beginner.
If you have any questions, comments, or have any experience with Toptal as a freelancer yourself, I would love to hear from you in a comment below.