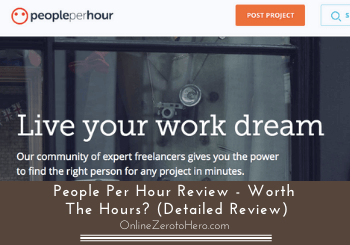 There are a lot of people looking into freelancing today.
The idea of working at different projects based on your skills while in your pajamas or in front of a beach sounds way better than working at an office cubicle, right.
But this demand means there are also a lot of websites promising to offer freelance jobs but ends up being scams. So you have to tread carefully when looking for freelance work.
If you search for top freelance platforms, then you have probably come across People Per Hour.
This website says they're the #1 freelancing community and that you can find freelance jobs in minutes.
But is People Per Hour a scam or a legit website?
This is important to know so you do not end up wasting your time and this is exactly what this People Per Hour review will show you.
It will give you all the details so you can easily find out if this is the right place for you to look for a freelance job or if you should go for alternatives instead.
People Per Hour at a glance
Tools

Usability

Income Potential
Summary
People Per Hour have been connecting clients to freelancers for years. It is one of the legit platforms for anyone around the world where you can find jobs with good rates.
Since you will be getting jobs through the website, People Per Hour charges a service fee for its freelancers. The fee can be quite high for entry-level freelancers.
Overall, People Per Hour is a legit platform where you can build your freelance career – especially if you have multiple skills. If you want to work at the comfort of your home and still earn a full-time income, then you People Per Hour can be one of your good options.
However, if you are looking to build an online income where you are not dependent on getting hired for projects by different clients continuously but completely in charge yourself, you should probably look for other options instead.
What is People Per Hour?
People Per Hour is one of the popular global freelance job boards. It was founded back in 2007 by Xenios Thrasyvoulou and Simos Kitiris.
Freelance platforms, in general, offer services for both companies and freelancers. They help companies find freelancers to work on their projects and freelancers get to explore and apply for jobs posted by the companies.
This review will focus more on you as a freelancer and if you can actually earn through the platform like this.
One thing you will notice is that that most freelance job boards are based in US. But People Per Hour is different. It started in London and now have two other offices in Greece and India.
Anyone from all over the world can join People Per Hour as long as you have the skills and are looking for a freelance job.
Joining People Per Hour allows you to work on different projects in Admin, Business Support, Design, Marketing & PR, Social Media, Software Development, Video/Photo, Translation, and Writing.
So how does People Per Hour work for freelancers like you?
How does People Per Hour work?
The site connects clients (called buyers) to freelancers (called sellers) from anywhere in the world.
I'm pretty sure you're familiar with freelance job boards. Clients posts projects then freelancers bid. If a client likes a freelancer's profile, they can contact them for a project.
There are quite a number of these websites so you would probably ask what's the difference?
Now People Per Hour offers something similar to many others but I want to share these three things on how the whole freelancing gig works on People Per Hour so you know exactly what to expect:
Step no. 1: You create a profile that includes skills, portfolio, and references
Before you get to start working, you need to create an account at People Per Hour.
You will set up a profile page with a background cover (similar to Facebook's cover photo) and a profile picture. You will then have to have a write-up about yourself and what services you offer.
Your profile will also have to include skills that will allow buyers to find you. You can select up to 15 skills from the categories they have on the site. Some of the popular skills include web design, marketing, SEO, blog writing, guest blogging, website development, and video/photo editing.
I would suggest you select skills from different fields. One of the perks of being a freelancer on a job board like this is that you are not limited to one type of work. So the more skills you have, the more jobs you can choose from.
Of course, you should only choose skills you are really interested in working with and can do a great job with. And sometimes it can also be an advantage being specialized.
So choose carefully to get the best possible chances of getting great jobs.
After you've completed your details, you can start uploading your portfolio. This includes your resume and your past works and projects.
I suggest you choose your best works and really maximize this part since it can put you ahead of other freelancers.
The last feature on your profile are the recommendations you receive or request from clients.
You can have recommendations from your past clients outside the website which is pretty cool, in my opinion, and something many freelance platforms do not allow.
Once you're a seller on the site, you can have your buyers give recommendations upon completing a project. This will affect your CERT score which will be discussed later in Step 3.
Step no. 2: You either bid on a project or offer a service
If your seller's profile is ready, then it's time to start finding work. As a seller, you can earn through both offers and projects. Let me discuss the difference.
Offers, called hourlies, are services you define and set a fixed fee. It works similar to Fiverr except you can get paid at a higher rate.
For example, you can post something like "I can write 3 1000-word articles for $80". If a buyer is interested in your offer, they can hire you and start the project.
For hourlies, you have to price it just right and be clear in what you're providing for the client.
Before posting, you can do a bit of research to see what services are in-demand and check the price range for these services.
Projects are instead posted by the buyers. Each project includes a summary and requirement.
The price range is also indicated in the post. This is where you are in a bidding war with other sellers. You submit your proposal and wait for the client to select a seller to work with. Make sure you write a compelling proposal and have a complete profile with a portfolio.
You only get 15 free project bids each month. This means you have to carefully select projects you think you have a high chance of being hired for.
Additional bids can be purchased for around $9.00 for 5 extra bids up to $30 for 50 additional bids. If ever you don't use up your 15 free bids, it will not be carried out the next month.
Having this kind of bidding system controls freelancers from bidding at just about every project they feel they can do.
However, I think if you're the type of freelancer that has multiple skills to offer then 15 bids are not enough for the projects you can do.
I would suggest you focus on one or two skills per month then once you start earning you can purchase additional bids if you feel you still need them.
Step no. 3: You get ranked at CERT levels
Upon checking the different types of jobs and the experience required, I would say that People Per Hour are best for freelancers with intermediate or expert skills.
If you're an entry-level freelancer, there are still hundreds of jobs for you, but your bid will have to stand out.
Your ladder towards success on this platform, whether you're an experienced freelancer or just starting out, is becoming a Top CERT provider.
What differs People Per Hour from other job websites is they rank their freelancers based on several performance categories.
You start as a "CERT 1" if you're new to the platform. You have to complete many projects and receive positive feedback to become a "CERT 5" and a Top CERT provider.
The CERT levels are not just about your skills and the number of projects. They factor in your recent earnings, refunds or disputes from clients, penalties, and level of service.
So even if you're a skilled seller, if you don't give a satisfactory service to your clients then your CERT level may not increase. Getting a bad review from your client can also lower your CERT score.
If you have a high CERT score, then you don't need to constantly bid on projects. Buyers will come to hire you.
I find reviews in these types of platforms quite helpful. We always check out reviews on items before buying them these days. So it's no surprise that a client would want to know what past clients are saying about a freelancer. If you know you give good and quality service, then you can use this to your advantage.
So building your income in People Per Hour is not just about having the skills but also having a consistent level of service to the clients.
Recommended: See My Top Recommended Way to Make an Income Online
How much can you earn?
With all the steps mentioned above, you're probably asking now if you'll earn a good income if you work at People Per Hour.
Remember that since this is a job site, your income would depend on the projects you get and the experience you have.
People Per Hour posted on their Linkedin profile a Year in Review for 2019. According to their report, a single freelancer earned $181,642 for SEO services purchased by multiple buyers.
But be aware that this is, of course, an exceptional example and not the average earnings you can expect.
Their most popular offer purchased was logo design. Aside from logo design, blog writing and SEO services appeared to be the most common service purchased.
So if you're a freelancer with writing and SEO skills, then there is a good chance to find work there.
While it is free to join the site and to bid and post offers, People Per Hour does charge a service fee from its sellers.
Similar to Upwork, they will charge you a service fee based on how much you're earning. If you earn below $700 per client then you will be charged 20% service fee excluding VAT.
Your service fee will go down to 7.5% once you earn above $700. Since the majority of the jobs posted on the site are project-based, the pay ranges from $15 to $600 and you would likely rarely get above $700 unless it's a big project or a per-hour work for a certain period of time.
Personally, I think these fees are quite high. Of course, People Per Hour also needs to make money but 20% is quite a lot.
This is definitely something to be aware of when you set your prices so you set them accordingly and make sure to get enough out of it yourself.
Once you have earned, you can get your earnings out via bank transfer or PayPal.
One advantage of working through People Per Hour versus having a direct client is that your payment is secured. Whenever a project is awarded to you, the buyer must deposit the payment into an escrow account for the site to securely hold until the project is marked as done. The site then releases the payment to you.
This payment system is good since I can't count the times I've heard freelancers complained of not being paid or having their clients disappear with their payment once a project is completed.
At least with this site you know there is money waiting for your work.
So that is an advantage but as you can see, you also pay for this security in the form of quite high fees.
Final Verdict
People Per Hour is a legit and popular platform for freelancers all over the world. It has thousands of projects freelancers can work on.
If you have multiple skills, you can benefit from the many different jobs posted on the site. However, you will also be competing with other freelancers so there is no guarantee you will get the jobs you apply for – But this is not something new in the freelance world but a part of choosing to be a freelancer.
If you're still thinking if you should start bidding on People Per Hour, then check out the summary of the pros and cons I've mentioned in this review below so you can get a better overview before making your final decision.
Pros:

Profile includes skills, work portfolio and client recommendation
There are thousands of jobs for freelancers
Have been one of the top freelancer platforms for years
Cons:

Limited bids per month
Bidding does not guarantee a job
Service fees are a bit high
Majority of the jobs offered are for experienced freelancers
Overall, you can definitely build your freelance career at People Per Hour. The rates are good and it's a company that has been helping freelancers for years.
However, you do have a lot of competition across the site. It will also require you to work on many projects to get a full-time income.
It might take some time to build your rank on the site and it's not a guarantee that you will constantly get projects. But you can definitely still use this platform if you are looking for more freelance jobs.
However, if you are looking to build an online income where you are not dependent on getting hired for projects by different clients continuously but completely in charge yourself, you should probably look for other options instead.
How I make money online
With all the online opportunities, I wanted to find the ones that would be worth my time and effort. So I did my research and tested many options.
Now, I have been able to create a full-time online income that allows me to work completely on my own terms.
It takes some effort but it is totally worth it.
If you want to follow my footsteps and create your own online income, then check out my FREE guide where I explain how this is possible step-by-step. Don't worry, you can start as a complete beginner!
If you have any comments, questions, or have any experiences with People Per Hour as a freelancer yourself, I would love to hear from you in a comment below.