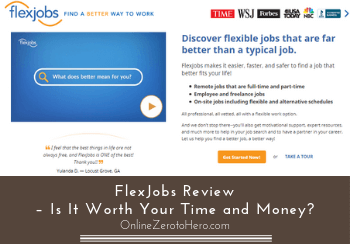 If you're looking for a home-based job, there are several freelancing sites on the web that can provide you with a full-time work online, but most of them are not that comprehensive or organized with their job listings.
FlexJobs.com is one of the platforms that supposedly can help you find a flexible job – but is it one of the platforms that is worth it or a waste of time?
With so many platforms out there, you need to know if this a good job search site to take advantage of to optimize your time.
Well, you've come to the right place because, in this FlexJobs review, I will share with you all the details about this job search website and what you can expect from them before joining.
Let's start. 
FlexJobs in a Glimpse
Tools

Value for Money

Income Potential
Summary
FlexJobs.com is a platform that supposedly can help you find a flexible job online.
It has a team that hand screens each and every job posting, ensuring no spammy jobs are listed on their site, which is always a good thing.
As for me, I can recommend this platform as long as you have the qualifications and experience needed to get jobs there.
However, if you think the qualifications required in this platform is too steep, then you don't need to worry!
Or if you simply want to create a job for yourself online where you do not work for others, then there are other great opportunities available that can also give you flexible work from home.
What is Flexjobs and what does it offer?
Honestly, Flexjobs is a legit job search site that has a solid reputation, and it's known to be one of the best sites to search for work from home opportunities.
However, joining this network is not free, and you need to pay a monthly subscription to become a member, which, in my opinion, can attract a lot of criticism.
Some people might think it's unfair for them to pay for a job search service because the main reason why they are looking for a home-based job is to make money in the first place.
Although there are several reasons why Flexjobs is a paid job search service, and we will tackle them in this review.
The thing I like about FlexJobs is that they are very transparent, and they immediately reveal it in their welcome video that they will be charging you if you decide to sign up to their site.
Also, they curate a large number of job opportunities from various sources and well-known companies, so instead of you looking for them in several places online, you are given the option to get all the details of these job postings in one site – this is why you pay FlexJobs if you choose to.
But let's go more into details about what you get on the platform so you can get a better idea of whether Flexjobs is worth it or not for you.
Reason #1 – Well organized job postings
When I first visited Flexjobs.com platform, I was quite impressed by their great organization. FlexJobs has more than 60 categories and sub-categories you can browse through with all the most recent postings right there at the top.
If you click on any of the jobs, you're taken to a more detailed description with a link to apply.
It's also possible to sort jobs by company name, location, newest jobs, or you can browse the "Best Lists of Companies" put together by FlexJobs.
So it offers comprehensive and thorough postings that can be quite helpful.
Reason #2 – Take up to 50 different skill tests for free
You can also take up to 50 different skills tests for free on their site to gauge your strengths and weaknesses in different areas.
Passing each test will give you an added edge because this will reflect on your profile and if you apply for a certain job posting, the HR or manager of that company will see that you have passed several tests and that can boost your marketability.
FlexJobs also has a very regularly updated blog with good, helpful articles on finding jobs, hot jobs, information about working from home, etc. Although you can access their blog and read these posts whether you have a membership or not.
Reason #3 – No scam job listings
The FlexJobs team hand screens every job posting, ensuring no spammy jobs are listed on their site…which is always a good thing.
On your search for jobs, you'll find postings in event planning, marketing, translation, project management, sales, retail, engineering, legal, and more.
In fact, each of the companies who partnered with this platform is legit, and they've been screened by the admins before they can post their job offer. So, you can be sure that you are protected from scams.
With so many scams online and fake job posting on the net, this feature is an important one, in my opinion.
Recommended: Click to Learn the Best Way to Make Money Online
How to get started with FlexJobs?
Anyone can join Flexjobs as long as they pay the monthly fee and they have the qualifications and skills required for the job opening they are applying to.
However, some people are uncomfortable with the concept of paying out any money at all to assist in the process of finding work.
Often, companies themselves pay job boards to advertise their vacancies. This is how many online services work, but this is not the case with this job search network since the one paying are the job searchers.
If you've decided you want to work remotely, you can try to uncover jobs that allow it on the traditional job boards or do lots of time-consuming research into individual companies. Or, you can pay for a service that does that for you, putting all the flexible jobs in one place.
In short, they are charging for convenience, so whether you accept their business model or not, it's still a good platform for finding remote job opportunities.
Although they are not forcing you to sign up, if you want to fast track the whole process of finding work online, then FlexJobs might be a good option for you.
But whether it is the right option for you or not depends whether you can accept having to pay for their service.
Before I started my own online business I was working as a freelance, and I definitely preferred the free job search platforms, but I did not know about FlexJobs at that time.
It might be worth checking out if you have the money to pay the fee, but there are also free alternatives if you do not want to pay.
How much money can you make?
Flexjobs.com is just a job search portal, and the money you make will depend on your degree, experience, skills, and the type of job available for you when you apply using their site.
In fact, when I researched their site, I found out that most jobs like in the finance and IT industry are being paid $50k to $90+ a year, but most of these jobs are only available for US residents.
So, there's a possibility you'll be required to appear in their office once in a while.
Honestly, this is one of the cons of this job search site, since it is mostly focused on US residents, so if you're living outside the US – you'll be hard-pressed to find a suitable job for you in this platform.
Who can join Flexjobs?
Anyone can join this platform as long as they have the qualification and experience needed for the job they are applying for.
But as mentioned above, there are some job types that are difficult to find if you live outside the US.
Personally, I found this site to be quite unique and useful if your goal is to find a flexible job or a freelance job with a good company that will actually pay you a decent wage.
In fact, I was quite surprised at the lengths that they go to provide real quality to their users.
I feel like this site is making it a goal to help you overcome the problem with dead-end online job opportunities.
There are so many home-based jobs that don't lead anywhere – and there are many more online opportunities that can't provide you the income you're aiming to get.
However, with FlexJobs, you can be sure they only list job openings from companies who can really pay the standard wage. In the US, it's about $30k to $60k per year based on the complexity of the work and qualification needed for that opening.
So FlexJobs seems to be making an effort to counter these problems with some forward-thinking and a more proactive strategy – but it also comes at a cost.
You must pay to use this service, and though it isn't super expensive, it costs more every month than a couple of dollars (more about this below).
It could, however, be a good investment if you want to fast track the whole process of finding a decent home-based opportunity and see all the available job openings in one platform.
Is it worth it?
Honestly, the more resources you have access to for searching, the better your chances of landing a job. And FlexJobs is one of the best, most respected resources on the internet for aspiring home job seekers, so I think it can be worth it.
You, of course, also need to know what the price for Flexjobs.com actually is – it is $14.95 per month, $29.95 per quarter, or $49.95 per year.
In my opinion, it's a bit steep for beginners, but if you're serious about getting a decent job online, then it might be worth the investment.
They also offer a 30-day money-back guarantee so that you can request a refund via phone, email or through their contact form on the site if you find out it does not live up to your expectations.
Flexjobs.com justifies their cost because they carefully screen for scams and don't display any advertisements on their site.
However, you need to understand that you must have the skills, experience, and degree needed to be competitive on this platform.
If you're just starting out and you don't have the skills required in their job postings, then this might not be the platform for you.
In my opinion, this freelancing platform is NOT for beginners, because the level of technical skills needed is high and you might not meet the requirements.
Final verdict – Legit or Scam?
You now have an idea what FlexJobs really is, and since I have shown you all the things you need to know about this platform, I think you are now more than capable of making an informed decision before joining.
Honestly, FlexJobs is a legit freelancing platform, and you might find some good remote job that pays well – but it is not for everyone.
To better help you with your decision, here's an overview of the pros and cons:
Pros:
Access to jobs that may prove hard to find elsewhere
Inexpensive subscriptions and a money-back guarantee
Some useful features, such as a "recently viewed jobs" view
Excellent blog content
Solid reputation for customer service and integrity
Cons:
You need to pay a fee before you can use their platform 
Search and filtering features still need improvement
You are still dependent on others hiring you
As for me, I can recommend this platform as long as you have the qualifications and experiences required for the jobs posted there.
If you want to see more examples of their job postings, you can visit Flexjobs here.
However, if you think the qualifications required on this platform are too steep, then you don't need to worry!
Or if you simply want to create a job for yourself online where you do not work for others, then there are other great opportunities waiting for you online that can help you with this.
What I'm referring to is affiliate marketing, and it is also a legit business model that can pave the way to a sustainable income online.
In fact, that is how I make a living online myself as I will tell a bit more about below.
How I make a living online
I have been able to create a full-time online income myself that allows me to work anywhere in the world and completely on my own terms through affiliate marketing as mentioned above.
It takes effort, but it is totally worth it.
If you want to follow my footsteps and create your own online income, then check out my FREE guide where I explain how this is possible step-by-step.
You can even get started with these steps as a complete beginner.
If you have any questions, comments, or have any feedback with FlexJob yourself, I would love to hear from you in a comment below.