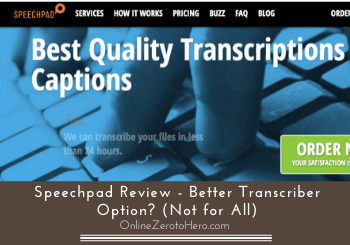 Perhaps one of the most common online jobs you can find is transcription.
There are a lot of transcription companies where both new and experienced transcriptionists can apply. But there are also a lot of scams out there appearing to be legit online work.
So if you're looking for online work for some cash, it's best to do your research before putting in the work for a company.
One transcription company you will encounter during your research is likely Speechpad. They provide services for captioning videos and transcribing media files.
But is Speechpad a scam or a legit company?
Let me tell you right away that Speechpad is one of the legit transcription companies.
That does, however, not necessarily mean it will be worth your time. This Speechpad review will tell you what you need to know so you know exactly what to expect before you decide to join or not.
Tools

Usability

Income Potential
Summary
Speechpad is a transcription company that works on a tier-level graded system. Once you pass their transcription test it puts you in Level 1. You can increase your pay rate by completing a specific number of hours and maintaining a grade of at least 94.
However, there are no available job openings as of writing this review so you will have to wait until slots are open again.
The pay rate for transcription companies such as Speechpad is average. There are other companies where you can get a better rate but it requires experience.
If you are looking for an online opportunity that will help you build a sustainable income, then you can also check out other options online.
What is Speechpad?
Speechpad was founded by serial entrepreneur and author David Feinleib to provide low cost, high quality and fast turn around transcription services.
Feinleib together with Ernie Beernink and Mike Ruf launched the company in February 2009.
As you can see Speechpad is not among the oldest transcription companies out there. But according to their website, their corporate partners include L'Oreal, Yahoo, LinkedIn, and Netflix.
These are some of the well-known companies today and some are even Fortune 500 companies.
So this is one proof that Speechpad is a legit company.
For example, it is indicated on their website that NYU uses Speechpad for transcripts of their live lectures and captions for their online courses in Coursera. L'Oreal also uses Speechpad for transcripts of their business seminars, conferences, and interviews.
But even if Speechpad is a legit company, we have to look into what it can provide to you as a transcriptionist.
Speechpad has work available for both transcription and quality reviewers in video captioning and media transcription.
For this review, we are looking into your options as a transcriptionist.
How do you join?
Speechpad has one of the simpler ways of applying as a transcriptionist.
There are other companies, such as Net Transcripts and Quicktate, that require a lot of information and perform a background check before hiring.
For Speechpad, you apply by just filling out a form then passing a grammar and a typing test. A test score of 94 and above in the typing test is needed for your application to be accepted.
You do, in theory, not need any prior experience before applying. As long as you pass the test, you can start working at Level 1 (more on the company's tier system later).
However, as they have too many applicants, they have started having stricter demands and now you need some experience as you can see in the image below.
At the time of writing this review, there are no available openings on Speechpad. You can bookmark the page to see if slots open so you can apply.
Most of the time, transcription companies allow anybody to sign-up with the promise of workload upon approval. Then you get accepted and have to wait for available jobs.
I find it important that they post they are not hiring as of the moment so applicants can find other companies that are currently in need of transcriptionists and have available jobs on-hand.
How does it work?
Now, let's look at how Speechpad works and later on how much you can potentially earn even if Speechpad is currently not looking for any transcriptionists.
This is to give you an overview to help you should they open a slot again or if you want to compare it to other transcription company you're looking into.
As mentioned earlier, once you get accepted you first work under Level 1.
Speechpad works on a tiered level system where you can be promoted based on your ratings and quality of work. You need to get a 94 on your transcription test upon application so you can access jobs.
There's a 30-second preview of the audio file you want to transcribe before you accept a job. That means you can check the quality and content of the file so you can decide if it's something you want to do.
Not all transcription companies have this option and I think this is a great feature that makes it possible for you to choose your jobs more wisely.
One of the most common complaints of transcriptionists is the quality of audio files they get since it can affect how long it will take for them to type.
A noisy, low-quality audio file will require more time to listen and transcribe compared to clean, crisp audio especially if you can type fast and you are paid per audio minute.
You click "Accept Job" once you've chosen your file for transcription.
When working on your transcripts, you can either download the file and then work using your preferred transcription tool such as ExpressScribe or you can use the website's transcription window.
Once you've finished a transcript, it is reviewed by editors. Each job will be given a rating that will affect your level. As you get more work with higher ratings, you eventually move up the next level with a higher rate and more jobs.
A tier system is good for newbies since you just have to perform well to increase your rate and no prior experience is needed.
However, if you're a professional transcriptionist, you might feel the rate is too low for your skill level. You also don't get much available work when you're at level 1.
Speechpad mentions on their website that "their multi-tier review process with closed-loop feedback" allows them to have the best transcriptionists and captioners for their clients.
The closed-loop means when your work gets reviewed, you get the feedback and the original and the corrected file to see where you made the mistakes. This is useful to increase your rating in your succeeding transcripts based on past feedback.
Also, if you are new to this type of work, this feedback can be a very valuable way to learn and improve your skills, in my opinion.
If you're a transcriptionist who also wants to apply as a reviewer, you can message customer support once you've completed 1,000 minutes of transcripts and gained a 98 rating or higher.
How much can you earn?
The pay you will receive will depend on your level. For beginners or Level 1 transcribers, the published rate is $0.25 per audio minute. This can increase as you move up a level.
Speechpad pays per audio minute and you can receive your pay every Tuesdays and Fridays via PayPal.
Therefore, you can get more frequent pay from Speechpad than other companies that pay every end of the week or every two weeks.
If you have transcribed more than 500 minutes and maintained a rating of 96 then you get a rush job qualification which means you will get access to special jobs.
The turnaround time for these files is strict but you do get paid at $0.40 per minute or more. You can actually maximize this if you type fast and accurately.
If you want the highest possible pay, you can qualify for Spot Check jobs. These are the highest-paid typing jobs since you get $0.75 per audio minute. That means you can get $45 per audio hour.
Of course, there are higher paying transcription jobs out there such as Verbal Ink but this is only for experienced transcriptionists.
If you have a background in insurance, you can work on insurance transcription jobs that also have a higher rate than general transcription.
So as you can see, the transcription industry is just like any other industry. You need a certain level of experience if you want a higher pay rate.
If you want to become a professional transcriptionist, I suggest you take some training to help you increase your skills and rate.
There are other online opportunities you can start as a beginner and get good pay. I suggest you try different online jobs and do your research to find the one that fits your goals.
Recommended: Click to Learn My #1 Recommended Way to Make Money Online
Is Speechpad worth it?
Now one of the most common complaints you will find about Speechpad is the rating system and the lack of jobs as a Level 1 transcriptionist.
Rating systems in transcription companies is a common problem since some reviewer's preference is different from the other.
This means you can be following a certain reviewer's guidelines and then get a different reviewer to check your transcript. This can affect your rating.
Since the amount of Speechpad's work available and the rate is based on ratings, there can really be a problem when your reviewers do not match.
But some users comment on how good the company's customer support so make sure you email your concerns when you think you are not rated correctly.
Great support is important and this is definitely a plus when it comes to Speechpad.
Transcription jobs like these do not really pay well, in general, for newbies but it is good practice and a legit way to earn some cash.
You just have to manage your expectations when going into this kind of work since it does require hard work and time to get a decent side income.
Final verdict
While Speechpad is not currently hiring, it's still worth reviewing since it's been in the transcription industry for more than 10 years and sometimes they do open up for new applications.
And it's a legit company that has some well-known clients.
I have summarized the pros and cons I've discussed throughout the review to help you get a full overview before deciding to apply once slots are open.
Pros:
No prior experience needed
Payout is twice a week
Corporate clients are fortune 500 companies
Audio files can be previewed before accepting
Cons:

You will start at a low rate
Not currently hiring
Reviewers can be inconsistent
Given all of this, if you can accept the terms and starting at a lower rate, then go ahead and apply once slots are available.
If you work fast and hard then you can get paid higher in just a couple of weeks.
But as for now, check out other transcription companies that are hiring or you can check out other ways to make money online instead.
How I make a living online
If you want to spend your hours building an income online, then luckily you have many options today.
Personally, I have been able to create a full-time online income that now allows me to work completely on my own terms.
It takes some effort but it is totally worth it.
If you want to follow my footsteps and create your own online income, then check out my FREE guide where I explain how this is possible step-by-step. Don't worry, you can start as a complete beginner!
If you have any comments, questions, or have any experiences with Speechpad as a transcriptionist or a captioner yourself, I would love to hear from you in a comment below.