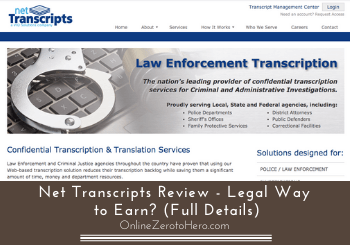 Transcription jobs are everywhere these days. It's a job that almost anybody can start doing as long as you have a decent set of headphones and a fast typing speed.
There are general transcription companies where you transcribe almost everything – from phone calls to voice memos to interviews and medical records.
If you're looking for a niche transcription company then you might come across Net Transcripts.
Net Transcripts go beyond the usual audio recordings you find on most transcription platforms. The company lets you transcribe highly-confidential files such as jail calls and dispatch calls. Sounds exciting, right?
But is becoming a transcriber for Net Transcripts worth it? Is this a legit way of earning online?
This Net Transcripts review will give you all the details so you can get a clear picture if you should be signing up as their next transcriber or not.
Net Transcripts at a Glance
Tools

Usability

Income Potential
Summary
Net Transcripts is a transcription company that specializes in providing services to law enforcement agencies, criminal justice agencies, and government and private investigations and has done this for more than 20 years.
The files you will be working with can be quite interesting and require a high level of confidentiality. These include criminal confessions, legal statements, inmate and jail calls, 911 & dispatch calls, and even wiretap. You should be familiar with some of the legal terms you can encounter in the audio files to be transcribed.
This can be your choice of side gig if you're a fast and accurate typist and looking for some interesting tasks to do on your available time. Given the profile of their clients, you can definitely be sure this is a legal source of income.
Just be aware that it's not enough for you to make a living income unless you work A LOT of hours and are able to get these hours as the pay is not the highest.
If you're looking for a source of income that provides flexibility and good pay, then you should probably explore other opportunities other than this.
What is Net Transcripts?
Net Transcripts is a transcription company that specializes in providing services to law enforcement agencies, criminal justice agencies, and government and private investigations.
Some of the law agencies included are small-town sheriffs, patrol operations, jail and correctional facilities, and metropolitan public safety departments.
The company has been operating in Phoenix, Arizona since 1988. They have licensed General Services Administration (GSA) contract holder and have been rated as one of the top 100 companies in Arizona for years.
Being a GSA contract holder means you are one of the companies that provide services to federal agencies. Not everyone gets to be a contract holder as it goes under evaluation so this shows the legitimacy and credibility of the company.
Net Transcripts handle clients that require a high degree of confidentiality given that the audio files that will be transcribed are confessions, legal statements, interrogations, inmate and jail calls, 911 & dispatch calls, and even wiretap.
In 2019, Net Transcripts was acquired by VIQ Solutions. VIQ Solutions offers software and programs to the legal, judicial, insurance, healthcare and public safety industry.
Therefore, acquiring a transcription company that had long been assisting the same industries made sense for this global company.
VIQ Solutions Group also includes two other transcription companies, Transcription Express Inc. and Spark and Cannon.
With all the clients they serve, you can earn online by becoming one of their transcribers.
You can, of course, also use it if you need transcriptions done, but this review will focus on how your earning opportunities are as a transcriber.
How do you join and what will you do?
The company employs law enforcement transcribers which focuses on legal audio files.
You can also apply as a general transcriber as they also offer other transcription and translation services to general business companies.
The first requirement for you to apply is you have to be a US citizen. You can read on the company's website that all their work is done in the United States by US citizens that have been successfully screened and trained.
For Law Enforcement Transcribers, you should have experience in law enforcement or criminal justice transcription. If you've been a legal secretary, then you have an edge in applying. You can begin your application process by applying on their website.
Since most files require high confidentiality when transcribing, you need to pass a criminal background check as a way of their screening.
Other transcription companies do background checks on their applicants as well. For example, Quicktate charges $20 once an applicant successfully passes their application process.
One good thing is that Net Transcripts appears to not charge their applicants for this background check.
Just like any other transcription job, you will need a good pc with a transcription software installed. You also need high-quality headphones because you will be listening throughout the job and a foot pedal to easily pause and play the audio files.
It is listed on their website that you will need access and skills with Microsoft Word and Excel.
Net Transcripts' guarantee to their clients is 98.8% error-free transcripts so this shows you are expected to be thorough.
Transcriptions in Net Transcripts are verbatim which means you have to include every "ahh" and "uhm" in the audio file. This can be a bit difficult if there are a lot of people talking in the audio so you need to be aware that in those cases you might not be able to transcribe as fast.
It is indicated on the company's website that they specialize in the transcription of investigative recordings. They are proud of their experienced transcribers that are able to convert recordings with multiple/unidentified speakers, background noise or muffled audio, uncooperative or intoxicated participants, and street slang into a transcribed document.
So you should expect the quality of the audio to vary per file. Some will very possibly involve a lot of people talking and overlapping audio in conversations.
Your experience in transcribing will come into play when dealing with these types of audio files so you can see from this that it is likely not for you if you are a beginner. You also need a good set of headphones to hear everything clearly.
If you're just starting out in the transcription industry, then best if you learn how to become a professional transcriptionist so you can apply to more companies as it will be hard to get into companies like this without any training or experience.
Recommended: Click to Learn My #1 Recommended Way to Make Money Online
How much can you earn?
Transcription jobs are either paid by the audio minute or by the words transcribed. For Net Transcripts, you are paid by the audio minute. Not much information on the pay rate can be found, though.
According to one Glassdoor review, you can earn around $15/hour if you type fast since you are paid per audio minute. Other reviews say the average is $10/hour.
Honestly, that's not bad for a side gig but if you're an experienced transcriber there are other companies that can give you higher pay.
But of course, there are some technical terms you need to familiarize yourself with.
Transcription companies also have a specific format to follow. This can add to the hours you work on top of the actual transcribing you will be doing.
Your pay is made every 1st and 15th of the month via direct deposit to your submitted bank account.
There are other transcription companies that pay weekly but every 15 days is not bad since it's similar to a normal office job. You can increase your income by transcribing more files fast as you are paid by the audio minute.
Is it worth it?
One of the most interesting aspects of this transcription job is you get to be in the field of law enforcement and justice. It can get quite interesting to listen to different phone calls, interrogations, and confessions.
If you look at the amount of work to be done, the pay may not be worth it for you though.
It's definitely not enough for you to make a living income unless you work A LOT of hours and are able to get these hours.
But it can be a good add-on to your current cashflow particularly if you have the time to spare per day to sit down and transcribe.
Since you are classified as an independent contractor, you don't expect the same benefits as being employed in a company. Instead, you do get the flexibility of the schedule but remember that workload can change from time to time.
There is also a lot of competition for transcription jobs so having the right experience in law enforcement and criminal justice will give you an edge to get enough jobs once you are a member.
Final verdict
Net Transcripts help various federal agencies with their transcription needs.
It's definitely a legit opportunity if you are looking to earn an income on the side. It has been in the industry for more than 20 years and has been in contract with several federal agencies so you are sure of their pool of clients with files to transcribe.
To help you get a better overview before deciding if you should apply or not, I have summarized the pros and cons:
Pros:

Interesting audio files to transcribe
Background check during application is free
Company is a GSA contract holder
Cons:
Low pay
Workload can be few from time to time
For US citizens only
For those with legal transcription background only
Overall, this is a legit job given that Net Transcript is a company that deals with legal departments.
If you enjoy listening to law enforcement recordings and judicial conversations, this might be the transcription job for you. Just don't expect that it can replace your full-time income.
If you're looking for a source of income that provides flexibility and good pay, then you can explore other opportunities other than this.
How I make money online
If you want flexibility and earn income that can provide you more options, then let me also share with you my preferred way of making money online – it takes time to learn but with the right effort the long-term potential is huge.
If you want to follow my footsteps and create your own online income, then check out my FREE guide where I explain how this is possible step-by-step. You can even get started as a complete beginner!
If you have any comments, questions, or have any experiences as a Net Transcript transcriptionist yourself, I would love to hear from you in a comment below.