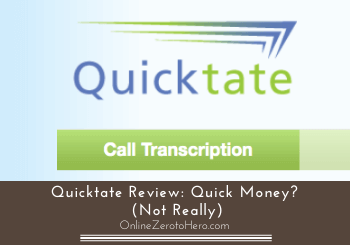 People are always on the lookout for opportunities to earn money. There are a lot of opportunities online to do some work and get some extra cash. One of the most popular online jobs today is transcribing.
There is a wide range of transcription companies these days offering different kinds of services. Because of the demand from clients, these companies are usually looking for people who want to earn by transcribing.
Quicktate is one of those transcription companies that offer services to clients and look for people to hire to do the work.
But is Quiktate legit or is it a scam?
This Quicktate review will give you all the details about this transcription company and if it's really legit so you can easily decide if it's worth your time or not.
Tools

Usability

Income Potential
Summary
Quicktate is a transcription company that needs transcribers for their short audio files. While it's easy to apply without prior experience, you are required to pay $20 for their background check if you pass their typing test. You will get paid weekly but the rate is lower than most transcription companies today.
The transcription industry is a legit source of income if you want to work at home. However, Quicktate pays quite low so, in my opinion, you are better off finding a different source of extra income for the hours you're willing to put in unless you are just getting started and just want some transcribing experience.
Click To See My Top Recommended Way to Make an Income Online
What is Quicktate?
Quicktate is an online transcription company founded back in 2008.
The company transcribes various documents such as medical files, legal files, field notes, insurance matters, phone calls, voice memos, and other audio files for its clients.
They require their clients to submit the audio file through the Quicktate iOS app, voice recorder, email, or API. Once the audio is transcribed, they can receive the whole transcription via email, Evernote, or API.
Because of this service, they get freelance transcribers or typists to cater to their workload.
That is where you can come and earn money while working at your home.
So if this sounds interesting to you, let's go deeper into how you can become a part of it and what you can really expect so you do it with the right expectations if you decide to join.
How do you become part of Quicktate?
According to their website, some of their valued customers are CNN, Wells Fargo, Coca-Cola, Ford, and School of Medicine from the University of California.
This shows Quicktate is a legit company that caters to some of the well-known companies in need of transcription services.
This is a good sign if you are considering joining as you then know you will get paid for the work you do.
The application process for you, if you want to be a transcriber, is easy. You just go to their site and apply as a transcriber.
There is no need for a previous transcription experience before you can apply. It is also open to anybody from anywhere as long as you provide your tax ID number.
You start your application by filling out their form with your general information such as name, email, country, and date of birth.
You are also required to submit three personal references. So while you don't need to submit a resume during your application, you still need to have your references ready. I can't find any information if they do call these references upon your application.
As mentioned, you don't necessarily need past experience in transcribing but you do need to take a quiz during your application. This will assess your spoken and written English skills. You will also do a test transcription with a demo tape provided by Quicktate.
You have to wait for around 15 days for your application's approval. So take this into consideration if you're applying.
If you're looking for work where you can start earlier, then you can apply at other transcription companies while waiting for Quicktate's reply.
While it is free to apply at Quicktate, there is a disclaimer on their website regarding their $20 background check fee which will be charged via your PayPal or credit card if you pass their quick and typing test.
For some $20 may not be a problem but if you're just starting out on your online work then this can be a hurdle.
Having a $20 background check fee may also be Quicktate's way of filtering the serious applicants. In my opinion, the fee won't, however, not necessarily be a problem if you can easily earn the $20 back when working at their site.
So how much can you really earn once you become a Quicktate transcriber? That's what we'll look into next.
How much can you earn?
One of the biggest factors to consider when looking for online work is income potential. Since you will be putting in the hours working, you might as well get your time's worth.
For transcription work, you really can't expect a high pay since you will be doing basic tasks such as listening and typing.
Quicktate is one of the lowest-paying transcription companies I have reviewed. They pay 1/4 cent per word for any general or legal transcription and 1/2 cent per word for medical transcription.
That means you can roughly earn $5-$7 per hour if you type fast. And that is only if you are fast. In some cases, the hourly rate might be less.
Payment is sent to you weekly on Mondays. If a Monday is a holiday, your payment is sent on a Tuesday.
You have to have a working PayPal account to receive your payment. Weekly pay is good for this type of work, in my opinion, since your workload and schedule varies from time to time. Some weeks there will be a lot of work you can do while on other weeks you work less.
Quicktate audio files are mostly 5-minute audio files. These are tasks you can easily do in a matter of an hour or so. For longer audio files, they have their sister company iDictate that transcribes all types of audio files except for voicemail messages.
Now if you gain enough experience with Quicktate you will automatically be promoted to work for iDictate. Here you can earn double the rate of Quicktate.
The industry standard for transcription is one hour transcription time for a 15-minute long recording. This means in an hour you can roughly finish 2-3 5-minute audio files if transcribing at Quicktate.
But if the audio is not of high quality, or if there are a lot of background noises, or if the accent is a bit difficult to understand then it takes you longer.
In those cases, your payment will then also be lower.
So overall you can earn some extra money on Quiktate but the real potential is if you end up qualifying for the tasks at their sister company.
Just doing the tasks on Quicktate will not earn you a lot.
Recommended: See My Top Recommended Way to Make an Income Online
Is it worth it?
Unless you spend most of your day typing and transcribing, you are not really getting a good income with the pay rate of Quicktate.
It will also take you some hours to earn back the $20 spent on the background check. Only after that can you say that you're really earning on the website.
I suggest you manage your expectations in this kind of work. There will be times where there are plenty of files to transcribe but then there will also be days when you have fewer audio files to work on.
If you train as a professional transcriptionist, then you can land other higher-paying jobs in the industry.
There are also companies such as Verbal Ink that pays up to $50 per hour if you are highly-skilled.
So, in my opinion, Quicktate is mostly worth it if you are brand new to transcribing and just want some experience to eventually then be able to get higher-paying jobs.
Final verdict
Quicktate is a legit transcription company that can give you a bit of extra money once you get approved as a transcriber.
It has been in the industry for more than 10 years and caters to different respectable companies.
However, the pay itself is not enough for you to actually create a living income. It is for quick cash although there are other transcription companies offering the same kind of work for a higher rate.
But in some cases, it can be worth it. So let's finish this review by summing up the pros and cons so you can get a better overview before deciding if it is for you or not.
Pros:

Anybody with a Tax ID number can apply
Short 5-minute audio files to translate
Weekly payout every Monday

Cons:
Really low pay
Requires $20 payment for background check during the application process
Overall, the pay itself is already a dealbreaker for me. We all only have 24 hours in a day and if you can earn a higher rate per hour then I suggest you go for a better option.
If you can get past the low rate and the $20 background check fee, then go ahead and apply at Quicktate.
But remember that there are other transcription companies online you can consider if you really want to earn as a transcriber.
This kind of work is definitely for those looking for some quick, extra cash with a few hours available daily.
But if you want to create a living income through working online then you should consider other opportunities, in my opinion.
How I make a living online
If you want to spend your hours building an income online, then luckily you have many options today.
Personally, I have been able to create a full-time online income that now allows me to work completely on my own terms.
It takes some effort but it is totally worth it.
If you want to follow my footsteps and create your own online income, then check out my FREE guide where I explain how this is possible step-by-step. Don't worry, you can start as a complete beginner!
If you have any comments, questions, or have any experiences with Quicktate as a transcriptionist or a captioner yourself, I would love to hear from you in a comment below.