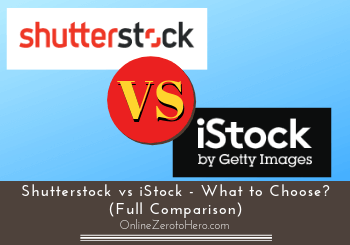 If you are in need of stock content, you have likely heard about both Shutterstock and iStock photos.
But which platform should you choose and what is the difference?
Even though the two platforms have some similarities, there are also some significant differences that are important to know.
This article will put Shutterstock vs iStock so you can easily get an overview of what each of them has to offer and find the right option for YOU.
So let's get started!
Disclosure: Some posts on this website contain affiliate links. This means at no cost to you, I may receive an affiliate commission if you purchase something through one of these links.
Features compared
One of the most important things when choosing which stock platform you want to use is, of course, the features and how good they are.
I have previously written a review about Shutterstock and also an iStock review, and these are two of the big players.
Now, I regularly get asked which one is then the best option.
This is what this article will look into, so let's start by looking into what options both iStock and Shutterstock offers and compare each of the options so you can find the best fit for you.
Stock images and graphics compared:
One of the most popular features of both platforms is their stock photo options.
Both of them offer regular photos but also graphics and vectors. So then the question is which selection is the biggest and the best.
iStock does not mention the exact number of available assets you get access to if you join. They just mention you will get access to millions.
And by searching on the site, it is clear to see they have a lot of options.
Shutterstock is more clear about exactly what you get access to. They give you access to more than 200 million stock images and usually, more than 1 million new images are added every week.
This is a HUGE collection and probably one of the biggest you can find on a stock platform.
However, on both platforms, you will be able to find images and vectors about more or less any topic.
Personally, I think the images on Shutterstock are a bit more interesting and it has a bigger collection but overall both platforms offer images of high quality and more than enough for most needs.
Both platforms also have a search function that makes it easy to quickly search for relevant images or browse through relevant categories.
This is a necessity on platforms with this many assets, in my opinion, so great both of them offer this.
Video clips available:
Both iStock and Shutterstock also offer a comprehensive selection of stock videos.
You can find videos in many different categories on both platforms and they are anywhere from a few seconds and up to 1 minute long.
Of course, the videos are high quality on both sites and you can choose between SD, HD, and 4K. When it comes to the videos I must say it is difficult to say which platform is the best.
A lot of it comes down to the price (which we will get to later) and how big a selection you need access to.
Again iStock is not completely clear about how many they give access to. They just say millions – this is a bit strange but there definitely are many.
Shutterstock mentions clearly that they, at the time of writing this comparison, has 15 million video clips and around 70,000 new are added every week.
So you will likely be able to find the videos you need on both platforms but Shutterstock does seem to have the biggest selection and the fastest expansion of it.
Music assets available:
Music and sound clips can be difficult to get a hold of but you can find these on Shutterstock.
However, this is no longer an option on iStock. They do have a section on the website about this, but it links to another platform owned by Getty Images, which is the owner of iStock.
So music is not directly available on iStock but it is on Shutterstock.
But if you really want access to music and prefer iStock, you can then go to the other platform that is owned by the same company.
Other options:
Each of the platforms has its own unique features in addition to the options above.
So let's go over these as this can help you decide what the best option for you is.
iStock offers what they call the Adobe® Creative Cloud® plugin.
This makes it possible for you to connect Photoshop, Illustrator, or InDesign to iStock so you do not have to leave them to go browse iStock to find the images you need.
In addition to this, you can also link your iStock account to Dropbox and thereby get access to your files from all devices.
Shutterstock offers editorial images that are great for news sites and they have more than 40 million of these with 10,000 new added every day.
It also has its own app you can download and work with your images on the go and its own editor/design application, you can use to create social media posts, promotions, and other visual products.
You can also import Shutterstock images directly into PowerPoint with a tool they have for this and use a Chrome extension to search for similar images in their database when you see images you like online.
So overall both platforms have some great extra features/tools and exactly which ones are the most helpful for you depends on your exact needs.
Are they both safe?
Both Shutterstock and iStock are reputable companies and they sell royalty free images and assets which means they are safe for you to use.
However, you, of course, need to stay without the terms of usage. So to be sure, it is best to read the conditions for each platform carefully.
This is especially important if you have particular needs. You can, for example, NOT use the assets for trademarks or logo in most cases with a standard license.
But for most needs, a standard license for both platforms will be more than enough.
But I just want to make it clear that I am NOT a legal adviser so if you have any doubt it is best to read the terms carefully or contact the platforms if you have any questions about this.
Shutterstock & iStock pricing compared
The features and options are, of course, extremely important but with both platforms offering some very good options, a lot of it will also depend on the price.
So let's compare the pricing of iStock and Shutterstock.
Both of them have several pricing options depending on your needs. So I cannot mention all their different options.
But I can give you some examples that will illustrate the overall differences in their pricing structure and this can help you find the platform that gives the best value for money.
When it comes to images/illustrations, you can buy either single images or subscriptions on both platforms.
iStock uses a credit system as not all images have the same price whereas Shutterstock gives you a set price per images and it is the same for all.
On both platforms, you get a discount if you buy more.
The images on iStock cost between 1-3 credits. But let's go with 3 for this comparison as that would give you access to the best images and that can be compared to Shutterstock where you get access to all the images.
So let's say you want to just get 5 images. On Shutterstock that would be $49 which would be $9.80 per image.
on iStock, you would then need 3 credits x 5. This means you would need 15 credits. They do not have an exact package for this but from the other packages they have you can figure out it would be around $9.50 per credit.
So if you need 15 credits this would be $142.5 for 5 images. That is quite a lot more.
But let's say you would just find the cheapest images for 1 credit. Then it would be around $50 for 5 images which would be more or less the same as Shutterstock.
So the important thing here is to be aware that not all images in iStock cost the same. So you need to look into the exact prices for the type of images you want to see how good the value for money is.
Also, you need to be aware that the credits on iStock do not expire. If you buy a prepaid image pack on Shutterstock, you need to download all your images within 1 year.
But let's also compare their subscription options.
For this comparison let's say you need 50 images per month. Both platforms offer you a discount if you get an annual subscription but you can also just choose to pay monthly.
If you just pay monthly, you need to pay $229 on iStock for 50 images per month if you want access to all their images and $99 per month if you only want access to what they call the essential collection.
On Shutterstock, you would need to pay $125 per month for 50 images and that would give access to all images.
If you want an annual subscription on iStock, it would be $199 or $90 per month depending on the collection of images you want access to.
On Shutterstock, it would be $99 per month which would give you access to all the images.
As a last price comparison, let's also look at the video prices.
iStock does not have separate prices for the videos. You also have to use credits to buy these. The number of credits depends on the video you want.
The cheapest videos will be 6 credits which will be around $60. But these will not be the best videos. If you want the highest quality and the most interesting videos they can cost up to 18 credits which will be around $180.
On Shutterstock, you can buy a single video clip for $79 and freely choose between all the clips they have. If you buy more, you get a discount.
For example, will 5 HD clips cost $71.80 per clip and if you buy more, you will get it even cheaper.
Overall, I find the pricing structure on iStock a bit confusing and you need to look closely into what kind of images or videos you would like on the platform to see if it will be worth it.
If you just want the cheapest option on iStock, it is more or less the same prices as on Shutterstock. But on Shutterstock, you get access to the full collection for that price.
And if you want access to some of the more expensive assets on iStock it becomes quite a lot more expensive.
Final verdict – What to choose?
iStock and Shutterstock are both legit and great stock platforms.
They have a good selection of both images, vectors, and videos. However, Shutterstock has a bigger selection and, in my opinion, it also has some better images (for my needs anyway).
But both platforms will cover most needs in terms of their selection. If you need music, Shutterstock is, however, the only of the two offering this.
One more thing you need to take into consideration is the extra features like apps, and extensions each of the platform gives access to.
Look at the description of each of them as you might find some of these features really useful and then you should go for that option.
Finally, you, of course, need to consider the price. iStock can be the cheaper option (but only slightly) if you only want access to their cheapest assets. If you want access to the full collection, Shutterstock is a lot cheaper.
Overall, I think Shutterstock gives a bit better value for money but it, of course, depends on your exact needs.
I hope this article has helped you get a good overview of what iStock and Shutterstock offer compared to each other and that you now know which platform is the right option for you.
If you have any comments, questions, or have experiences with any of the two platforms yourself, I would love to hear from you in a comment below.