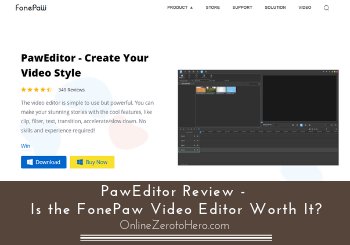 The PawEditor from FonePaw claims to be a simple yet powerful video editor.
So I decided to put it to the test and see what it really offers and compare it to other video editors in the same price range.
So if you want to know if it will be the right editor for you and exactly what you get, then you are in the right place.
This PawEditor review will give you all the details you need to know to find out if the FonePaw video editor has what you are looking for or if you should go for another option instead.
So let's get started!
PawEditor in a Glimpse
Features

Usability

Value for money
Summary
PawEditor is a decent video editor from FonePaw for the most basic needs.
But it is honestly not very user-friendly and even if you are a complete beginner, there will likely be some features you will quickly need that it just does not have.
In general, you can just find many editors with more features that are easier to use and that gives a lot better value for money, in my opinion.
Is the FonePaw Video Editor safe?
Let's start with an important aspect before downloading any software – and that is if it is safe to download and use.
The PawEditor is created by FonePaw which is a company that has created several other simple software and is located in Hong Kong.
Overall it produces safe tools and I have not had any problems after downloading any of them and have not found anything suspicious about them when doing research online.
The only thing I do not like about FonePaw is that their about section uses stock images to present their employees. That is a no-go, in my opinion.
I do not want to go into all the details about this here as I have described this further in my FonePaw Screen Recorder review so you can check that out if you want more details about this.
When that is said, this does not mean it does not have good tools, and after having tested the PawEditor, I have not found any safety issues with it.
But to find out if it is then the right tool for you, we need to look into what you can do with the tool.
What can you do with PawEditor?
On the FonePaw Video Editor website, they say you can make professional videos easily with the editor.
So I had some expectations before downloading it.
Let me first start by saying that in one sense it is a very simple video editor, but in another sense, it is not really that simple.
After reading this review, you will understand exactly what I mean about this.
So let's go over the features you have and what the tool can do so you can see if it has what you are looking for.
Feature 1 – Basic edits
You, of course, need to be able to add your own videos in a video editor and be able to do some basic edits. And PawEditor also offers this.
But it is not necessarily as straightforward as you might think.
If you have used a video editor before, the overall way of using the basic editing features will seem familiar in some ways.
It will, for example, be easy to find out how to trim your video and cut out the parts you do not want to be a part of your final video.
You just put the marker where you want to cut and then click the cut icon on the toolbar.
This is fairly straightforward. However, the remaining parts do not automatically combine as in most other video editors I have tried.
So you then have to put them together yourself.
Also, the rest of the basic editing functions are not visible at first. To see these, you have to mark the part of the video you want to edit and then right click.
You will then get a small menu where you get extra options.
You can then, for example, rotate, trim, and more.
Once you know, it is fairly easy but it might not be so easy to find these functions if you are brand new. And there is not a lot of info on the FonePaw website to help you find out about this – but now you know where to find them:-)
Feature 2 – Transitions
When you edit videos, it can be great to have the option to add transitions between different parts of the video.
The PawEditor offers around 20 different transitions. It is not as many as some other editors, but for basic projects, there will be more than enough.
Again it is not quite as intuitive as some other editors I have tried. You cannot just drag it to where you want to add it.
You have to put the marker where you want it, then go up and click the exact transition, choose how you want it to look like, and then it will be added.
Once you get used to it, it will not take long but it takes a few more clicks than on some other editors.
Feature 3 – Effects and filters
If you want to add a bit extra to your videos, you can use effects or colors in the PawEditor.
The effects are, for example, opacity, wiggly, noise, reverse, and more. There are around 25 effects you can choose from.
The filters are called colors in the PawEditor. This will add a color filter over the video to give it the atmosphere you want to give it.
You can choose between around 20 filters/colors.
You can also add more colors to the same clip and mix them as you want to and make your own color combinations like this.
This function is fairly easy to use as you just click the color you want to add.
If you want to change between the colors, you just have to be aware that if you click more than one, both of them will be added, so then you have to delete the previous color to see the new one alone.
Feature 4 – Text and titles
You can add text or titles to your videos with the FonePaw video editor.
At first, it might not seem like there are a lot of options. You just click to add the text you want. But after writing the text, you can click the "edit style" button right next to it.
This will give you a lot of settings.
Here you can change the font, color, background, text position, and more.
It does, however, not have title and text templates like many other video editors do.
It is great it has all the settings so you can make your own titles and text, but, in my opinion, it would also have been nice with some templates as that can really save time.
And templates also make it easier to make text and titles look good if you are brand new and do not have a lot of design skills. But that is, of course, a matter of personal preferences.
Feature 5 – Export your video
Once you have created the video you want to, you need to be able to export it.
You can choose to export it in mp4, avi, mov, flv, gif, mp3, and wav format.
You can also choose the output size and ratio and more. So definitely possible to get the video out in a useful format for most basic needs.
Who can use it?
If you are interested in using PawEditor, you need to know that at the time of writing this review, it is only available for download in Windows.
So if you have a MAC, you cannot use it at the moment. But it is very possible this will change at some point, in my opinion.
Also, you can use the editor itself is two different languages.
In the settings, you can choose to use it in English or Japanese.
PawEditor pricing
You can download PawEditor for free on the website. However, like most other tools, the free version has some limitations as they can, of course, not make a living just by giving everything away for free.
What you can do with the free version is to test the tool and see if you like it. But if you export your video, there will be a watermark which means you cannot really use it for anything if it has to look professional.
The free version also has some other limitations as you can see on the image above.
It does, however, not say exactly what these limitations are. It just says that there are some advanced features that are not supported.
This is honestly a little strange, in my opinion. Because it would make sense if the free version gave you all features so you could see exactly what you would get if you decide to pay.
Or at least they should specifically mention what features they are talking about.
Anyway, it is great they have a free version so you can try the tool before paying.
But let's now look at what you would pay if you want to upgrade.
You can choose between three different licenses. You can get a one-year license, a lifetime license, or a family license where you can use PawEditor on up to 5 PCs.
It is not a high price to pay for a license, but whether it is worth the money or not and whether it is the best value for money or not depends on different things we will go over in the next (and last) section of this review.
Final verdict
PawEditor has the features you need to create basic videos.
But there are many video editors that have this, so this does not mean it will necessarily be the best option.
So let's finish by summing up the pros and cons so you can get a better overview before deciding if this is for you or not.

Pros:
Has a free trial version
All basic features to create good videos are included

Cons:
Not as easy to use as many other editors
Limited features
Not good tutorials available
As a basic video editor, PawEditor can be fine. But it honestly also has quite a lot of shortcomings, in my opinion.
It is not as easy to use as other editors and they also do not have great tutorials that can then show you how to do this.
They do have a YouTube channel, but the videos about PawEditor are only around 10-15 seconds long and do not really show you anything.
In addition to this, it just has limited features. In my opinion, you will quickly need more features even if you are a complete beginner.
Even though it is not very expensive, it is, therefore, still not the best option as an editor like for example Movavi video editor gives a lot better value for money.
Overall, PawEditor is in one sense very simple because it does not have that many options, but on the other hand, it is not that simple, as it is not so easy to use. In general, you can just find many editors with more features that are easier to use, in my opinion.
If you have any comments, questions, or have any experiences with PawEditor yourself, I would love to hear from you in a comment below.