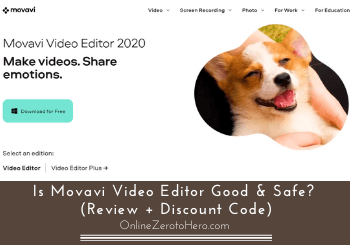 Making video content for websites and social media is becoming a more and more important part of promoting your business online.
To make the videos, it is necessary to have a good video editor that can help you easily create the videos you want.
But is Movavi Video Editor good and a tool worth using, or is it unsafe and a waste of your time?
In this Movavi Video Editor 2020 review, I will show you all this tool has to offer and share my experiences with it.
If you find out it is a tool that offers what you need, I will also show you a way to get a discount for it.
Disclosure: Some links on this website are affiliate links. This means at no cost to you, I may receive an affiliate commission if you purchase something through one of these links.

Movavi Video Editor 2020 at a Glance
Features

Usability

Value for money
Summary
The Movavi Video Editor 2020 is a tool that is easy to use and has a short learning curve. At the same time, it has great functionalities that make it possible to create great videos easily.
It is the video editor I am using myself, and it is definitely an option I recommend.
If you decide it is the right tool for you, you can find a discount code later in this review to get some great savings.
Is Movavi Video Editor safe?
Let us start with the safety of Movavi Video Editor.
There are so many online tools that you can download, so you want to be sure that the tools and programs you are using are safe and legit and do not contain viruses or malware.
When it comes to Movavi Video Editor, you do not have to worry. It is a legit and reliable company that has existed since 2004, and it now sells products to over 150 countries and has more than 4 million users worldwide.
It has created several versions of their video editor and continuously update it – the newest version is called Movavi Video Editor 2020.
I have used the tool myself for quite several years, and I have not had any safety issues with it at all. So as long as you download it from the official website (find link further down), then you should be fine, and it is definitely a safe tool to use in my experience.
What can you do with Movavi Video Editor?
Now that you know it is safe to use Movavi Video Editor, let's then go into some of the main things you can do with it, so you can see if it has what you need.
I want to emphasize that the Movavi Video Editor 2020 has more features than what I am showing below and there are a lot of settings you can adjust depending on your needs. I just could not include every single setting and feature in this review as that would make it too long and boring:-)
So the features below are some of the main features and the features I personally think make Movavi a great editor and this will give you a good idea about if it is an editor that can fulfill your needs or not.
Feature 1 – Import own media and create stories:
In a video editor, you, of course, need to be able to upload your own videos or images, and Movavi also offers this.
You can import any video, you have recorded on your phone or any other device, as long as you can connect it to the device you have your editor on. If you want to add images to your video, you can also easily import any images, you have on your computer.
In general, you can import any media file with just a few clicks and it is very intuitive and easy to do. You can, for example, also upload audio files or record your own audio files cirectly inside Movavi.
Once you have imported your media, you can create the story you want. You can, for example, trim and cut any parts of your video, and you can use all the other features, I will go over below, to make your video the way you want it to be.
It is a tool that is pretty easy to use, so you will quickly be able to figure out how to do this and how to create great videos and stories. On the Movavi website, there are also several great tutorials about how to use it if you should need help to get started.
Feature 2 – Make webcam recordings:
A feature I think is pretty cool is that you can do webcam recordings directly in the Movavi video editor.
This recording will then be imported directly in the editor where you can edit it.
If you want to make a screen recording where you capture your screen, you, however, need an addon.
Personally, I mostly use Icecream Screen Recorder to record my screen, as I often do tutorials and video reviews here on my website. Once this is saved on my computer, I then just import it into Movavi Video Editor and polish it there.
But when I need to record just from the webcam, Movavi is great and makes it very easy.
Feature 3 – Use free media from the library:
In addition to importing your own media, Movavi Video Editor also has a library, where you have access to free media you can use.
You can, for example, add music, sounds, sample videos, or backgrounds to your videos.
There are quite a lot of video clips, music, audio clips, and more but exactly how many you get access to depends on the version you decide to get and I will go more into this later in this review.
Adding effects like this can be a great way to make your videos more appealing and interesting. Music can be a part of creating the perfect atmosphere in the video, and sound effects like applause, boo sound, breaking glass, or things like this can add a nice effect.
A little advice is however not to go overboard with the effects:-) They can be great to use in moderate amounts, but too many can be distracting instead of helpful for the viewers.
Feature 4 – Add filters to your video:
If you want to add a certain feel to your video, you can use the filters in Movavi Video Editor.
There is a lot to choose from like, for example, pop art tiles, blur, color filters, flying objects, shaking the camera, retro, grey scale, and many more.
Above you can see an example of a filter that adds moving snowflakes to your video. As mentioned, there are a lot of filters to choose from, so you can really be creative or make it as simple as you want to.
Again the exact number of filters you get access to depends on the version you get. But overall even the most basic version has some great filters that can be very useful and after the 2020 version was released, even more filters were added.
Feature 5 – Add transitions between parts of your video:
If you are anything like me when recording a video, you will probably make a few mistakes while recording:-) Often that means you have to do a bit of editing of the video by cutting and trimming it. Or you just simply need to change from one topic to another in the video.
In these situations, it is great to use transitions. Movavi has many transitions you can choose from, that makes the transition from one part of your video to the next smooth and natural.
Personally, I prefer the more subtle transitions like a simple fade or similar. But if you are into other kinds of transitions, you have a lot you can test and play with in Movavi.
I have not counted the eaxct number of transitions available but it is close to around 100 so there should be one no matter your needs.
Feature 6 – Add text and titles:
Often it can add great value to a video to add titles at the beginning, credits at the end, or some kind of text during the video.
You can also do this with Movavi Video Editor. Below, you can see how I, for example, use it for some of my tutorials to introduce myself and my website at the beginning of the video – Not the best picture of me, but it is difficult to take a good screenshot of a video:-).
Again, I like the more simple design as you can see above. But if you would like to be more creative, there are plenty of options to find more artistic titles and text, and you can for example also add speech bubbles.
Feature 7 – Use shapes and callouts:
Callouts and shapes are all kinds of shapes, you can add to your video. It can, for example, be an arrow or a circle, you can use to highlight a certain part of your video.
These can be great to make the video more engaging and can be really great in tutorials.
Movavi video editor has quite a good selection and you can find the more simple ones as shown in the image above and also be creative and insert smileys, icons, small images, and more.
Some of the shapes and callouts are animated while others are static. The animated ones can, in my opinion, be a great way to add a bit extra to your videos and it is something I regularly use myself to higlight certain parts.
Feature 8 – Blur faces or part of a video:
This is a feature that is one of the reasons Movavi Video Editor is the editor I ended up choosing. It is a function that I find very necessary to have in a video editing program, and for some reason, some programs do not have it easily accessible, or it is very difficult to use.
It is the option to blur/conceal a certain part of your video.
This can be very useful – I for example often do video product reviews, and sometimes I log in to some of my accounts to show how a tool is used.
Often my personal information can be seen when I am logged in, and I do not wish to have bank account details, a password or similar visible in a video for obvious reasons:-) Then it is great to have the option to blur that part out, and with Movavi is very easy to do.
It can be any part you can blur or hide, and you can hide it the whole video or only a few seconds depending on your needs. It can, for example, be used to blur a face, if there is a person in your video that needs to be anonymous.
Feature 9 – Save and export your projects:
Once you have created your video, you, of course, need to be able to save it. In Movavi Video Editor you can either save it on your computer in various formats and in various qualities depending on your needs. Or you can upload your video directly to YouTube.
If you do not have the time to finish your video in one go, you can also save your project and come back and work on it later. You can of course also save the project, even if your video is completed, as you might later notice that something needs to be edited (which sometimes happens in my experience).
Additional features – Chroma key, animations, zoom, and more
As mentioned at the beginning of this review, I cannot go into every single detail of the features Movavi Video Editor 2020 offers but instead wnat to give you a good thorough overview to help you decide if it is for you or not.
So I just quickly want to highlight a few other important features the editor has you might find useful:
Chroma key so you can easily use greenscreen recodings
Picture-in-picture option
Pan and zoom your video
Stabilize your recordings
Crop and rotate
Color adjustments
Noise removal for audio
Audio effects
…and more
So as you can see, Movavi Video Editor has quite a lot of features and I hope this overview has given you a good idea about if it is the right ool for you or not.
If not, I will go over below who it is best for and the different versions you can choose from.
==>Click to get Movavi Video Editor Now<==
Who can use it?
Movavi Video Editor is available both for Windows and for Mac. It also has the interface in various languages, which can make it easier to use, as you can choose the language you feel the most comfortable with.
In terms of the skills you need to use Movavi Video Editor, I would say that it in general can used by anyone. If you have never used a video editor before, it will, of course, take a little bit of time to figure out how to use it, but it will not take too long.
The site site itself says you can create a video in just 20 minutes after getting the editor. If you are completly new, I am not sure this will be possible depending on your technical skills.
But in general, it has a very short learning curve compared to many other tools in my experience, so even as a complete beginner, it is a tool you can easily start using to edit your videos. Movavi also has some pretty good tutorials on their website that can help you get a good start.
Movavi pricing and software versions
You can get Movavi Video Editor in different versions. And if you want to test the tool before buying it, you can also download it and get a free trial period for 7 days.
Be aware that with the free trial you will be able to test all the features of the tool, but there will be a watermark when you export your video. The trial is a way to test if you like the tool and the functionalities, but if you want to create professional videos, you need to upgrade, so you do not have a Movavi watermark on your videos.
There are a few different versions of the Movavi Video Editor so you can choose depending on your needs and budget. Below you can see what the differences are. Personally, I use the plus version, as it also gives access to the animated titles, music, shapes and more.
The video suite option is mostly relevant if you want to be able to do screen recording as well.
If you want to get the free trial, you can click below and download Movavi Video Editor on the website.
However, you just need to be aware that the free version, of course, has some limitations. You can, for example, not export your videos without watermark. So it is best for just testing what the tool can do to find out if it really has what you are looking for if you have any doubts.
And if you then need to use it long-term, it is in most cases probably necessary to get the paid version.
So if you want the full version and want to get a good discount, make sure to keep reading, as it can give you a good saving.
But overall, Movavi gives very good value for money, in my experience. If you regularly edit videos and use them for your website or other projects, it is really not a big investment to be able to make professional looking videos compared to some of the more expensive tools that can cost hundreds of dollars.
==>Click to get Free trial of Movavi Video Editor<==
Get a Movavi Video Editor discount
Above you can see what the normal prices of the Movavi Video Editor are. Because I have this website, I have however been able to get a discount link that can give you 15-20% discount.
As you can see above, the normal price for the plus version is $59.95. This is actually really good value for money, as it is for a lifetime license. But if you click the link below, you will get 20% discount and your price will therefore instead be only $47.96.
If you do not want the full plus version, you can also get a good discount on the basic version. Normally the price is $39.95. By clicking the link below, you will get 15% discount and only pay $33.96.
Final thoughts
In general, I really like Movavi Video Editor and it is definitely legit and safe and can be a good video editor for many needs.
But let's finish this review by summing up the pros and cons, so you can get a better overview, to see if it is the right option for you or not.

Pros:
Easy to use
Very good value for money
Has all the functionalities you need to make great videos
Has different versions depending on your needs

Cons:
You get a small ad for other Movavi products when you close the editor program
If you want to make videos, I think the Movavi Video Editor is a great choice and it is definitely a legit and safe tool. I have used it for a long time myself, and I have not found any negative aspects of using it.
The only thing is that you get an add for Movavi products every time you close the editor but this is a tiny thing that is easy to ignore.
So if you want a program that is easy to use, has a lot of great functionalities, and gives great value for money, then this is definitely a tool I recommend. Remember that if you decide you want it and want a discount, then you can get a good saving by clicking the links earlier in this review.
If you have any comments, need any help, have any questions, or have any experiences with Movavi Video yourself, I would love to hear from you in acomment below.