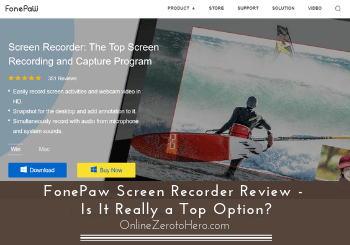 FonePaw says it is the top screen recording and capture program – but most companies say things like this about themselves:-)
So what does it really offer and is it worth it?
I have tested it myself and compared it to the many other screen recording tools I have used to see if it can live up to its claims.
In this FonePaw Screen Recorder review, you will get all the details so you know exactly what it can do and if it will be worth it or not.
So let's get started.
FonePaw Screen Recorder in a Glimpse
Features

Usability

Value for money
Summary
FonePaw Screen Recorder is a legit tool that is quite user-friendly.
It has all the features a basic screen recorder needs and it gives pretty good value for money.
Personally, I do not like that they are using stock images to represent the staff so you do not really know who the staff is, but if you just look at the tool it is a good option and you can try all its features in the free version.
Personally, I prefer using the Icecream Screen Recorder as it has a few more features and a bit better value for money, in my opinion. But FonePaw is definitely also a good option – especially if you are a beginner.
Is it a safe tool?
Before downloading any program, it is good to look into if it is a safe tool to use.
There are different ways this can be done. I usually do a few different things. First of all, I use an antivirus program to scan the download file before opening it.
The download file for FonePaw looked fine and there were no problems when I tested this. There were also no suspicious info or alarming red flags on the site or in general online that I could find.
One more thing I usually look into is the background of the company – for example, to see who is behind the company as this can say a lot about the credibility.
When it comes to FonePaw, there is a good about section that describes all the things you need to know about the company. However, I did become a bit suspicious when I looked into the images of the staff.
The reason I looked into this was that they looked a bit too much like stock photos to me – and I turned out to be right about this.
I did a Google image search and the Chief Editor Emily Watson showed up on A LOT of other pages with the exact same image.
And several of the other staff members did as well. Things like this always make me a bit suspicious.
But when that is said, unfortunately, many legit companies do this and just use stock images for both staff members and reviews.
Personally, I really dislike this and that is why I look for things like this as I prefer dealing with companies that are transparent.
However, from everything else I looked into, FonePaw Screen Recorder seemed to be a safe tool so I still decide to give it a try and I have not had any issues since I downloaded it.
In fact, it turned out to be a pretty good tool depending on your needs. So let's now go over what you can use the program for and how good the options are.
What is FonePaw Screen Recorder and what does it offer?
FonePaw is a company based in Hong Kong but has users all over the world.
When it started in 2014, it just provided software solutions for iPhone – that is why the first part of the name is Fone as slang for phone.
Paw is a part of the name to signal that the company wants to give a helping hand to phone and computer users – actually kind of a nice name, in my opinion:-).
Anyway, enough about the background of the company. Let's now get to what the FonePaw Screen Recorder can do and what features it has.
Feature 1 – Regular screen recording
The program can obviously do regular screen recordings. There are many tools that can do this so it is important to find the one that fits your needs the best.
FonePaw Screen Recorder is actually quite user-friendly and easy to get started with. Once you have downloaded it, you just open it and click "video recorder" option to start recording your screen.
Then you get to choose the exact settings you want to use.
An important aspect of any screen recorder, in my opinion, is that you can easily set it to record exactly the part of the screen you want it to.
This is possible with FonePaw. You can either set the size in pixels or you can drag the corners of the marked recording area to fit exactly what you want.
This is definitely a nice and necessary feature.
You can also easily just click a button and use your webcam while doing a screen recording.
This can be very handy if you ever do any tutorials, reviews, etc., or if you have a YouTube channel where you want to be included in the videos you record on your screen.
You can also choose to have your mouse highlighted when recording and highlight the clicks etc.
Not anything special about this as many screen recorders offer this but it is necessary options to have so good FonePaw offers them.
And as mentioned, it is quite user-friendly. Even if you have never used a screen recorder before, it is fairly easy to get started with.
Feature 2 – Add drawings, notes, and more
When doing a screen recording it can sometimes be very useful to be able to use drawings.
It can, for example, be a great way to emphasize on certain aspects in your recording by drawing an arrow, a circle, adding text, or something else.
This is quite easy to do with FonePaw Screen Recorder.
Once you start recording, you can see a toolbar below the recording area.
Here you can choose the drawing tool – you can see where to find it on the image above.
Once you click here, another toolbar will show up below that.
You can now easily choose if you want to add text, arrows, lines, circles, and more.
You can also choose the size and color of them.
A very simple tool but it definitely does the job and is very easy to use.
Personally, I think it is great these options are there, and once you just know where to find them it feels very intuitive to use.
Feature 3 – Take screenshots
As a little extra tool included, you can also take screenshots.
Having a good screenshot tool can be very handy and there are many screenshot programs.
The capture tool that is a part of FonePaw is very basic. After you open the program, you just click the screen capture option.
Then right away you can choose which part of your screen to take a screenshot of. You can also use the hotkey shortcut on your keyboard to do it as long as FonePaw Screen Recorder is open and this is definitely the easiest way to use it.
The exact combination of keys is something you can decide in the settings.
Personally, I think it does the job but I also prefer having more options for a screen capture tool at times. The images above where I, for example, have drawn arrows and more is done directly in Icecream Screen Recorder that makes this possible.
But for just basic screenshots, FonePaw definitely does the job.
Feature 4 – Preview recording before saving
An interesting feature in FonePaw Screen Recorder I have not seen in many other tools is that right when you stop your recording, you get a preview of it before you actually save it as a file.
The main option you have here is that you can trim the recording from either the beginning or the end. This can be very handy if you just want to cut out the start or finish where there often is something to be cut out.
If you want to do more thorough editing and cut out more parts etc. you should instead get a video editor like for example Movavi or a video editor for beginners like VideoProc.
But for just basic trimming of the end or beginning, FonePaw makes it very easy and it is quite nice to have this option right after you stop recording and before you save the file.
Who can use it?
Now you know the basic options and features of FonePaw Screen Recorder.
If you would like to use it, it is available for both Windows and Mac.
So as you can see, even though the company started only making programs for phones they have now moved into making for different devices.
But before downloading, you need to know what it costs.
Pricing – paid vs. free version
To find out if FonePaw Screen Recorder is actually worth it, you, of course, also need to know the true cost of it.
It has different options. You can download it completely for free. The free version, of course, has some limitations but it also works pretty well so you can get to test if you like the tool or not before paying anything.
The good thing about the free version is that it does not have a watermark, so you can actually use the recordings. But you can record a maximum of 3 minutes and you do not have the option to trim the recordings before saving.
Other than that there are no differences between the free and paid version. But the most important limitation is the time limit.
If you want to use recordings regularly, you will very likely need to record more than 3 minutes. In that case, you need to upgrade to a paid version where you can choose between two different licenses.
At the time of writing this review, the price for a license to a single computer is $34.95 and for 5 computers it is $69.95.
If you are regularly using screen recordings, this is definitely not a high price and you get quite good value for money, in my opinion.
Final verdict
Overall FonePaw Screen Recorder is a pretty good tool depending on your needs.
So let's finish this review by summing up the pros and cons so you can get a better overview before deciding if it is for you or not.

Pros:
Easy to use (even for beginners)
Has free version where you can test everything
Pretty good value for money

Cons:
Not as many features as some other tools
The company is not completely transparent about who they are
The biggest minus of FonePaw Screen Recorder is, in my opinion, that the company use stock photos to represent their staff members and some of the reviews. I really dislike when companies do that.
But if we just look at the tool, it is actually a pretty good screen recorder and has all the features a basic screen recorder needs.
Personally, I prefer using Icecream Screen Recorder because it has some more features I find useful and gives a little better value for money.
But FonePaw is definitely also a great option and it is possible to check out what it has to offer in the free version so if you are still in doubt it does not cost you anything to check it out.
If you have comments, questions, or have any experiences with FonePaw Screen Recorder yourself, I would love to hear from you in a comment below.