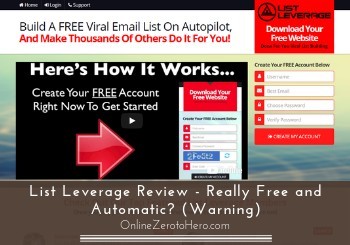 Any online marketer know it can be extremely valuable to build a good email list.
There are therefore many programs and systems claiming to help you with this. One of these systems is List Leverage.
But is List Leverage a scam, or can it really help you grow your email list on autopilot?
In this List Leverage review I will show you how the system works and also give you a few warnings you need to consider, to be sure it is right for you before joining.
List Leverage at a Glance
Training

Tools

Value for money

Income potential
Summary
List Leverage promises it will be easy to build your email list on autopilot and make a lot of money this way. In my opinion the claims are exaggerated, and there are a lot of things you are not told – for example how expensive it can become to join. I strongly encourage you to think about the best way to build an email list for long term results before joining List Leverage. In my opinion List Leverage is not a good solution for this.
Click to see my top recommended way of making money online instead 
What is List Leverage?
List Leverage is another system created by Matthew Neer. He is also the guy behind many other internet marketing systems like for example Speed Wealth System.
I have received Matthew's own newsletter for a while. I am in general not impressed with his work, and his systems I have looked into before, and I overall disagree very much with his approach to internet marketing. But I decided to take a look at List Leverage, as I know he works a lot with email marketing.
So Matthew is a real guy who is making money online. Whether the methods are then right for you, and if List Leverage will do the work for you, is up to you to decide after reading this review and finding out what it does and does not offer. So let's go over how the system works.
How List Leverage works
The system of List Leverage is in theory quite simple.
So the idea is that building a big email list can easily make you a lot of money. One thing you have to understand about Matthew is that all his systems promise you to make easy money. In general, I disagree with promises like this and often there is a catch when a system promises to make you a lot of money automatically and with little effort.
But I agree that once you have build a list, it can definitely be a great way to make money. And this is what List Leverage promises to help you with.
To get access to List Leverage you have to sign up for an account. By signing up, you will at the same time sign up for 6 newsletters.
You can see below the sign up box which 6 newsletters you will sign up for.
The above image shows the 6 newsletters I was offered to sign up for. As you can see, there are 6 levels.
After you have then created your account, you will get your own List Leverage page, you can promote with an affiliate link. The page you promote to other people will then have your newsletter at level 6, and the people that signs up through your link will then at the same time sign up for your newsletter as one of the 6 newsletters they have to sign up for to join List Leverage.
When they then start promoting their link, you will be on level 5 on the page they promote, while they themselves will be on level 6. Once their referrals join, you will move to level 4, and this way you will continue up to level 1.
This way you will in theory have people promoting and building your list for you, if you make sure to get your own affiliate link promoted well from the beginning.
According to Matthew, once you reach level 1, this can have helped you grow your email list to more than 1 million subscribers.
A list like this would definitely be a great way to make money, so the idea in itself it sounds great to be able to easily build your list to this amount. But does it really work, or is it just a clever sales pitch?
Does it really work?
In theory, I can see how List Leverage will work, and how it can help you grow your email list.
In practice, I strongly disagree it is as clever as you are told. There are several reasons for this, and below I will therefore give you some warnings you have to take into consideration before joining:
Warning 1 – Takes more work than promised
First of all, it is true that it can in theory grow very fast, if you just invite 10 friends who joins List Leverage and they then invite 10 friends etc. In theory all systems that are build like pyramids like this could work. And as Matthew explains, it will in theory be easy to make money, once you have a list.
The flaw is however that it will usually take a lot more than 10 invitations to get 10 people to join and actively promote it. It sounds easy to just invite 10 friends and then lean back and see your list grow. You should however not expect it to work like this.
If you want to promote List Leverage, you should expect to put in quite a lot of work to get people to join through your link. And you have to get the right people to join, so they will also start promoting the same system.
So in my opinion it will not be just as simple as inviting a few friends even though this is what you are told.
Warning 2 – Risk of low quality list
A big email list can be worth a lot – if it is a list build on quality.
In my opinion there is a big risk of getting low quality subscribers through a system like List Leverage.
Just think about the motivation of the people signing up for List Leverage and your newsletter – they will sign up to have their own newsletter promoted, just as it was probably the reason you are considering signing up.
So you will have a big email list, but the only incentive they had to sign up was to get a link, so they could get more subscribers themselves.
This does not exactly sound like a quality list does it?
It would potentially take a lot of pushy and convincing emails to this group of people to get any sales. The majority of them will maybe even be working with affiliate marketing themselves, and might even promote many of the same offers as you, so it can be a tough group to promote to.
Warning 3 – Potential high costs of email provider
To be able to send emails to your list, you need access to an email provider. List Leverage is integrated with the email tool Get Response. As far as I can see, you have to use this tool to use List Leverage. It is a great tool, even though I personally prefer MailerLite.
So nice that it is integrated with a good email tool. However, let's take Matthew's word for it and say you grow your email list to 1 million subscribers by using List Leverage. Then the price per month for having Get Response would be quite high.
As you can see, if you have more than 100,000 subscribers, the price starts at $1,199 per month, and you need to contact them to get a quote for more subscribers than this. So could imagine the cost of 1 million subscribers will be very high.
This cost is of course not a problem, if you have a quality list, where you can make this money back easily. But as already mentioned, the quality of the list might not be very high, and it might be more difficult to sell through this list than to a list you have build because people really want to hear from you and get information from you based on quality.
Recommended: See My #1 Recommended Way to Learn to Make Money Online
Is List Leverage really free?
I think there are several things you strongly need to consider before building a list through a system like List Leverage, as you can see from my warnings above.
Another thing you need to be aware of is the price. You are told that List Leverage is 100% free, and all you have to do to become a member is to sign up for the newsletters.
If this was true, there would be no real risk in signing up, as you can always unsubscribe from the newsletters again.
However, as many other programs that promise they are 100% free and will make you rich with no effort, there are hidden costs after you join. It might be true that you get the website to promote for free, as you are promised, but this does not mean it will be free to join and use List Leverage.
I took a look at the affiliate information for List Leverage, where you are told how much they pay people to promote this system. This reveals the true costs of the system.
As you can see on the graph above, there is first of all an annual fee of $497. After this, there are several other upsells, before you get to the actual members area. In total, it can end up costing you $810 to join List Leverage and get access to the members area – not exactly free is it?
This is the price for your first year of membership. There is in general a monthly subscription you need to pay, and you are told nothing about this before joining. So as long as you stay a member, you have to pay this monthly fee. It is $47, or as mentioned earlier, $497, if you pay annually.
Personally, I really dislike systems that claim to be free or give a very low supposed one-time fee only to then have several upsells, before you get to the actual members area.
I do not mind paying for good software and training, but when the true costs are hidden, it is in my experience often not worth the real cost, since it has been hidden.
Final thoughts
You now know both the potential of List Leverage, how it works, and some important things to consider before joining. But let's finish this review with summing up the pros and cons to give you a better overview.

Pros:
It can in theory help you grow your email list
A big list can make you a lot of money

Cons:
Not as automatic as promised
Risk of building a low quality email list
You have to sign up for 6 newsletters to join
Not transparent about the true price of joining
I have looked into several of Matthew Neer's programs, and I must admit that I have not been impressed with any of them. Like List Leverage, none of them are transparent about the true cost.
They all furthermore promise to help you make a lot of fast money online without much effort, and in my opinion promises like this culture an unhealthy and lazy approach to online marketing that is the reason most people end up failing, when they try to make money online.
It is definitely possible to make good money online, but in most cases it will take time and hard work. It can definitely be worth it, but in my experience you will end up wasting a lot of time and money, if you are looking for an automatic system that promise to do all the work for you. Therefore, I cannot recommend List Leverage.
If you want to learn how to attract quality visitors to your website and build a quality list, you can check out my top recommended way of working with affiliate marketing. It takes time and effort, but it focuses on quality and honesty, and will teach you real online marketing skills. So if you are interested in this, check out the link above.
If you have any comments, questions, or have any experiences with List Leverage yourself you would like to share, I would love to hear from you in a comment below.