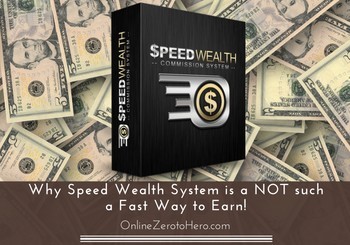 Speed Wealth System claims to have developed the perfect system to make money on autopilot online.
Is this really true, or is the Speed Wealth System a scam?
There are a lot of claims made on the sales page, and you need to know the details about how the system really works before joining.
In this Speed Wealth System review, you will get in-depth knowledge about what methods the system is built on, so you can see, if it is really a way for you to make fast money online, or if you should save your money for something else.
Speed Wealth System at a Glance
Training

Tools

Value for money

Income potential
Summary
Speed Wealth System claims to be a done-for-you system, where you can become rich on autopilot. There are however some things you are not told, and the system is not such a great way to make money online as it claims, as it uses a lot of questionable methods.
It might be able to make you some money, but you need to make sure to know what you are getting into before signing up.
Click to Read About My Top Recommended Approach to Make Money Online
What is Speed Wealth System and what does it offer?
Speed Wealth System is a system developed by Matthew Neer, who has also developed other online marketing products. Matthew is actually a real person and not an actor.
Many make money online systems use actors or fake names, so you never really know who is behind the product. It is at least nice to see that Matthew is not using tricks like this. As you will see throughout this review, he is, however, using other tricks you need to be aware of.
So what does the system offer you?
Well, at the moment of updating this review, you cannot see much on the sales page. It just says registration is closed by you can give your email to be notified when they open for registration again.
However, below you can see what the program offers once it opens – just be aware that once you give your email you will not only receive emails about Speed Wealth.
You will receive A LOT of promotional emails for all kinds of other products as well – and let me just reveal right away that I have never received a promotional email from Matthew Neer with a product that is actually valuable, in my opinion.
But let's get back to what Speed Wealth itself is – It claims to offer you access to a fully automated money-making system, where everything is done for you.
This sounds very nice, but I, in general, become very skeptical when I hear about systems that claim you do not have to make an effort to become rich online. So let's look more into the 5 steps the system offers you as a member:
The 5 steps to make money on Speed Wealth System:
You supposedly only have to do 5 steps to start making money. You sign up, connect your commission link, select traffic source, point traffic source to commission link, sit back and earn money.
The system is built around an ascending sales funnel, and in the sales video Matthew, many times mentions how great this particular sales funnel is.
The idea is that by buying access to the system, you will get access to their sales funnel and marketing material. The same sales funnel that you are in when you are on the sales page. By buying access to the Speed Wealth System, you will buy access to referring other people to the system and learning how to do this, and then you will get commissions for people you refer to the system.
So basically the idea is that you pay to be able to promote the same system you are buying, and then get a commission for sending other people to it. In general, I do not like systems that are built around the main way to make money is to refer other people to the same system, but that does not mean it cannot work and cannot make you money.
In theory, this could work and make you money, but there are also a lot of details about how it actually works that you are not told.
Can you really make money with these methods?
The process explained above is a way to make money through affiliate marketing, which in itself is a 100% legit and great way to make money online.
Affiliate marketing works the way that you get a link from a company/product that you would like to recommend to other people. If you recommend it to other people, and they end up buying through your link, you will get a commission as a thank you for referring that person.
It is a very normal way to make money for website owners and is also my preferred way to make money online, and it is necessary to have a way to monetize websites to be able to run good websites.
However, there are also many ways where affiliate marketing can be used in unethical ways, or where you are more sold an idea just to make other people money, instead of using affiliate marketing to build a long-term online income, where you at the same time provide quality info and help to other people.
Affiliate marketing is, in general, a great way to make money online, but I do not agree with the way it is used in the Speed Wealth System, and you might very well also end up being disappointed if you believe you can become rich online just by setting something up for 5 minutes, and then sit back and relax.
Recommended: Click to Read About The Proper Process of Affiliate Marketing
Will Speed Wealth System make you money?
As I explained above, you can definitely make money with the methods Speed Wealth System are using in general, and from what I have seen they have an effective and very convincing sales page and funnel. So if you promote the system, I am sure you will be able to make some sales and earn some commissions.
But it is not the route I would recommend. The thing is that the sales page makes it sound that you can just set everything up in 5 minutes, and then sit back, relax and watch the money roll in for the rest of your life.
This is not how making money online really works. It is a trap to believe that making money online is just super easy, and that you can become rich without any effort.
You will very likely end up wasting a lot of time and money joining programs that promise this, but without giving you any real training, tools, or long-term strategies, if you are not aware that making money online takes effort.
Below you can see a small video review I made of Speed Wealth System, where I show some of the warning signs, so you can see for yourself. You can also read more details and more things you need to be aware of below the video.

In general, you can make really good money online, and once it is set up, you will also make money while you are sleeping, and it can give you the freedom to travel and work wherever and whenever you want. I agree with Matthew about this.
But Speed Wealth System claims that you do not have to do anything to achieve this.
To build a long-term online income, you need to be willing to make an effort. There is no system that can do all the work for you, and where you can just pay a small joining fee, spend 5 minutes and then watch the money roll in.
Personally, I also think it is important to use an ethical approach when it comes to making money online, and I would therefore never push people into effective sales funnels, where I do not believe it will really help them in the long run, even though I could make a lot of money doing this myself.
I have fallen for scams or wasted time and money on programs full of promises in the past and know how it feels, so cannot do this to other people, and I also encourage you to focus on this when building an online income, so there, in the long run, will be fewer people losing money and hope by joining online systems full of empty promises.
Focusing on quality will also be a better long-term strategy, and will make you a really good business in the long run, as people will know they can trust you.
Are the Speed Wealth System testimonials true:
On the sales page, there are several places Matthew tells about how much money he has made. It is very likely he has made this kind of money on the system. It is an effective sales page.
But that does not mean you will make the same. You (and many other members) will all promote Matthew's system and that will make him a lot of money, if he has a lot of people promoting it. So he is basically hiring you to promote the system, and you then get a commission. And every person you recruit will then now have to go out and promote the system as well to be able to make money.
So the one really making money is Matthew, and I think the system is lacking true care about teaching members the real process about making money through affiliate marketing, and is just focused on getting you to make more money for him.
Also, you can see testimonials from other of Matthew's friends in the video. One of these testimonials comes from Jamie Lewis.
Jamie Lewis is himself an online marketer and has among other created IM with Jamie, which I have reviewed, and is a program that uses many of the same exaggerated claims and pushy sales methods as Speed Wealth System in my opinion.
In the sales video for Speed Wealth System, Jamie is showing off his nice car and saying thank you to Matthew. The thing is that Jamie is also showing off his cars in the sales video for his own product and says he made money enough for it through that system.
Jamie has very likely made money through more or less the same methods as Matthew, as the systems use many of the same techniques and sales methods, but he has not necessarily made it just by joining the Speed Wealth System and not doing anything else. I have received many newsletters from Jamie and seen how he promotes all kind of get-rich-quick programs that will very likely never make you any money, but instead make Jamie a lot of money for promoting it.
In general, I think there is way too much focus on showing money, cars, and just how easy it is to sell their products instead of giving people a good foundation that can really help them to build knowledge and a long-term sustainable income online, and this in one of the many reasons I do not recommend the Speed Wealth System.
Pushy and desperate emails:
Yet another thing that has convinced me that Speed Wealth System is not a place for me and is not a system I recommend, are the emails I have received from Matthew Neer. I signed up for his newsletter to see more about what he had to offer – this was not a good idea!
After signing up, I started receiving at least a couple of emails a day. All of them to sell me either the Speed Wealth System, or try to get me to sign up for other get-rich-quick programs. One thing is to receive many sales emails, but another is when they are as pushy and almost desperate, as I think the emails from Matthew Neer are.
Let me give you an example. I got an email with the subject "Are you a wussy?", and then it continued like this:
So he is basically trash-talking people that have not signed up for his program and calls you a wussy if you have not signed up.
For me, this is not only bad manners and poor marketing. It also seems like a desperate attempt to try to get people to sign up.
But think about something before letting yourself be pushed – if you really had a system that could make you rich on autopilot, would you then push people this much and talk to them like this?
Speed Wealth System pricing (look carefully)
If you want to give Speed Wealth System a try, there are also some things you need to know about the pricing. The price seems to be a bit confusing. It is $27 to join, but I have also heard that it is sometimes $47. But if it is $47, when you visit the website, you can just try to leave, and you will be offered a discount.
So you can join for $27 no matter what. You are told in the sales video that there are no fees for hosting, no fees for domains, and they will take care of all customer support for you.
What Matthew Neer forgets to tell you is that there is a monthly fee of $19.95 for being a member. You can see this in small print below the joining button.
In addition to the monthly fee, there will also be upsells after you join. At least Matthew is honest about this in the sales video – or he mentions that you will make a lot of money from them making upsells to people you refer, but you can probably figure out that also means there will be a lot of upsells for you, meaning you will be pushed to invest more than the initial joining fee.
The Speed Wealth System commission structure reveals it can end up costing you a lot more to join.
If you are not aware how to read the structure, it means that the initial sales price is $47, but there is a downsell for $27 to get people to buy by giving them a discount, if they are not willing to pay the full price. So you can follow the arrows through the different upsells and downsells, and see it can end up costing you a lot of money to get access to the full system.
Additional prices for ads:
In addition to paying to get access to the system, you will likely also have to pay for ads to send traffic to the sales page of Speed Wealth System.
You are for example told that solo ads are a great way to get traffic. Solo ads are where you buy access to an email list somebody else has created, and then you can send your offer to this. It can work, but it is also risky, as you first of all do not know the quality of that list, and secondly, you can end up breaking the data protection laws by buying access to lists. Many email providers do not even allow you to use lists like this.
In general, it is not a way I myself would use, and you need to be aware of the risk before using such methods and have some experience and budget to be able to get anything out if it. So it is not as easy and simple to just send out emails and then people will start clicking and earn your commissions, as the Speed Wealth System claims.
Do you have to hurry to get access?
On the website of Speed Wealth System you will see a timer that counts down to show you to hurry to sign up before it is too late.
Do not worry about this timer running out. It is just another trick to get you to sign up before thinking about it. But even after the timer runs out, you can still sign up. And you can also just refresh the browser and then the timer will start over again.
Final thoughts
Speed Wealth System does have an effective sales page that is likely to earn your commissions if you send people to it.
But in my opinion, there are many reasons it is not a good system to make money long-term online. But let's sum up the pros and cons, so you can get a better overview of why that is.

Pros:
Has an effective sales page
Affiliate marketing is a real way to make money online

Cons:
There are many upsells
You are not told about the monthly fee
You have to pay just to make commissions to promote the same program
The system is built around just promoting itself, and not teaching you any skills
It claims you do not have to do any work and can become rich from this
I would in general not recommend you to join any system that claims you can become rich on autopilot, and where they claim to have done all the work for you. That is just not the reality of creating a long-term online income. And when you at the same time then can end up paying a lot to become a member, just to be able to sell the same system to others, then there are good reasons to be skeptical in my opinion.
It is definitely possible to make good money online through affiliate marketing, and you can learn it no matter your previous experience. But you need to be willing to make an effort – it takes time to create an online business like it does to create any kind of business, but it can also give a freedom you cannot get with any other kind of business.
So it is definitely worth the effort. I have tested many online systems, and the only platform I have found that is truly giving value for money, no hidden costs, amazing step-by-step training build on ethical principles, and support from a whole community is the platform Wealthy Affiliate.
So if you want to learn affiliate marketing the proper way, and in a way that can create a long-term sustainable income online, then just click the link above or the image below to read more about what the platform has to offer.
If you have any comments, questions, or have any experiences with Speed Wealth System yourself, feel free to leave a comment below. Would be great to hear from you.