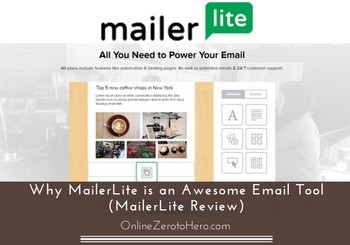 Having a newsletter and doing email marketing is a very powerful way to promote your business.
To do it effectively, you need a good email tool, and I have tested several of them.
In this MailerLite review 2019, I will tell you about this email tool and what it has to offer.
Let me reveal right away that I think it is an awesome tool, and you even get a really good free option compared to many other similar tools.
It is however not a tool that can meet all needs. So let's get started and look into what MailerLite has to offer, so you can see if it is a good option for you or not.
Disclosure: Some of the links on this page may be affiliate links. This means at no cost to you, I may receive an affiliate commission if you purchase something through one of these links.
MailerLite at a Glance
Features

Support

Training

Value for money
Summary
MailerLite has a lot of great features if you want to do email marketing. Furthermore, you can get started and test it for free, as you have access to a lot of the features with the "Forever Free" plan with up to 1,000 subscribers.
In my opinion, it is a great tool, it has great features, great support, and gives very good value for money compared to similar tools.
What is MailerLite and what does it offer?
MailerLite originally started as a web agency in 2005, but in 2010 it changed focus and became solely an email marketing solution called MailerLite.
Today it is used by more than 500,000 businesses all over the world according to their own numbers.
It is however still not an email tool that is as well-known as many of its competitors. I do however think this might change, as it offers some really good solutions, as I will show you in this review.
The main tools and possibilities you get with MailerLite are:
Build email campaigns
Since MailerLite is an email marketing tool, it, of course, offers you to do regular email campaigns, where you create a newsletter or email and send to your subscribers.
The great thing is that you have several ways to create these email campaigns, so it is possible to create a good-looking campaign no matter your design skills.
There are for example several templates that you can use and just adjust according to your liking.
You can also build a whole new email using a drag & drop tool, where you can easily set up the sections, you need in your campaign.
Personally, I am not that much of a designer, so I like to combine those two options and get some inspiration from the templates and then use the drop & drag tool to give it my own touch.
If you are more of an expert, you can also create an email campaign in your own HTML.
The newsletters you send and create in MailerLite are all mobile friendly which, of course, is very important as many of your subscribers probably will open your emails on their mobile.
You can also edit images directly inside MailerLite when you set up your emails. Personally, I prefer editing the images before inserting them in the email but it can be a very handy function to do small quick edits. Especially if you do not have a photo editing software.
Grow subscribers with popups and forms
Getting email subscribers is obviously one of the most important things when you want to use email marketing – without subscribers, it will not give any conversions:-)
When people sign up, it is in most cases because you are offering something they are interested in. So having a list of people that have already shown interest in what you are offering will make it easier to grow your website traffic, conversions, etc.
But first of all, you need to make them aware that they can sign up for an email list.
Many of us hate popups that disturbs us when we visit a website, but I can tell you from personal experience that they are still a very effective way to get people to sign up for your email list. And if you do them correctly, they do not have to be annoying but can actually give your visitors something of value.
In MailerLite you can create popups and forms that you can use on your website to get subscribers. There are both templates you can use as they are, or you can adapt the popups and forms to your liking in color and design.
You can make the popup either discreet in the corner or bottom of the screen, or make them appear in the middle of the screen, or make them full screen.
You can also decide if it shows after a certain amount of seconds a visitor has been on your site after they have scrolled a certain percentage if it should show on all devices, and more.
There are many settings to adjust the pop-ups so you can either adjust the premade templates or create pop-ups in the look and design that fits your website and brand.
When you want to use a popup from MailerLite on your website, you need to paste a JavaScript code into your website. But if you have a WordPress website, it will be a lot easier, as you can just install the official MailerLite plugin.
Forms give you an option to create different sign-up forms or sign up buttons that you can integrate on your website using an HTML code.
Personally, I use the email collector Bloom on my website, since it is a part of the WordPress theme Divi that I am using. But if you do not have an integrated option already on your website, both of these options in MailerLite are great for building your email list.
Build landing pages
In case you do not have a website that gives you easy access to landing pages that can increase your email signups, then you can make great landing pages in MailerLite and use them on your website.
There are a decent number of different templates for different occasions you can use. Personally, I hope there will be more in the future, but there are enough templates to get a good start.
You can adapt them easily according to your needs and liking with a drag & drop function. And you can, of course, also build the landing pages from scratch and completely in your own design with the drag & drop function.
Definitely, a good and easy tool, if you are struggling with making beautiful landing pages. The landing pages you build in MailerLite are responsive and adapts to all screen sizes.
Track your results
To be able to see how your email campaigns are performing, you need to be able to track them. MailerLite has an in-built tracking system that gives all kinds of useful data.
You can see how many that opens your emails, how many that unsubscribes, how many links people click, what parts of the email people are clicking, which countries opens come from, and much more.
You should definitely make sure to look into the statistics if you end up making email campaigns with MailerLite.
The data can help you understand your audience better, and you can see what works and what does not work and use this for future campaigns.
Automate your email marketing
Email automation (also sometimes called autoresponder) has become very popular, as it makes it easy for you to send campaigns automatically.
MailerLite has great options for this. You can both set up RSS campaigns and complete automated email campaigns.
RSS campaigns are where you, for example, can set up an email campaign that automatically sends out an email to your subscribers, every time you have a new blog post.
I have used this function previously on one of my websites, and I set up a campaign that automatically sends out an email once a week with the newest content. It is a great and easy way to keep your subscribers updated.
You just have to set it up once instead of having to prepare a new email every week, and it works really well on MailerLite. If it will be an appropriate way of using email marketing depends on your website an audience. If it is not appropriate for you, you can instead use other automation methods.
You can, for example, use automated campaigns which means that you can set up entire campaigns that send out different emails with specific intervals, or when the subscriber takes a certain action.
For example, if you offer a lead magnet when people sign up, you can set this up, so every time a person signs up, he/she will get the first email in right away. You then decide when the next email should be sent – after a certain time interval or after a certain action (see image above).
MailerLite also offers auto resend campaign, which means you can also make it a part of your campaigns to resend emails to subscribers that for example takes certain action or do not open the first email you send.
The automation options mean that you can set everything up for a campaign once, and after that, it will run automatically. This is a great option and a very popular way, in general, to use email marketing together with sales funnels. It is pretty easy to use on MailerLite, so you do not have to be a technical genius to make it work.
When I started using MailerLite, I had never used email automation before, and I found it quite intuitive, and it did not take long to figure out how to set it up.
Do A/B split testing
A/B split testing is a great way to optimize your online business. It means that you test two different variants against each other and see which one performs the best. Sometimes small changes can have a dramatic effect, and it is, therefore, great to test.
MailerLite has an in-built A/B split testing tool that you can use to optimize your email campaigns.
You can, for example, test the email subject, the from name, or the email content. You can then decide to pick a winner automatically after a certain amount of emails send, or you can pick it manually.
This is something you should definitely look into – it does not take long to set up, and sometimes you can become surprised how big a difference it, for example, can make to change the subject line of your email.
Easily import images and GIFs
MailerLite has a great feature that makes it possible to easily import images or GIFs into your newsletters.
You can import directly from Google Drive and that way easily use your own images. Or you can import free images from Unsplash directly if you do not have your own images. It is also possible to import GIFs from the GIF database Giphy, which can spice up your newsletter and make it more entertaining.
The option to easily import images and GIFs, even though free portals, is in my opinion really great, as it makes it very easy to create more engaging newsletters.
Embedded email surveys
If you want to get feedback from your email subscribers, MailerLite makes it possible to embed surveys directly in your emails.
You can use pre-made templates or design yourself. You can set up different rules.
You can either use the surveys to get feedback about your services, or you can also use it as segmentation and send people to different subscriber groups depending on their answers and this way make your campaigns more targeted.
Integrate MailerLite with other web services
Being able to integrate your email tool with other web services can make your work a lot more efficient.
Luckily, MailerLite is integrated with a big amount of web services. For example with the email collector tool Bloom that I am using myself, but also with popular tools like Sumo, WooCommerce, SquareSpace, OptinMonster, WordPress, Gravity Forms, and many more.
It is definitely great that MailerLite can be integrated with so many tools, and it seems to be growing as the popularity of MailerLite is growing. I can definitely see it has grown since I started using it. So if you are using other web services, there is a great chance, it can also be integrated with MailerLite.
Below you can see a short official presentation video from MailerLite to see how they present the tool themselves:

How to use MailerLite?
Even though MailerLite has a lot of different options, it is luckily pretty easy and intuitive to use.
As it has so many features, it would be impossible for me to go through all of them as a tutorial here. And that is also not necessary as MailerLite has some really great resources for guiding you when you need to get started.
There is a big library with written step-by-step guides, and on the website, you will also find a very big amount of video tutorials. So if video is your preferred method of learning, you will have plenty of opportunity for this.
The videos are also short and to the point, so whenever you need to know more about a certain topic, you do not have to sit and watch a long tutorial, but you can mostly just watch a video that takes a couple of minutes, and then you will be ready to start.
In general, MailerLite is as I mentioned pretty intuitive, so you can also just log in and have a look around yourself.
If you have some experience with email tools or internet marketing in general, you will easily be able to figure out how to use it. And if you have no experience at all, do not worry – just watch a few introductory video tutorials, and then you will be fine.
MailerLite pricing and subscriptions
In addition to all the features, one thing I really like about MailerLite is the pricing. It is much more affordable than many similar tools and makes it possible to get started with email marketing without any investment or very little investment depending on your needs.
First of all, MailerLite has a Forever Free plan – many email tools have a free plan, so you can join and test the tool.
But MailerLite's free version gives access to a lot of features. Often email tools have a lot of restrictions on the free plan, but with MailerLite you have access to a lot of the options with the free plan, so you can really get to test it properly.
Some of the features you do not get access to with the free version are the removal of MailerLite logo in your emails, use of custom domains for your landing pages, auto resend campaigns, and some of the tracking options.
The features you will get access to will, however, make it possible to run really great campaigns and build your business without investing too much before you have enough subscribers to earn from your list.
That is awesome and one of the reasons I first joined MailerLite. You can use the free subscription plan until you have 1,000 subscribers.
When you get to 1,000 subscribers, you need to upgrade to a paid subscription, but by then you should already be making some money, and the cost of the upgrade is not very high and gives very good value for money compared to many similar tools.
As you can see, from 1,000 until 2,500 subscribers, you pay only $15 per month. You can also choose to pay only $10 per month from the start and then get access to all features.
That is a lot less than most similar tools that are usually at least $20per month and then still there are often certain restrictions.
If you pay annually MailerLite, you will get 30% discount on that. So you can, for example, get a full year with up to 2,500 subscribers for only $126 and then you have full access to all features and unlimited emails.
The above prices are a few examples. You can, of course, get plans for a lot more subscribers, than what the image above shows, but no need to include them all here. If you have more than 10,000 subscribers, you can just check out the prices on MailerLite's website.
==>Click to sign up for MailerLite<==
Can you get support?
Getting support is important when it comes to any web service, you are using to run your business or website.
MailerLite has fantastic support in my experience. Even with the free plan, you can get support. With the free plan, you do not have access to live support, but you can still get email support which is really great for a free email option.
I have contacted the support several times with some questions myself, and they have always been very helpful and fast.
The easiest way to get fast support is to use the chat function – you can find this in the right bottom corner when you are logged into your account.
Is MailerLite GDPR compliant?
If you have any visitors on your website from EU, you need to make sure to live up to the GDPR (General Data Protection Regulation). To be this, it is important to have an email tool that makes this easy.
Let me just make it clear that I am NOT a lawyer so do not take this as legal advice. But MailerLite has some settings that make it easy to make sure you live up to GDPR when you collect emails on your website.
The options include pre-written permissions, check-boxes, GDPR-compliant templates, and more that can make your life easier without being a lawyer or having to spend thousands on hiring one.
Of course, having the right tools does not guarantee you live up to the regulations as it also depends on how you use it. If you have doubt about this, you should consult an expert in this area.
Who is MailerLite for/not for?
MailerLite is a great email marketing tool in my opinion, and as you can see above, it has a lot of features, so it will fulfill the needs of most smaller to medium-sized businesses.
There are however a few things you need to live up to, to be able to use MailerLite. If you are running an honest business, this will usually not be a problem, but let's go over the demands just in case.
You need to live up to the CAN-SPAM Act, and you can only send relevant content.
That means that you cannot send pornography, affiliate marketing, pyramid schemes, MLM, "Get Rich Quick", Forex, Escort services, gambling, weight loss material, mobile unlocking services or offer illegal goods and services.
Is affiliate marketing allowed when using MailerLite?
I have seen some people being worried about using MailerLite if they work with affiliate marketing since the terms are not super easy to understand in this area.
You can, however, use MailerLite and include affiliate links in your emails – I am working with affiliate marketing myself, and have therefore looked more into how MailerLite defines it and have also talked to their support about it.
Affiliate marketing that is not allowed is where you promote other company's products for a commission without having a relationship with them.
Affiliate links are however allowed. So you are allowed to use affiliate links to products or services you recommend, as long as they appear under your branding, and it has to be clear that it is an offer from another company. The offers also have to be related to your content and the subscribers' expectations.
So as long as you are not doing anything shady, you would in most cases be allowed to send affiliate links in your emails.
If you have any doubts, just send a message to the MailerLite support to check before you send your email campaign.
Final verdict
I think it is clear by now that I think MailerLite is a great tool.
But let's sum up the pros and cons, so you can get a better overview before deciding if it is for you or not.

Pros:

It is easy to set up email campaigns
You can automate your email marketing
There are many premade templates
Track and test your campaigns
Great support
Great value for money compared to similar tools

Cons:

Not very many landing page templates
You cannot remove MailerLite logo in the free version
Usually, there will always be some disadvantages of any tool or service you use. When it comes to MailerLite, I have however not yet been able to find many cons.
It, of course, depends on your needs but in my opinion, MailerLite has all you need to do email marketing for a small or medium sized business. And it gives really great value for money compared to most similar tools.
So it is definitely a tool I recommend you to check out if you want to get started with email marketing and are looking for an affordable solution.
Signing up only takes a few minutes, and you can sign up by clicking the button below.
If you have comments, any questions, or have any experiences with MailerLite yourself you would like to share, then feel free to leave a comment below.
I would love to hear about your experiences, and will be more than happy to help, if you have any questions.