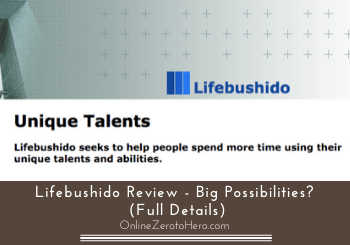 Being a virtual assistant nowadays can provide you with the flexibility of working at home at your preferred hours while earning a decent income.
You don't need much skill when becoming a virtual assistant. Usually, it requires some administrative tasks or doing calls for business.
There are a lot of websites nowadays offering to hire virtual assistants for their clients. One such platform is Lifebushido. They promise to help people around the world to work part-time from home.
But is Lifebushido a legit company?
This Lifebushido review looks into the details of being a virtual assistant in the company to help you decide if this will be worth your time and effort.
Tools

Usability

Income Potential
Lifebushido at a Glance
LIfebushido is a company looking for virtual assistants for part-time work. They call their virtual assistants as "Ishido". You start with working for 5 hours every week then after 100 hours you can work 25 hours per week.
You can earn $10 per hour if you're living in the US but if you're working outside the US, you only get $2.50 per hour. Given that you can only work for a maximum of 25 hours per week, working at Lifebushido is just a part-time option for anyone.
So if you're looking for part-time work that can later provide a full-time income, you should check out other options.
What is Lifebushido and what does it offer?
Lifebushido is a company that hires experienced and talented virtual assistants. It was founded back in 2006 by Steve Kantor with the tagline "anything is possible".
If you're wondering what the name means, the word "Bushido" was derived from the Japanese collective term meaning the code of the samurai. It indicated values such as loyalty, obedience, boldness, and honoring life.
They used the term to describe the company's boldness and immediate action.
They mention on their website that they only hire people who take bold action. I don't know why they emphasize bold action given that they hire virtual assistants to do administrative and support services for businesses and there is no further explanation on this statement.
According to their website, their top clients are real estate agents looking to bring their business to the next level.
They do this by providing assistants, callers, and consultants to help run the business. This is where you can come in when applying as a virtual assistant.
So you can be asking if Lifebushido is legit or is it merely a company with big promises and flowery words? Let's look at what it's like to apply and work at Lifebushido.
What's life as an Ishido?
Lifebushido is said to hire people who take bold action and they call their associates "Ishido".
But what can you expect when becoming an Ishido?
Here are three important facts you need to know if you're thinking to apply as a virtual assistant on Lifebushido.
1. You apply with other interested Ishidos
The application process of Lifebushido is quite unique compared to applying as a virtual assistant in freelance platforms such as Upwork or Fancy Hands.
To apply, you must email them at jobs@lifebushido.com.
Anybody from around the world can apply but I will tell you right now that the pay rate for the US and outside the US is different. I will discuss that more later.
If they're interested, they will send you an email requesting more information. They will also require a voice test which is normal for virtual assistant positions since your tasks will involve doing calls for clients.
Then you will be scheduled for an interview with a team leader.
Now, part of the application is working on a project together with other interested applicants.
This is what they consider the training period but it does not guarantee you will be hired after completion. You will also not be compensated for the time you spent completing the project.
This period is designed for the company to see how you work with others, your work ethics, and your efficiency.
The whole process is said to take up to 30 days. That is a bit long for an application process given that you won't be compensated for all the time spent.
If you're going into Lifebushido as a means of earning some extra cash then you have to consider its long application process.
Honestly, there are more time-efficient ways one can measure an applicant's skill and work ethics, in my opinion.
As per their website, they are not hiring since March 2019 but you can still bookmark the website to check if they open slots.
I will still discuss what to expect once you get hired so you can decide if you will still check out their positions or move on to the next online opportunity.
2. You start as a Newshido
When you get hired, you will be called a Newshido. Newshidos are those virtual assistants that work 5 hours per week.
You have to complete 100 hours if you want to be promoted. Take note that if you work 5 hours per week, it will take you at least 5 months before you reach your 100 hours.
Once you've done 100 hours, you will get an interview to determine your unique talent.
Now there is no indication of what these "unique talents" are since virtual assistants primarily do general and administrative work.
There aren't many details provided on their website on these unique talents. Just a few poetic words that doesn't really give you much information.
This can simply mean seeing which tasks you are able to perform best whether in sales, client management, or database management which are the basic roles of a virtual assistant.
After the interview, you will be able to work 25 hours a week. So being an Ishido is a part-time work rather than a full-time online opportunity.
3. You earn at least $10/hr
As a virtual assistant, you are an independent contractor being paid by the hour. The starting pay for US Ishidos is $10.00 per hour which is not bad if you're doing basic tasks.
However, if you're outside the US, your pay is only $2.50 per hour. That's a big difference from the US rate.
They say it's only your starting rate for the first 100 hours and you can be promoted very quickly to other roles after you've completed the first 100 hours.
Payments are made monthly through PayPal so you have to consider this if you're planning to do be an Ishido as part-time work for some extra cash.
Is it worth it?
Honestly, Lifebushido seems to be a viable option for those in the US but not really for those Ishidos outside.
If you're a US Ishido, you get roughly $200 extra income which is not bad if you only work an hour per day. But if you're outside the US, you won't be getting the same.
The difference in pay rate doesn't make sense since they will both be doing the same tasks.
Imagine if you're living in Canada which isn't much difference in the cost of living from the US, then $2.50 per hour is quite low. There are only a few places where you can consider that amount as a decent extra income.
If you're new, then you will only be earning $12.50 per week since you'll be working for only 5 hours. That puts you into roughly $50 per month.
You only get at most 25 hours per week of work.
While Lifebushido states on their website that they only hire people who want more than a job, it seems you will be getting just a part-time job with little room for growth.
They keep mentioning throughout their website that they help focus on an assistant's unique talent to achieve life and work goals. But they're not really clear on how they do this nor do they provide decent pay for you to have options, in my opinion.
So if you're looking for part-time work that can later provide a full-time income, you should check out other options.
Recommended: See My Top Recommended Way to Make an Income Online
Final Verdict
LIfebushido is definitely a legit company but all it offers is part-time work.
Their tagline "anything is possible" doesn't really match with the possibilities they offer to their virtual assistants, in my opinion.
You don't get to work beyond 25 hours per week and for those outside the US the pay is really low.
I have summarized below the pros and cons I have discussed in this review to help you decide if this will really be worth your time.
Pros:


Flexible schedule
Anybody can apply
Cons:


Low rate if you're outside the US
Strictly a part-time work (max of 25 hours per week)
Paid monthly
Overall, their virtual assistant position is really best for those who are just looking for some extra cash with an hour or two to spare. But do take note that you are only paid once a month.
There are other online opportunities out there where you can start as part-time work and build up your hours and income until it can provide you with a full-time income with the flexibility you want.
I would suggest you do your research until you find the one that fits you.
How I make money online
With all the online opportunities, I wanted to find the ones that would be worth my time and effort. So I did my research and tested many options.
Now, I have been able to create a full-time online income that allows me to work completely on my own terms.
It takes some effort but it is totally worth it.
If you want to follow my footsteps and create your own online income, then check out my FREE guide where I explain how this is possible step-by-step. Don't worry, you can start as a complete beginner!
If you have any comments, questions, or have any experiences with Lifebushido yourself, I would love to hear from you in a comment below.