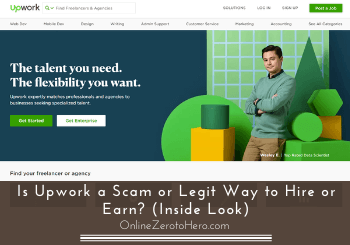 If you are either looking for online freelance jobs or looking to hire freelancers, you have likely heard about Upwork.
But is Upwork a scam or really a legit and great platform to earn or hire?
I have used Upwork several times myself and let me just reveal right away that it is legit as you can both earn and hire there depending on your needs.
This does however not mean it is necessarily the right platform for you to use – and it definitely has both its advantages and disadvantages.
This Upwork review will give you an inside look and I will share my experiences and some tips with you so you can quickly find out if it is the right option for you.
Options

Quality

Value for money
Summary
Overall, Upwork is a legit platform if you want to find freelance jobs or hire freelancers. But it is not without its issues.
It has plenty of job opportunities if you are a freelancer and you can find freelancers for a reasonable price almost no matter what you are looking for as an employer.
But the main issue I have with Upwork is the high fees they charge – especially for freelancers. In addition to this, there have been some complaints from both freelancers and employers that point out some important things to be aware of.
With the right approach, it is, however, possible to get great results with Upwork both as a freelancer and as an employer. You just need to know exactly what to expect and plan accordingly.
What is Upwork and what does it offer?
Upwork is a freelance platform that has existed for more than a decade and it now has close to 20 million users all over the world.
You can use it for two different purposes – you can either join as a freelancer and find work there or you can join to hire freelancers if you need workforce.
There are over 70 categories of work and more than 5,000 skills across these categories.
So almost no matter what your skills are as a freelancer or what kind of skills you are looking for as an employer, it is very likely you can find them here.
Most of the jobs can be done remotely which means you can find jobs no matter where you live in the world as a freelancer. As an employer this means you get access to great skills from all over the world no matter your budget.
All this sounds great but there are quite a lot of freelance portals as you are probably aware.
So to find out if it really is the right option for you, we need to look more into details about what it offers and what to consider before joining.
Is Upwork worth it?
The short answer for whether Upwork is worth it or not is – it depends:-)
It can be worth it both as a freelancer and as an employer but it depends on what you are looking for and how you use the platform.
There are some things you definitely need to consider before joining to get the most out of it. So let's go over these aspects for both freelancers and employers.
Is it worth it for employers?
The big advantage of using Upwork as an employer is that you can find great talent from all over the world and often you can find it at a very reasonable price.
The challenge as an employer is to find the real talent as there with the many users Upwork has, of course, also will be some freelancers that are just looking for quick money without having the necessary skills.
I have posted jobs there and quickly got many applications. But honestly, the majority of them were not really relevant.
But I have also found some great talent on the platform.
What is important is that you have a certain approach when looking to hire on Upwork.
First of all, you need to know at least something about the task you are looking to hire someone for. I mean you need to have some in-depth knowledge about the skills required so you can thoroughly follow and check it lives up to high standards.
So make sure to conduct thorough interviews via the messaging system and do not just hire the fastest and cheapest freelancer right away.
Also, make sure to look at the ratings as you can see ratings from their previous jobs.
However, I must say that you should not solely rely on this rating. It can be great to look at to get an idea and especially to look at the written feedback many previous employers leave as well.
But in my experience, it cannot fully be trusted. The thing is that you are forced to leave a star rating after you have finished a contract with a freelancer. But the freelancer is also forced to give you a rating as an employer.
I have tried to be contacted by a freelancer after having given a rating and was asked to give a higher rating.
And it can become a kind of "if you give me a high rating, I will give you a high rating" type of system which is not ideal, in my opinion.
In one way it is great that freelancers also have the chance to give ratings because on some platforms it is one-sided and freelancers do not have a chance to respond which is not fair.
But I personally do not really trust the rating system on Upwork as a determining factor of whom to hire and whom not to hire.
Instead, you should rely on the interview phase for this.
Overall, there is, however, no doubt that Upwork can be a great platform to find freelancers fast. Personally, I think it is best for temporary projects.
If you are looking to hire for long-term full-time positions, a platform like OnlineJobs.ph can be worth considering instead as that will give you more long-term freedom and flexibility.
But as a safe and fast way to hire a freelancer, Upwork can definitely be a good solution.
Is it worth it for freelancers?
So how are the options to earn as a freelancer on Upwork then?
Well, in one sense they are really good as you will get access to plenty of jobs from all over the world.
But there are a few things you need to consider before joining so you do it with the right expectations.
First of all, there is a lot of competition for every job. So it will not be easy to get jobs. Especially not at first.
It will take some hard work and patience to build up good ratings and trust so more people will hire you. So you need to be really good at the skills you are offering and be patient enough to build up your reputation.
If you do this, it can be a way to create a good income. You just need to be aware that you will be dependent on continuously finding new jobs.
Personally, that is why I started working with affiliate marketing instead as I was tired of having so many different employers and having to look for new options all the time as a freelancer.
But it definitely is a way to potentially build up a good full-time income where you can work from anywhere if you have the skills and are patient enough.
One thing you also just need to be aware of is that not all jobs on Upwork are legit. And especially if you are a new freelancer you have to be careful about this.
Upwork does what it can to block scammers but with so many members, there will occasionally be some scam jobs posted.
That is why they have a whole article on their blog about how to spot these scams. You can see a part of this in the image above.
If you decide to join as a freelancer, make sure to read through the tips carefully so you know what to look out for.
But overall, Upwork is a safe platform as a freelancer as long as you are aware – luckily the majority of employers are honest people and Upwork itself does what it can to remain safe.
Recommended: Learn How to Build a Real Business from Home
Upwork pricing and fees
Upwork is free to join whether you are looking for work or to hire. But there are quite a lot of other fees you need to be aware of.
As someone looking to hire, you can do it for free and I have done it myself. Then you would just pay a 3% fee.
So if you hire someone for a total of $500 for the job, you will have to pay $15 extra as a fee. You have to pay through Upwork according to their terms, so there is no way to get around paying this fee.
But if you have more needs, you need to pay for an upgraded membership and in many cases, this will likely be necessary.
With the free membership, you will, for example, only be allowed to contact a very limited number of freelancers yourself. And that is just one of the disadvantages of the free membership.
As you can see in the image above, there are several options depending on your needs.
Let's also look at the fees as a freelancer because there, unfortunately, also are some quite high fees here.
You are charged a fee based on the lifetime value of a contract with each employer according to the scale below.
So this clearly shows that long-term projects are what you should aim for to pay lower fees.
Personally, I think the fees for freelancers are way too high. Paying up to 20% as a fee is something you definitely need to consider and you should also look into alternative like, for example, Fiverr.
Because the high fees on Upwork is definitely something to be aware of when you set your pricing.
Also, Upwork has now started to charge freelancers what they call "Connects" when you submit a proposal for a job. So for every job you apply for, you have to use these credits.
The numbers of "Connects" will vary from job to job but it can be up to 6 Connects with a value of $0.15 each.
So there, in general, are a lot of fees on Upwork.
I am not saying it cannot be worth it because with the right approach it definitely can be profitable. But you really need to calculate before giving offers.
And since it goes against the terms of Upwork to pay anywhere outside of the platform itself, there is no way to get around this.
You will regularly be reminded about this when you are inside the platform.
Of course, it is a great way to make sure everything is safe when it comes to payment.
But both as a freelancer and as an employer the Upwork fees and terms are not as flexible as some other platforms which is an issue, in my opinion.
Can you get support?
An important aspect of any online platform is also if you can get support or not.
On Upwork you can access their support chat once you are logged in.
At first, it is just a bot that ask you the first few questions as you can see in the image above. If you have questions that are answered in the FAQ section, there is a good chance you will find your answers quickly this way.
If that is not enough, you will also quickly through the chatbox be able to get in contact with a real person.
I have used this option myself and very quickly got the help I needed. So in my experience the support works very well.
The only thing I think is a problem is that you cannot access previous support chats once you close down the chatbox.
This can be very helpful as it sometimes is necessary to go back over the answers you got. So this is something that could be improved.
But other than that, it is easy to get support, in my experience. But as I will show you later in the complaints section, not everybody have had great experiences with the Upwork customer service.
Are there any Upwork complaints?
In general, I never rely solely on complaints when deciding whether to use a platform or not as they can be manipulated to be too negative or too positive.
But it can still be good to look at as it can give you some insights into if there are any legit issues to be aware of.
In the case of Upwork, I have taken a look at Trustpilot to see what other's experiences are as well. And they are quite mixed.
Overall, there are a lot of positive experiences and people that are happy both using it as an employer and as a freelancer.
But there are also 26% 1-star ratings as of writing this review. Some of them are just angry people and you will always find complaints about more or less any company from people that just accuse them without giving any proper explanations.
However, there are also some valid Upwork complaints that are important to take into consideration, in my opinion.
The complaint above points out something very important you need to consider before building your income on Upwork if you are a freelancer.
This person had his account closed down. I am not able to judge if it was justified or not.
But what is important to know is that when you are dependent on a platform like this, you can spend years building something up and if they decide to close your account, you will be left with nothing.
In general, they usually do not just close down random accounts, but it is a real risk whenever you do not own the channel yourself and because you are not allowed to have contact with people outside Upwork itself.
And there are quite a lot of complaints from people that have suddenly had their accounts closed after having spent a lot of time building up their reputation. Many of them also report that they were never told why their accounts were closed.
So this is one thing to be aware of. Below you can see another complaint that was a bit more balanced and I think it brings up another important point.
He points out that it can be very hard to land a job as a freelancer. In addition to this, he also mentions that depending on the country you live in, it can especially be difficult to get jobs that you can make a living from.
Finally, he also points out the high fees of up to 20% as being too high for lower-paying jobs – I definitely agree with this as mentioned earlier.
But let's also look at a complaint from an employer as I think this is also a very important point if you decide to hire through Upwork.
He had someone develop a database and after having paid the first two milestones, the developer said it was hi-jacked because they had not used a password.
They now had to pay a ransom in Bitcoin not to lose everything.
This could, in theory, happen no matter where you hire a freelancer but what is important here is that the support was not as helpful as you would expect in a situation like this, in my opinion.
Asking someone in a situation like that to wait 3-4 days for an answer is not fair. Therefore, I think the warning the person gives about being very careful when hiring developers is something to consider.
And I even saw another complaint similar to this from someone hiring a developer. Both of them were written less than a week before writing this review so it seems like something to be very careful about.
I also saw another complaint from an employer that is something to think about.
This person found out a logo an Upwork freelancer had created was stolen from another company.
Again, this could have happened no matter where you hire a freelancer but it seems the Upwork support could also not help here.
Overall, I just want to make it clear that there are a lot of positive reviews about Upwork as well.
But these complaints just serve as examples of what to be aware of so you know what to consider and be careful of to get success whether you are a freelancer or employer if you decide to use Upwork.
Final verdict
Overall, Upwork is a legit platform if you want to find freelance jobs or hire freelancers.
But it is not without its issues.
So let's finish this review by summing up the pros and cons so you can get a better overview before deciding if it is the right platform for you or not.

Pros:
Plenty of jobs available as a freelancer
You can find cheap workforce as an employer

Cons:
High fees (especially for freelancers)
You are not allowed to communicate outside the platform (makes it less flexible)
Some complaints about losing access to accounts and support not being helpful when there are serious issues
The rating system is not very reliable
Personally, I have used Upwork and had decent experiences with it. But it will definitely not be one of the platforms I will use very much neither as a freelancer or as an employer.
I regularly hire people and even though it is possible to find a lot of talent on Upwork, I do not like the high fees.
It is not very flexible as an employer and I also want any freelancer I hire to be treated fairly and I do not think the fees for freelancers are fair.
As a freelancer, it can be a way to make good money – eventually.
But you need to be aware that it will take hard work to build up a reputation and it can be a bit risky to rely solely on a platform like this as you will be left with nothing if your account will be closed at some point.
So if you join as a freelancer, you need to be patient, work hard, and make sure to follow all guidelines to minimize the risk of having your account closed.
I hope this review has helped you get a good overview of what to expect and be aware of both as an employer and freelancer on Upwork so you can now decide if it is the right option for you or not.
If you have any comments, questions, or have any experiences with Upwork yourself, I would love to hear from you in a comment below.