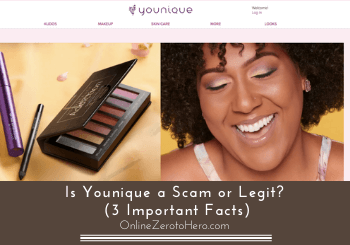 In the past, you needed a physical store if you wanted to market products but today you can simply use social media.
Maybe you have already been approached by someone that introduced a beauty business to you that you can do through social media.
If that is the case, then you have maybe heard of Younique. This beauty MLM company was launched years ago and have been promoting women's empowerment through their products via social media.
So is Younique a scam or legit? Can you look beautiful and earn at the same time through this company?
This Younique review looks into the company and its business opportunity. After all, earning through an online business sounds exciting today.
I'm telling you upfront that Younique is a legit beauty company. In fact, it was bought by Coty which is one of the biggest players in the beauty industry. However, even if it's legit, there are still some important facts you need to know before deciding if you should join.
Tools

Value for Money

Income Potential
Summary
Younique is a beauty MLM company that hosts virtual parties and maximizes social media for the business. They call their associates "presenters" and identifies their ranks through colors. You start off as a white presenter and as you recruit more presenters, you increase your sales percentage.
Joining Younique will only cost you $99 for their starter kit inclusive of products. This is a low start-up cost compared to other MLM companies I have reviewed before. You just have to really test the products yourself before you promote them.
I personally wouldn't recommend Younique even if it's a legit company and not a scam. This online opportunity requires its presenters to be social media savvy and a believer in the products. Your income also mainly relies on the recruitment of new presenters on your team. If you don't get to sell your products at the given quota, your website becomes inactive and you may lose your team.
Personally, I suggest you look for an opportunity that you can start even as a beginner and will not rely on the recruitment of people and sales quota.
What is Younique and what does it offer?
Younique is an MLM company founded back in September 2012 by siblings Derek Maxfield and Melanie Huscroft.
Before Younique, Maxfield founded NetSteps, which is a cloud software company that provided services to MLM companies in their market strategies, commissions, and international market management. The company was sold and the funds were used to start Younique.
As of today, Younique is operating in the U.S., Canada, Australia, the UK, New Zealand, Mexico, Germany, France, Spain, and Hong Kong. Its headquarters is in Lehi, Utah.
Younique's mission is to "uplift, empower, and validate women across the globe". They claim their high-quality products encourage the inner and outer beauty of women together with the opportunity for personal growth and financial reward.
So what's unique about this company?
They are the first MLM company to market and sell almost exclusively through social media. So you've probably encountered some of their products while browsing through your Facebook feed or Instagram account.
In January 2017, international cosmetics firm Coty bought a 60% stake of Younique for $600 million.
Coty is a big player in the global beauty industry. They carry well-known brands such as CoverGirl, Clairol, OPI, Calvin Klein, and Marc Jacobs. So this is solid proof that Younique is a legit beauty company.
There was not much change in Younique's management even after the acquisition. Coty only added Joao Rodrigues as Younique's Chief Marketing Officer.
So how did Younique reach a value of $600 million in just five years?
Similar to companies such as Avon, Mary Kay, and Bellame, the company sells its products through independent sellers they call as "presenters".
They appear to be really aggressive in growth and promotion. When the company launched in the UK back in 2014, it got 1,000 presenters in just 30 minutes.
So what are these products being sold by presenters on social media?
They sell mostly cosmetics and skincare. There are seven product categories for Younique namely fragrance, eyes, lips, face, skin, tools, and collections & sets.
Their flagship product is the Younique 3D Fiber Lashes lash enhancer. It was the first product that really sold and went big. You probably have encountered it if you're always on social media. Other bestsellers include Moodstruck Splash liquid lipstick and Touch Mineral liquid foundation.
Now, this Younique review is not a product review although there are a lot of mixed product reviews you can find online. You can do your research on the effectiveness and quality of the products so you know if they are really worth promoting if you want to make this to a business.
Best of all, you will actually try the products yourself so you know if they are something you can stand behind.
This review is focused more on answering the question if Younique is a scam or a legit way for you to earn online especially since they promote this as a business you can maximize using your social media.
How much do you need to invest with Younique?
Before we look at how you can earn, you first need to know how much you need to invest.
Since Younique is an MLM company, you are expected to invest in this online business before you can earn through retail and commissions.
Becoming a Younique presenter is simple. You only need to pay $99 to avail of the starter kit. With the starter kit, you automatically become part of Younique.
Your Starter Kit is valued at $452 and consists of basic products, product catalog, marketing materials, Youniversity Training Academy (training for beginners), Virtual Marketing Tools, Virtual Party System, and your personal website for to purchase Younique products directly.
There are a lot of MLM companies where you are required to buy the starter kit and bulk of products for hundreds of dollars. Compared to that, the Younique Starter Kit is a pretty good deal since you get marketing materials, training tools, and a set of products to start your business.
Now the next question is how you can earn once you are a Younique presenter.
Can you really earn with Younique?
Since Younique is an MLM company, your income will come from two things which is selling the products and recruiting people for the business opportunity.
MLM compensation plans are usually difficult to understand but if you want to know the whole Younique compensation plan, you can watch the video below:

Your commission status can be ranked in 8 colors. You will start in white and the highest you can achieve is black.
Your status depends on the products you've personally sold, the products your downlines sold, the number of presenters you personally recruited, and the number of presenters your team recruits.
As a white presenter, you can get a 20% commission from your personal sales. You can start earning commissions from your downline, which is anyone in your team, once you reach pink status.
However, to remain "active" even during your white status, you need to sell at least $125 worth of products within three months.
Younique products range from $19 to $29 which means either a customer buys products to reach the $125 requirement or you buy the products yourself just to be active.
If you fail to reach your personal retail sales, then your website gets deactivated and no one can place new orders.
How do you make it active again? You have six months to personally sell $125 worth of products to customers so you don't lose your website and your team. Now if you don't make that sale, you can end up purchasing the products yourself just to remain active.
The personal retail sales amount actually goes up as you move up a rank.
If you want to earn a 25% commission, you have to reach the yellow status which requires you to sell at least $1,000 worth of products. That's a lot of products within three months, in my opinion.
Now, once your commission reaches $50 you are given your own Younique Visa Prepaid Card. The company partnered with PayQuicker so you can get your commission within 3 hours upon making a sale on your website. That's the fastest commission payout I've encountered for an MLM business so far.
Since Younique emphasizes building your business through social media, you will receive trainings on how you can maximize your website and social media accounts to sell.
There are also known Younique virtual parties that are like the famous Tupperware parties where people gather to see your products. In this case, it's held online.
The more Younique products you sell at your party, and for this, you get party points you can use to buy other Younique products.
So I find it's important that you are social media savvy when joining Younique. You also have to learn how to market your products online.
While the compensation plan appears to have a high commission for its presenters, there are certain facts I want you to know to help you assess if this is indeed the right opportunity for you.
Let's look at those truths facts.
3 facts to consider before joining
Even though Younique offers beauty products, not everything about it is beautiful, in my opinion.
I have identified three important facts you should consider before purchasing your Younique starter kit.
This does not mean it might not be the right option for you, but you just need to know exactly what to expect before deciding to make this your business.
1. Mixed reviews on products
Just by doing some quick search will lead you to mixed reviews about the products. Common feedback is that while Younique products are inspired by nature, they cannot claim they are cruelty-free. The only statement they have is that they don't test their products on animals. But they are not recognized as a cruelty-free product.
There are also complaints about the quality of their mascara. In fact, there was a class-action lawsuit regarding the mascara's product claims which I will discuss further later.
With all the mixed product reviews, I believe it's important that you really look at the products since you will be representing these products to your network. It's hard to market a product that you personally don't believe in or that you know has not been effective to a lot of people.
In my opinion, you should not be that person sharing how good a product is even if it's not true just to get profit.
2. Recruitment-based compensation
One of the best ways to know your income potential in an MLM company is through their income disclosure statement.
For Younique, I could not find any income disclosure statement to confirm how much their presenters are actually getting per rank or per year. I personally prefer a company that releases an income disclosure agreement since they are quite transparent on how much their distributors make.
So the way to know about your income potential is only through their compensation plan.
But you can see on their compensation plan that your income is based on your personal sales and the number of new presenters that enter your team and their sales. You get a higher commission if you move up a rank and if the presenters under your team are active and recruiting new presenters.
This means your commission is mainly based on recruitment rather than on product sales. And since there is no income disclosure statement released, there is no actual number of how many presenters really earn in Younique.
The risk about this is that it will be VERY hard to create a real business out of it unless you are really good at recruiting others and do not mind constantly trying to convince others to join.
This is definitely not a way to earn for everyone and you need to know it will not be easy to make it into a real business so you go into it with the right  expectations if you decide to join.
Recommended: Click to Learn My #1 Recommended Way to Make Money Online
3. Lawsuit on false claims
You should know that it's normal for MLM companies to have one or two lawsuits from disgruntled associates or receive some complaints during the first years of the company. But these lawsuits can be a good measure of how business is done by the company.
Now, back in August 2017, a class-action lawsuit was filed against Younique regarding their claims for their Moonstruck 3D Fiber Lashes mascara product.
According to the lawsuit, the company claimed that its product was composed of 100% natural green tea fibers. However, when checked, there was no green tea leaves but rather ground-up nylon that cannot be considered as a "natural substance".
Personally, I think false claims about a product's ingredients can be a problem if you're going to promote it.
Even though this particular lawsuit was several years ago now, it still comes up when people searches and that can make them skeptical. This can make it harder for you to sell the products and even harder to recruit new people to your team.
You need to be aware of this and take this into consideration before deciding if this business is for you or not.
Final verdict
Younique is definitely a legit MLM company. Remember that 60% of the company is owned by the same cosmetics firm that carries CoverGirl, Clairol, and OPI.
However, just because it's a legitimate company doesn't automatically mean this is the right opportunity for you to earn online.
Therefore, I have summarized the pros and cons discussed throughout this review to help you decide if you should become a Younique presenter or not.
Pros:


Commission received within 3 hours
Low start-up cost at $99 inclusive of products and starter kit
Owned by one of the biggest beauty corporations today, Coty.
Cons:


Competition with other presenters on social media
Must be social media savvy
Mixed reviews on their products
Monthly quota for website to be active
Overall, Younique is not a scam but a company for women who loves beauty products and can market it well on social media.
One important factor you need to consider if you're thinking of joining Younique is your social media presence and skills. While there are trainings provided, you have to be able to really carry the brand in your social media and promote it effectively.
Now if you feel you won't be able to sell the number of products needed for your website activation and do not find the products to your liking, then it would be best for you to look for another opportunity instead, in my opinion.
How I make money online
I know it sounds great to have your own online business. I spend time and tried different online opportunities and eventually found the one that worked for me.
Now, I have been able to create a full-time online income that now allows me to work completely on my own terms.
It takes some effort but it is totally worth it.
If you want to follow my footsteps and create your own online income, then check out my FREE guide where I explain how this is possible step-by-step.
You can even get started with these steps as a complete beginner.
If you have any questions, comments, or have any experience with Younique yourself, I would love to hear from you in a comment below.