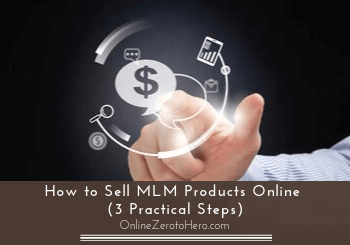 Having an MLM business can be great – but the challenge for many is how to actually make it into a profitable business.
The online world can definitely help with this – if you do it right.
This article will show you practical advice about how to sell MLM products online.
This means you will be able to become successful in MLM without having to be annoying and pester your friends and family all the time.
I just want to make it clear that it is not some kind of quick fix (as they never really work) but an approach that can help you build a real long-term business honestly if you follow the approach.
Before you start selling MLM online
Before you start selling your chosen MLM products online, there are a few things you need to consider to make sure it will be possible for you to build a long-term business.
Consideration 1 – The background of the company:
First of all, you need to check the background of the company.
There are many legit MLM companies with great products but there are also many that have a lot of controversy around them.
One of the reasons for this is that quite a few pyramid schemes have promoted themselves as MLM companies and people have ended up losing a lot of money on them.
Pyramid schemes are illegal and companies that are built on this business model will usually be closed down at some point.
So if you promote MLM products online and you later find out it really is a pyramid scheme, you can get into a lot of trouble.
Therefore, it is VERY important you check the background of the company and the business model it is built on so you are sure you are promoting a legit company and can build a long-term sustainable business.
Consideration 2 – The products you are going to sell:
If it is a legit MLM company you are involved with, there will be products you can sell.
Some MLM companies have very good products but there are also some that are not as good as they claim.
There are even some that are getting a lot of bad publicity because people get hurt using them. An example of this is the SlimRoast Coffee from Valentus that the official Danish Food Board, for example, is advising against.
You want to make sure the products you sell are of very good quality and look into if there has been any controversy around any of their products.
The best is, of course, if you really like the products yourself. But in addition to this, it is good to look into stories like the one mentioned above as you do not want to end up promoting products that can potentially hurt people.
That will be bad for both people and for your business.
Therefore, you need to make sure you get involved with a company that has really good products you can fully support and recommend yourself.
Consideration 3 – What is your budget?:
One thing you also need to consider before starting an MLM business and getting too deeply involved is the cost of starting and running the business.
Some MLM companies have very high start-up costs and overpriced products that will be difficult to sell.
I have previously been involved in an MLM company selling supplements myself and at the end of the day, people were just not willing to pay the price of the products as you can get the same quality a lot cheaper many other places.
So first you need to consider if you have the money to get started yourself as some companies have very expensive starting packages to allow you to start selling their products.
And then you need to make sure the products are priced so people will actually be willing to buy them.
There are stories about people losing a lot of money by getting involved in MLM because they get seduced about the earning potential without being realistic and thereby lose a lot of money.
So make sure you have the required budget to get started and to continue without profit for a while.
If you do not have a big budget, it might be better to consider something like affiliate marketing instead or another type of business you can run from home.
What you should NOT do
Before getting to the tips about how you can sell more MLM products by using the power of the internet, there are a few things you have to make sure do you do NOT do.
Do NOT – just focus on recruiting:
There is no doubt that the biggest earning potential when it comes to MLM is if you also start recruiting other people that can join the company in your downline.
It can definitely be great to recruit people but you should NOT just focus on recruiting.
You have likely tried yourself to be approached by someone trying to recruit you for an MLM opportunity. That can be fine if it is indeed a great opportunity.
But many people are so focused on recruiting it becomes extremely annoying. They completely forget it is a person they are talking to and just think about the potential commissions they can make themselves.
It is possible to recruit people like this but in the long run, you can also end up losing a lot of friends that way as people do not want to hear a sales pitch every time you talk.
What you then need to do instead to be able to recruit and sell MLM products without being annoying is what we will go over in the tips later in this article.
Do NOT – be desperate:
Desperation rarely leads to any good outcome when it comes to business.
That goes for any kind of business. I see it all the time when people want to start an online business from home and go into it expecting to make big money from day one.
This is just not the reality of building a business no matter what kind of business you want to start.
People that are desperate and expect to become successful overnight will mostly just fail because they do not have the patience and will give up very quickly.
So if you want to succeed with MLM (or any other types of business) you need to go into it with patience and not be desperate – that is also why you need to make sure you have the budget to get started as I mentioned earlier.
Also, if you are desperate, people can sense this and this will make it even harder to sell or recruit – so it is very important to go into it with a balanced approach.
Tips to sell MLM products online
So let's now get to the tips about how you can then successfully sell MLM products online – and even how you can recruit people without being annoying.
As mentioned earlier, I have previously been involved in MLM myself but that was before I learned online marketing. I know how hard it is to succeed and if I had the knowledge about online marketing I have today, it would have made a big difference.
I am no longer involved in MLM as I have found out affiliate marketing is a better match for me. But the principles about how you can sell online are the same no matter what.
And since I know how challenging it can be to run an MLM business, I wanted to share these tips in this article. Below you will find the 3 most important steps and the best approach to do them with, in my experience.
Step #1 – Identify your audience
When you want to sell anything online, the first you need to do is to identify who you are talking to and what type of people might be interested in what you have to offer.
Since you have chosen an MLM company yourself, it is likely because it is something you can relate to and this means you will likely already have a good idea about why people might be interested.
This can be both people that are interested in the products themselves and people interested in the business opportunity.
So identify what the products can help with and what type of people would be looking for this online. And identify what type of people would be looking for the business opportunity.
This will be possible if you know the product and the company well – and you should, so you are sure it is actually worth recommending people.
Once you have some good ideas about this, you will use the information for the next step.
Step #2 – Create helpful content
There are different ways to make sales online. In my experience, one of the most effective ways is by getting people to your website through the search engines.
So the first step is to create a website. And don't worry – you do not need any special technical skills for this. With the tools that exits today, anyone can quickly learn to make a good website without knowing any code or anything else.
It does not have to be anything fancy but a place where you can start creating valuable content.
You will be creating content about the topics and for the types of people, you identified in step 1. By truly focusing on giving people answers for what they are looking for online, you can make sure to be found on Google and other search engines.
The great thing about people coming to your website through the search engines is that they have actively been looking for answers and topics you provide information about.
If you truly focus on giving them quality info, it can over time bring thousands of visitors to your website week (or even every day). This gives a lot of opportunities and once it gets started it is a really great way to bring in consistent income.
This is why this is one of my top recommended ways to generate traffic to a website and something I have had a lot of success with myself and I have been able to build a full-time income like that.
Alternatively (or in combination with), you can also choose other ways of generating traffic. It can, for example, be by learning proper video marketing.
This is again something anyone can learn and video is becoming more and more popular because people love getting information through video.
So depending on your preferences, you can choose to just stick with a website, just video, or a combination of both.
Step #3 – Make people aware of the opportunity
Once you have built an online presence and start getting traffic to your chosen channel, there are several ways you can use this traffic to sell your MLM products or the MLM business opportunity.
The important thing here is, however, not to focus on the sale when you create content.
Focus on helping people with relevant information about what they want to know about. If you truly help them, you will build a relationship with them and they will know you can be trusted and that you focus on quality (which you always should).
Then they will also trust your recommendations and if you give them solutions through your MLM products or the business opportunity, they will happily buy from you.
Not only will they buy from you once, but if done correctly you will have built a relationship and they will continue buying through you.
And by continuously doing this, you can build a real sustainable business without having to pester friends and family that might not be interested in your MLM products.
Instead, you will be building a business by attracting people that are genuinely interested in what you have to offer and you will do this by helping them at the same time.
Also, the great thing about this is that you can attract people from all over the world which makes it possible to scale more than most people are able to with MLM products.
Final thoughts
No doubt MLM can be a great business opportunity if you do it right.
First of all, you just have to make sure it is truly beneficial products you are selling and that the company you work with is truly legit as, unfortunately, there are some MLM companies that are not.
Then it can be great to both sell MLM products online and use the internet to recruit new members as well.
The great thing about doing this online is that:
you can sell to and recruit people all over the world and not just in your local area which means more opportunities
people will actively be looking for what you are offering
you will not have to annoy friends and family that might not be interested
If you want to become successful with MLM, doing it online is, in my opinion, the best way to build a long term business you can scale.
So if you are serious about doing this, I definitely recommend you learn online marketing. And do not worry about it being too difficult – it is something anyone can learn if you are just willing to put in a bit of time to get the basics right.
Hope this article has helped you get some good ideas about how to approach building an MLM business so you can make it sustainable in the long run.
If you have any comments, questions, or have any experience with selling MLM products yourself, I would love to hear from you in a comment below.