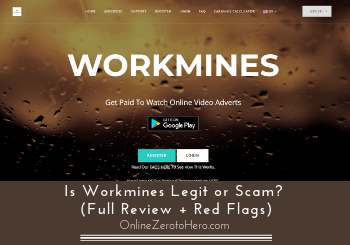 Workmines claims to be a platform where you can earn money online just by watching videos.
But is Workmines legit or a scam to stay away from?
I have joined to test the platform myself and have taken a close look at what it really offers.
This Workmines review will give you an inside look and all the details you need to know to find out if this platform is for you or not.
Since I first wrote this, it seems Workmines has been shut down – so I have updated some important info about this.
Overall, there definitely are some important things you need to know about this program.
Training

Tools

Value for money

Income potential
Summary
At first, Workmines seems like a very appealing platform as you will quickly see money going into your Workmines account.
However, there are several things that concern me about this platform.
It can be quite expensive to become a paying member which is necessary to be able to earn any real money. But the biggest red flag to me is that according to their terms, they can cancel your account at any time without any reason.
These terms are a deal breaker to me and make it a risky investment, in my opinion. There are ways where you get a lot better value for your money and with a lot less risk if you want to make money online. That is why I cannot recommend Workmines.
In addition to this, it seems Workmines had been closed since I initially wrote this review which proves my points about why it is a site to be careful about. You can learn more about the shutdown in below as well.
Has Workmines been shut down?
This is an important update for my initial review. It seems that as of the beginning of June 2019, it is no longer possible to access Workmines and it has been shut down.
So what can you then do if you are a member and have invested money in it?
Well, honestly there is not much to do. The best thing to do is to learn from it so you will avoid losing money to online scams in the future as there, unfortunately, are many of them.
However, I did read someone saying that Workmines had written them and said the website would be back again the next day – that is, however, now more than 9 months ago, so realistically Workmines will NOT open again. And if you have invested in it, you, unfortunately, have to accept your money has been lost.
No matter what, it is, in my opinion, best to read the rest of my initial review below, as I before it was closed gave some red flags you had to consider before joining.
These red flags will help you understand what happened and how to spot similar warning signs in the future.
Unfortunately, there are many programs that do not care about taking money from others and by knowing how to spot red flags you can avoid these in the future.
But also be aware that there are legit ways to earn online. A way to find these are by knowing the scam warning signs to look for.
At the end of this article, I will also give you my recommended way for an actual real way to earn online.
What is Workmines and what does it offer?
Workmines.com is a platform owned by a company called Time4Work Global Inc. Apparently, the platform was launched in 2017 and the headquarters is in Latvia.
There is not much else info about the company and I prefer when I can find some more background info about the owners of a program to make sure it is legit.
But I used WHOIS to check when the domain was created and it was created in 2017 so that is good to get confirmed that they are truthful about this.
This alone does, of course, not show much. So let's look more into what you get after joining Workmines so you can see what it really offers.
Feature 1 – Get paid for watching videos
The main thing Workmines offers is for you to earn money by watching videos – and according to the website, you can even make some pretty good money like this.
This sounds like a great way to make money online, right?
Well, before getting too excited you need to know exactly how it works.
Workmines is an advertising platform where advertisers pay them to get views for their videos on for example YouTube and Facebook.
The idea is that you then will earn a part of this revenue by watching the videos.
When you join, you can go to the video section and right away see a lot of options.
Just be aware that the amount of videos you are allowed to watch per day depends on the membership you have (more about the membership options later).
You will get paid $0.40 per video you watch.
I tested it myself, and you do not even have to watch the full videos. It does not say exactly how long you have to watch, by after a little while, you get a notification saying that you have earned from the video.
I think it took about 30 seconds of watch time to get the credit and the videos I tested. So that is not bad and it can, at first, seem very appealing.
However, even though you will quickly see easy money going into your Workmines account, I have some big concerns, to be honest.
But I will go more into these concerns later. Let's first look the second option you can use to earn on Workmines.
Feature 2 – Invite other people to join
The second (and last) way you can earn on Workmines is by inviting others to join.
If you know anything about affiliate marketing, this is a very normal way to earn commissions online where you get paid when you invite others to a platform or service you recommend.
You will get a $0.1 commission for each video any person you invite watch.
That sounds very appealing at first, and when you look at how they describe it on the image above I have taken from Workmines' FAQ page, it sounds like a great way to make easy money if you invite a lot of people.
However, even though they mention above that you could, for example easily earn $5 per day per referral, this is not exactly true.
That all depends on the membership your referrals choose. This is where the platform starts becoming a little more complicated so let's go over the membership options now.
Recommended: See How I Make a Full-time Income Online Every Month
Workmines membership types
At first, it looks like Workmines is a very easy way to earn money online. In fact, it looks like one of the fastest ways I have seen if you just look at the basic information.
But there is more to it than that, and it might not be such a great option after all. One reason for this is that when you look closer, your options depend a lot on your membership type.
You can join Workmines for free with a trial membership that lasts for 14 days. It is, of course, great you can get an inside look for free.
But your options with the free membership are very limited. It is very clear that the business model relies on you and the people you invite will upgrade.
As a free member, you can, for example, only watch 2 videos per day. The higher the membership you get, the more videos you can watch.
Here are the membership options.
In addition to the memberships, they have publicly shown on their website as you can see above, you can find one more additional membership once you are inside.
That is the platinum membership. It does not allow you to watch more videos than the Gold Plan (100 videos per day), but you will supposedly get $0.9 per video. This plan, however, costs $1,900 per year so it is also quite a big investment.
All these membership types and the benefits of each is quite confusing, in my opinion.
Also, this is where you can see that your earning opportunities heavily depends on you getting people to join and by a higher membership.
If you invite people that join but do not upgrade, they will only be able to watch 2 videos per day.
The same goes for you – if you do not upgrade, you will basically not have any earning opportunities. Especially because you will also not earn from your referrals íf you do not upgrade to a paid membership.
In addition to this, you do not even get paid a commission for the upgrade your referrals buy but only for the videos they watch.
This is where the whole system starts looking very strange to me and looks like it is a lot better deal for Workmines to get you to join and buy a membership than it is for you.
The confusing and quite expensive membership options are definitely something you seriously have to consider before joining.
You also need to know that there is a NO refund policy, so if you invest, there is no way tog et your money back if you later find out it is not for you.
In theory, the system could work but I will be honest with you and say that I do not think it necessarily is a good option.
I have more reasons for saying this and I will go over these below so you can see exactly what to consider and be aware of before paying for a Workmines membership.
Concerns about Workmines (Red flags)
As I already mentioned in the introduction of this review, I have some concerns about Workmines.
Based on my experience as someone making a full-time income online, it has some red flags. This does not mean it cannot potentially be the right platform for you to join.
But you definitely need to consider all these important aspects to find out if it is the best way for you to invest your time and money. So let's go over these concerns and red flags below.
Red flag #1 – Not a lot of company info
I already mentioned this earlier, but there really is not a lot of info to be found about the company behind the site and the owners.
Being able to find more info can help verify the legitimacy of a company.
Workmines does, however, have an address on the website so that is great. And they also supposedly have representatives in several countries.
On the website, you can find names, phone numbers, and Skype contact info for representatives in Latvia, Philippines, Zambia, Kenya, South Africa, Belgium, and India.
This is in itself great but it is a bit of a strange collection of country, is it not? I mean there is no real connection between these countries.
Also, I would have liked to find more info about the company and owners. Especially because the business model seems a bit strange to me so it would have been great to get some more verification.
There is, however, some info about the site so alone it does not show a lot. But it is important that you put everything together before deciding to join or not.
Red flag #2 – You account can be canceled at any time
Now we are getting to a serious red flag, in my opinion. And it is something that you can easily overlook when you first join.
But if you look at their terms, you will find the following conditions.
Here it is clear that Workmines can cancel your account at any time and for any or no reason.
By signing up you agree to these terms. What it potentially means is that you can join and get an expensive membership and start inviting a lot of people.
But at any time they can, without giving you any reason, cancel your account and you will have no way of getting your investment back.
So if you, for example, bought the Platinum membership you would potentially have lost $1,900 plus the time you have spent and the earnings you have on the site.
I am not saying they will definitely cancel your account but, in my opinion, it is just too risky to join a platform and potentially invest a lot when they without any reason can just cancel your account according to their terms.
Recommended: See How I Make $6K+ Online Every Month
Red flag #3 – No guarantee of earnings
Most online money making opportunities cannot really guarantee you any particular earnings as it often depends on many factors.
But when you look at the overview of the membership options, you might think that there are guaranteed earnings.
According to their terms, there are, however, no guarantees.
Everything is solely at your own risk.
This is something you definitely need to be aware of so you go into it with the right expectations if you decide to join.
Red flag #4 – You cannot get paid as a free member
One of the best ways to test if a platform is legit is to get to see what it really offers before paying.
That is, however, not really possible on Workmines.
You can watch videos, invite people, and see the earnings go into your account.
But you can NOT get paid as a free member. The reason for this is that you can only watch 2 videos per day as a free member.
This will allow you to earn $11.20 in your two week trial period. And as a free member, you will not get paid for referring others.
This means you cannot reach the payout threshold of $15 as a free member. Therefore, you cannot test if it really works before paying.
So just beware that if you join as a free member, you should not spend much time on the platform to earn if you are not planning to upgrade as you will not be able to get your earnings out until you pay.
Red flag #5 – Unrealistic earnings per video
As I have shown you earlier, the earnings you get per video are $0.40.
I have actually used quite a lot of GPT (get-paid-to) sites that give access to paid videos. I have never before seen this high earnings per view.
Usually, it will not even be a few cents.
In my opinion, it is therefore very strange how Workmines can offer that high a reward per view. I know they charge quite a lot for their memberships and it could potentially come from this.
But what makes me concerned about this high pay per view is when you look at it in relation to the fact that they can cancel your account at any time without any reason.
Then it easy to promise high earnings because there is no guarantee you will be able to get all your earnings out and make back your money.
Again, I cannot say that this for sure will happen, but I am just making you aware of the risks according to the terms on the site itself.
Red flag #6 – Payout methods
One thing that is very important on Workmines is to also look at the payout options you have.
As mentioned earlier, you have to earn $15 to be able to withdraw your money – unless you are a platinum membership where you can withdraw when you have earned $5.
Once you have reached this, you have a few payout options.
You can get paid via Bitcoin, Payeer, Perfect money, coins.ph, or MPESA.
I personally would have preferred if they had offered PayPal or some more known options but these options are not as such a red flag.
But it is definitely something to be aware of – personally, I do not really want to use any of these methods and it would therefore not make sense to join as these are the only methods to get your earnings out.
So make sure you actually want to use any of these payout options before joining, as it otherwise does not even make sense to consider joining.
Red flag #7 – The many positive reviews
So why do I mention the many online positive Workmines reviews as a potential red flag?
Well, because you have to take their referral program into consideration.
It is clear that to really earn, you have to pay to upgrade and get other people to pay to upgrade.
This means that many people are willing to just show how amazing a platform it is but without showing you the details.
I am not saying the positive reviews and experiences cannot be true but many of the people I have seen creating these do not seem to know themselves the exact conditions they have joined under.
This means that they will, for example, not tell you that your account can be canceled at any time. And they will not give you any balanced view of the potentials and the potential risks.
They are just interested in getting you to join to earn commissions and are so focused on this that they often forget to look into the details themselves.
Personally, I have not seen any reviews that actually really prove to me that they have made their money back and that it is worth the risk getting one of the high priced memberships.
Final verdict – legit or scam?
As you can see from this review, I have quite a lot of concerns when it comes to Workmines.
But this does not mean it necessarily is a scam. It actually does have both pros and cons.
So to help you decide if it is a legit and good option for you, let's finish by summing up the pros and cons so you can get a better overview.

Pros:
It has a free trial membership
Easy tasks

Cons:
Suspiciously high earnings per video
They can cancel your account without any reason
Earning opportunities are not guaranteed
The memberships are very expensive
You cannot get your money out until you pay
I can understand that Workmines is appealing to many and that so many people are willing to promote them to get more referrals as it seems like easy money.
Working online for years, I have, however, also learned that whenever something seems like easy money, you better be careful.
For me, what is important about Workmines is the terms and the risks. Yes, it might be able to make you some money but is it really worth the risk to invest what their expensive memberships cost?
In my opinion, it is not. When I started my own online business, my total cost for running it the entire first year was less than $500 – that included website costs, training to learn how to build an online income, all the tools I needed, and more.
This is A LOT less than the higher priced membership fees on Workmines where you do not learn any skills or build a real asset. You are completely dependent on them and they can close down your account at any time and leave you with nothing.
In my opinion, it is therefore not a sustainable way to build an online income and it is just simply too risky.
Learning to build a real online business instead gives you the control to take it the direction you want to instead of being at the mercy of a video platform that can close your account without any reason. That is why I do NOT recommend Workmines.
How I make a living online
I have personally been able to create on full-time online income that now allows me to work when and where I want to completely on my own terms.
It takes some effort but it is totally worth it.
If you want to follow my footsteps and create your own online income, then check out my FREE guide where I explain how this is possible step-by-step.
You can even get started with these steps as a complete beginner.
If you have any questions, comments, or have any experience with Workmines yourself, I would love to hear from you in a comment below.