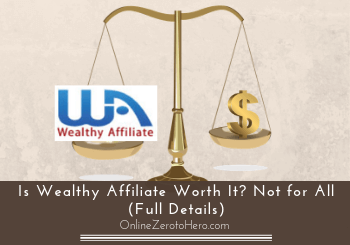 If you are looking for a way to make money online, it is likely you have heard about Wealthy Affiliate as an option.
But is Wealthy Affiliate worth it or is it just a hyped program?
Let me be honest with you right away and tell you I am a member of WA and have gone through most of the training there.
So I know in details what it offers – but I also know its limitations. Since I am still a member, I obviously think it is worth it for me.
But that does not mean it is worth it for everyone – because I honestly do not think it is.
In this article, I will go over what you need to consider to find out if it will be worth it for you or not.
Disclosure: Some of the links on this page are affiliate links. This means at no cost to you, I may receive an affiliate commission if you purchase something through one of these links.
What do you get for your money?
First, I just want to say that this is not going to be a long review of Wealthy Affiliate. To get all the details about what it offers, you can check out my full Wealthy Affiliate review.
This article will instead be shorter and only deal with one aspect as it is a question I often hear – and that is if WA is really worth the money.
So to look into this, we first have to sum up what you will get for your money. Then we can compare it to other options out there and finally look into when and when not it will be the right option for you.
Again, I am not going into details about every single aspect of WA, but let's just sum up what you get as a part of your membership.
Step-by-step training:
There are 2 different training programs. One to learn affiliate marketing in general and one with focus on the Make Money Online niche.
The first has a total of 50 lessons and the second have 70 lessons.
Live video classes:
Every week there is a new live class. All classes are recorded and you can access them forever.
Hosting:
As a part of your membership, you get hosting for up to 25 websites. This includes free SSL, site speed function, security, daily backup, and more.
Keyword research tool:
You get access to a keyword research tool that can help you find opportunities to generate organic traffic.
Access to owners:
The owners and creators of Wealthy Affiliate are very active on the platform and you get direct access to get input from them and ask them questions.
Live chat:
You can use the live chat to interact with other members or get instant help.
24/7 support:
You can get support 24/7 and usually the support is very fast.
Helpful community:
There is a community of more than 1 million members from all over the world that is very helpful and supportive.
This is just a very quick sum up of what you get as a member of Wealthy Affiliate.
This is something to take into consideration before we compare it to other options out there.
Wealthy Affiliate value compared to other online options
Wealthy Affiliate is not the only online training program I have tried to learn about internet marketing and I will also continue to learn from other sources, as I think it is important to keep expanding my knowledge.
This also means that I can compare it to many of the other options I have seen out there.
And there are in particular a few things I often think people forget when considering if WA is worth it or not.
First, in case you are not aware, they do offer a free version. You can join and get access to your first 10 lessons without any credit card and get 2 free websites.
This means you can actually get to try the training and see what it really offers before even taking out your credit card – this is very unusual for a training platform like this.
It was honestly one of the reasons I gave it a try because I could see what it really offers before I had to pay.
If you then want access to more training, support, and tools, you can upgrade to premium.
You can pay monthly, every 6 months, or yearly. Monthly you would pay $49 per month if you pay for 6 months $39 per month, and if you pay yearly $29.92 per month.
If you are new to internet marketing, this might sound like a lot. The thing is that I have tested a lot of programs and you can easily end up spending thousands of dollars finding a training system that works.
You can find good training for around $25-$50 per month for sure. And there are trainings like this that can definitely also give you good results.
But most training platforms then only give you training. And in some cases really superficial training. On top of that, they will then send you to go out and buy, for example, hosting and keyword tool. Often tools like this will end up being $50-$100 extra per month.
In comparison, I, for example, at some point bought a training program called Social CPA Formula to learn more specific techniques about Facebook advertising.
It cost me $350 – all I got was 2 hours of superficial training. On top of that, you needed to invest in several tools to make it work and it would end up costing more than $200 per month. And as mentioned, the training was really poor and only 2 hours in total.
Some platforms even charge thousands of dollars for superficial training and then you would still have extra costs for tools, etc. on top of that.
Often people that are new to Internet marketing get upset they even have to pay to be a premium member of Wealthy Affiliate and cannot get everything for free – but the truth is just that if you want to learn real internet marketing skills, there will be a cost.
It cost money to run training platforms and high-quality platforms, of course, need to charge a fee. We all need to make a living.
And often people think that they only pay for the training and that it is expensive. There are several good platforms out there where you can learn to make money online (although not many) – most of them do however only include the training.
Wealthy Affiliate has a lot more than just training. You get all the tools you need to build a successful online business for the same cost (and in most cases a lot less) than most other platforms charge just for the training.
Also, I have taken other courses that I have learned a lot from. The flaw many of them have is, however, that they are often taken out of context and just teach a specific topic.
That can be great and sometimes that is what I am looking for.
But if you are new and do not have an overview of how everything is connected, this can end up making you very confused and it is one of the reasons most people fail with affiliate marketing.
So overall, I can say that in my experience and compared to most other options out there, you get really good value for money with Wealthy Affiliate.
When it might not be worth it for you
I think Wealthy Affiliate gives some of the best value for money out there – especially if you are a beginner and do not have a big budget.
But this does not mean it is for everyone. It is the platform that has taught me to build an online income and that has made it possible for me to now do this as a living.
But it is not for everyone.
I regularly see people complain that they do not think Wealthy Affiliate is worth it. In general, this comes down to your expectations and your approach.
So let me give you the 3 main reasons it might not be worth it for you.
Reason 1 – You expect fast results
I will be completely honest with you.
You are not going to start earning right away as a member of Wealthy Affiliate. In fact, if you want to make decent money online, you should not expect to start earning right away no matter what.
It will take some time if you are completely new. First, you need to learn the basic skills and then it takes some time to build a proper foundation.
How long it takes depends a lot on your efforts. But you should expect that it will definitely take somewhere between 3-6 months to start seeing any real results.
Online marketing is not a get-rich-quick thing, in general, and Wealthy Affiliate is very clear about this.
So if you are desperate and expect to start earning a full-time income within a month or two, I will be honest with you and say that I do not think Wealthy Affiliate is for you.
Reason 2 – You want others to do the work for you
Sometimes I see people saying they want to learn to make money online but they do actually not really want to learn.
They are not patient enough to just sit down and follow the training step-by-step. They more or less expect others to do the work for them now they have paid for a membership.
So just be aware – you are paying for training, support, and tools to help you build an online income. You are NOT paying other people to do the work for you – YOU have to do the work.
If you want other people to do the work for you, you need to invest in an existing online business that is already successful, but this will be A LOT more expensive.
So if you are not willing to sit down, learn, and do the work yourself, you will likely not find Wealthy Affiliate worth it.
Reason 3 – You are not willing to invest ANYTHING in building a business
When most of us start online and are looking into start making money, we are on a tight budget. I definitely understand this and I also was myself.
Wealthy Affiliate offers a free membership that gives you a very good basic foundation. But the reality is just that if you want to succeed you need to be willing to invest at least a small amount of money in building your business.
Even if you did not want any training but think you can figure it all out yourself (I thought this myself and ended up wasting 6 months before I failed and started getting training), you have to pay for hosting, domain name, and other tools.
You can simply not manage to create a full-time income online if you are not willing to invest anything – but the cost of starting an online business is extremely low compared to starting any other kind of business.
With Wealthy Affiliate, you can get everything you need to run your business for a full year for less than $400. But you can also just start with investing in 1-2 months.
It might sound like a lot if you are new but I can tell you from experience that it is worth all the money with the skills you can learn and what you can earn from it.
But I also want to be completely honest with you and say that if you are not willing to invest anything at all, you will very likely not succeed in making good money online and Wealthy Affiliate might not then give you what you are looking for.
Final thoughts
In my opinion, Wealthy Affiliate is definitely worth the money. It is the platform that has made it possible for me to create a full-time income online and get the freedom that comes with being able to work when and where I want to.
But I also understand that investment can be scary if you are new to internet marketing and there are many scams out there, so you can quickly end up losing a lot of money.
However, If you want to learn proper steps to make money online, get step-by-step training, and get all the tools you need to make it happens, Wealthy Affiliate is, in my experience, the platform with the best value for money.
Also, remember that on Wealthy Affiliate you can check out everything 100% for free, so you can find out what you really get before paying
Just remember that if you fall into one of the categories described earlier, you might not find it worth it.
Especially not if you expect to become rich very fast – but then you should, in general, not expect good results online as there just is no magical way to become rich overnight online no matter what some programs might promise you.
If you decide to give it a go, then sign up using my affiliate link by clicking the button below and we will then automatically be connected when you join.
As a bonus, I will then offer you private coaching/sparring and you will have direct access to me and I will do my best to help you achieve the same results as I have.
If you have any comments or questions, I would love to hear from you in a comment below.