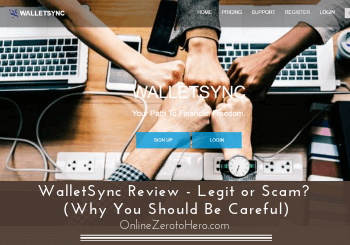 WalletSync claims to be your path to financial freedom and it does supposedly not take much effort.
But is WalletSync a scam or really a great opportunity?
Well, let me just reveal right away that the platform, in my opinion, has some big red flags you need to know about.
Then at least you know what the potential risks and benefits are.
This WalletSync review will give you all the details so you can get an inside look and judge for yourself.
WalletSync in a Glimpse
Training

Tools

Value for money

Income potential
Summary
WalletSync, at first, seems like a really easy way to make good money online – you just have to watch videos and invite other people.
However, a platform called Workmines that offered the exact same system just recently closed down and a lot of people lost money. This is not the only reason to be careful about joining.
The whole system seems risky and you are forced to upgrade to get your earnings out. Overall, it is just too risky to invest time and money in this platform, in my opinion.
What is WalletSync and what does it offer?
The website address of WalletSync is walletsync.co.uk but this does not mean it is only available in the UK.
In fact, you can join no matter where you are from. But I will strongly encourage you to read this review before doing this.
Let me just start by making it clear that this is based on my opinion and experience as a full-time online marketer. I wish to show you some unknown aspects so you can make an informed decision before joining.
At first, WalletSync looks like a great and easy way to earn. It is free to join (at first) and you then get access to the earning options.
Just be aware that in the joining process you are asked to give your Whatsapp phone number – I would recommend you NOT to give this for the reasons I will mention later.
But you can also join without giving this. You can just click the "skip" button and then you will get access to the member dashboard.
So let's go over the two earning options it then has once you are inside.
Option 1 – Watch videos
WalletSync is a video platform where you can earn by watching videos.
There is quite a lot of videos and some of them are quite interesting.
You can see how long the videos are before you start but typically they are between 2-10 minutes but I have also seen both longer and shorter videos.
The reward per video you watch depends on the membership you have (more about this later), but when you start, you will supposedly get $0.4 per video. The reward is the same no matter the lenght of the video.
After watching around 10 seconds you will get a notification you have earned.
So it can seem like very easy money at first.
But just be aware that they do not mention anywhere if you have to finish watching the video anyway. I have however seen on a similar platform that they gave the reward but if you had stopped the video, they would eventually block your account.
I cannot say if this will happen on WalletSync or not. But it is just to caution you not to think it will be super easy money.
Also, when you first start, you can only watch two videos per day. To earn more you need to upgrade which we will go into more about later.
Option 2 – Invite others to join
The way to earn real money on WalletSync is by inviting others to join.
You can potentially earn $0.1 per video anyone you invite watches. If you invite a lot of people this can become a lot – in theory.
I am, however, not convinced it is such a great idea to invite people and therefore will not do it myself but I will go into more details about what this is later.
You just need to be aware that you will not earn any commissions for people you invite if you do not upgrade your membership.
And you will also not earn if the people you invite do not upgrade.
So it is clear to see the system on WalletSync is build around you inviting people and upgrading.
So let's then now go into what kind of upgraded memberships you can get.
Recommended: See How I Make $6K+ Online every Month
WalletSync pricing
You can join WalletSync for free but the free membership is only valid for 2 weeks.
After that, you have to upgrade if you want to continue being a member.
You have several options but you have to get a yearly membership.
The difference between the memberships is mainly how many videos you can watch yourself per day and how much you earn in commissions when people you invite watches videos.
As you can see above, some of the memberships are quite expensive – you can get a membership for up to $2,999.
If you could make what they claim, it would, of course, be a good investment. But I honestly strongly doubt that as I will explain below.
If you decide to get a paid membership, I would clearly suggest you to start with one of the cheapest packages.
This makes it less risky and you will be able to verify if you will actually be able to get your earnings before investing further and then use some of those earnings.
So let's now then look into why it, in my opinion, is too risky to invest much in joining WalletSync.
Why you should be careful about joining
When I saw WalletSync I quite quickly became skeptical for several reasons based on my experience as a full-time online marketer.
So I want to share these reasons with you, so you can decide to join or not based on the full details.
So let's go over the 3 main reasons I think you should be careful about joining.
Rec flag #1 – Unrealistic earnings per video
It is definitely not unusual to be able to find platforms where you can earn by watching videos. There are many sites like that.
However, on WalletSync.co.uk, you can supposedly earn up to $0.50 per video after just watching 10 seconds.
This is extremely high and unusual compared to the rewards you usually get for watching videos.
You usually have to watch maybe around 20 hours of video including ads to just earn $1 – therefore, watching videos online are rarely a good way to earn real money.
However, on WalletSync you can supposedly easy earn a full-time income like this.
I know they take money for memberships but since there are no ads in the videos or anything else like that, it seems very strange how they are supposedly able to pay this much per video.
This is very unusual and almost too good to be true. And when something seems too good to be true online, there are often good reasons to be very careful.
Red flag #2 – You are forced to upgrade
There is nothing wrong with investing in a good online business opportunity. But when it comes to WalletSync I do not like the way it works.
You can join for free which is, of course, nice. And you can then start earning.
The problem is that you cannot confirm if it actually works within the 2 weeks free trial.
You can only watch two videos per day and earn $0.4 per video which means you can potentially earn $11.2 within the trial period.
But the payout threshold is $15.
This means that you are forced to upgrade to get your earnings out and are not able to confirm you will actually get your earnings until after you have paid.
Taking some of the other red flags into consideration and the high price of some of the memberships into consideration, this makes it risky, in my opinion.
That is why, if you decide to upgrade, I would strongly encourage you not to get carried away but just get one of the cheapest options until you have been able to confirm if you can get that investment back.
Red flag #3 – Very similar to Workmines
This is a very big red flag, in my opinion.
Not too long ago I did a review of a platform called Workmines.
It offered the exact same thing as WalletSync – high rewards per video, paid memberships, and a system where you were forced to upgrade and invite others.
That site just suddenly closed and a lot of people lost their money.
They never got any explanation but the system was just not sustainable and there was nothing the members could do to get their investments back.
You can check out my Workmines review and scroll to the bottom and see some of the comments there from people who lost money.
Considering the system worked the exact same way, it makes it even riskier, in my opinion.
In fact, on Facebook, I saw several comments from people that are comparing the two sites and from people that have problems getting their earnings from WalletSync.
As you can see above, some comments are quite harsh about WalletSync.
You should, in general, not just base your decisions on reviews and complaints as you never know the background for them.
But they are good to take into consideration together with the rest of the information to get a full picture of what to expect before joining.
Red flag #4 – It costs money
That an online platform costs money is in itself not a red flag as you do need to invest a bit if you want to create a full-time income online.
But what is a red flag, in my opinion and experience, is that costs money to join a platform that pays you to watch videos.
Usually, these platforms are free to join and you will earn because you also have to watch ads.
Here the system is instead built around getting you to pay to earn – and in some cases pay quite a lot.
When you put all this together, it becomes quite risky to join, in my opinion.
Final verdict
Overall, WalletSync can, at first, seem like a very easy way to earn a full-time income online.
But it does have some red flags you seriously need to consider, in my opinion.
So let's finish this review by summing up the pros and cons so you can get a better overview before making your final decision.

Pros:
Free trial
Available worldwide

Cons:
Unusual and suspiciously high rewards per video
You have to pay to earn by watching videos
You are forced to upgrade to get your earnings
It has the same model as Workmines that closed down
I understand that the idea of easy money online is very appealing, but the truth is just that if you want to create a real full-time income that is sustainable, it will take effort and work.
It is definitely possible to learn to do even if you do not have any experience. But you need to know that it takes more work than just watching a few videos per day.
Honestly, I think WalletSync is a risky system and platform to invest in due to the reasons explained above. For the price of just one of their cheaper memberships, you can easily invest in training and tool to build a real business online.
Therefore, WalletSync is NOT a platform I recommend.
How I make a living online
I have personally been able to create on full-time online income that now allows me to work when and where I want to completely on my own terms.
It takes some effort and time but it is totally worth it.
If you want to follow my footsteps and create your own online income, then check out my FREE guide where I explain how this is possible step-by-step.
You can even get started with these steps as a complete beginner.
If you have any questions, comments, or have any experience with WalletSync yourself, I would love to hear from you in a comment below.