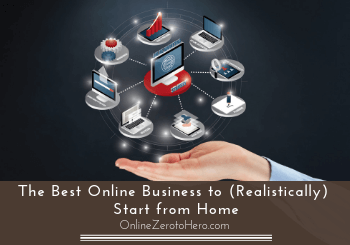 Having an internet business so you can work from home is the dream of many people.
It can give an extreme amount of freedom to work completely on your own terms.
But if you have never done it before, how do you then even get started?
In this article, I will show you the best online business to start from home.
It is a realistic way to start – no matter your previous experience. I know this from personal experience as I have created an online income from scratch myself this way.
However, to have a chance to succeed, there are some things you need to do and some things you need to avoid – I will also explain these to help you get the best possible start.
So let's get to it.
Is it possible for anyone to start an online business from home?
From talking to people both online and offline, it is clear that many people would love to have their own internet business.
But the number one concern I always hear is that people do not think they have what it takes.
They think it requires extreme technical skills or that you already have to be famous to be able to start making money online.
Therefore, I wanted to start this article by making one thing clear – it is possible for everyone to create an online business and income.
I started from scratch myself, and I know many other people that have done the same. I also know many that had more or less never used a computer before they started.
But with the right approach and by choosing the right type of online business for you, it is definitely possible to achieve.
However, to succeed there are some things you need to be aware of and some traps you need to avoid.
What you NEED to know before starting
Let me be honest with you – even though it is possible for everyone to create an online business from home, more than 90% of people that try fail.
This is mainly due to the wrong approach. So this can be avoided if you go into starting an online business with the right attitude and approach.
So I just want to go over a few important points that I know from experience are extremely important.
#1 Tip – Success does NOT come overnight
In my experience, one of the main reasons most people never succeed when creating an online income from home is that they are impatient.
Today everything happens so fast and there are many programs online that claim you can also become rich very fast online – and that you can even achieve this without any effort.
Let me just make one thing clear – if you start an online business and expect you will be rich within a few days (or even a few months), you will fail.
That is not how internet marketing works.
First, you have to learn the skills, and then you need to apply the skills. Obviously, this will take some time.
But with dedication and continuous effort, you will definitely see great results.
They key is to work hard and NEVER give up.
But if you expect you can just start an online business with a few clicks and then never work again and become rich overnight, you will likely instead end up running around chasing the next shiny object online (and there are many of them online).
I know people that have done this for years and that have wasted thousands of dollars by trying one get-rich-scheme after another.
So the #1 thing you need to know is that to succeed online, you need to put in time and effort.
If you are willing to do this, success will happen no matter your previous experience.
#2 Tip – Freedom comes with responsibility
Most people (myself included) want to start an internet business from home because of the freedom it gives.
You can work when and where you want to. It does not even have to be from home you work. You can also work when you are traveling or when sitting at a cafe, a beach, or wherever you prefer and when you prefer.
However, this freedom comes with responsibility.
Because you can work when you want to, procrastination becomes a big enemy for many that want to start their own online income.
There is no one to tell you when you have to work – YOU have to tell yourself that.
So to succeed, it can be a good idea to make a plan for yourself to make sure you will put in the required hours.
It does not have to be full-time. Most people start their online business while still having a regular full-time job until they make enough to focus full-time on their online business.
I also had a regular job when I first started.
What is important is to make sure to continuously put in the effort – then success will definitely come.
Best online business to start from home (and why)
Now you know what kind of approach will make you succeed online.
But even with the right approach, you might not succeed if you do not find the right type of online business to start.
There are many ways to earn online. It depends on your preferences and long-term goals.
If you want to work as an online freelancer, you can, for example, sell your skills on a freelance platform like Fiverr or Upwork. Here you can sell almost any kind of skill and it can be a great way to earn money right away.
However, my preferred method is a method that does not make you dependent on other people hiring you. You can build your business and control it yourself.
The method I am talking about is called affiliate marketing, and it is how I am making a full-time income online myself.
In short, affiliate marketing means you find products/services you would like to promote online. You then join their affiliate program where you will get a link to share.
If people click this link and end up buying or taking a certain action, you will get a commission.
This is, of course, very simplified, but later I will show how you can learn more about all the steps to make this happen.
But first, I want to explain why affiliate marketing, in my opinion, is the best way to start an online business from home – even as a complete beginner.
Reason 1 – You can work with your passion
When you work with affiliate marketing, you can freely choose a topic/niche you are interested in and then create content about this and promote related products.
This means you can work with a topic you are interested in and help people learn more about it.
It can be any topic.
There are millions of affiliate programs out there and more or less no matter your niche, you will find great products and services you can promote.
I, for example, love internet marketing and therefore started OnlineZeroToHero.com. That was, however, not how I started. I first started with a website in a different niche and made that successful.
I have seen people become successful in any niche from horses, health, CBD oils, essential oils, kitchenware, gardening, football, and much more.
For me, it is amazing that affiliate marketing makes it possible to create an income while working with something you are interested in. And at the same time, you will earn money by helping other people learn about this topic in-depth.
That is a great combination, right?
Reason 2 – It truly gives you the freedom to work where you want to
With affiliate marketing, you do not have to have storage space like you would with a webshop.
You are just a middleman and connect people that are looking for certain products or services with the best options for them.
And then you get a commission.
This means you can truly work from anywhere. Just recently I was traveling for a month in Asia with my wife, and it was easy for me to keep my business running.
And when we are back home, I do not have to rush to the office every day and if I need a day off in the middle of the week, I can just take that – That is real freedom for me.
Just remember that freedom comes with responsibility as mentioned earlier:-)
Reason 3 – Affiliate marketing has a huge potential
There are literally millions of companies that offer affiliate programs and make it possible for you to become an affiliate.
In addition to this, there is as such no limit to how big you can grow your business with affiliate marketing.
If you are happy with earning $1000 per month you can just not make too much of an effort once you reach that, but there are also people making 6 figures per month from affiliate marketing.
It all depends on the effort you are willing to put in but the sky really is the limit – but just remember that it will not happen overnight.
But the potential really is mind-blowing, in my opinion, compared to a regular job.
Reason 4 – Very low cost
When first starting, the cost is, of course, very important.
And the cost of starting an online business is another great aspect and makes it more or less risk-free compared to starting any other kind of business.
You do not need much to get started. As long as you have a computer and internet, you are ready to get started.
However, there are some small costs you need to cover to, for example, pay for a website domain, and if you want the best chance of success, it is also good to get some step-by-step training.
When I first started affiliate marketing, I thought I could figure it all out myself. I ended up wasting quite a lot of time and ended up failing because there were too many important steps I missed.
But when I then decided to take it more serious and invest a bit, my total cost for the entire first year was less than $400. And I even spend more than it is necessary to get some extra tools.
That was the total cost for an entire year – that is a really low price for starting your own business, right?
However, I also understand that you need to know if it is even working before investing anything and cannot just take my word for it.
That is why I also below will show you how you can actually get started for free.
Eventually, if you want the best chances of success, having a small budget like mentioned above, is a big advantage, but it is not necessary to get started – that is truly the beauty of affiliate marketing.
How else would you be able to start your own business completely without risks?
How to get started for FREE?
So affiliate marketing is an ideal way to start making money online, in my opinion.
But if you have never done it before, how can you then get started? And how can you get started without any investment to find out if it really is for you?
I had the same concerns when I first started and know these two things are big challenges for most.
Therefore, I have two great and FREE options for you.
The first option is that I have put together a free 7-day email course, where I will guide you through every step you need to build the foundation of your affiliate business.
This will give you insights to make sure you succeed and also give you the opportunity to ask me questions directly for free.
You can click here to sign up for the FREE 7-day email course.
The second option is if you want to do it more on your own time and do not feel like you need the extra tips I share in my email course.
It is still a great option if you know you are able to take consistent action yourself the next week without getting an email with specific guidance every day.
In this case, I recommend you to read more about the learning platform Wealthy Affiliate and sign up for it.
It is, in my opinion, the ultimate platform to learn affiliate marketing because it gives you step-by-step training as well as all the tools you need.
Final thoughts
Having your own online business and income does, without a doubt, give you a lot of freedom to work from home or from wherever you want to.
And you can actually learn this no matter your background.
My top recommended way to start your own home business is by getting into affiliate marketing.
This makes it possible for you to work with what you are passionate about, it has a huge potential, you can truly work with it from anywhere, and you can even get started for free.
There are other ways to make money online, but affiliate marketing has so huge advantages that it, in my opinion, is the best way to start. And it is also the way I am making a full-time income online myself, so I know it really works if you do it with the right attitude.
If you want to start affiliate marketing, you should check out my top recommended affiliate learning platform. It gives you access to all the resources and tools you need to build the ultimate foundation for future success, in my experience.
If you have any comments or questions, I would love to hear from you in a comment below.