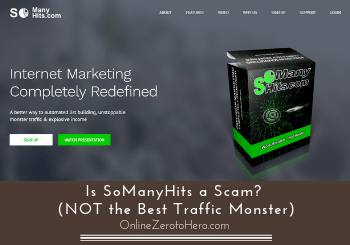 If you have an online business, you need traffic and SoManyHits claims to be an unstoppable traffic monster that can help you with this.
But is SoManyHits a scam or is it really a great traffic source?
I have joined to see what it really offers, and even though I do see why some people think it can be a great option, it also has some serious issues, in my opinion.
In this SoManyHits review, I will give you an inside look and show you exactly what you get but also all the details you are not usually told about what you have to consider before getting too excited about the outlook for a huge boost of traffic.
This way you will know what to expect if you decide to join.
Tools

Training

Value for money

Income potential
Summary
SoManyHits.com is a website that claims to help you easily get targeted traffic, build a quality list, and measure your results.
In theory, it could work but, in my opinion, it just has some inbuilt flaws you are not told about.
One of the big issues is that you will not learn anything about getting the initial traffic and you need this to be able to get everything started. In addition to this, the traffic generation method builds on intrusive pop-up ads which are NOT the best way to generate targeted traffic.
Overall, I am just not impressed with what SoManyHits offers and it is therefore not a platform I recommend.
What is SoManyHits.com and what does it offer?
SoManyHits.com is supposedly a site that has redefined internet marketing completely according to themselves.
There is not really any info on the website about who created the system and when I looked around for info I mostly just found superficial reviews that more or less just repeat the sale pitch of the program.
I could quickly see it could have potential and see why people are promoting it in hope to grow their own traffic – that is a part of how SoManyHits works as I will explain more about in a minute.
However, I also quickly spotted some potential issues with the system that no one really tells you about.
I, therefore, wanted to write this review to show you all the details so you know what really to consider before deciding to join or not so you will go into it with the right expectations if you decide to join.
So let's first go over how SoManyHits works as it is not necessarily easy to understand on the website.
It claims to offer you the three key components to become successful online.
That is a quality mailing list, targeted traffic, and the ability to easily measure your results.
So let's dive into how SoManyHits supposedly can help you with this.
Feature 1 – Get targeted traffic
Getting targeted traffic is, without a doubt, one of the biggest challenges for any online marketer. And it is essential to be able to make any money online.
The way SoManyHits claims to help you with this is a bit complicated and is tied into each of the other components offered.
Below you can see a video where SoManyHits itself explains how it is all connected. BUT I urge you to keep reading below the video as there are many things to consider you are NOT told in the video:


Recommended: See My Top Recommended Way to Make Money Online Every
So the main way to get traffic is through what SoManyHits calls traffic lines.
You build these by inviting others to the platform.
Every time someone joins, the first two people that person invites goes under you as a direct referral before they start getting the referred people below themselves as their traffic lines.
So this means that if you just invite a few people to join and they invite several others, your traffic lines can quickly explode – or that is idea anyway.
In theory, I can see this could work and this is the reason you will see so many positive SoManyHits reviews because people are eager to get you in their downline.
Because just getting a few people can really grow their so-called traffic lines. But there some aspects they have not thought about in the eagerness to grow their traffic, in my opinion.
I will go into what this catch is later.
How the traffic lines will then help you get traffic to your offers or your website in closely related to the two next components, so let's go over them now.
Feature 2 – Build a mailing list
Building a quality mailing list can be a great way to make money online, but it is not easy to do.
Building your list is tied into the system on SoManyHits.
Because as you build your downline, you will also potentially build your list.
First of all, you are able to send a message to all your traffic lines from within SoManyHits once per 10 days. So that alone gives you a line of communication with them.
In addition to this, if you decide to get an autoresponder you can export your list from SoManyHits and into that mail program.
The system is supposedly built so every person will only land up in one downline and on one mailing list which means they will not feel they are getting spammed.
However, I can see a potential issue with this. I am no lawyer, but if a person signs up and has not specifically agreed to be signed up for your mailing list as well, that could potentially be a privacy issue.
Again, I am not in a position to give legal advice, but this is definitely something to consider before you start exporting your contacts out of SoManyHits.
Feature 3 – Measure your results
The last supposed key component of SoManyHits is the ability to track your results.
I find this feature a bit strange though. But for the traffic system to work, it is important.
So as a member of SoManyHits, you get access to a tracking tool and URL shortener. According to the site itself, this is first and foremost what they are about.
This sounds good as it can be very handy to make your URLs shorter and make them look nicer which is possible with SoManyHits.
But honestly compared to other shorteners, it really does not look that nice.
Then you have the tracking system. This makes it possible for you to add keywords to the URLs your are shortening so you can keep a track on where your clicks come from.
This is definitely handy but I am honestly not impressed with this function compared to other trackers or compared to just using a tool like Google Analytics to track your traffic.
When it comes to this tool on SoManyHits, you need to understand that it might seem like a great tool but it is really more connected to the overall system of supposed traffic generation.
Because when one of your downlines create a tracking URL, the campaigns you have created inside SoManyHits will be attached to it.
This means that when someone clicks the link when they use it, one of your ads will pop up as an interstitial ad.
So the more people in your downline, the more "free" ads and potential traffic you will get.
But remember that you are also in a downline yourself, so people will also see an ad for someone else when they click your links. There is a way around this depending on your membership level but we will get to that later.
For now, you need to understand that the tracking links are very much connected to the whole traffic generation idea and is not so much a stand-alone tracking tool as you find them other places.
This is an important distinction to be aware of.
Feature 4 – Referral program income
In addition to growing your traffic and mailing list, SoManyHits offers what they call a bonus income.
This is income you get if people you have referred ends up getting one of the paid memberships.
How much you will earn depends on your own membership.
If you are a free member, you will earn $4, $8, $12 or $20 depending on the type of membership your downline gets (more about the membership types later). As a pro member those amounts goes up to $10, $20, $30 and $50.
Also, if you earn more than $350 within a commission period, you will get a $50 bonus and this bonus grows the more you earn.
A commission period is two weeks.
So from this, it is clear to see that you are strongly encouraged to upgrade and also get your downlines to upgrade. To know if this will be worth it, there are a few more things you need to know.
Can you make money like this?
The idea behind SoManyHits can seem good at first. And let me also just say that it definitely is possible to make good money online if you have a quality mailing list and targeted traffic.
And you can also earn good money online through affiliate marketing by referring people to platforms, services, and products you like.
So in theory, it is a way to earn good money and with a system that would automatically grow, you would naturally be able to earn a lot of money.
However, in my opinion and based on my experience as a full-time online marketer, there are some things you seriously need to consider about SoManyHits.
What's the catch?
There is a lot of hype around SoManyHits and I have seen a lot of people saying good things about them.
I have, however, not seen many giving actual balanced insights. Most are just trying to get you to sign up to build their own downline.
Because there definitely are some things to consider before joining and, in my opinion, there is a catch – or actually several. So let's go over these below.
Catch #1 – People have to use the tracking tool
For the whole traffic system to work, it is necessary for people (and yourself) to use the SoManyHits tracking tool and URL shortener.
This is the only way the traffic will be generated to your website through the pop-ups.
But pop-up ads can be really annoying and make your website look bad. Personally, I would never use tracking links here on OnlineZeroToHero.com where people get a pop-up ad when clicking it.
It looks very spammy, in my opinion, and can seriously affect your credibility. However, according to SoManyHits, you will start making sales no matter how poor your sales page is because of this traffic system.
Personally, I am not impressed. It takes A LOT of clicks and pop-up ads to get any real traffic. Just think about – how often do you click a pop-up ad that just randomly comes when you click a link on a site?
So it will likely NOT just be an automatic traffic monster, in my opinion.
And you definitely have to make sure to still have a good sales page to have a chance of converting the traffic you might end up getting and you elarn nothing about creating this.
In addition to this, people can actually turn of the pop-up ads on their tracking link if they go premium.
Then you will suddenly not be able to get traffic. You will then get commissions for their upgrade but then it is no longer a traffic system.
So you need to be aware of exactly how the traffic system works and that it will not necessarily be as great and as much traffic as it might sound like at first if you do not dig deeper.
Catch #2 – The platform is confusing and promotional
I honestly think the whole system and platform is too confusing.
If you are a beginner, it will be hard for you to see exactly what it requires and you might not spot what you really have to do and the limitations it has because it is difficult to get a real overview – but I hope this review will help you with that.
In addition to this, there is a lot of promotions going on, on the platform. They promote several other products and not necessarily good ones.
Your sponsor is also allowed to message you, and you might get send all kind of shiny objects from him/her – that is what happened to me anyway.
Also, I started receiving a lot of promotional emails from SoManyHits about all kinds of programs and training – and many of them have been very poor options, in my opinion.
The problem with this is that if you are new, you might not know how to sort the BS from the good info and offers.
Therefore, it can easily become a distraction and take you away from focusing on just sitting down and doing the work you need to do to grow your business.
This is a general problem in internet marketing – most programs and systems end up being a labyrinth where you keep being promoted to without ever getting the real actionable steps to grow an income.
In my opinion, this is exactly what happens on SoManyHits.com.
Catch #3 – Where will the initial traffic come from?
This point is closely related to the one above.
Because an inherent issue with the system on SoManyHits is that it requires some initial traffic to get your traffic line started and get people to join the program.
And SoManyHits does not teach you anything about how to get this traffic.
So if you do not already know how to get traffic, then you cannot really get started. And even if you manage to invite a few people (or even many), if they do not know how to generate traffic, your traffic lines will not grow.
And as there is no training about this on SoManyHits at all, this can be a real issue you have to consider.
Recommended: See How I Make 6K+ Online Every Month
SoManyHits pricing options
Now you know more about what you get access to on SoManyHits and what to be aware of before joining.
I have already mentioned a few times that you can get a paid membership. So let's go over what that would give you and how much it would cost.
If you decide to upgrade to premium, you will among other benefits, be able to choose not to have ads on your tracking URLs, you will get higher commissions when your downline upgrades, and you can message your downline every 2.5 days instead of every 10 days.
The pricing options are:
It is not that expensive if it can really deliver what it promises.
My main concern is, however, that you do not learn proper online marketing and if you do not know this, you will not get much out of joining and then you can potentially waste your money.
Final verdict
SoManyHits can definitely seem appealing if you just look at their sales video.
I am, however, honestly not convinced it is a good option, even though you can check it out for free.
But let's finish this review by summing up the pros and cons so you can get a better overview and judge for yourself.

Pros:

Has a free membership
The traffic system could, in theory, work

Cons:

You do not learn how to generate traffic
You do not learn how to set up an effective sales page
The platform is a bit confusing and can distract you
Traffic system is build on pop-up ads and not guaranteed to work
You will start receiving a lot pf promotional emails
Overall, I can see why some people get excited about SoManyHits when they first hear about it. Who would not like to get an automatic traffic monster and easily build a quality list?
However, I am just not convinced this is what you will get if you join.
My main issues are that you do not learn anything at all that can help you to really build a sustainable income online. If the platform suddenly closes down, you have not learned anything about internet marketing that can help you build an income in another way.
Also, the traffic system has some big flaws, in my opinion. First of all, it is build on intrusive pop-up ads with can hurt your brand and is not the most effective way to get traffic. Secondly, people can choose to turn it off.
So overall, I am not impressed with what I have seen after testing SoManyHits. And it is, in my opinion, not a sustainable and effective way to build an online income.
How I make a living online
I have personally been able to create on full-time online income that now allows me to work when and where I want to completely on my own terms.
It takes some effort and time but it is totally worth it.
If you want to follow my footsteps and create your own online income, then check out my FREE guide where I explain how this is possible step-by-step.
You can even get started with these steps as a complete beginner.
If you have any questions, comments, or have any experience with SoManyHits yourself, I would love to hear from you in a comment below.