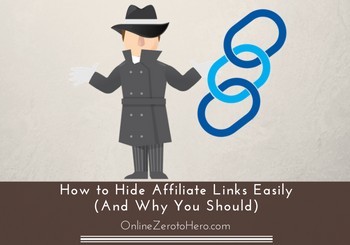 If you are working with affiliate marketing, you have probably noticed that the affiliate links you are sharing can look very long and spammy.
But there are very easy ways to make them shorter and make them look a lot prettier.
In this article, I will show you how to hide affiliate links and make them shorter in a very easy way.
Also, I will explain how you can benefit from this in several ways.
Once you have read the steps below, you will be able to set it all up in a few minutes.
Why you should hide affiliate links?
There are different opinions about whether you should hide your affiliate links or not.
I am of the opinion that it mostly is a very good idea to do for the following reasons:
Reason 1 – It looks nicer:
One reason to cloak your affiliate links is that it just looks nicer. When people are hovering over a link with a normal affiliate link, they will see a very long URL that for some might even look spammy.
When you cloak the link, you can instead make it look a lot nicer – it might be a subtle difference, and maybe many visitors will not notice, but even small details are important when it comes to getting the most out of affiliate marketing.
Below, I will show you exactly how it will look, if you use the free tool I recommend.
Reason 2 – It is more user-friendly:
When you use the right tool to hide your affiliate links, you can use it to make it a lot more user-friendly.
The long links, like the one I showed above, do not tell the user a lot about where they are going, and what they can expect from clicking the link.
Here is an example of a link I have created with the tool I am going to show you later. As you can see, it makes it very clear for the visitors where they are going when clicking the link:
This will make the users feel safer, and it is a way to help both them (as they know what to expect when clicking) and you (as they are more likely to click your links when they feel safe).
Also, it is a way to brand yourself and your website as the website name is in the URL when you share it with someone.
Reason 3 – Makes it easier to update affiliate links:
There is also a very good practical reason to use the tool I will show you below – it makes it extremely easy to update affiliate links.
Sometimes affiliate links change, and you have maybe used a certain link many places on your site. You might not even know exactly where, and how much you have used it.
That is a big problem as the affiliate link might not work anymore if you do not update when you need to. That means you will potentially miss out on a lot of commissions.
By using the right cloaking tool, you will be able to just change the link one place, and then it will automatically be updated all the places where you have used it – that is very practical and a good way to secure your business.
This has saved me from many hours of work and made my life a lot easier quite often. So for this reason alone, I think it is very valuable to use a tool to cloak your affiliate links.
Reason 4 – Use it for tracking:
Most tools you can use to shorten or cloak your links will also have their own tracking. This can be very practical and good knowledge, as you can then see how many people click your links, and even when they do it.
All affiliate programs will, of course, have tracking, where you can see the number of clicks, but it can also be nice to have an extra tracking yourself, to see if everything is working properly.
Is it deceitful to cloak affiliate links?
Before getting to the tools you can use to cloak your links, I just want to address a concern you might have – is it deceitful to hide your affiliate links?
I would say that it is not – but if you are using the tool with the main purpose of hiding that you are working with affiliate marketing and to hide that you are getting a commission, then it is deceitful.
As you can see above, there are many good reasons to use a cloaking tool, but you should still live up to the rules about proper disclosure when you are working with affiliate marketing.
So do not use it as a way to try to hide that you might get a commission (as that might even be against the law), but use it for the benefits described above.
Also, there can be some affiliate programs that do not allow it – Amazon Associates, for example, does not allow you to cloak links so if you are working with them, you should not do it.
Which tool is the best to use?
There are quite a lot of free tools you can use to hide and shorten your affiliate links.
They are however not all very good in my opinion. There are many tools that mostly just shorten and make your URL look a little prettier, but do not have the full advantages I mentioned above.
An example of such a tool is Bitly – it is a great free tool, and very easy to use. If you sign up for the free account, you can even track the clicks on your links and to a certain extent customize how the link should look like.
However, in my opinion, it is not quite good enough. As you can see in the image above, the URL still looks a little strange, as it has bit.ly in the beginning. There are many tools that are similar to this, but luckily there is also free tools that can give you even more control and options.
One of the most popular tools for this (and the one I use myself) is called Pretty Links and is a free plugin for WordPress. If you are not using WordPress, an option like Bitly can be great, but if you have a WordPress website, Pretty Links is a great tool to use.
It also has a paid version but in many cases, the free will be enough and everything I show you below can be done with the free version.
With this tool, you can, for example, customize your affiliate links, so they have your own URL in them:
So let me show you how, you can easily use Pretty Links to hide your affiliate links and gain all the other advantages, I mentioned above.
Hide your affiliate links with these easy steps
Luckily Pretty Links is very easy to set up and use. Just follow these simple steps, and then you will be ready to go in just a few minutes.
I have made a short video that shows exactly how you do it. If you prefer reading, you can read about each step below the video.

Step 1 – Install Pretty Links:
Go to "add a new plugin" in WordPress and search for Pretty Links.
Then install and activate it.
Step 2 – Get your affiliate link:
Now you need to get your affiliate link. So go to the affiliate network or program you are a member of, and get the link.
For this example, I have taken my affiliate link for the platform Wealthy Affiliate, as it is one of my top recommended services and a link I am using quite often. The raw link looks like this:
As you can see, it is quite long and looks strange like all affiliate links do. So let's change that.
Step 3 – Make your link look pretty:
After you have installed and activated the Pretty Links plugin, you will have a new menu in your WordPress sidebar. Go here and click "Add new link". You now have to fill out a few fields.
The only two you need to fill out are: The target URL, which is where you paste the affiliate link. And the Pretty Link, which is your customized URL that people can see on your website.
As you can see, the plugin automatically makes a link that has your website URL, and then you can customize the last part of the link. The title and notes are just info for yourself that can make it easier to identify your different links in the Pretty Links dashboard, so you can fill them out, but it is not necessary.
In this example, I have made a link that is called "/JoinWealthyAfilliate" – this is very user-friendly, as it clearly tells the visitors what to expect, plus it makes the link look more professional, and it even has my website URL in it, so it is also branding my website at the same time.
Now you just have to click "create" and the link will be ready to use.
Step 4 – Use your new pretty link:
Once you click "create", you will be taken to the Pretty Links dashboard. Here you will see all the links you have created.
It is also from here you can get statistics about your links, and also where you can update or change your links. Now you just need to take the link you just created:
And then paste it into your website as you would with any other website. When people now hover over the link, they will see the new pretty link you have created, instead of the ugly affiliate link.
Furthermore, If one of your affiliate links changes, you just go to the Pretty Links dashboard and edit the relevant link and put in a new target URL. Then the link will automatically be updated all the places, where you have used the Pretty Link.
Many social media does not allow you to share affiliate links directly on the platform, but there are still some, where it is allowed.
If you promote through facebook or other social media, you, first of all, have to check up on their policies, as they change all the time. But if it is a social media where you are allowed to share affiliate links, the method I showed you above can easily be used.
Of course, you need a website (build a free website here, if you do not have one) to be able to use this plugin/method. But if you do, you just take the link, like I showed you above, and then you can share it on social media.
This is a very good way to also get a branding effect, as your website URL will show when somebody hovers over the post you have shared.
Final thoughts
That is how easy it is – you have now hidden your affiliate link, you are able to track the clicks, you can easily update links, and you have made your website more user-friendly.
This is a tool I highly recommend, and it is very easy to use, so you do not have to be a technical genius to use it. Be aware that the tool also has a paid version, but you do not need that in most cases. All the things I showed you above can be done with the free version, so no need to upgrade.
So now it is over to you – if you follow the steps above, you will have everything set up in a few minutes.
If you have any comments or questions, I would love to hear from you in a comment below.