Whether you have a website or any other business, you most likely need to create graphics once in a while.
It can, however, be expensive to get the right tools or hire a graphic designer to do the job for you.
It does however not have to be like that. In this article, I will show you my favorite tools that make it possible for you to easily create graphics online for free.
You do not need any specific designer skills, and you do not need any paid tools – anybody can use these tools and learn to use them quickly.
Can you create graphics if you are not a designer?
Let me reveal that I am definitely no designer. I have worked online for many years, and in the past, it was always a hassle for me to get graphics done for websites. In many cases, I needed to have other people prepare them for me, which sometimes can take time and cost a lot of money.
However, now there are many great free online tools that make it easy for you to create graphics, even if you do not know anything about design. And if you know about design, these tools can still make your life a lot easier.
So do not worry about what skills you have or not. Anybody can learn to make decent graphics with the free tools that are available online today.
Below, I will show you my favorite tools, and tell you what I use them for.
Free tools to create graphics online
There are many tools you can use to create graphics online. There are also several tools you can download and use for free, but in this article, I will focus on the tools you can freely use online.
The tools below are my 3 favorite tools I often use, and what I have used to create most of the graphics on this website. Again, I am not saying I have amazing graphic skills and that the graphics on my website could not be better. But with the help of these tools, I have been able to create some decent looking graphics without spending much time and without spending any money.
So let's go over my favorite tools and what you can use them for.
Canva – create full graphics
Canva is by far my favorite tool to create graphics. It has both a free and a paid version, but you can do A LOT with the free version.
You need to sign up to use it, but you can sign up without a credit card and start using it for free right away, and you can keep using the free version, as long as you want to (it is still the free version I am using).
What makes Canva so awesome and fast to use is that it has a big amount of templates you can use as a starting point.
No matter if you are looking to create graphics for social media, blogs, newsletters, YouTube, logos, yearbooks, certificates, infographics, flyers, or anything else, Canva has some great templates.
Within each category, you will be able to find many templates. Some of them are free and some of them are a part of the paid membership, or you can pay a one-time fee to use them. But there are plenty of free templates, and you can then just look at the paid to get inspiration and ideas for your own graphics.
You can change the templates all you want and change the text, the font, the images, insert elements, change colors, and much more. You can also create graphics from scratch in exactly the size and design you want.
Canva has a good amount of free photos and illustrations you can use without breaking any copyright rules, but you can also upload your own images and use them.
Overall is Canva an awesome tool, and an amazing way to easily create graphics for free no matter your design skills. It has so many options, and I am not going to go into a tutorial of all the options here, but I strongly encourage you to check out this platform, if you need to create any graphics.
Pixlr – edit images
As you can see above, Canva can be used to create full graphics, but sometimes that might not be what you need. Maybe you just need to change the size of an image or adjust an image a bit.
A tool that is great to edit photos is the free tool Pixlr. Pixlr looks a little like Photoshop, but it is online, and it is free to use. Of course, it then also has some limitation, but you can do a lot with.
You can adjust and edit images in many ways. You can work in layers, sharpen images, use filters, use blur effect, sharpen images, use the lasso tool, change colors, and a lot more. If you have used Photoshop in the past, this tool will look very familiar to you.
If you are not used to edit images, this tool might be a bit overwhelming, but now you know it is there if you need it at some point.
And no matter what, you can easily use it to for example change the size of an image, if that is all you need to do. As this is very useful to be able to do, I will just quickly explain how to do this:
You go to "file" in the top menu and open the image you want to resize. Then go to "image" in the top menu, and click "image size". Now you choose the size you want your image to have, click "OK", and then save the image. Very easy even if the rest of the tool might be too overwhelming.
Overall, if you want to have a lot of options when editing images for free, then Pixlr is a very good tool. You do not even need to create an account to use it. But you can also just use it for more simple things as changing the size of an image if that is what you need to do.
Lunapic – create transparent background
Lunapic is a bit similar to Pixlr, as it is an online free image editor. It does however not give quite the same amount of opportunities as Pixlr, and its design is not quite as fancy.
You can still do a lot with Lunapic, but personally I mainly use it for one very useful thing, which it is really good at. That is to make a transparent background on images.
Let me explain why this can be so useful – let's say you have an image with a white background, and you would like to use this image in a graphic you create on Canva and insert the image on a different background color. Then the white box would be there as well, and it would look very strange (see below).
With Lunapic I can very easily make the background transparent, so the white box would not be there:
Below I have created a short video showing just how easy it is to make a transparent background using Lunapic. If you prefer reading, you can read the steps below the video instead:

To get the transparent background and the result from the image above the video, you go to "edit" in the top menu of Lunapic and choose "transparent background".
Now in the middle of the screen, you chose to upload a file and select the image you want to create a transparent background for. Once it opens, all you have to do is to click with the mouse on the background color you want to make transparent.
Within a few seconds, the image is ready, and you can go to the top menu "file" and save the image. The image is now saved and you can upload it to for example Canva and insert it so it looks like above.
Be aware that this works really well for simple shapes and icons. If you have more complex images, where you need to create a transparent background, it will not work as well. Then you would instead need to do it manually using a tool like Pixlr or Photoshop.
Overall, if you need to make a transparent background for a simple image, icon, or logo, Lunapic is a really great tool. You can do this in just a matter of seconds completely for free, and this can come in very handy.
Where to get images for your graphics?
I have now shown you my 3 favorites tools I use to create graphics for websites. They can, however, be used no matter what kinds of graphics you need to create.
But to create good-looking graphics, you also need great images. Canva has some you can use for free, but it is quite limited, so you probably need access to more. Depending on the kind of graphics you need, you might have some images you have taken yourself, which is of course amazing.
But if you like me are creating graphics more or less every day for websites, you cannot take images enough yourself. You need access to good stock photos.
Personally, I am using the stock photo platform StockUnlimited, which is a paid service, but very cheap compared to other stock photo platforms.
The reason I am using a paid stock photo platform is to make sure I have all the rights to use them, and also because it saves me a lot of time, and the selection of images are better than on the free portals.
However, if you do not have the budget to pay for stock photos, there are luckily many free portals with a decent selection as well. I have made a list of some of the best free image portals, you can check out if you need inspiration for finding free images.
Remember to optimize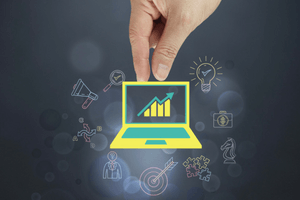 Before finishing this article, I just want to give one last tip and reminder.
If you are using the graphics you are creating for websites, make sure to optimize the images for web. It can really hurt the performance of your website if you do not do this.
I do not want to go into all the details about how to do this, as I have written a whole tutorial about how to optimize images for websites, you can check out if you are not sure how to do this the best way. But just make sure to do this before uploading any images, as it will help your site perform a lot better.
If you are using the images for print or for something else, then you do not need to worry about this part.
Final thoughts
I hope this has given you some inspiration about how to create graphics online for free no matter what you need the graphics for.
Just remember that you do not have to be a graphic designer to be able to create good-looking graphics. Today there are so many great free tools available, so you can easily learn to do it yourself for many occasions.
I have even talked to designers who think that a tool like Canva is amazing and makes things so much easier – even though they of course risk people will start using them less when a free tool can help people do a lot of the work themselves:-)
There can still be times when it is definitely worth hiring a designer, but I wanted to show you that it is possible to create graphics yourself, and you do not need to spend a lot of money to make your website or flyer look good. With these free tools, you can do a lot of the work completely for free and very effective.
Have you used any of these tools yourself, or do you have any other free online tools you are using? Would be great to hear about your experiences in a comment below.
Also, feel free to leave a comment, if you have any questions.