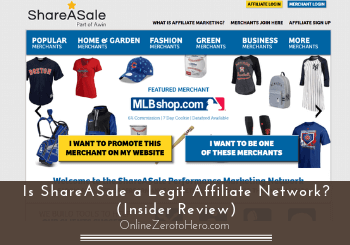 If you want to make money through affiliate marketing, it is important to find the right affiliate programs to join.
There are many networks that will give you access to thousands of programs – one of these networks is ShareASale.
But is ShareASale legit or is it one of the affiliate networks to stay away from?
I am myself a full-time affiliate marketer and have been a member of this network for a while. So let me just reveal right away that it is legit – but this does not mean it will necessarily be the best option for you.
In this ShareASale review, I will give you an inside look and show you what you have to be aware of before joining. I will among other things share a tip I have figured out that can remove a lot of potential frustrations with this network.
So let's get started so you can find out if this is the right network for you.
ShareASale in a Glimpse
Number of programs

Application process

Payment process

Usability
Summary
ShareASale is a legit and reputable affiliate network that gives you access to thousands of affiliate programs.
The only thing you have to be aware of is that you have to apply for each program separately after you become a member which can take a bit of patience at times. If you end up not getting approved for a program, you can read later in this review what to do.
But overall it is a great network in my experience, and it has affiliate programs within more or less any niche. In addition to this, it has a low payout threshold and several payout methods you can choose from so you can find an option that fits you.
It also has great support which is important if you should run into any problems. Overall, one of the networks worth checking out almost no matter the niche you are in.
What is ShareASale and what does it offer?
ShareASale has existed since 2000 so it is one of the older affiliate networks and it is very well-known in the industry.
It is an affiliate network where you as a publisher/affiliate marketer (website/blog owner, etc.) can get access to thousands of affiliate programs you can promote.
If you are an advertiser (a product owner), you can work with ShareASale and have your affiliate program promoted on their platform.
In this review, I will, however, focus on the network from the perspective of being a publisher as this is how I use the platform myself.
Even if you are an advertiser, this will give you good insights into what the platform offers and how it is in the eyes of publishers which can help you find out if it is the right platform for you to cooperate with.
As I have already mentioned, ShareASale is a legit network. But there are MANY legit affiliate networks out there so this does not necessarily mean it is the right option for you.
That depends on your preferences and your particular niche.
So let's look deeper into what ShareASale gives you access to and how it is to use as a network.
What kind of products can you promote after joining ShareASale?
One of the most important things when you decide which affiliate networks you want to join is the types of affiliate programs you get access to after joining.
On many networks, you will not be able to find much information about this until after you join, which is a bit problematic, in my opinion.
But ShareASale actually makes it possible to get an idea of the programs you can get access to even before you join.
On the website, they have a top bare with different categories of some of the affiliate programs they offer.
If you click one of these, you can see some of the featured offers. Some of them even show the commission you will earn and more.
In my opinion, it is really great to be able to get an idea of this before joining because it could potentially be a waste of your time to join a network only to find they have no products relevant to your niche.
ShareASale, of course, does not display all a full merchant list of its partners before you join. It has 3,900+ affiliate programs so they only show examples.
But that can be a great help for you to decide if it is the right network for you or not.
As you can see in the image above, there are A LOT of different categories. So it is likely you can find relevant affiliate programs almost no matter what niche you are in.
Some of the famous affiliate programs they give you access to are Sears, Grammarly, NHL Shop, NFL Shop, Jillian Michaels, Viator, Lulus, and many more.
So it has a very good selection of affiliate programs.
Who can join?
As an affiliate marketer, you can join ShareASale no matter the country you live in.
You can also find affiliate programs you can promote to worldwide markets even though the majority of the programs I have seen are for the English-speaking market.
You can, however, not search for programs for specific countries when you are inside as you, for example, can on the network MaxBounty.
So you would have to look through relevant programs and see what markets they accept leads from.
Depending on your niche, you should be able to find a good amount that is available in most countries – especially if you are in a niche where it is services or digital products you promote.
How to use ShareASale?
Once you have been approved to be a part of ShareASale, you need to get started.
It is not too difficult but if you do not have a lot of experience with affiliate networks it can be a bit overwhelming at first.
So I will go over how to use ShareASale and how you can get started easily – this also includes an important tip you need to know when applying for affiliate programs there.
Step 1 – Find the right programs for your niche
The first thing you need to do is to find the relevant affiliate programs for your niche.
When you are on the dashboard of ShareASale, you go to the "Merchants" tab in the top menu.
Here you get different options you can explore but to get started you just need to choose "Search for merchants".
You can now look through all the 3,900+ affiliate programs. You get an overview of some featured programs and some featured categories.
But to get the best ideas of relevant programs for you, it is likely better to use the search function or choose the relevant category for you.
In the search bar, you can write either a topic or the name of a particular company if you know what you are looking for.
Below, I, for example, looked for email.
When you start writing, some suggestions will come up. If you click one of these you will get a list of relevant programs. This basic search function does, however, not always give the best results in my experience.
To narrow it down you can choose to modify the search. These options are, however, mostly about more practical things like only looking for programs that offer coupons, etc.
This can help you to only find programs that have certain features but might not necessarily be the best way to find relevant programs for your niche.
So if you just want ideas, a good way to do this is by browsing through the categories ShareASale has.
There are around 40 categories with many affiliate programs in each. So the image above just shows some examples.
And each of these categories also has several subcategories.
Browsing through relevant categories can be a great way to find good programs you can apply for if you do not know exactly what you are looking for.
Step 2 – Apply for the programs (+important tip to succeed)
Once you have found a relevant program for you, you can click on it and read more about the conditions.
Here it is, of course, important to look at the commission you will get and the cookie time that will show how long after someone clicks your link you will earn a commission if they end up buying.
Once you have then decided you would like to promote a certain product/service, you have to apply to get access to it.
So just because you are a member of ShareASale, it does not mean you will automatically get access to all its programs. Each program has individual criteria for who they will allow to promote their program.
So you have to click to apply for each of the ones you want access to.
When you click to apply you have to agree to the terms and you can write a bit about how you are planning to promote the product/service.
It is a bit of a hassle to have to apply for each program like this and then wait for the reply before you get access. But that is how it is on many affiliate networks.
Personally, I love the networks where you are automatically approved for many programs once you are a member and then you can start promoting right away.
But that is just a part of how ShareASale works and once you know, you just have to plan accordingly. And from the vendors' perspective, it definitely makes sense that they want to make sure who they are associated with.
But I must admit that, in my experience, some of the programs can take a very long time to reply and you might even get rejected even though you think you are a perfect match for that program.
I have, however, found a way to deal with this if it should happen to you.
Important tip if you are rejected or do not get an answer:
I have myself both tried not getting an answer for an affiliate program I applied for on ShareASale and have also tried to be rejected for a program I thought was a perfect match.
The thing is that you should not let this stop you.
The times when I have tried this, I reached out directly to the vendor. I just simply found contact info on their website and wrote to them I had applied and why I wanted to promote their product.
I have several times had luck with this. It seems like there sometimes are some automatic things they look for when approving or rejecting inside ShareASale and you might, therefore, get rejected even though it could be a great partnership.
If you then reach out to them, you show you are serious and they will look at it more individually, in my experience. This means there is a good chance you will then get approved.
I have tried this several times – there is, of course, no guarantee but it is worth the try if it is a product or service you would really like to promote.
So if you keep not getting an answer or if you get rejected, then try to reach out directly to the product vendor. Most of them are then very interested in a partnership.
And if they are not, there are luckily thousands of other affiliate programs where they are happy to work together as partners.
Step 3 – Start promoting
Once you have been approved by a vendor, you get access to your promotional links.
You can get access to your main affiliate link directly from the overview or you can click the "get links" button to see more options.
The "Get links" option will give you access to all the links they have. This can, for example, be banners. But it can also be coupons or deals.
In fact, quite a lot of programs on ShareASale have coupons or deals. This means you, for example, can give people that sign up through your link a special discount or similar.
This is really great and makes it even more beneficial for both you and your audience.
So make sure to check that out.
==>Click to Check Out ShareASale for Yourself<==
When and how will you get paid?
An important aspect of an affiliate network is, of course, also the payout methods and conditions.
Here ShareASale has some really good options, in my opinion. And they are in some ways also more flexible than many other networks.
First of all, the minimum payout threshold is only $50 which is quite low for an affiliate network. But you can also change and set it higher if you wish to.
Once the payment trigger, as they call it, has been reached, it will trigger the payment and you will get paid the following month.
So ShareASale processes payments once per month.
As to payment methods, you have several to choose from which is great since you can then find the option that fits you the best.
You can choose to get paid directly into your bank account, you can get paid by check, or you can use Wire deposit or get your money transferred via Payoneer.
So there are plenty of ways to choose from and no matter where you live you can find an easy way which is a very important aspect of an affiliate network.
Can you get support?
Being able to get support is another important aspect of an affiliate network. How good the support is, tells a lot about an affiliate network as it will show if they see it as a partnership or if they do not really care about its members.
When it comes to the ShareASale support, you have several options in their help section. You can, first of all, go through their knowledge base.
But if you need more specific help, you can submit a ticket. The help section looks a bit old-school but it does work quite well, in my experience.
I, for example, needed help when I got my first payment. I had not set the correct payout method as I thought I could always do that later.
And then suddenly the payout threshold was met and I was mailed a check.
The problem is just that banks in my country (I live in Scandinavia) do not accept foreign checks. So I quickly wrote the support.
I got an answer back the same day and was told how to cancel the check and set a new payout method instead.
So, in my experience, the support is very responsive which is a great sign.
Final verdict
Overall, there is no doubt ShareASale is a legit affiliate network. It has existed for many years and is a reputable company that is well-known in the industry.
But whether it is the right option for you or not depends on your niche and your personal preferences.
So to help you get a better overview before deciding to join ShareASale or not, let's finish this review by summing up the pros and cons.

Pros:
Good payout options
Low payout threshold
Responsive support
Many of the affiliate programs offer coupons/deals
A lot of different niche products/services available

Cons:
You have to apply for every program you want to promote
Some vendors are slow at replying you
I think that almost no matter what niche you are in, ShareASale is one of the networks worth checking out.
The only thing you have to be aware of is that some vendors are slow at responding after you apply to promote their product/service and you might sometimes even not get approved. But as explained earlier, there is something you can do about this if it should happen to you.
Overall it gives access to thousands of great affiliate programs, you often get access to coupons/deals you can share with your audience, and it has good payout options.
Hope this review has helped you find out if ShareASale is the right affiliate network for you or not.
If you have any comments, questions, or have any experiences with ShareASale yourself, I would love to hear from you in a comment below.