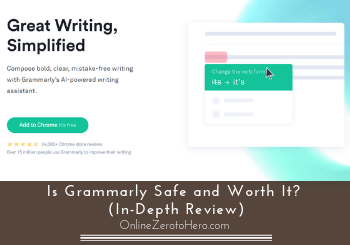 If you write anything online, it is very likely you have seen ads for Grammarly popping up once in a while.
But is Grammarly safe and worth it or is it just a hyped tool?
I am writing a lot online, and after having seen numerous of the ads myself, I decided to give the tool a try and see what it is all about and see if it could really make my life easier.
In this Grammarly review, I will share my experiences with you and show you exactly what you get, if it is worth it, what it can be used for, and in general, all the info you need to decide if it the right tool for you or not.
Disclosure: Some of the links on this page are affiliate links. This means at no cost to you, I may receive an affiliate commission if you purchase something through one of these links.

Features

Usability

Value for money
Summary
Grammarly is a tool you can use if you ever write online. It is definitely a safe tool and a really great way to catch your errors and improve your punctuation, spelling, sentence structure, and more.
If you write anything online, it is definitely a tool worth checking out. Even the free version helps a lot and it is truly free and not just a free trial. If you write a lot, the premium version can be a good option and gives good value for money if you get the yearly plan.
Is Grammarly safe to use?
Before you download and start using any software for your computer, it is important to know if it is a safe software.
So let's start by looking at Grammarly in this respect and see if it is safe and legit.
And it is definitely safe to use – It is a reputable and legit company and millions of users all over the world use it when writing online.
I have been using it myself for quite some time now and it works very well and I have not had any issue at all with safety etc.
So you do not have to worry about that aspect. So if that is all you want to know about Grammarly, you can go get Grammarly now without worrying about that.
However, if you want to know more details about the tool to find out if it is the right option for you, then continue to read the details below.
What is Grammarly and what does it offer?
Grammarly is a tool that can help you write better and communicate more effectively.
So if you write anything online at all, it is a tool that can help you improve your grammar and can come up with suggestions to make your writing better.
A tool like this sounds great in theory, right?
But when I first heard about it, I was honestly quite skeptical. I, however, decided to give it a go, and I can right away reveal that I am very glad I did and Grammarly does work.
It has helped my writing a lot – I am not saying it is perfect now, but it has definitely helped me make a lot of improvements:-)
But let's take a closer look so you can see exactly what it can be used for so you can see if it fits your needs.
Feature 1 – Get instant corrections online
One of the main features of Grammarly is that it checks everything you write online as you do it and right away makes you aware if there are mistakes and also gives suggestions for improving your text.
You do this by installing an extension for your Chrome browser.
Here on OnlineZeroToHero.com I, for example, write a lot. I think my English is pretty good but I am also aware that it definitely is not perfect.
And even if your English is good, we just all make mistakes sometimes and overlook simple errors. When I, for example, was writing this Grammarly review, I was among other mistakes shown this little silly mistake I had made.
It is very helpful to be made aware of things like this right away.
But it does not only make you aware of small errors like that. It also makes you aware of grammatical errors, comma errors, and helps with suggestions for better sentence structure.
Especially the comma function has helped improve my writing a lot.
My commas were honestly not the best but Grammarly has helped me a lot with this.
In addition to making me aware when I make mistakes, it has helped me learn about my weak areas when writing because there are some errors it keeps reminding me about. So in that sense, it is also teaching you to become better at writing and better at grammar.
Grammarly works most places you write online and you can also enable it to work in Google Docs.
Of course, Grammarly is not perfect. I have noticed that especially when you use certain expressions that are related to your specific niche or certain ways of saying things, it does not necessarily give the best suggestions.
So you still, at times, have to look critically at its suggestions, but overall I am very impressed with how good it is at improving grammar and finding errors.
==>Click to Get Grammarly Now<==
Feature 2 – Plagiarism checker
If you are trying to get organic traffic from the search engines to your website, it is very important you have unique content on your website.
Also, for legal reasons, it is important not to copy someone else work.
If you are just writing for yourself, you will, of course, know if you are copying or not. So, in that case, the plagiarism function might not be so relevant.
But if you have other people writing as well, especially if it is people you do not know too well, it can be good to just check for plagiarism.
Grammarly has a tool for this where you can upload a text to check it.
The tool will then scan and catch plagiarism from ProQuest databases and from more than 16 billion web pages.
Even though it scans billions of pages, it usually takes less than 30 seconds to scan a text so it does not require a lot of patience to use the checker.
You should just not panic if it ends up finding a bit of plagiarism in your text. It very likely will.
You can, for example, see the image below from a text from my website I checked. Here it says that the phrase "To put it into perspective" matches sources somewhere else.
It shows it is a very thorough checker but it also shows that you still need to apply logic and not panic if it shows you have a bit of plagiarism.
What it can be used for is to quickly see if large chunks of texts have been copied. And this can be very useful if you are not sure about the writer you are getting the text from.
Feature 3 – Use with Microsoft Office
If you prefer using Microsoft word when you write instead of writing online, then Grammarly can be downloaded and installed so you can use it for Word.
In addition to this, it also integrates with Outlook so you can make sure to check your emails before you send them.
This is very handy. Personally, I use Word a lot and I also use Outlook. Using Grammarly here has helped me catch a lot of errors and made my language better.
So definitely great this option is there, in my opinion.
Feature 4 – Choose language
A big question many people have is: Is Grammarly only in English or can you use it in other languages as well?
This is something that was very important for me to know as well. Even though I mostly write in English, I also write in other languages.
However, at the moment of writing this review, you can only use Grammarly in English. But you can use it from all countries, so no matter where you live you can use it if you ever write in English.
One thing you can choose is, however, if you want to use American English, British English, Canadian English, or Australian English.
So depending on who you write English for, you can get help with the right spelling, etc.
Feature 5 – Grammarly for business & educational institutions
If you have employees, or if you work in a team, you can get Grammarly for business instead of getting individual accounts.
It makes it possible to integrate Grammarly into your existing workflow and you can have between 3-99 members of a team.
It is also possible to have more than 99 members but then you would need to contact Grammarly sales support.
The Grammarly for business option is a paid option so if this is what you will use it for, you cannot use the free version. Prices start at $15 per member/month.
But if you have a business with multiple members and you write a lot, it might be worth considering.
You can also get special licenses for educational institutions to give your whole school or university unlimited access to Grammarly.
To use this option, you have to contact Grammarly.
One thing is to know what Grammarly can do for you, but you, of course also need to know the price.
You have two options when it comes to Grammarly depending on your needs. You can get the free version or a paid premium version.
The free Grammarly checker, of course, does not have as many features as the paid version. Below you can see a chart showing the differences between the free and paid version.
So the free version just gives you critical grammar and spelling checks whereas the paid version has a lot of advanced checks for, for example, punctuation, sentence structure, grammar, and vocabulary.
The plagiarism checker is also only available in the premium version. So overall the paid version gives you a lot more and makes it possible to become a lot more effective and write better.
But the free version definitely also helps a lot. I personally started with the free version and it helped me a lot.
So what is the cost then, if you want to get the paid version? That depends if you want to pay monthly, quarterly, or yearly.
The exact prices might vary compared to the chart above as Grammarly sometimes has campaigns.
But as you can see, if you get the annual plan, you get the best value for money.
I personally got the annual plan as I had tested the free version and knew I wanted to keep using Grammarly but wanted access to the extra features.
And I knew I would keep writing a lot. If you know you will keep writing, then it definitely makes sense to go for the yearly plan as it is a lot of money you can save by doing that.
But it, of course, all depends on your needs.
Is Grammarly worth it?
Honestly, I think Grammarly definitely is worth it. If you write anything online, I see no reason at all not to get the free version.
The free version alone can help you a lot and catch a lot of writing errors. And it is truly free and not just a free trial.
You can keep using the free version as long as you want to.
So the free version is definitely worth it but is Grammarly premium then worth it?
I would say that depends on your needs. If you just write a few personal emails online once in a while, I think the free version is enough.
But if you work online or write a lot, then I think it can definitely be worth going premium. Personally, I am glad I have it as it has helped my writing a lot.
If you pay monthly for Grammarly it might, however, be a bit expensive. But if you go for the yearly plan, it gives really good value for money.
So overall I think Grammarly is definitely worth and if you write anything online you should at least get the free version. If the paid version is worth it for you, depends on how much you write online.
Can you get support?
Even though Grammarly is pretty simple to use, it is important to know if you can get support if you should need it.
And there are several ways to get support on Grammarly.
They have a whole help section with a lot of information.
This information is very thorough and makes it possible to find answers for many questions right away without having to contact support.
If you should have a question you cannot find the answer for, you can, however, also write their support.
So if you should run into any issues there is quite a lot of help to get.
Final verdict
When you write online having correct spelling and grammar is important to make it easy for others to read. Good writing also helps build trust.
Grammarly obviously does not automatically make you an award-winning writer but it definitely can help make your writing better. And it can help eliminate a lot of small errors that interrupt the flow for your readers.
Personally, I think anyone that is writing anything in English online can definitely benefit from this – no matter how good your English is. And if you do not write too much, you can just get the free version which is also really great.
If the premium version is then a good option for you depends on your needs. Personally, I have benefited a lot from it because I write a lot.
But no matter what, I definitely recommend you at least try out the free version. It truly can help improve your writing, in my experience.
If you have any comments, questions, or have any experiences with Grammarly yourself, I would love to hear from you in a comment below.