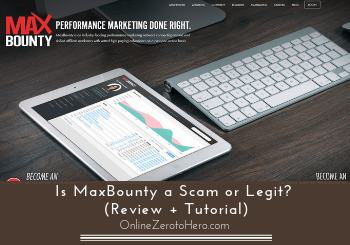 If you are working with affiliate marketing, it is very important to find the right affiliate networks to join to get access to the best offers in your niche.
You have maybe heard about the MaxBounty affiliate network.
But is MaxBounty a scam or one of the legit networks worth joining?
I have been a member of the network for several years myself.
In this MaxBounty review, I will show you exactly what it offers, how it works, and who it is for, so you can easily see if it will be the right network for you.
Number of programs

Application process

Payment process

Usability
Summary
MaxBounty is a legit affiliate network. If it is for you, however, depends on the niche you are in and what kind of products you want to promote.
It has a good amount of offers, is fairly easy to use, and the payout process is very good. So if it has programs within your niche, it is one of the networks worth considering.
What is MaxBounty and what does it offer?
MaxBounty is an affiliate network where you can find a lot of offers to promote if you work with affiliate marketing.
It is mostly known as a CPA network (cost per action/acquisition).
It has existed for many years and is a trusted network. So it is definitely a legit network that will pay you – I know from personal experience as I have been paid by it many times myself.
This does, however, not mean it will necessarily be the right network for you to join.
It depends on your approach to affiliate marketing, the niche you are in, and personal preferences.
So let's go over more details about what MaxBounty offers so you can find out if it is the right network for you or not.
What kind of products can you promote after joining MaxBounty?
One of the very important things to see if an affiliate network is right for you is what kind of products you get access to promoting by joining and if it fits with your niche.
So what kind of products can you then find to promote inside MaxBounty?
You can actually find products relevant to many niches. Below you can see an overview of most of the categories the network offers affiliate programs within.
There are some niches it has more offers in than others. It, for example, has a lot of offers in the health niche, the dating niche, and in the financial niche.
If you, on the other hand, are more in the internet marketing niche, it does not have so many relevant products.
But as you can see in the image above, it has offers in quite a few different niches.
Who can join?
MaxBounty accepts affiliates from all countries, so you can join no matter where you live.
You can also find offers targeted towards most countries, so no matter your target audience's location, you can find some relevant offers here.
However, there are, of course, more offers to some countries than to others. There are most offers to the English-speaking countries but you will also find offers that can be promoted more or less worldwide.
Be aware that you might not be approved if you do not have a website. This does, however, not mean it is not possible.
It depends on your application. When applying, you need to let MaxBounty know how you will promote their offers.
So it is possible to be approved even if you do not have a website but it depends on the situation and your approach – so you just need to show them you are serious and legit.
How to use MaxBounty?
MaxBounty is fairly easy to use and it is possible to learn to use even if you have not joined affiliate networks before. So it is a great network for beginners, in my opinion.
There are a few steps you need to go through to get started and to find the right offers for you to promote.
So below I will go over these steps so you can easily get started if you decide to join MaxBounty.
Step 1 – Apply to become a member
The first step is naturally to apply to become a member.
The application process is, however, a bit different than on most other affiliate networks I have joined.
Usually, you just fill out an application online and will then get an answer. On MaxBounty there is an additional step.
You also need to have a phone interview with one of the affiliate managers.
The image above shows a snippet from the MaxBounty FAQ section, and you can see that a phone/Skype talk is required for you to join.
This might, at first, sound a bit scary but it is actually not.
In my opinion, it is actually quite nice to get to talk to a real person before joining and already from the beginning get a connection.
The interview is not very long and is over phone or Skype.
It is just some questions and talk about why you want to join, how you want to promote it, what kind of offers you are interested in, etc.
After the talk, if you are approved, you will get access right away.
You can even yourself call the affiliate manager after you have signed up, and then everything can come into place the same day so the process is quite smooth, in my experience.
Step 2 – Find the right offers
After you get approved, you can browse through all the campaigns MaxBounty offers and find the right ones for you.
In the menu in the members area, you can see an option called "search campaigns".
This is where you need to go to see what campaigns they have available at the moment.
You will then see a long list of campaigns, and you can, of course, choose to go through all of these. This would, however, take a long time as there are thousands of campaigns.
Instead, you can at the top of the screen click "search options" and you will then get access to a way to filter the results.
Here you can, for example, filter on countries and only see campaigns that can be promoted in certain countries, you can filter by category, traffic method allowed, you can search for a specific campaign name, and more.
This is an easy way to get a quick overview of relevant campaigns for you.
In the overview, you can see what you will get per lead if you get paid per lead or percentage of sale and what type of traffic is allowed.
You can click each of them to read the exact conditions. If you find a campaign you think is relevant to you, you can bookmark it and this way get easy access to it through your dashboard.
The bookmarking function makes it easy to browse through the offers and just add the ones you think might be relevant for you and then you can sort and find the exact offers you want to promote later.
Step 3 – Get access to the offers
Once you have found the offer/offers you want to promote, you need to get access to them.
One thing I like on MaxBounty is that there are many offers you are just automatically approved for once you are a member. This makes it very easy to get started.
I have tried on some networks where you have to apply for every single offer and sometimes it takes more than a week to get an answer and that can really break the flow.
So it is amazing being able to get access to many of the campaigns right away without further approval.
However, it is not all offers you are automatically approved for. There are some, where the advertiser wants to approve every single affiliate before you can get access to the campaign.
You will see this easily at the top of the campaign description. Here it is clearly marked if you need to be approved.
Once you have been approved, or if you choose the offers you are automatically approved for, you then need the links you can use in your campaigns.
They are automatically available in the campaign detail page for the offers you are approved for. So you just choose the relevant link for you and use it in your campaigns.
When and how will you get paid?
MaxBounty is in general quite user-friendly and has a good amount of offers.
I also find that they pay relatively well for many offers compared to some other networks. For some offers, they pay more and for some offers the same or a little less than other networks.
If you find they are paying too little for a specific offer, you can always talk to your affiliate manager about this. In some cases, they will then be able to increase the rate.
But one thing that is important is, of course, also how and when you then will get paid.
MaxBounty actually has some quite good payout options and conditions. When you first join, you will be paid on the 15th of the month for earnings from the previous month.
After you have had your first payout, you will automatically be moved to weekly payouts if you get your money electronically.
To get a payout, you need to have earned $100.
Getting weekly payouts is actually not offered by many networks. I am a member of some affiliate programs where I do not get the money until 60 days later – that is a long wait.
So I think the weekly payout option on MaxBounty is really good.
How you can get your money depends on the country you live in.
The options MaxBounty in general offers are check, PayPal, Intercash, eCheck, ACH, Wire, and Bitcoin.
Just be aware that not all payout options will be available in all countries.
Can you get support?
If you need support on MaxBounty, you have two options. You can either write the general support or you can contact your affiliate manager.
I would clearly recommend contacting your affiliate manager directly. In my experience, they are very responsive and helpful.
You can see the contact info of your manager easily when you are logged into your MaxBounty account.
I have once tried to contact the general support with some feedback on a course they recommended its members to buy called Social CPA Formula.
I followed their recommendation because I trust the network and was honestly not impressed and wanted to give them feedback about this. I never heard back from the support.
That is the only bad thing I have to say about MaxBounty and the only poor experience I have had with them.
So if you want to get in contact with support go through your affiliate manager and you should get a quick and helpful reply.
Also, after you have started seeing some success, you will usually get a senior affiliate manager and get access to even more help. But in general, the fast responses from the affiliate managers is a big plus of MaxBounty, in my experience.
Final thoughts – worth it or not?
Overall, I can definitely say that MaxBounty is NOT a scam but it is a legit network that is fairly easy to use.
To help you make the final decision if it is then the right network for you or not, let's finish this review by summing up the pros and cons.

Pros:
Good payout conditions
Responsive affiliate managers
Decent commissions compared to other networks
User-friendly (also for beginners)

Cons:
You have to join to see what campaigns it offers
If you are working with affiliate marketing, MaxBounty is definitely a good network to consider. It, of course, depends on the niche you are in and what kind of products you are looking to promote.
Also, before you join, you need to have an idea about how you want to promote.
You will have a short phone interview where you talk about your application before you are approved, so you need to at least have an idea about your approach and why you want to join.
But overall, definitely a network I have good experiences with and that offers good conditions.
If you have any comments, questions, or have any experiences with MaxBounty yourself, I would love to hear from you in a comment below.