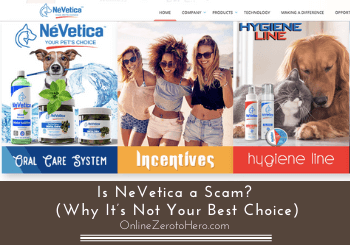 Did you know that roughly 68% of U.S. households have pets according to the American Pet Products Association (APPA)? In fact, there are more households that have pets than children.
So the saying "a dog is a man's best friend" continues to be true.
This is also the reason why it's no surprise that the pet care industry is continuously growing.
If you're a pet owner or an animal lover, what if someone tells you that you could give the best option to your pet while earning dollars to live a quality life? Sounds promising right?
NeVetica is a pet care MLM company that promotes themselves as your "pet's choice". But since your pets can't really talk, then you have to ask yourself if it's your best choice for them (and for you).
So if someone invites you to learn more about NeVetica, you'll ask yourself this: is NeVetica a scam? Or is it a legit opportunity for you and your pet?
This NeVetica review will go into the details to help you decide if this is really a good choice or not.
Tools

Value for Money

Income Potential
Summary
NeVetica is a relatively new MLM company in the pet industry. It carries multivitamins for your pets and also other pet care products such as dental chews, shampoo and conditioner, and training pads. It is said that around 70% of the US household has a pet. So the industry seems promising but it doesn't mean you should be joining NeVetica.
The start-up cost to be a member can be a bit expensive and it seems that earning through its business opportunity is really a bonus. It will take you a certain level of recruits before you do actually start earning through commissions and bonuses.
This can be a good choice if you really want to invest in your pet's health and if you feel you can tap the right market.
But if you're not a great salesperson and not keen on recruiting people, then you better check out other online opportunities to help you earn a living instead.
What is NeVetica?
NeVetica was founded by Dr. Lance London because of personal experience with his pet, Rocky.
When Rocky suffered from a stroke, Dr. London looked into the pet industry and saw a gap in nutrition.
He then decided to create a company to provide more nutritional options for pets. The company also wanted to educate pet owners about some of the best ways to care for their pets.
So in January 2019, NeVetica was launched so it is a relatively new business. It is an MLM company that supposedly focuses on building quality life for you and your pet.
Ideally, the pet industry is a good market to tap since most pet owners treat their pets like their own children. So they can be willing to invest in pet products on a regular basis.
So the next question is what the products really are and what the investment would be if you decide to make this your business.
What do they sell and how much do you need to invest?
NeVetica carries a range of pet care products priced at around $25 to $75.
The products cover your pet's nutrition, oral care, and hygiene. Here are some of the pet-related products you can buy:
Training Pads
Pet air freshener
Shampoo and conditioner
Carpet cleaner
Dental chews
Breath Freshener
Hip and Joint
First Choice Toppers
Nutriceuticals
Nutriceuticals are the multi-vitamins that are said to provide the nutrients your pets need when they do not get enough nutrition from their daily diet. These are known to be all-natural and premium.
NeVetica products are said to be organic and GMO-free which is what most owners are looking for when choosing products for their pets.
One thing I found out is that NeVetica has a National Animal Supplement Council (NASC) certification.
This means their products passed an independent audit to be considered quality. This is good if you're going to be sharing the products since it can bring you the edge compared to other pet nutraceuticals in the market.
But before you get to share these products with your friends and families, you first have to become a member of NeVetica.
As mentioned, this is an MLM company which means you have to be a member to get discounts and to earn when you share the products.
Let me tell you right now that their packages are not cheap. If you think buying supplements for yourself can be pricey, then you'll be surprised about how much NeVetica can cost you.
NeVetica's packages are not like most MLM companies. There are companies where you can choose a user and business builder package.
There are those like Emris International where you can already get a discount by just signing up as a VIP customer at $9.97.
For NeVetica, it will cost you more than that.
The initial pack you can purchase when signing up is the Business Builder pack at $199.
This will provide you with training materials, banners, magazines, and other sales material to get you started with your business.
However, your initial inventory will come from the "add-on" known as Product Pack priced at $475. With this pack, you get all the products of NeVetica. You can either use these products or sell them to your friends and family.
So it seems you won't have an initial inventory if you just purchase the Business Builder Pack.
While they say it's optional to purchase the product pack, it doesn't make sense that you will join and not get any products. You can't do business or even give your pet the right nutrition without any product at hand.
Aside from the Product Pack add-on, you can also purchase the Tech Pack sold at $24.99. This gives you access to the website and the app on your phone.
The app contains a free health assessment for your pet's health. You can enter information about your pet such as breed, activity level, bone health, and environment to learn which nutraceuticals can meet your pet's specific health needs.
You can also access other features in your NeVetica app such as a veterinarian home check-up, some training videos for your pet, a calorie counter for your pet, and a dog walker booking.
So if you compute it, you will initially be investing $698 to become part of NeVetica. That's even higher than some nutraceuticals you can purchase for yourself.
So you have to ask yourself if the investment is worth it for you and your pet.
Your initial investment can be a good choice if you have a way to earn that money back and more through NeVetica's business opportunity.
Can you really earn?
MLM companies sell you the idea that you get their products at a discounted price at the same time have the opportunity to earn through commissions.
For NeVetica, there are 9 ways you can get paid plus 3 other potential bonuses. It is quite complicated as the compensation plan is with most MLM companies.
But if you are considering making it your business, you need to take the time to get to know it thoroughly so you know exactly what to expect.
You can watch the complete compensation plan in the video below:

Now while earning in 9 different ways sounds like a great opportunity for you, I have two main points to share why this is may not be the best choice for you.
1. You can't really tap a wide market
First of all, just because there are a lot of pet owners doesn't mean they can be part of your market. Most of these owners have a trusted veterinarian who can recommend pet care products.
While you will be called a NeVetica Pet Consultant, you are not automatically more credible than your relative or friend's resident veterinarian.
In fact, the founder itself of the company is not a veterinarian but rather the owner of Carolina Kitchen. There is no information on the company's website regarding the research and development of the products.
Second, only those from the United States, America Samoa, Puerto Rico, and Guam can become a member.
This is normal since NeVetica is a relatively new company, but it still limits your reach compared to other companies and opportunities where you can go global.
You can learn how to market your products online so you do get to tap all available markets in case there is no available training provided by the company.
But overall you need to take into consideration that even though the pet market is huge, it will not be easy to get into.
Recommended: Learn My Top Recommended Way to Earn Online
2. Your income will primarily come from recruitment
If you've watched the video about the compensation plan above, you will notice that you will really start earning once you've built your team three levels down.
The only bonus or earning you can get when you're starting is the 35% cash bonus for every product you sell.
So you need the right sales skills to actually move the products and earn until you get back your investment.
You get the first order bonus of 15% from your downlines 3 levels deep. Then you get to reach unlimited level and an additional 5% only if you reach Regional Director.
This sounds great except that the rank Regional Director is the 7th rank in their system. Can you just imagine how many people you have to recruit just to reach the 7th rank?
Honestly, bonus sounds like the right term for the ways you get paid in NeVetica. Bonus means there's no guarantee you will actually earn.
You get the products but it's an added bonus on your NeVetica membership if you actually earn. You have to really be good at inviting and adding people to your team for you to be profitable.
So it can be a real risk if you sign-up as a NeVetica pet consultant. There is also no available income disclaimer by the company since there are no past annual sales yet. You can also not see any update regarding the highest earnings so far by a NeVetica member.
This means it is difficult to know exactly what you can expect in terms of earnings.
Your earnings in NeVetica will really rely on how many pet care products you can sell to the people around you and especially on how many you can recruit to your team.
This is something major you have to consider before deciding to sign-up.
If you are not really good at selling high-priced products and recruiting new people that can do the same, it will be very hard to earn.
Final Verdict
So while you may be a pet owner and know a lot of pet lovers out there, NeVetica is not necessarily a real pet's choice.
I have summarized the pros and cons to give you a better overview to help decide whether you should become a NeVetica member or not.
Pros:
Relatively new company
Variety of products for pets
NASC certified
Cons:


Pet industry can be quite competitive
Expensive start-up cost
Not much information on their website
Overall, NeVetica is a legit MLM company and not a scam even though it is still very new so there are still a lot of unknown factors about it.
Also, you might find it hard to do with its expensive packages and niche market.
This might be a good choice if you want to really invest in your pet's health and have the right network to tap. Remember that your income primarily depends on how many people join your team and purchase products.
But if you're not great at recruiting and not an amazing salesperson, there are other options out there for you that might be a better and cheaper choice.
How I make money online
I know it sounds great to have your own online business. I have spent a lot of time and tried different online opportunities to find the one that worked for me.
Now, I have been able to create a full-time online income that now allows me to work completely on my own terms.
It takes some effort but it is totally worth it.
If you want to follow my footsteps and create your own online income, then check out my FREE guide where I reveal my top recommended methods and explain how this is possible step-by-step.
You can even get started with these steps as a complete beginner.
If you have any questions, comments, or have any experience with NeVetica yourself, I would love to hear from you in a comment below.