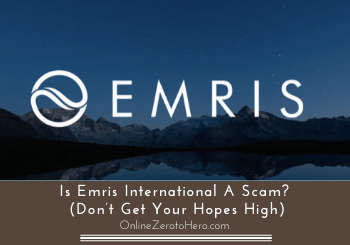 Have you heard of CBD products? Cannabidiol, or CBD in short, is the non-psychoactive ingredient in the marijuana plant. It is known to help in anxiety, sleep, and pain.
It was the US Farm Bill of 2018 that legalized industrial hemp, thus CBD products gaining availability and popularity in the past year.
So when there's a new product trending in the market, there are business opportunities you can explore. The CBD industry is fairly young but companies are sprouting everywhere.
Emris International is one of those CBD companies. It's a CBD-based network marketing company that looks for people to resell their products for a commission – this is what might be a way for you to create an income.
But is Emris International a scam or a good way to start a business?
With all the new MLM companies today, it's smart you do research before actually diving into it even if the product is currently on-trend .
Now, this Emris review will focus more on the business opportunity it offers rather than dwelling on the technicalities of the products.
By the end of the review, you will be able to tell if becoming a part of this new MLM company is the right opportunity for you or not.
Emris International at a Glance
Training

Tools

Value for Money

Income Potential
Summary
Emris International is a fairly new MLM company launched in 2019. It mainly features CBD products that have third-party testing certificates. This makes the product legal in all 50 states of the US. It is also available in Northern Ireland and South Africa. You can start as a VIP customer for as low as $9.97 and get up to 20% discount.
The company actually has a better retail program than a number of other MLM companies. However, the other 8 ways of earnings can be a bit challenging especially if you are not good at recruiting people to join.
I would personally not recommend this if you want to really build a business online. After all, there can be market saturation later on and the product price is quite high.
But if you love their products and are really good at recruiting new members, it can be a way to create a business.
What is Emris International and what do they sell?
Emris International comes from the names of its founders – Aspen Emry and Ilean & Matthew Harris.
It's a fairly new company having been founded just in 2019.
However, reading the background of the founders show they have been in the direct selling, coaching, and marketing industry for years already which is a good sign as experience can go a long way.
Currently, the company website lists three addresses – Tampa in Florida, Belfast in Northern Ireland, and Sandton in South Africa. Apparently, Matthew Harris is a dual citizen of US and South Africa making it convenient for them to build a business there.
I don't normally find a US-based MLM company opened in South Africa at their early stages.
As mentioned, Emris' products mostly feature CBD. Currently they have four different product categories – hemp-derived CBD, skin care, nutrition & supplements, and weight loss.
Their CBD line is called Synergy. These come in 150mg or 250mg bottles priced at $74 and $99 respectively.
If you compare their CBD to other brands, they only have two flavors which is lemon or natural. They also have CBD that comes in soft gel capsules and one made for your pets.
Emris claims their CBD oils contain no THC which gives the high feeling from marijuana. This makes their CBD legal in all 50 states of the US. That's an edge since not all CBDs have the same privilege.
The company also posted on its website 3rd party research results from Botanacor.
This is an Industrial Hemp and CBD testing lab where companies can submit their products to check for THC and other chemicals.
I actually like that they're transparent on the quality of the products since consumers like us really do our research nowadays before buying or endorsing a product.
You would also want to know the details of the product you would be promoting especially if you have friends in the medical and scientific field.
The other products are Vitality Plus (nutritional), Renew (weight loss), and Eden (premier skincare). You can check all the products on their website.
As you can see, there are only a few products you can market if you're going to become part of Emris.
But if the products are good enough, this can be enough.
In short, what Emris International offers you is to build on the CBD industry to grow your business.
How do you join?
Any MLM company would require you to purchase a certain volume of products to be eligible for bonuses and commissions.
For Emris, you can choose from different starter kits.
I like that you can start with just $9.97 as a VIP customer then immediately get any product of your choice at a 20% discount. This is perfect if you're just planning to try the products.
Most MLM companies I know requires a member to purchase a large volume of products in order to get a discount.
Emris associates are called Brand Ambassadors. As a brand ambassador, you can choose from a basic starter pack, a business builder, or a legacy builder kit.
If you just want to know the basic training programs and not yet prepared to purchase any product, then just go for the Basic Starter Pack at $49.
Through this, you get to be a brand ambassador for one whole year. You can either just be a customer or you can build the business.
If you're thinking of doing the business immediately rather than just being a customer, you can go for the Business Builder Kit at $199.
Here you get to choose some products then get more training programs than the Basic Starter Pack.
If you're thinking big and have the money to use, then you can go for the Legacy Builder Kit. This will cost you $499 but you get more products and more training programs than the other packs.
This actually gives you a bit of flexibility on how you would dip your feet on the business.
You also get to decide how much training you want to receive in your first months depending on your previous experience and how quickly you wish to grow your business.
How do you earn with Emris International?
So once you're getting started, you would want to start earning while you're using the products. Emris compensation plan offers you 9 ways of earning.
A good thing I noticed is Emris' retail compensation plan appears to be more rewarding than other companies.
First, you can choose to either purchase the products at a discounted price then sell it to your friends or family.
Or you can also choose to refer them to your website and have them order for themselves. Through this, you will be given up to 20% of the retail as a commission.
I am a believer in e-commerce and using online to build your business. If you do your MLM business online, then you should know how to sell MLM products online.
And at first, a referral program like this can definitely seem like it has potential.
Emris compensation plan on retail profits is straightforward. But I can't say the same for the remaining 8 ways of earning from their compensation plan.
There are a lot of bonuses in their compensation including VIP Customer bonuses, fast start bonuses, and team bonuses.
Now Emris uses a binary compensation plan which means you will only build two legs to earn. Upon enrollment of a referral, you can either get a fast start bonus if they purchase a business builder or legacy builder kit.
If your friend signs up as a VIP member then you get 10% commission based on their initial purchase.
Now the confusing part comes from the tiered system reward of the company. Each rank entitles you to different bonuses such as company shares and incentive trips.
There are so many qualifications listed that it's hard to understand how you would really compute for your total income per month.
The higher ranks actually require a certain number of enrollments, a total PCV target, and a total group volume sales.
That means you would really need to find people to join you in this business if you want to enjoy the income Emris promises to its top brand ambassadors.
So if you are not interested in recruiting other sellers, the earning potential will not be quite as big.
Should you join Emris International or not?
Now while it's unclear how you would enjoy the top income in Emris at this point, it's still not a reason to consider Emris International a scam.
It's a fairly new MLM company that distributes an on-trend product. The founders seem to know what training to provide for their brand ambassadors.
However, I will still not necessarily personally recommend Emris International because of two main reasons.
Reason no. 1: Market Saturation
CBD products are gaining popularity these days due to its health benefits. However, some people will say there aren't enough scientific studies to prove all its claims.
You have to find the right market for the product but first, you have to have them believe in CBD yourself.
And if they do believe in CBD products, you have to make sure they see the difference between Emris products compared to those currently in the market that they can easily buy.
An emerging market like this, of course, means there might be a lot of income potential. But there is a lot of competition in this market.
So if you are brand new to selling MLM products, it might not be the best way for you to start.
However, a benefit is that it is available right now in several countries (US, Ireland, and South Africa).
This means there is a bigger market. But no matter what, you should expect high competition and be prepared for this.
Reason no. 2: High Price Point
MLM products are usually higher priced than its local market counterparts. It's because the business is designed to give profit to its associates.
That would be acceptable if you have a truly unique and quality product. However, Emris' products are definitely higher priced than those found in the market yet you don't have that unique selling proposition for it, in my opinion.
It's good they have their 3rd party verification but is it really enough to justify the price?
Therefore, you must really have the market willing to purchase these products for you to build your business.
Again, if you are new to creating a business, this will not be easy and you need to think about this before starting.
Final Verdict
Since Emris International is a new MLM company, there are definitely high hopes of its business opportunity.
However, it's income potential still relies a lot on recruiting new people in your organization who will use and market the product.
If you're an experience multi-level marketer, then you can give this one a try especially since they promise trainings from experts in the industry. You can also just focus on the retail commissions through the website.
But let's finish this review by summing up the pros and cons to give you a better overview before deciding if you go for this opportunity or not.
Pros:
Retail commission better than many other MLM companies
Experienced founders in the marketing and direct selling industry
An emerging market
Cons:
You have to focus on recruitment if you want to earn big
Higher price point compared to other CBD products
Lack of unique selling point for products
Overall, it is possible to create a business with Emris International. Before doing so, it is, however, important you first know if you really support the products and think they are worth the fairly high price.
Also, you need to be good at selling. You can get some training, but even with training selling MLM products can be difficult.
And it is even more difficult to recruit more sellers which you need to be able to create a really good income.
So if you are not very experienced this might not be the best opportunity. And if you decide to go for it, make sure you are willing to work hard to achieve results.
In my opinion, if you really want to earn online and are new to creating a business, there are other opportunities that might be better as they don't rely on recruitment to earn big.
How I make a living online
I know it sounds great to have your own online business. I spent time and tried different online opportunities just to find the one that worked for me.
Now, I have been able to create a full-time online income that now allows me to work completely on my own terms.
It takes some effort but it is totally worth it.
If you want to follow my footsteps and create your own online income, then check out my FREE guide where I explain how this is possible step-by-step.
You can even get started with these steps as a complete beginner.
If you have any questions, comments, or have any experience with Emris International yourself, I would love to hear from you in a comment below.