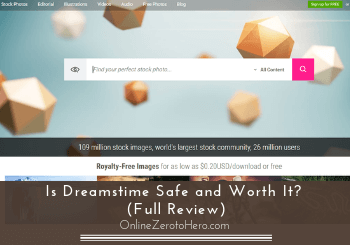 Having great stock content can be necessary if you work online as it is more or less impossible to create all images, videos, and audio by yourself.
Dreamstime is one of the many stock content platforms you might have found if you are looking for stock content.
But is Dreamstime safe and worth it or are there better alternatives?
Let me reveal right away that it can be a good solution – BUT it really depends on your needs and expectations as there are some things that might not be so easy to spot before joining.
This Dreamstime review will, therefore, give you all the details so you know exactly what to expect and can easily find out if it is for you or not.
Dreamstime in a Glimpse
Selection

Usability

Value for money
Summary
Dreamstime is a legit stock content platform that has been around for years and has a big selection.
The free membership is not very useful so it is only relevant if you are willing to upgrade to a paid membership.
However, if you have the budget for that, Shutterstock gives better value for money, in my opinion.
But Dreamstime definitely also has a good selection of both photos, audio, video clips, and a few extra free tools.
What is Dreamstime and what does it offer?
Dreamstime is, as mentioned, a stock content platform. It has been online since 2000 so it is one of the older platforms.
According to the site itself, it has more than 26,000,000 registered members as of writing this review.
That a company has existed for this long and has this many members is, in general, a good sign, but it is not enough to decide if it really has what you need.
So let's go over the most important features you get access to through Dreamstime so you can find out if it has what you are looking for.
Feature 1 – Stock photos and illustrations
One of the main features of Dreamstime is access to royalty-free stock photos and illustrations/vectors.
The quality of these photos are very good and almost no matter what types of photos or illustrations you are looking for, you can find them here.
It is fairly easy to find the photos you are looking for – you can either use the search function you get access to right when you enter the site, or you can browse through the different categories.
According to the site itself, it currently has more than 109 million images and illustrations.
So there is enough to choose from. Not quite as many as on a platform like Shutterstock, but still enough for most needs.
But you can also get access to other assets on Dreamstime as we will go over next.
Feature 2 – Stock videos
You can also get access to video clips on Dreamstime.
They do not mention exactly how many video clips they have in their database but by browsing, it is possible to see it is a lot.
I, for example, checked the animal category, and below you can see how many pages with video clips they have just in this category – each page has around 75 videos.
So there definitely are a lot of video clips if you ever need this.
Most of the clips are between 10 seconds to 1 minute long and are of high quality.
You can also choose how good a quality you want to download but the price will, of course, differ depending on the quality (more about the pricing later).
Feature 3 – Audio clips
If you ever need audio clips or sound effects, you can also find this on Dreamstime.
The platform has thousands of professionally produced music clips, sound effects, and loops for use in your productions.
You can either browse through the latest added files, use the search bar, or browse through the categories.
You do not have to sign up to be able to listen to the sound clips so it is possible to check out what it has to offer and if it is for you before joining.
Feature 4 – Editorial images
If you have a news site or similar, you might need editorial images.
On Dreamstime, you can find a lot of these and they have images and videos of current events and more.
You can, for example, find photos of celebrities, news, events, and entertainment photos which can otherwise be very difficult to get a hold of.
Feature 5 – Become a contributor
If you are a photographer, you can also earn money by selling your photos on Dreamstime.
I am not going too much into details with that feature in this review, as it focuses on what you get as someone needing stock content.
But I still just wanted to mention it here. So if you want to sell your photos, you can apply on their website and read all the conditions there.
Feature 6 – Dreamstime app and other tools
Dreamstime has a few extra tools you get access to if you decide to become a member.
One of the things you get access to is the Dreamstime app.
It makes it possible for you to browse through all the content easily from your mobile phone or tablet and you can also download it or save it so you can download it later.
The app is available through the App Store and Google Play.
In addition to this, you can also get the Dreamstime plugin, if you have a WordPress website. This makes it possible for you to get images directly into your WordPress website.
Personally, I would always advise you to make sure to optimize your images for web before uploading. But if you have a site where this is not a concern to you (but it should be a concern for most sites), this plugin can be very handy.
One more thing you can do is to install the Dreamstime add-on in Microsoft Office or G Suite if you use any of these and that way get access to all the Dreamstime assets directly from these programs.
Is Dreamstime safe?
As you can see, Dreamstime offers quite a lot of things. But when it comes to stock content, you need to make sure it is safe to use a platform.
As long as you stick to the conditions of your membership, you do not have to worry about this when it comes to Dreamstime.
It has worked with a lot of big companies as you can see on their website.
That is a good sign.
In addition to that, it has been around since 2000 which would not be the case if it was not safe.
But you, of course, still need to know what else the conditions are.
So make sure to read everything carefully on the site itself before joining and below I will also make you aware of a few other things that are important to consider before deciding if it is for you or not.
Does Dreamstime have free images?
When you get to the Dreamstime website, you can see a tab at the top of the website saying "free photos".
So you might wonder if you can actually get free images on Dreamstime or what the catch is.
In one sense you can get access to some free photos, but it is a bit unusual compared to other stock photo platforms I have tested.
First of all, you have to sign up as a member to get access to the free photos. There is nothing usually about this though.
But in the sign-up process, you get to a point where you cannot move forward without signing up for a free trial with your credit card.
However, if you at that point just go to their main website, you will be signed up as a free member without having to give your credit card details right away.
After this, you can go to the free photos tab and search for images.
However, this can be a bit confusing.
Because many of the photos you find in that section are actually not free. So it takes a bit of browsing to find the photos that are actually free.
Once you find one, it can again be a bit confusing.
First, you will see a message, that you need to fill out more information.
If you click the link in that message, you will be taken to your profile.
Here you have to fill out a bit of information about yourself like your address, phone, full name, and more.
It does not take long to fill out, but you need to fill out this profile to get access to the free images.
After this, you will now get this message when you go to a free photo.
This notice is important to be aware of as it tells the conditions for using the photo.
This means you have to add a credit line next to the photo when you use it.
Often this might not be so convenient depending on how you are going to use the photo so be aware of this before starting to download any of the free photos.
In general, if you really want the benefits of Dreamstime, you have to get one of the paid memberships so let's go over what the pricing options are now.
Pricing and membership plans
To get access to the full assets on Dreamstime, you need to get a paid membership.
Here you have several options depending on your needs.
Above you can see the options at the time of making this review. You naturally get a better price the longer you sign up for.
The prices above show the subscription prices but you can also get credit packages if you just need a few photos once in a while.
But the best value for money is if you get the subscription.
You can also get a subscription for videos if this is what you need.
It can be a bit difficult to get an exact overview of the cost as it depends on the type of image – this is especially true if you get the credit packages as the number of credits needed differs from image to image.
So if you decide to get access to Dreamstime, I would advise you to first make sure to sit down and calculate exactly what you need and what subscription will then be the best to find out if Dreamstime is truly the best solution.
Final verdict – is Dreamstime worth it?
Dreamstime is a legit stock content platform that has quite a lot of features.
But it is not necessarily the best option for all.
So let's finish this review by summing up the pros and cons so you can get a better overview before deciding if it is for you or not.

Pros:
Has a lot of stock content
Stock content is high quality
Has many extra free tools

Cons:
Pricing options can be confusing
The free membership is not really useful
If you have the budget, Dreamstime can definitely be a stock content platform that can give you high-quality assets.
However, if you have that budget, I personally prefer Shutterstock as I think it has a bit better options.
But you need to be aware that the free option on Dreamstime if not very useful so only consider it if you are willing to upgrade to a paid membership.
If you have any comments, questions, or have any experiences with Dreamstime yourself, I would love to hear from you in a comment below.