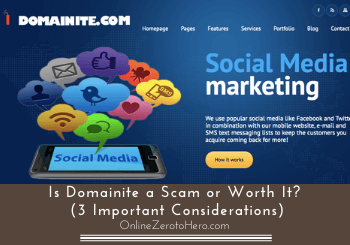 Can you write? Do you want to be paid while writing at the comfort of your home?
There are a lot of writers and proofreaders these days who are able to build their income even while they're working at home. The internet has opened a lot of opportunities for you if this is how you want to make money.
There are, for example, so many writing platforms these days that it can get confusing as a writer or proofreader where you should invest your time and effort.
You really have to do your research to avoid being underpaid or being lured into scams masquerading as job opportunities.
One website you might encounter during your search for online writing or proofreading opportunities is Domainite. But is Domainite a scam? Or can you really earn through them?
This Domainite review looks into this platform to help you decide if you should be applying for them or not.
Let me tell you upfront that Domainite is not a scam but I want to share with you some important considerations you need to know about before applying.
So if you want to know what Domainite is and what those warning signs so you know exactly what you are getting into, keep reading below.
Tools

Usability

Income Potential
Summary
Domainite is a company offering services to clients and hiring freelance writers and editors. While it has been existing since 2011, there is very little information found regarding the company.
There are many writing and editing opportunities online that pays well but Domainite is not one of them. The rate is too low with only $1 per 100 words for writers and $0.25 per 100 proofread words for editors.
So if you're looking for a good opportunity, it is best if you do more research to find one that fits you and pays well. In my opinion, there are better options even if you're a beginner.
What is Domainite and what does it offer?
Domainite is a company that provides business solutions to different companies and entrepreneurs.
Their services include copywriting, graphic design, marketing strategy, website design, mobile app creation, social media marketing, SMS campaigns, print design, and more.
According to the company's Linkedin profile, Domainite was founded back in 2011. Since there are different services offered by the company, this opens the opportunity to crowdsource for freelancers for their clients.
Domainite has listed a couple of clients they have on their site although none of these seem familiar for me.
These include Certified Teachers Tutor, Kara Rochester, Audio Jungle, and others.
For a company that has been existing since 2011, I would expect more clients given the number of services they are able to provide. But it is, of course, possible some of their clients prefer to be anonymous.
Domainite looks for freelancers to work for them in their services for clients.
If you search for Domainite, you will see that it is usually listed as one of the recommended proofreading job platforms.
They pride themselves saying they offer compelling copywriting because their writers know how to "word a company's message to get the highest response rate". This is where you come in as a freelancer.
So there are two positions you can apply for in Domainite. You can either apply as a writer or as a proofreader.
But before you go applying on their site, let's check if you should really join Domainite.
Should you join Domainite?
With all the writing and proofreading jobs available online, it's best you do your research and check which ones are indeed legit and worth your time.
Each job opportunity varies depending on your skills and experience.
As for Domainite, it appears to be a legit company but here are some considerations you, in my opinion, should consider before applying to find out if this is really for you or not:
Consideration 1: No published founder or owner
According to its Linkedin profile, Domainite was founded in 2011 and is under sole proprietorship. However, there are no published owner anywhere even on their website.
Imagine if you have a concern or complaint about the company, how would you know who to contact?
The contact information placed on their website is pretty generic with the email address being one for Domainite sales. There is also no complete office address but rather a PO Box in Albany, New York.
Knowing the company's owner or founder adds legality and authenticity. Most job platforms and writing websites I know are quite transparent about this.
It gives you security knowing that there is a real person behind the company.
The founder's background can also add to the value of a company.
If you know that a company is created by someone in the same industry, then you know they understand the process and demands of their clients and freelancers.
I am not saying this means it is not worth it. But with all the writers platforms out there, you need to compare them to see where it is best to invest your time.
And knowing or not knowing who is behind is one of the things you should take into consideration.
Consideration 2: Website has very little information
For a company that offers website design and marketing strategy, it's, in my opinion, ironic that Domainite's website contains very little information.
In fact, if you look at their site map, you will find that there are pages that are still not fixed or have proper content.
Before you are able to apply as a writer or proofreader, you have to navigate through their website to find the application page.
I found it by going to their site map then looking for the link "Writer Hire Form" and "Freelance Editing Hire Form".
Once you find the application form, if you're applying as a writer, you first need to create a random 5-digit numeric code you have to email to them.
This code will be used to track your sample. You then enter your name and then submit a sample.
There is no note or guide on what kind of sample they're looking for to get accept you.
Therefore, you just have to submit a sample you feel fits their portfolio.
If you're applying as an editor or proofreader, you create a random 6-digit numeric code and email to a different email address provided on the page.
You then submit your name and email. There is a sample text on the application page which you will have to edit and paste as your edited sample.
You also have to confirm you are familiar with using "track changes" in Microsoft Word.
So it seems they use Microsoft Word for editing.
It usually takes them 3-4 days to respond and there is a disclaimer on their site that you might not hear from them if you are not accepted.
Just note there are no details on the website on what specific requirements or qualifications they look for in their writers and editors.
So, if you do not hear from them in a week, then you can move on to other opportunities.
Overall, it would be great if there was more information about the whole process and about the company on the website, in my opinion. When looking for online opportunities, I want to know who I am dealing with and this is not really the case when it comes to Domainite and this is a drawback, in my opinion.
Consideration 3: Pay rate is too low
Now the biggest factor you should always consider when it comes to online opportunities is the income potential.
With all the available jobs, you want to put your extra time on the right opportunity.
So here's the truth: Domainite really has low rates for their freelancers. Writers only get $1 per 100 words written. Editors get $0.25 per 100 proofread words.
If you can write a 500-word article in an hour or less, then you get $5 for an hour. That may be good for countries with low cost of living but for countries such as US, UK, or Canada, that's too low, in my opinion.
There is also no information about what kind of articles you will be writing so it's not clear if you can easily write their articles in an hour.
There are content that requires a certain amount of research so it will take you more than an hour just to finish an article – especially if you're not familiar with the topic.
There are other online platforms like Copify who pays their writers around $20 for a 500-word article.
If you're an editor, editing a 500-word article will only pay you $1.25. Can you imagine being paid less than two dollars for one hour of work?
The pay rate difference between a writer and an editor is too big, in my opinion. While editors don't write the content from scratch, it still demands a certain level of skills to spot errors and inconsistencies.
You can compare that rate to other online platforms such as Gramlee where you can use your skill and get paid around $10 per hour or more.
If you're going to write to earn, you should be getting your hours' worth.
The only good thing about their pay, in my opinion, is that you paid weekly through PayPal.
So if you do decide to work for them, you can expect a weekly income based on the number of your outputs.
It's important that you do your research on the writing and proofreading industry rates so you don't get shortchanged with your work on these kinds of platforms.
And, in my experience, Domainite does not offer the best opportunities.
If you are brand new to writing and editing, it might be a way to get started and get some experience.
But, in my opinion, there are better options online – even if you are a beginner.
Recommended: See My Top Recommended Way to Make an Income Online
Final Verdict
Domainite is not a scam but it's also not the best option for freelance editors and writers.
I have summarized the pros and cons discussed below to help you get a better overview before deciding if you should be applying at Domainite or not.
Pros:


Pays weekly
No experience required
Cons:
Not much information about the company online – including on their website
Very low pay
No published owner
I would personally suggest you check out other writing and proofreading opportunities online if you really want to build your income this way.
You can check out other websites to find the one that fits your schedule, skills, and your desired pay.
There are so many ways to earn money online these days. You can start as a freelancer earning part-time income and then find the right opportunity to build it to a full-time income.
Everything requires hard work so make sure it's going to be worth it.
How I make money online
If you really want to earn a full-time income working online, this is definitely possible – I know this from personal experience.
I have been able to create a full-time online income myself that allows me to work anywhere in the world and completely on my own terms.
It takes effort, but it is totally worth it.
If you want to follow my footsteps and create your own online income, then check out my FREE guide where I explain how this is possible step-by-step.
If you have any questions, comments, or have any feedback with Domainite yourself, I would love to hear from you in a comment below.