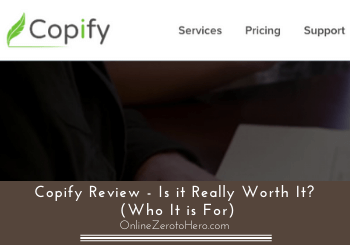 Back in 1996, Bill Gates wrote an essay titled "Content is King". It's been two decades since that essay but as the internet grows it still holds true that content is king.
Today, there are so many opportunities where you can write content and earn from it. Small and big businesses are in need of email newsletters, website content, press releases and much more.
So it's not surprising that you can get to earn online these days through writing content for others.
Copify is one of those content marketplaces that helps companies get content from freelance writers.
But is Copify a legit website or is it a scam?
Let me just reveal right away that it's a legit platform that has been paying freelancers from different parts of the world for years.
But the real question is if it worth the work? This Copify review gives you all the details so you can find out what you can really expect before deciding to join or not.
Tools

Usability

Income Potential
Summary
Copify, just like other content mills online, is best for freelance writers who are looking to build up their profile or just looking for some quick extra cash. The pay is cents compared to regular work but these are jobs you can do over your cup of coffee in the morning or during your available time within the day.
If you want access to a lot of different writing jobs with flexibility, then this might be a good option for you.
But if you are looking for a really good pay through writing online and a long-term stable income, I would not recommend this platform. Then there are other online opportunities where you can write and earn a decent income at the same time that might be better for you instead.
Click To See My Top Recommended Way to Make an Income Online
What is Copify?
Copify is a content marketplace based in Lancaster, England. It was started back in 2010 by Martin Harrison and Rob McVey. Today they are one of the largest networks of UK-based copywriters.
However, even though the company is based in the UK, you can join from anywhere.
Clients can go on the website and find freelancers to write content for their website. On the other side, the company also hires writers to cater to their clients. This review focuses on the opportunity as a freelance writer.
The need for content writers is high because content writing can be one of the most time-consuming tasks when you run a website or a website. Marketing agencies are also always in need of writers for their clients.
Some of the content Copify promises to deliver include blog posts, press releases, product reviews and descriptions, e-commerce write-ups, SEO copywriting.
Basically whatever content you need in a website or digital material. So this will be the type if the content you will be writing if you decide to join.
There are a lot of content marketplaces today and a greater number of writers looking for jobs. So why should you write for Copify?
Why write for Copify?
Here are the main reasons I see on why and when you would consider writing for Copify:
1. You are just starting as a freelance writer
Copify is one of those content mills which means it's a place where writers are paid low rates so the company can provide cheap content for clients.
You will not find many experienced writers at content mills, in my experience. But if you want to have some practice in writing regularly, then you can consider Copify.
It's easy to apply at Copify. You submit your basic details, including a profile pic and CV then pass their writing test.
It's not a complicated test. You write a couple of hundred words based on the topic they give. You have one hour to type everything directly on the site (no cut and paste allowed).
Once you pass, you can log in and check out the job board.
In other freelance job boards, you can often also submit a proposal when you are interested in a work posted. Then you wait for the client to accept you so you can start working.
However, in Copify you look at the list of "job orders". You read the brief provided by the client.
Once you click a job, you will see the exact type of job you need to do. You also see the pay, deadline, and any other special instructions by the client.
If you like a job, click "accept". Then you can already proceed with writing the content needed.
Since content mills are known for a quick turnaround of materials you should expect that once you accept an order it means you have to start working on it right away.
For 100-500 words, the timeline is just around 24 hours. For 500-1000 words, you're usually given up to 48 hours. Longer content like articles with 2500-5000 words gives you 6 days to finish.
This is the content that usually requires research before you can start writing. For any content 10,000 words and above, you get two weeks.
This will give you great practice as a freelance writer since you are expected to do work on a tight deadline.
However, you have to remember that not all content requires the same amount of time to finish based on the number of words. For example, a 1000-word article on a scientific topic may take you more time to finish than a 1000-word article on housekeeping.
There is no mention of where your articles will be posted once you've finished an item so you can't really link the published content for your future clients. However, should your future clients require some writing samples then you can share your finished orders.
Remember that clients outside Copify will be looking also into the quality of the work you do.
2. You want some extra fast cash
Content mills are not looking for the top quality content but rather focus on quantity produced.
Therefore, don't expect to be paid high for a quick job. A "standard" writer will be paid around $0.04 USD. That means a 500-word article will pay you $20.
"Professional" writers on Copify are paid a bit higher at $0.06 per word. That gives you $30 for a 500-word blog. So if you can finish that article in an hour, then it's decent enough for some extra cash.
And overall these rates are not bad if you are a fast writer and for more general topics, they are kind of the standard you can expect as a freelance content writer.
Your payment is sent through Paypal. The good news is they issue payments daily in the afternoon.
So if you're in need of extra cash, you can easily log in to Copify, check any available jobs, click and work on it then get paid the latest the following day.
.Recommended: See My Top Recommended Way to Make an Income Online
3. You have a flexible schedule
Some tasks on Copify, like a short 100-word copy, are those you can do when you have some free time around your day.
You can wake up in the morning, make your morning coffee, then check if you can do a copy or two before you start your day. Or if you don't want to commit to a fixed part-time work then you can check out the orders at Copify.
Copify clients can rate you based on your submitted work. Your rating then determines how many orders you can take at any one time.
To gain the professional writer status (with a better rate), you first have to finish 25 pieces and get good feedback. Professional writers also get access to all the orders on the Copify job board.
So your income will really depend on how often you log in and accept job orders. The professional writers do get paid a more decent amount than some the average writer. But it does require you working your way towards that status.
Now, these are the three main reasons I see why you might think of applying to Copify.
There are a lot of platforms for freelance writers so it's really important you do your research and know your goal when looking for a job.
Personally, if you're going to be writing content then you might as well make a living from your own blogging.
Freelance platforms are good practice in your writing but remember that you can also make your own blog and content you can monetize.
I know it's not going to pay you overnight such as Copify but it's something you can also do while working on freelance platforms until your blog starts making money.
You still need to go into blogging with the right approach just the same as how you should be approaching freelance writing jobs.
Do not expect content mills to give you a full-time income easily the same as you shouldn't expect your blog to immediately give you the income and freedom you want.
Any success, after all, cannot be achieved overnight.
Final verdict
Copify is one of your options if you want to start your freelance writing career.
You get quick jobs to write and you can build your portfolio of writing works quick. You just shouldn't expect to earn a living wage just by these writing orders.
Below are the pros and cons I have discussed throughout this Copify review to give you a better overview if you are still unsure if you should become a Copify writer or not.

Pros
Can give you extra fast cash by writing
Helps build your portfolio
Access to many writing jobs
Flexible schedule

Cons
Low pay per word
No bidding or proposal, just offers from clients
You do not get access to higher-paying jobs right away
Overall, Copify is a legit platform – particularly for those who want to start content writing online.
If you want some extra cash and you can easily write in a couple of hours, then this might be the right option for you.
But if you want to build a stable full-time income by writing, there are other opportunities online you can invest your time and effort into instead.
How I make money online
If you really enjoy writing and want to build your own income online, then this is definitely possible.
After testing a lot of different online opportunities, I have been able to create a full-time online income myself that now allows me to work completely on my own terms.
It takes some effort but it is totally worth it.
If you want to follow my footsteps and create your own online income, then check out my FREE guide where I explain how this is possible step-by-step. Don't worry, you can start as a complete beginner!
If you have any questions, comments, or have any experience with Copify yourself, I would love to hear from you in a comment below.