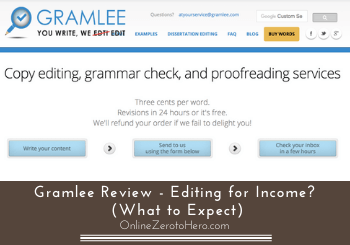 There is so much content being published online from blogs to social media content. Businesses are now creating websites and their own blogs to help their business grow.
Now with all that content, it's important that each piece is edited and proofread. And not all companies have the capability to do this.
Therefore, there are copy editors and proofreaders being paid these days to do the work online.
Gramlee is one of those copyediting companies that hire copy editors and proofreaders for their clients.
But is Gramlee a legit company where you can start making money, or should you look for another copy editing opportunity online?
This Gramlee review will give you an overview of what you can expect when working in the company to help you decide if it's a good fit for you.
Tools

Usability

Income Potential
Summary
Gramlee is a copy editing company that helps bloggers, small business owners, and professionals edit their content. You can apply as a copy editor through their website if you are great at language and looking for a way to make some extra cash online.
There is no published pay rate for their copy editors or their payout schedule. Some mentioned earning around $10 per hour. You will be editing up to 3000 words per task with a 24-hour turnaround so you need to be able to work with deadlines.
This type of job is perfect if you have prior editing experience or if you have the professional writing skills. 
If not, there are other opportunities online where you can use your writing skills to earn.
What is Gramlee and what does it offer?
Gramlee was founded by Rushang Shah back in 2007 in Portland, Oregon.
It offers high-quality editing services which include dissertation editing, copy editing, proofreading, and APA and grammar checks.
So you can use the platform both if you need work done or if you are looking for work. In this review, I will focus on how good your opportunities are if you are looking for a way to make money.
Before we go into what you'll be doing on Gramlee, let's first clarify what's the difference between copy-editing and proofreading.
Some companies only look for proofreaders while others look for copy editors. It's important that you know what's the difference since it requires a different set of skills.
Proofreading is a type of copy editing where you will check the grammar, punctuation, capitalization, spelling, verb tense, and pronouns.
You will also check the spacing, headers, and formatting. It doesn't require any changes to the writing. Basically, it's checking a paper or writing before it gets published.
This is like the final stage of editing since it's more on the text and format than the sentences and paragraph content.
The next level is copy editing which focuses on the five C's of writing: clear, correct, concise, complete, and consistent.
As an editor, you will check the sentence and paragraph structure. You will also make changes to the original paper to give it more impact or avoid repetitiveness. The tone of the paper will still remain.
Now a proofreader cannot be an editor but an editor can also be a proofreader.
The third level is substantive editing where you can expect drastic changes of the original writing.
Editors who do substantive editing are more like consultants that can rewrite paragraphs. This kind of editors can also add content if they feel it can improve your writing.
Now, Gramlee is a copy editing company so you will be doing mostly copy editing but they also offer substantive editing especially for non-English speaking clients.
Gramlee caters to different clients:
There are bloggers who create content for their site but aren't professional enough in their writing.
There are small business owners who have their marketing materials and business documents to be edited.
There are job hunters who need someone to go through their resumes and cover letters.
If you think you can do the editing jobs offered by Gramlee, then check out how you can become part of the team below.
How do you join?
You can easily apply to Gramlee through their website. You need to fill out their form online.
You don't need any prior experience in editing, but you have to stand out when you fill out their application form.
There are interesting questions on the form such as stating your "unfair advantage" that makes you an outstanding candidate and that one thing you will be teaching the world if given the chance.
I would suggest you answer these kinds of questions thoroughly since you are applying for a company that is looking for quality editors who know their writing.
Prior experience is not required but they ask the number of years you've worked as an editor.
You do have the option to choose "never in an official capacity" but I'm not sure if you'll get a response from them.
In the next part of your application, you have to describe the difference between proofreading and copy editing.
Since you will be editing papers, you are also to state which style guides you're familiar with such as AP, APA, Chicago, Harvard, MLA, and The Bluebook.
Since you will be editing documents, you need a writing software such as Microsoft Word where you can track the changes when editing.
I couldn't find information if they will still email you if you're not hired or just not hear from them.
So you can try applying on their website while looking for other copy editing or writing jobs online but it seems there is no guarantee you will hear back from them which can, of course, be a bit frustrating as a freelancer.
You can also check out other freelance platforms such as Upwork that offers different editing jobs while you wait.
For these types of jobs, it is always a good idea to apply several places to get the best chances of getting enough work.
Recommended: Click to Learn My #1 Recommended Way to Make Money Online
How much can you earn on Gramlee?
There is no published rate for Gramlee editors but they do charge $0.03 per word for up to 3000 words.
They actually guarantee a 24-hour turnaround for 3000-word writings or less. So if you're going to work on a material, expect a strict deadline on weekdays.
Some mention earning around $10 to $18 per hour for your work.
Usually, it's better to be paid a fixed rate by the project when it comes to editing or proofreading, in my opinion.
There are some that pay per hour but you have to make sure you know how many hours it takes you to do your work. If you can edit fast, then a per hour rate is good.
Imagine if you have 3000 words to edit then it can take you around 250 words to finish per hour. If the rate is $10 per hour then you will earn around $120 for 12 hours of editing. That's not bad but some companies do pay higher depending on your experience.
There is also no mention anywhere on how often you get paid or if you will receive it via PayPal or bank deposit.
Personally, I think it's better when you know how often you will get paid and how you will get paid since most jobs are quire transparent regarding these things so a shame they do not make this clear before you join.
Is it worth it?
If you have the writing skills and have the time to work, then working as a copy editor can be a viable option for you.
One important thing you have to really consider is how many hours it takes you to work on an average copy editing task as that will greatly affect how much you will be able to earn.
If the rate of Gramlee is really $10 per hour, then that's a decent income for part-time work – but, of course, only if you can work fast enough to make this much and you also have to make sure you can follow their 24-hr turnaround when accepting a task.
This type of job is perfect if you have prior editing experience or if you have the professional writing skills. So go ahead and apply at Gramlee if you feel you have the skills to offer.
Just remember you have to have a good grasp of grammar and writing to apply as a copy editor in any company.
If not, there are other online opportunities you can check out. You can actually get paid to write articles online.
With the right online job, you can get the lifestyle you want. Since copy editing already involves writing, why not check out other online gigs?
Final Verdict
Proofreading and copyediting have existed for years.
Now, it is a job available for anybody online through copy editing platforms. So if you have the skills and attention to detail, then this can be a viable option for you. But it is not for everyone.
So I have summarized the pros and cons discussed throughout this review to give you a clear picture before deciding if you want to copy edit for Gramlee or not.
Pros:


Anybody can apply
Quick application process by answering questions
Best for those with good writing and language skills

Cons:
No published pay rate
You might not hear from them after application if not accepted
Overall, Gramlee can be a source of extra income for you if you're looking for online part-time work and have the skills fit for their services.
You just need to manage your expectations when applying and be aware that you might not hear back from them. And also be aware that it will take hard work to make a decent salary from this.
So if you feel you're not qualified to become a copy editor at Gramlee or you are just simply not interested in what it has to offer after reading this review, then there are other online opportunities that might be a better match for you instead.
How I make money online
If you really want to earn a full-time income working online, this is definitely possible – I know this from personal experience.
I have been able to create a full-time online income myself that allows me to work anywhere in the world and completely on my own terms.
It takes effort, but it is totally worth it.
If you want to follow my footsteps and create your own online income, then check out my FREE guide where I explain how this is possible step-by-step.
If you have any questions, comments, or have any feedback with Gramlee yourself, I would love to hear from you in a comment below.