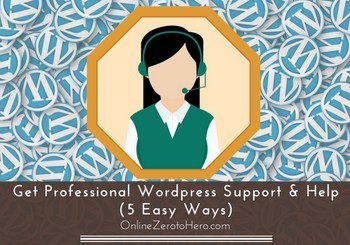 If you have a WordPress website, it is very likely you sometimes need a bit of help and support.
Even experienced people need this sometimes, as there is so much you can do with WP that it is impossible to know it all.
But what is the best way and place to get professional WordPress support and help?
I have used WordPress myself for years, and have also needed help many times:-) In this article I will share the best and easiest ways to get help with WP, so you do not have to waste too much time testing ways yourself.
What to consider before getting WordPress help
There can be many reasons you need WordPress help. What method is the best way to get this help depends on numerous things.
So before getting to some great ways you can find help, let's go over some things you need to consider to find the best solution for you.
What is your needs?
Before rushing off to get help, consider your needs. This will help you find the best solution.
Do you just need to have something fixed for you one time, and then you do not need any further help? Or do you need continuous help and support?
Do you need help to have someone fix something for you, or do you need help to learn how to do and fix something yourself?
These questions are very important to know the answers for.
If you are not interested in learning anything about WordPress yourself, but just want someone to fix an error for you once, you need to go for one solution, while there are others that might be better, if you want support to keep learning how to use WordPress yourself.
Which options that are available in each scenario is what we will get to later.
Is it urgent?
Is your WordPress website down, so you need urgent help? Or is there another big error on your website that you need to have fixed urgently?
Or is it something that you just need to have fixed at some point, but not something that will hurt your business too much, if you do not fix it right away?
How urgent you need help will play a big part when choosing the right help option for you. Some places it is possible to get help more or less immediately, while on others it will take some time.
What is your budget?
Your budget of course also plays a part.
It is possible to get free WordPress help, and sometimes you can also get good help this way.
But if you have a small budget and need help with something important, it can be worth considering spending a bit of money getting the right professional help. Often when you have access to paid support, you will get help faster.
All these things together will help you find the best support solution for you. So let's now go over some possible ways to get support.
Where can you get professional WP help?
There are many ways to get help and support for WordPress. Not all ways are good, and the best solution depends on your specific needs and preferences.
Some great options to get help are:
Get help from your theme developer
Depending on what you need help with, your theme developer might be able to help you. How good support you can get depends a lot on the WordPress theme you have.
If you have a free theme, you will very likely have very limited support from the developer (if any), whereas some paid themes provide fast and great help.
Often the theme developers will help you with information and can help you locate errors, and tell you how to do certain things, but in most cases you need to do the actual work yourself. Personally, I prefer doing the work myself, as this is a way to learn more, and then it is great to have a theme developer give you tips and ideas.
I for example mostly use the Divi Theme, which has excellent support. They do not just help with little errors, but are very helpful about customization of your theme, and they give fast support.
If you are serious about your WordPress website, it can definitely be worth getting a theme with great support, as it can save you a lot of time in the long run.
Help from your hosting company
Sometimes you can get help from the company that hosts your website. If they can help or not depends on and the problem you are having.
If your website for example is down, it is the hosting company you need to talk to. Sometimes hosting companies are also willing to help with other requests.
Mostly the cheaper hosting companies are not as fast and as helpful as the more expensive ones, but this is not always the case. In general, you just need to make sure that the hosting company you have at least have fast support, if you website is down, and make sure to check if they can help with a backup of your website as well, so you know you have this somewhere.
For other help with WordPress, one of the other options on this list is usually better.
Community help and support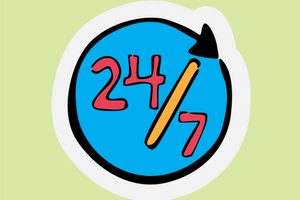 This is my personal favorite way to get WordPress help and support. I am a member of the online learning platform Wealthy Affiliate, that teaches you how to create WordPress websites and create an online business and income through your website.
What is so great about being a member of a community like this is not just that it teaches you to use WordPress yourself, if you want to. It also has great professional support and a whole community of successful online marketers ready to help with any question within minutes.
It has a support service for any technical questions and hosting issues. They usually replies within a few minutes 24/7. In addition to this, there is a live chat with members from all over the world, so it is always possible to get a fast answer. And you can also ask questions in blog format, if you have questions that might be too long for the live chat or not so urgent.
In my opinion it is great to be a member of a community like this, and if you are interested in getting continuous help and learning how to use WordPress yourself, this is one of the best platforms out there in my experience. I am also myself an active member there, so if you join, I will also be there to help you, if you have any questions or need support.
Hire agency or freelancer
If you just want someone to do the work for you, you can consider hiring an agency or a freelancer.
This can be a fast and effective way to have certain problems fixed professionally. It can however also be expensive.
The issues about this is that if you do not know anything about WordPress yourself, it is difficult to know which questions to ask an agency or freelancer to make sure they are qualified.
There are many freelance portals, where people sometimes sell their service and WordPress help without really being qualified for it. And also not all agencies are as good, as they say.
So make sure you check their references. You can also check out my article about how to find a good online marketing agency and what questions you need to ask, if you are considering this solution.
Read blogs
There are many websites and blogs with free WordPress help. You can for example find a good amount of WordPress tips and tricks here on OnlineZeroToHero.com. But there are also many other blogs that offer great help (one of the most famous of these is wpbeginner.com).
Finding information on blogs to solve certain problems can be great, but it really depends on your issue. Often the help you get on blogs is more general, and you can end up spending A LOT of time trying to find help for your specific solution.
Also, blogs usually teaches only specific parts/techniques. This can be great for specific problems, you need help with, but if you really want to learn about using WordPress, it might be better to get training from a community like a mentioned above, to learn the full process and get a full overview.
What is the best option?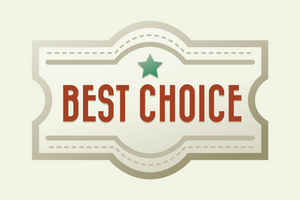 As you can see, there are plenty of ways to get help with WordPress.
Which option is the best for you depends a lot on your specific situation, and it depends a lot on whether you just need one-time help, or if you need continuous help and support.
Look at your needs, and see what option above fits your needs the best.
It can also be great to combine the options. I am for example using Wealthy Affiliate a lot to get further training and ideas, I regularly ask questions to my theme developer, and I also sometimes get ideas about how to solve certain challenges by reading other blogs.
So a combination of the above options can be great depending on your needs.
Final thoughts
Everyone needs help once in a while – even full-time WordPress developers need help sometimes. But luckily there are many ways to get professional WordPress help.
Some are free and some has a cost. So no matter your needs and budget, it will be possible for you to find help. Just look at the list above to find the option that fits you the best, and then you should be able to get help within minutes.
If you have any comments, questions about how to get help with WordPress, or about the options I mention above, feel free to leave a comment below, and I will get back to you asap.