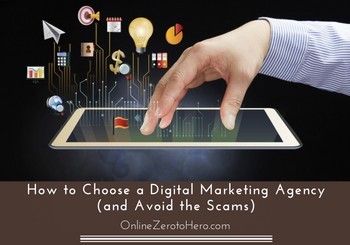 Almost any kind of business can benefit from using digital marketing.
The easiest solution is of course to hire an agency to do the work for you, but if you do not choose the right one, it can end up being very expensive and useless.
I have worked for several marketing agencies myself, and I am still sometimes working as a freelancer for some. From these experiences, I have learned how to spot the good agencies, what to look for, and which tricks and scams some agencies use.
In this article I will show you how to choose a digital marketing agency, so you get the most out of your money, but also suggest an alternative way that can ensure you get even more out of using online marketing.
Where can you find a digital marketing agency?
If you are like many other business owners, you have heard that digital marketing can be a great way to get more customers. However, you do not necessarily have much knowledge about how to do this, so the easiest solution is of course to find a digital agency that can do the work for you.
This can definitely be a great solution and can be the most effective way to do it in some cases, but as I will also show you, it can also end up giving you nothing but an expensive bill.
However, once you have read this article, and if you then decide finding a digital marketing agency is the right solution for you, then it is luckily not difficult to find one.
The easiest way is to just use Google to find one in your local area. The ones at the top often know what they are doing, since they are at the top of Google. However, I know from experience that there are many great agencies that are not on the first page of Google – simply because they are busy working for clients, so they do not have much time to work on their own website. So to get a better idea about what options you have in your area, look through the first couple of pages on Google and write down the agencies that sounds the most interesting to you.
Once you have the list, you can use the questions below to know what to look for, when you contact them for an offer, or when you look through their website.
Questions to ask an agency before signing anything
When choosing a digital marketing agency, it is very important to know what questions to ask and what to look out for.
Unfortunately, there are many agencies that have more or less build there business around the fact that most people that need their services do not know anything about online marketing, and have no idea about how to measure the results. That makes them easy targets, and it makes it easy to get them to pay way too much for very poor service that does not really do any good in the long run.
So here are a couple of questions you always need to ask before signing anything with a digital marketing agency:
Question 1 – How to get out?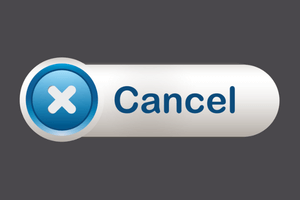 This might sound like a strange question and something many people feel uncomfortable about asking just when a cooperation is about to start.
But it is one of the most important things to know from the beginning. So make sure to ask how you can get out of a potential cooperation again. Some agencies tie you in long subscriptions, while you can easily cancel the cooperation with others any time you want to.
Do not be afraid to upset the agency or sales person by asking this question upfront. If he/she gets upset, then it is very likely because they have something to hide, and then just move on to another agency.
And even though they answer you and, you are happy with the answer, make sure to see if that is also the terms in the contract you will sign. As someone working with digital marketing is it painful to say, but the truth is that some agencies and sales people will say more or less whatever it takes to get you to sign a contract, and then show their true face after. So make sure to get everything in writing and read through it carefully.
Question 2 – Who has the rights?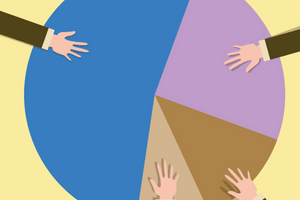 This is another very important question to ask, and an important thing to look for in the contract. You need to make sure who has the rights to the work the agency is doing for you.
I have for example seen agencies that develop a website for clients, but the client does not as such own the website. You do not have access to correct anything yourself as a client, you might even be tied to having them as a host for several years, and if you at some point want to leave the cooperation, you will no longer have access to the website. They will simply take it down, if you for example want to work with another agency or do some of the work yourself.
Another example I have seen is agencies that help clients with paid ads through Google Adwords. They get paid to set everything up and maintain it. But you need to make sure that if you want to go to another agency or get access to it yourself, you have the rights to do this, and you will be able to take the work that you have already paid for and build on that.
The agencies that use these methods are holding people hostage in my opinion, and often they do this, because they do not really provide a good service. The agencies that are truly providing value will not keep you hostage, as they know they can deliver good results, and they also want you to be happy and be able to leave freely, if you at some point want to.
Question 3 – What system is the website built in?
If you have an agency build a website for you, make sure to ask which CMS (Content Management System) it is built in. Ask if it is their own, and do a little research about it, if the mention a name of another system. Some agencies definitely have developed a good system themselves, but it is too risky to have them build in this, and it will for sure keep you hostage there, as nobody else can work in the system.
Building a website in WordPress can for example be a great option, if the agency offers this, as it is the most popular system in the world. So it will be easy to find others that can help you with it, and you can also easily learn to do small corrections yourself, if you wish to. So make sure the website will be built in a system that others can use as well, so you are not forced to have the website with the agency forever.
Question 4 – Calculate the overall cost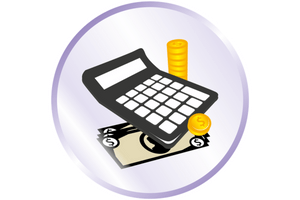 Sometimes agencies will give you a really good offer to get you in. I have for example often seen agencies that offer to build a website extremely cheap – in some cases even for free. The only thing you need is to have you website hosted with them for 3-4 years.
In most of these cases they will just make a crappy website for you, and you will then be tied to having it with them for several years. Usually at a very high monthly price for hosting and maintenance. They will probably even tell you that this is the price you have to pay everywhere, but they just offer you a cheap website as well.
Mostly the monthly price they charge is however ridiculously high. For example $300-$500 per month. This is rarely worth it and even the most expensive hosting company will usually not charge this much for a single website. For comparison, I for example have this website you are reading on now hosted at Wealthy Affiliate, where I pay $0.98 per day, and this includes unlimited training and support.
The agencies that use this trick is just using it as a way to get you in and then make a lot of money on a monthly subscription that gives you no real value. So make sure to calculate the overall cost – if not, you might end up paying a total of more than $10.000 for a website over 3 years, and it would have given you a lot better results to just pay for having a proper developer do it from the beginning.
Question 5 – Get a second opinion
This is not so much a question, but more something I will encourage you to do no matter how great an offer the sales person will give you.
Sales people want to close the deal at your first meeting, as they of course know there is a great chance you will forget them, if you do not buy right away. So they can be very pushy.
But in most cases it is good to at least sleep on the decision, read through all the papers carefully, and maybe ask someone else you know to look over it as well. It can also make sense to even get an offer from another agency as well to have something to compared with – but do not only compare the prices, but also the conditions, the terms if you want to get out, and the overall price.
Avoid these marketing agency scams!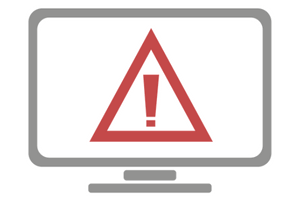 If you ask the questions above when choosing a digital marketing agency, you will have a good chance to avoid the scams. I have already in these questions explained some scams you have to be aware of, but also want to list the scams that are most often used here, to give a better overview.
You are kept hostage

Unfortunately quite a lot of marketing agencies use this trick, which I would classify as a scam. They get you to sign a contract where you are tied to several years – there is nothing wrong with this in itself, as the best results comes from a long-term cooperation. But if they are not clear about exactly why you should sign a long term-contract, and how you can get out, I would stay away.
Personally, I would never sign a contract with a marketing agency for several years. I would happily keep using one for years, if I found a good one (and if I did not work with online marketing myself), but not just because there was a contract. It is better to make sure you can go somewhere else, if they do not live up to what they promise.
You do not own your business

I do not mean that you will not own your actual business, but as I mentioned in the questions above, I have seen many cases, where people for example do not actually own the rights to their website. A website is a very important part of your business, so by not owning the rights to this, you are very vulnerable.
If you do not own the rights and can do with it what you want to, you are putting the fate of your business completely in the hands of the agency. Do not allow this, and make sure you always have the rights.
Make sure to have a copy and access to all accounts

Make sure to always have a copy of everything an agency do for you and have access to whatever account the create for you. For example make sure to have a backup of the entire website yourself. Even if the agency says they have it, and you do not need to worry, insist to have one yourself.
I have seen agencies or hosting companies suddenly go bankrupt, and then all data is lost, if you do not have a backup.
The same goes for access to your Google Analytics account and similar. Make sure you have access and full rights to this. Even if you are not going to use it yourself, but it is always good to have it in case something happens.
The agencies that do not want to share this with you usually have a reason for this – and the reason is that they want control of you and be able to keep you as a hostage. So if an agency are not willing to share this with you, find another.
Exaggerated promises

Sales people and agencies of course in general have a tendency to make exaggerated promises. This can be ok and is part of their job, but it can als become too much. Especially, be careful about the ones that are too pushy and that uses very high-pressure techniques.
Also, a big warning sign is if they for example guarantees you can be number one on Google. This is not a guarantee anybody can make – you can do a lot to get results and you might get there, but there are many factors that comes into play when it comes to ranking a website in Google. For example what your competitors do as well. So such a guarantee cannot be made, and if an agency promises this, it is not serious and are trying too hard to sell in my opinion. And if they make exaggerated promises like this, what else will they not be real about?
Is it better to do the work yourself?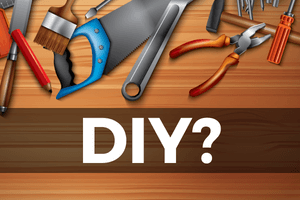 So far it might seem like I am not too happy about online marketing agencies. This is not exactly true. As mentioned, I am myself still sometimes working as a freelancer for some. But I have however seen a lot of what I would call unethical tricks.
When that is said, I have also seen a lot of great work from agencies, and there are definitely some great ones out there that can help you a lot.
So depending on your time and budget, it can be a great solution to hire a digital marketing agency to help you get more customers. But you can also consider doing some of the work yourself as an alternative.
Not only to save money, but also because you are the one that have the most knowledge and passion about your business, and this will be reflected in the way your online communication is, and can create more trust with your customers and generate even more.
If you are interested in learning how to promote your business online step-by-step, my favorite learning platform for this is Wealthy Affiliate, where you will have plenty of training, support, and great tools to help you. This is a platform I am a member of myself, and where I have learned a lot of my skills.
Even if you do not want to do much of the online work yourself but prefer hiring an agency, it can be great to keep reading and learning more about online marketing, as it will make it easier for you to keep an eye on the agency you will hire and make sure you get value for your money.
Final thoughts
Digital marketing is becoming more and more important for almost any kind of business. It can be great to hire an agency to do the work.
But finding the right digital marketing agency is not easy – there are unfortunately many poor agencies, and even some that will just scam you. So before signing any contract, if you decide to hire an agency, make sure to ask them the questions I mentioned above, and keep an eye out for the scams I also mentioned.
And in general make sure the agency will keep you updated monthly with their work and progress, and ask questions, if you do not understand what they are saying – sometimes agencies can use slang and forget not everybody knows the same terminology:-)
I hope this article has given you a better understanding of how to choose a good digital marketing agency and how to avoid the scams. Or maybe it has even inspired you to start learning more about it yourself, and trying to see what you can do on your own?
If you have any comments, questions, or need any help, feel free to leave a comment below, and I will be happy to get back to you asap.