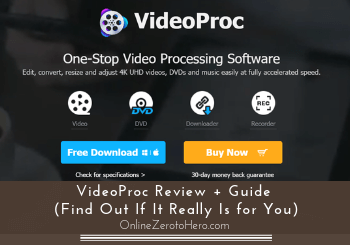 VideoProc is supposedly a one-stop video processing software.
But is it a great video editor you can benefit from or are there better alternatives?
I often edit videos for YouTube and more and I decided to put VideoProc to the test and see what it really offers.
Let me just reveal right away that it has potential, but it really depends on your needs.
In this VideoProc review, I will show you exactly what you can expect from this software so you can easily find out if it has what you are looking for or not.
Disclosure: Some of the links on this page are affiliate links. This means at no cost to you, I may receive an affiliate commission if you purchase something through one of these links.

Features

Usability

Value for money
Summary
VideoProc is a video editor mostly for beginners and intermediate users. This makes it quite easy to get started with but if you need some more advanced features from a video editor, it will likely not be for you.
It does, however, have all the basic features you need to create good videos and it also has a couple of other tools included like an easy-to-use screen recorder and a video downloader.
Overall, a nice and easy-to-use tool, but if it is the right option for you depends on how advanced needs you have.
Is VideoProc video editor safe?
Before downloading any software it is, of course, important to know if it is safe.
One thing to look for about this is to look at the company behind. VideoProc has been created by Digiarty Software Inc., which was established in 2006, and is a multimedia software company dedicated to providing video processing solutions.
So it is a company that has been around for a while and when researching, I could not find anything suspicious about the company.
Also, I have downloaded the software myself and have not had any problems with it since doing that. So it seems like a safe tool to use.
This is an important first step but it does, however, not mean it will necessarily be a good video editing solution for you.
So let's go over what the tool can do for you.
What can you do with VideoProc?
Digiarty Software who is behind VideoProc is in general focusing on making easy-to-use solutions.
That has also been the idea with VideoProc and they have tried to create a video editor that is easy to get started with as a beginner.
It is available for both Mac and Windows computers.
If it will then be able to fulfill your needs depends on what exactly you are looking for in a video editor. So let's go over the main features of VideoProc so you can see what it offers and how good the features are.
Feature 1 – Edit your own recordings
A video editor, of course, needs to have the option to load your own recordings so you can edit them.
This is also possible with VideoProc and you can quite easily get started with this. Once you have opened the software, you will see step-by-step what you need to do to get started.
Once you have loaded your video, it looks a bit different than many other video editors.
It is in one way more simple but if you have used video editors before, this might be a bit confusing – it was for me when I first opened it.
But luckily it does not take long to figure out how to use it and later I will also give some tips about how to get started with VideoProc easily if you decide it is for you.
When you have loaded your video, you have several options to edit it.
This is where you can find the most necessary options to create a basic video. You can, for example, add effects, add watermark, cut, crop, rotate, and add subtitles.
You just click the option you want to use and then it opens and you can start editing. However, once the editing screen opens you can easily jump between the different options there.
Some of the options are quite intuitive but there are also some that I do not think are so easy to get started with. So let me just explain the basics of some of these editing options.
The watermark can be handy if you want to make sure to brand all your videos. This is quite easy to use and you can use text or an image depending on your preferences.
The crop section is another very handy option that is great VideoProc has. And I have even seen more advanced editors that do not have this option.
It makes it possible to easily crop the size of your recording if you, for example, do not want to show the edges of your recording.
This can sometimes be very handy if you have done a screen recording and accidentally ended up recording parts of the screen that should not be included.
It is quite easy to do this, but when I first opened I actually got a bit confused. It is because you have to make sure to first make a tick to say you will enable the cut function.
Once you have done this, the cropping is easy.
The cutting feature is something any video editor needs. This makes it possible to cut out parts you do not want. And when you do recordings there will most likely be parts you need to cut out if you are anything like me:-)
If you have used other editors this is not quite the same way to cut.
You have two knobs you have to set and then click "cut". After this, you have to move them to a new position and then click "cut" again.
It is quite easy once you get used to it, which is great if you are a beginner.
But if you have some experience, it might not be enough. With the cut function in VideoProc, the parts you have decided to keep will automatically be merged into one video.
In one sense this can be handy and fast but often the transitions might not be so smooth.
That is where an editor like Movavi video editor and several others can be great, as you they have the option to insert transitions which can make the overall movie more user-friendly and smooth.
This does, however, entirely depend on the types of videos you want to create and if you do not need extra transitions, then the feature in VideoProc is very easy to use.
The last of the basic editing features I want to just mention here is the effects.
This makes it possible to quickly add a different look to your video.
It can, for example, be to change your video into grayscale, or more.
It is very easy and only takes a couple of clicks.
VideoProc has around 32 effects you can add at the time of writing this review. It is an OK amount and personally, I rarely use these types of effects anyway.
But it is good to know the option is there, depending on the videos you want to make.
Feature 2 – Extra editing options in the toolbox
The above features are the basic video editing features in VideoProc.
But you might overlook that the software has a few extra options, and I, therefore, want to mention them here.
You find them in the button bar when you have opened VideoProc.
You get access to them by clicking "toolbox".
Some of the features you can find here are really cool.
For example, if you have a GoPro action camera, it has a couple of functions just for this. You can deshake or denoise GoPro recordings which are pretty handy so it is a great tool for this.
Other tools you can find in the toolbox are making a video into GIF, rotate, mirror, fisheye effect, and more.
So make sure to also check out the options in the toolbox if you decided to get VideoProc.
Feature 3 – Export in different formats
When you are done editing your video, you, of course, need to be able to export the video as a file.
In VideoProc you can choose between many different file formats depending on your needs.
You can, for example, export to MP4, 4K, AVI, WMV, MOV, DivX, and more. You can also choose what device and then VideoProc will export to the best format for that.
So it has pretty good options in this area.
Feature 4 – Record your screen
Having a screen recorder can be very handy if you ever need to do small tutorials or similar. I, for example, often use it for creating video reviews and tutorials
You can also find a screen recorder as a part of VideoProc. When you first open the software you can choose it.
The recorder is very simple and easy to use.
You just choose whether you just want to record your screen, only use your webcam, or a combination.
In my opinion, it is really great it has all these options and it is all a basic screen recorder needs.
You can also choose exactly what part of the screen you want to record which is great as you sometimes might not want to record the edges or the full screen.
In addition to this, the screen recorder gives you the option to use a drawing tool while recording.
To get access to this, you just need to press ctrl+shift+alt+t while recording and then the options come up.
This can be very handy if you want to emphasize on something while doing your recording or if you are doing tutorials.
The drawing tool is a nice extra touch and makes it a great simple screen recorder, in my opinion.
Personally, I use the Icecream Screen Recorder as it has a few more options, but overall the VideoProc screen recorder is very nice and great that you get it as a part of the video editor if you download that.
Feature 5 – Download online videos
One more option you get with VideoProc is to download online videos from, for example, YouTube, live videos, video stream, Facebook, and more.
The same tool can be used to download audio.
It is very simple to use. You just choose the "Downloader" tool when you open VideoProc.
Then all you have to do is to insert the URL you want to download from and click to download it.
Just make sure you do not break any copyright rules when you do it.
But a very handy and easy-to-use download tool.
Feature 6 – Giveaways + sweepstakes
The last thing VideoProc offers I want to mention is not really as such a feature. But it is something that can be nice to know.
And that is that VideoProc regularly has sweepstakes where you can win nice prizes and they sometimes even have giveaways.
At the time of writing this review, they are, for example, having a sweepstake where the prize is a GoPro pack worth $1296.
And I have seen other nice prize draws in the past. So if you plan to get VideoProc, it can be an idea to keep an eye on their website or social media channels where these sweepstakes are announced.
Below you can see the official VideoProc presentation video so you can also see how the company itself describes what the tool can do.

==>Click to Check Out VideoProc for Yourself<==
How to use VideoProc?
As you can see, VideoProc has quite a few features even though it is a simple video editor and software.
Even though it is fairly simple, it might not be so intuitive to get started if you have never edited videos before.
I have already above given you some tips about how to get started and how to use VideoProc in certain places where I do not find it so intuitive.
But if you should need more help, there is luckily quite a lot of options.
On the website itself, it has a great help center, where you can find a lot of step-by-step guides with images.
Each of the categories on the image above has several topics and the guides are easy to understand and follow.
In addition to this, VideoProc has a YouTube channel where they regularly post tutorials that can be of great help as well.
So there is plenty of help to get started easily if you are not sure how to use certain features in VideoProc which is really great, in my opinion.
VideoProc pricing
Before deciding to get a video editor or not you, of course, also have to consider the budget.
VideoProc has a few different options. You can even download a free version.
The free version will, of course, have some limitations as free software more or less always have. The limitations of the free VideoProc version is that the maximum length of exported videos is 5 minutes.
I think that is fair and some good conditions compared to many other free video editors. And it is great that you can get to really test the tool and see what it offers before deciding if you want the paid version.
You have 3 options to get the paid version. You can get a one-year license, a lifetime license, or a family license (can be used in 2-5 computers).
When I took the screenshot above, there was a sale but the usual price for a one-year license is $59.90, a lifetime license is $78.90, and the family license is $119.
The prizes are the same whether you get a license for Mac or Windows.
If you have tested VideoProc and find it is a tool you want to use, it might be worth considering the lifetime license as this clearly gives the best value for money.
It is also worth mentioning that they offer a 30-day money back guarantee so if you end up regretting, you can get your money back.
Final verdict
I will be honest with you – when I first heard about VideoProc I did not expect too much. But I still decided to take a closer look and test it.
And it actually ended up being quite a good tool with some great options and features, in my opinion.
This does, however, not mean it will necessarily be the best tool for you as that depends a lot on your needs. So let's finish this review by summing up the pros and cons so you can get a better overview before deciding to get it or not.

Pros:
Fairly easy to use
Free version is available to test all features
Has all the necessary features to make good basic videos
Good help and tutorial section

Cons:
Not as many features as some other tools
Mostly for beginners and intermediate users (not necessarily a con)
Overall, whether VideoProc is the right tool for you or not depends mostly on your needs and experiences.
If you are a beginner or an intermediate user, it has all the basic features you need to create great videos and it is fairly easy to get started with.
If you, on the other hand, need some more advanced features, it might not be enough for you. Then you can, for example, check out Movavi video editor instead.
But overall VideoProc has some good options. And what I really like is that you can get to check it out all with the free version so you know what you are getting before investing anything.
If you have any comments, questions, or have any experiences with VideoProc yourself, I would love to hear from you in a comment below.